Cationic [CPAM]
Global polyacrylamide market is set to rise at an unprecedented pace with the global population battling the catastrophe of water scarcity and depleting water resources. Recognized as an excellent flocculent, polyacrylamide is highly used as a water absorbing polymer in the treatment of waste water released from household and industrial sectors. Polyacrylamide Market is further projected to gain strong footing with the formulation of stringent regulatory compliances pertaining toward waste water treatment. Such regulations coupled with the wide usage of this chemical in water treatment applications have left subsequent impact on the demand of polyacrylamide market, which was pegged at USD 5.5 billion in 2016. Below mentioned are most lucrative applications of polyacrylamide.
U.S. polyacrylamide market size, by application, 2013 – 2024 (USD Million)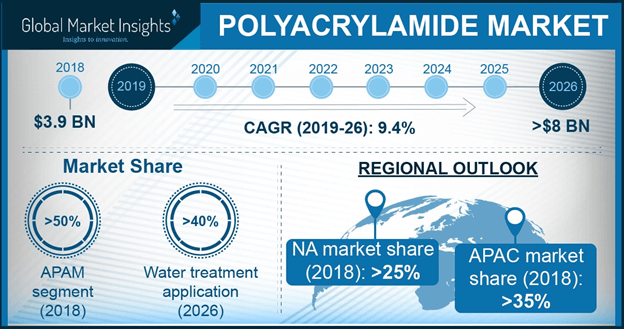 Water Treatment
The polluted water resources are one of the major concerns being addressed by the government and environmental bodies.  Treatment and protection of water & sewage is closely linked to preservation of the environment and has received more attention from the regulatory bodies. Polyacrylamide, thus plays a very important role in the field of water treatment. Severe regulations imposed by the governments to treat the industrial waste water before releasing, has significantly contributed toward the growth of polyacrylamide market size. Estimates claims polyacrylamide industry size from water treatment applications to grow at an annual rate of 8% over 2017-2024.
Geographically, Asia Pacific is one of the major growth avenues of polyacrylamide market, driven by vigorous initiatives in this region to conserve its natural water resources coupled with increasing waste water ratio due to rapid industrialization. As per the estimates, APAC is foreseen to exhibit a CAGR of 8% over 2017-2024, primarily driven by China, India, and Malaysia. China's total waste water discharge has increased from 41.5 billion tones in 2000 to 68.5 billion tones in 2012, a significant raise of 65% over the period. Growing urbanization trends in the region has led to a raise in domestic wastewater volumes.  China's urbanization rate has soared from 36% to 53% over 2000-2012 and is anticipated to be over 60% by 2020. Subject to this fact, China polyacrylamide market is likely to witness a lucrative roadmap over the coming seven years.
Get a Sample Copy of this Report@ https://www.gminsights.com/request-sample/detail/1891
Petroleum
Polyacrylamide is extensively used in the oil industry to enhance the oil recovery and is prominently used as a drilling and fracturing fluid. Driven by this wide range of application spectrum, polyacrylamide market share from petroleum application is set to record a CAGR of 8.5% over 2017-2024. A significant rise in the demand for energy has impelled the exploration, production, and recovery of oil and petroleum on a large scale. For instance, prevailing shale oil & gas resources in the US have increased the demand for polyacrylamide for drilling activities. As per estimates, North America polyacrylamide market is set to double its market value from 2016 recorded at 1 billion to USD 2 billion by 2024.
Opportunities for investors | Geographical scope
Apart from polyacrylamide's major use in petroleum and water treatment, it also finds application in the paper-making, mining, textile, personal care, agriculture, and construction sector. Non-ionic, cationic, and anionic are the key product segments used in these applications. In Latin America and Middle East, the growth of polyacrylamide industry is relatively lower due to lack of product penetration and low application scope. However, in Asia Pacific, application of polyacrylamide is chiefly concentrated in water treatment & paper making sectors. While in Europe & North America there is a greater product demand from oil & gas and mining sectors.
Market structure
In 2016, the global polyacrylamide industry share was fairly consolidated with top industry players catering to 40% of the total market demand. PetroChina Company Ltd, Mitsubishi Rayon Co Ltd., BASF, Anhui Jucheng Fine Chemicals Co. Ltd., Xitao Polymer Co Ltd., SNF Floerger Group, and Kemira, were the prominent players accumulating subsequent industry chunk. The overall polyacrylamide industry has several contributors, but in terms of production, it is predominantly represented by major players from Asia Pacific.
Considering the competitive scenario, the current trends demonstrate the engrossment of industry players in developing their product portfolios and expanding their global reach with mergers & acquisitions. Moreover, in the coming years companies are likely to focus on backward integration plans and on upgrading their current infrastructure to expand their production capacities for grabbing major industry share. For instance, a leading specialty chemical company Solenis, invested USD 5 million in its Russia manufacturing facility to upgrade its infrastructure. This has helped the unit to double its production capacity of polyacrylamide and efficiently exploit the enormous potential of this fraternity.
Polyacrylamide market faces certain hindrances, especially, due to the carcinogenic nature of acrylamide monomer. Stringent norms regarding its use in some countries may act as a major roadblock to the growth of the market. However, manufactures are vigorously focusing on research & development activities for the development of various bio-based polyacrylamides, that will meet the environmental standards. The rapid product diversification and a broad range of applications pertaining to the polyacrylamide industry well justifies its profitability landscape. According to Global Market Insights, Inc. polyacrylamide market is slated to surpass a valuation of USD 10 billion by 2024.
Author Name : Ojaswita Kutepatil