Cellulose Fiber
The rising requirement for fabrics that are longer-lasting, need less maintenance, and are comfortable have chiefly propelled blended fibers market. It goes without saying that the apparel and home furnishing sectors are the key arenas driving blended fibers industry growth. As the population of millennials with disposable incomes is on a rise, coupled with consumer interest for luxurious lifestyles, it is estimated that blended fibers market size will exceed 18 million tons by 2024 in terms of volume.
North America Blended Fibers Market, By Application, 2016 & 2024, (Kilo tons)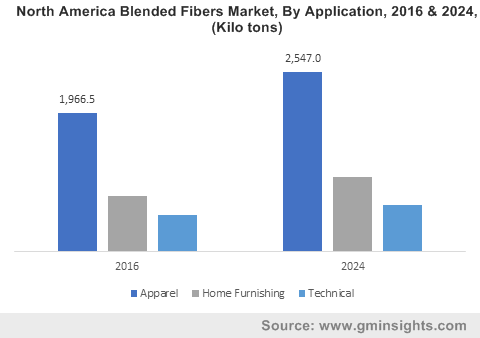 Blended fibers market had first come to evolve with the idea of 'blending' fibers to yield a fabric with unique properties that is much more comfortable than the original and is less taxing to care for. In this regard, a blend of cotton and polyester is one such fabric that has gained mass prominence in this business space. In 2016, cotton/polyester based blended fibers industry size was valued at USD 7 billion. It is noteworthy to mention that cotton is a natural fiber that is comfortable to wear but wrinkles easily. On the other hand, polyester is a synthetic fiber that is not very comfortable to wear but when mixed with cotton keeps the fabric from wrinkling. Blended fibers industry outlook thus depends on the identifying a balanced amalgamation of fibers that complement each other to produce the perfect fabric. A nylon/wool blend is another popular fabric that drives blended fibers market share, as nylon is resilient while wool adds to the warmth and softness of the garment. This blend is deemed perfect for winter wear apparels owing to its enhanced durability and quick-drying quality, thus marking significance in blended fibers market.
Get a Sample Copy of this Report:@ https://www.gminsights.com/request-sample/detail/1718
With the evolving fashion industry and the rising proportion of fashion consciousness consumers, it is important for the apparel industry to delve deeper in blended fibers market to brainstorm new mixed fabrics that will lend a certain charm and appeal to an ordinary piece of clothing. For instance, a draped cardigan made of a warm fabric like Merino can give the warmth of a cardigan but will not drape as beautifully as required. If the same cardigan is made of viscose it may be draped beautifully but will miss out on providing warmth. Ultimately, if a blended fabric like Merino Modal is used, i.e., 60% Merino and 40% Modal, the cardigan will have a beautiful drape while being essentially warm. Driven by appealing challenges such as the aforementioned, blended fibers market share from apparel applications is estimated to witness a CAGR of 3% over 2017-2024.
The home furnishing arena is another lucrative end-use domain of this business vertical. In 2016, 20% of the market valuation was attributed to the home furnishing industry. Rising urbanization, expanding real estate and easy access to home décor items made available through online portals like Amazon, Alibaba and eBay have thus provided a lucrative boost to the home furnishing domain, inherently fueling blended fibers market size.
Asia Pacific is one of pivotal regional markets for blended fibers industry. In fact, APAC market is forecast to surpass 9 billion tons by 2024, driven by the fact that several countries like China, India, Indonesia and Taiwan have expanded their apparel and home décor export base with a surge in demand of handcrafted products and government encouragement campaigns to boost indigenous production. Blended fibers industry has also been expanding in North America – estimates claim the continent to have contributed to 20% of the overall industry share in 2016. The introduction of nanotechnology as well as growing demands for new fabrics in the apparel and home furnishing industries has fueled North America industry trends.
The surging demand for better textile products with enhanced durability and a rather appealing visual appearance will drive blended fibers market. Blending expensive fibers with inexpensive ones offsets the production cost of the overall fabric as well, thus making the fabric more affordable and reliable. Growing economies comprising highly an urbanized, millennial population with disposable incomes will lead to a massive growth in the home furnishing and apparel sectors, thus directly stimulating blended fibers market size.
Author Name : Paroma Bhattacharya
Escalating demand for textiles and apparels attributed to rising disposable incomes and changing consumer lifestyles will soar Cellulose Fiber Market size. Global apparel sector, which was estimated at over USD 1 trillion in 2015, is projected to grow significantly over the next few years, which will augment the growth of cellulose fiber market. This product possesses highly beneficial features such as light weight, bio-degradability, and skin-friendliness. In addition, it is quite cost-effective, which will leverage the business expansion. Subject to the fact that this product is biodegradable, strict legislations inhibiting the use of volatile organic compounds will generate bright business growth prospects for cellulose fiber industry over the years ahead. According to Global Market Insights, Inc., "Cellulose fiber industry revenue is slated to surpass USD 39 billion by 2024, growing at an annual rate of 9% over 2016-2024."
U.S. Cellulose Fiber Market size, by application, 2013 – 2024 (USD Million)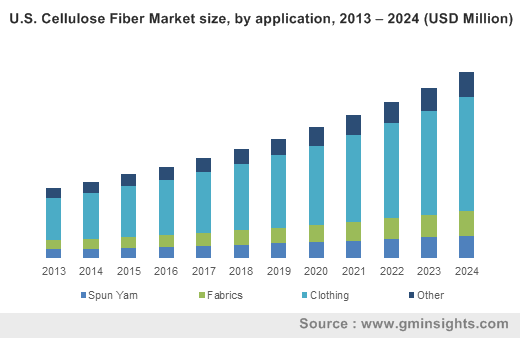 An increase in the GDP of countries such as Brazil, China, and India leading to shift in the consumer lifestyles has attracted many manufacturers & new entrants to make heavy capital investments in the business, thereby spurring cellulose fiber market expansion. Rise in the production capacity of dissolved pulp along with a surge in the number of pulp producers offering competitive pricing is expected to augment the production of cellulose fibers. In 2015, the global production of dissolving pulp was over 7 million tons, and China accounted for nearly 20% of the share. The environment friendly nature of cellulose fibers as compared to other fibers such as nylon and polyester will further catalyze cellulose fiber industry demand.
Get a Sample Copy of this Report @ https://www.gminsights.com/request-sample/detail/1109
Cellulose fibers find extensive applications in the spun yarn, fabrics, filtration process, and clothing. Cellulose fiber industry size in the clothing sector, which was estimated at USD 10.5 billion in 2015, is expected to grow at an annual rate of 9.5% during the period from 2016 to 2024. Increasing awareness regarding fashion trends coupled with the rise in the per capita income is forecast to boost the revenue. The thriving clothing and apparel sector will also contribute significantly toward cellulose fiber market growth.
Spurn yarn applications, which contributed over 13% of cellulose fiber market share in 2015, are expected to make notable contributions to the industry size in the future. The growth can be attributed to the extensive use of these yarns in knitting and embroidery. Furthermore, they are more preferred in tire cords and high performance tires, owing to their unique features as compared to polyester fibers.
Taking into consideration the regional trends, Asia Pacific cellulose fiber industry, which had collected a revenue of USD 7 billion in 2015, is projected to record a CAGR of 9.5% over the period of 2016-2024. The large presence of textile industries in Asia Pacific is forecast to boost the expansion. High production of cotton and jute in countries such as India and China will positively leverage the business development.
Middle East and Africa cellulose fiber market, which gathered a revenue of USD 1.5 billion in 2015, is foreseen to hit USD 3.5 billion by 2024. Easy availability of workforce at lower costs along with the discovery of ample natural resources in the region is anticipated to support the industry expansion. Rise in the textile production in Africa as a result of large-scale shifting of textile manufacturing firms in the region will further drive cellulose fiber industry revenue.
Lenzing SA, Shandong Helon Company Limited, Sateri, Kelheim Fibres GmbH, Grasim Industries Limited, Daicel Corporation, Thai Rayon Public Company Limited, Tangshan Sanyou Chemical Fiber Company Limited, Fulida Group Holding Company Limited, and Aoyang Group Company Limited are the key players of cellulose fiber industry.
Author Name :Dhananjay Punekar