Ceramic
Considering the increasing proliferation of laser technologies in medical space, Laser Materials Market demand is undoubtedly set to grow substantially in the forthcoming years. Technological interventions have not only influenced laser materials portfolio but also have widened the application scope of the market. An exemplary transformation in the therapeutic model in terms of medical facilities has acted in favor of the business growth. For instance, shifting trend toward replacing non-laser technologies across various domains that include oncology, neurology, and dentistry has been immensely catapulting the market expansion over the years. Speaking of healthcare, laser technology has already gained a momentum in this space and with technological advancements, it is anticipated to unfold a series of new opportunities, leaving a subsequent impact on laser materials market.
Europe Laser Materials Market Size, By Application, 2013 – 2024 (USD Mn)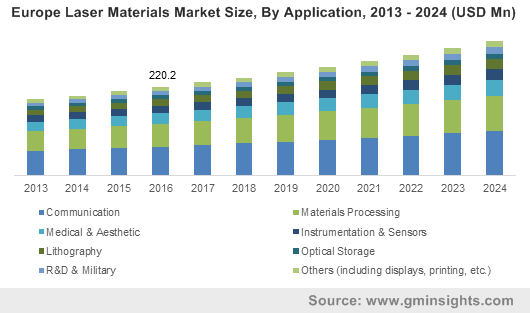 Estimates depict, the industry will exceed a valuation of USD 1.7 billion by the end of 2024, with a projected CAGR of 5.5% over 2017-2024. Plastic technology is the latest thriving trend in laser materials market that is opening new avenues for the investors. With the continuous evolution of polymers and composite materials configuration, the technology is likely to penetrate deeper into the business. On that note, it is important to consider the unprecedented efforts the instrument manufacturers are taking in reducing the complexity of these devices, which again will prove to be favorable for laser materials industry outlook.
With digital disruptions globally, the volume of data has been exponentially increasing across various industries. Communication sector is one of the profound spaces witnessing the proliferating penetration of laser materials. Communication applications procured one-third of laser materials industry share in 2016. Military applications have been also gaining a traction lately. High demand for lightweight cost-effective armaments has resulted in the utilization of laser materials in this domain. Key market players are also investing in research activities to extend the product portfolio to win a competitive edge in the global landscape.
Get a Sample Copy of this Report@ https://www.gminsights.com/request-sample/detail/1600
Geographically, Asia Pacific is one of the significant regions partaking in the laser materials market. The expanded manufacturing base along with upgraded healthcare infrastructure are the prime factors driving the regional market.  China, Taiwan, India, And South Korea are the major countries contributing substantially toward the regional share. Increasing population in APAC is also a vital factor enhancing laser material market dynamics. With a significant contribution toward the overall revenue in 2016, APAC will continue to be a strong participant in the global laser materials market in the years ahead.
North America laser materials market is also anticipated to chalk a lucrative growth path, subject to the region's progressive military terrain particularly in the U.S.  The country receives a huge amount of funding every year for laser weapons. With U.S. as a forerunner, North America laser materials industry in the coming seven years is slated to carve a profitable road map.
Laser technology undoubtedly is one of the most commendable innovations of the twentieth century. With a broader spectrum of application across the healthcare, military, and communication, laser materials market penetration has generated a remarkable momentum. Reduced material prices coupled with their reliability and enhanced lifespan are further pushing the laser materials market demand. Prominent industry participants include Asahi Glass Co., Ltd, Morgan Advanced Materials, BASF SE, Dow Chemical Company, GrafTech International, Taishan Fiberglass inc., CeramTec GmbH, Sinopec Shanghai Petrochemical Co., Ltd, Murata Manufacturing Co., Ltd., Anglo American plc., Mitsubishi Chemical Holdings Corp., Norilsk Nickel, Evonik Industries, Universal Laser Systems, Inc., and Corning Inc.
Author Name : Satarupa De
This entry was posted in Polymers and Advanced Materials and tagged Ceramic, Communication, Glass, Instrumentation & Sensors, Laser Materials, Laser Materials Market, Laser Materials Market Analysis, Laser Materials Market Forecast, Laser Materials Market Growth, Laser Materials Market Outlook, Laser Materials Market PDF, Laser Materials Market Price, Laser Materials Market Report, Laser Materials Market Share, Laser Materials Market Size, Laser Materials Market Trends, Laser Materials Market Update, Lithography, Materials Processing, Medical & Aesthetic, Metal, Optical Storage, plastic, R&D & Military.
Industry Insights
Craniomaxillofacial Devices Market size was evaluated at $1.15 billion for 2015 registering more than 6.81% of CAGR during forecast timeframe. Growing occurrence of facial fractures and sport injuries along with increasing demand for minimally invasive surgical operations like jaw replacement and facial reconstruction has contributed to industry growth.
Minimally invasive surgical operations are more preferred as they provide minimal recovery period, less trauma, minimum incision in human system and less occurrence of risks & complications. Increasing old age population more prone to risks of facial fractures as well as physical injuries is also predicted to make substantial contribution towards industry growth.
Launching of new techniques like utilization of robotic to help Craniomaxillofacial (CMF) surgery and use of bioabsorbable implant for fixing cranial are few of the aspects promoting industry growth during forecast timeline.
View a summary of the "Craniomaxillofacial Devices Market Size, Industry Analysis Report" @ https://www.gminsights.com/industry-analysis/craniomaxillofacial-devices-market
Material Insights
The industry is segmented into various materials like ceramic materials, bioabsorbable materials and metals. Bioabsorbable materials utilized in CMF methods are copolymers and polymers which include biosorb PDX,biosorb FX and Poly Lactic-co-Glycolic Acid(PLGA).
Metals used in producing CMF implants are chromium, stainless steel, brass silver, vitalium and copper.
Product Insights
Global industry is segmented into different products like temporomandibular joint, cranial flap fixation, MF (Metal Fixation) plate & screw fixation, CMF distraction and bone graft replacement.
Cranial flap is used in skull replacement surgical operation and comprise superior & inferior disk and connecting rod. CMF distraction is utilized in methods like oncology, trauma reconstruction and orthagnathic surgical operation.
MF plate & screw fixation segment led the global craniomaxillofacial devices market share for 2015 by contributing more than $831 million. Growing craniomaxillofacial surgical operations owing to rising old age population and increasing demand for technologically modernized minimally invasive instruments are the factors predicted to push the growth of the segment.
Temporomandibular joint replacement segment is predicted to register 11.2% CAGR which is maximum across forecast timeline. The reason for the growth of the segment being growing amount of cosmetic surgical operations like jaw replacement and chin augmentation taking place globally.
Application Insights
ENT (Ear, Nose & Throat) and neurosurgery are the key application areas of the global industry. They are predicted to surpass $701 million mark by end of forecast timeframe. Growing amount of surgeries for treating trauma along with acceptance of deep brain stimulation methods are few of the aspects contributing to the growth of these applications.
Launch of surgical technique of navigation for ENT methods is further predicted to propel craniomaxillofacial market growth during forecast period.
Regional Insights
The industry is segmented into key geographical regions like Latin America, MEA, North America, APAC and Europe.
North America craniomaxillofacial devices market has led the global industry and is predicted to surpass $1.1 billion mark by end of forecast timeframe. Growing occurrence of facial defects and fractures owing to rapid urbanization are key factors driving industry growth in the region during forecast timeframe.
APAC industry is predicted to experience more than 8.81% revenue expansion during forecast timeframe. Countries like India, Japan and China are expected to contribute major revenue share of the industry. Further, presence of large old age population, high occurrence rate of orthopedic ailment and growing demand for minimally invasive surgical operation along with emerging healthcare infrastructure are few of the factors adding to the regional industry expansion.
Latin American industry was evaluated at $ 25.31 million for 2015 and is predicted to register more than 7.61% CAGR during forecast timeframe.
Get a Sample Copy of this Report @ https://www.gminsights.com/request-sample/detail/432
Competitive Insights
Key industry participants profiled in the report include Stryker Corporation, W. L. Gore & Associates Incorporation, Integra LifeSciences, Medartis AG, Zimmer-Biomet Incorporation, Johnson & Johnson ,Medtronic Plc, TMJ Concepts, OsteoMed L.P., Kanghui Medical Innovation Company Limited, KLS Martin L.P. and Aesculap Implant Systems.
These industry participants compete with each other to retain leading position in the industry and gain maximum industry share.
This entry was posted in Healthcare & Medical Devices and tagged Bioabsorbable Implants, Bioabsorbable Material, Bone Graft Substitute, Ceramic, CMF Distraction, Cranial Flap Fixation, Cranial Reconstructive Surgery, Craniomaxillofacial Devices Market, Craniomaxillofacial Devices Market Revenue, Craniomaxillofacial Devices Market Size, ENT, Global Craniomaxillofacial Devices Market, Joint Replacement, Metal, MF Plate, Neurosurgery, Orthognathic and Dental Surgery, Plastic Surgery, Screw Fixation, Temporomandibular Joint Replacement, Thorasic Fixation.