Chemical Industry
Increasing consumption of various consumer and industrial products has led to a steady expansion of the global benzalkonium chloride market, in conjunction with the surge in disposable incomes of the working class population. The compound is effective as a disinfectant and preservative across food & beverage, pharmaceutical and chemical applications, being extensively found in nasal and ophthalmic medicines. Benzalkonium chloride is usually deployed as an antibacterial agent and surfactant in several household products like hand wash and hand wipes, along with personal care products and ointments. An augmented demand for such everyday products worldwide owing to rising population and higher consumer spending will reinforce the position of the benzalkonium chloride industry over the next few years.
U.S. Benzalkonium Chloride Market Size, By Application, 2018 & 2025, (Kilo Tons)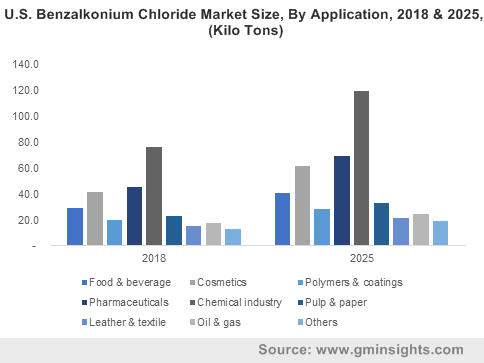 Essentially, the pharmaceutical and cosmetic segments represent two key business verticals where the compound has made a significant impact. It helps preserve the efficacy of medicines while the antimicrobial activities help protect make-up products from disintegrating and increase their quality. Subsequently, consistent consumption of cosmetics and pharmaceuticals will offer considerable momentum to the benzalkonium chloride market throughout various regions. The size of the global pharmaceutical sector is projected to reach US$1.43 trillion by 2020 itself, suggesting vast opportunities for the industry. Narrowing the market potential in terms of using benzalkonium chloride as preservative in eye drops, Bayer and Regeneron's ophthalmic drug Eylea alone had recorded sales of around US$6 billion in 2017.
Expounding the scope of the benzalkonium chloride industry in the food and beverage sector
In essence, the food and beverages industry require suitable disinfecting and sanitizing chemicals for food contact surfaces, to ensure bacteria and other microorganisms are eliminated and the product is not spoilt while in transit or before consumption. Quaternary ammonium compounds such as benzalkonium chloride can counter a wide range of microbes and are applied in appropriate quantities by food producers. The constantly growing demand for packaged food and bottled drinks has made it necessary to tackle all possible threats to health safety and food shelf life, bringing in substantial proceeds for the benzalkonium chloride market. Several reported cases of food-related diseases has notably spurred businesses, government agencies and research organizations to address likely health risks posed by various food-grade chemicals.
Get a Sample Copy of this Report:@ https://www.gminsights.com/request-sample/detail/3233
Referring to a study undertaken by the University of Veterinary Medicine, Vienna, certain strains of gram-positive Listeria seem to be resistant to quaternary ammonium compounds, including benzalkonium chloride disinfectants, and display quite low sensitivity to them. An estimated 47.8 million cases of foodborne illnesses care recorded in the U.S. every year, indicating the enormous need for enhancing food safety. Europe also witnesses nearly 23 million people suffering due to the intake of unsafe food annually, according to WHO. The benzalkonium chloride market is slated to accrue remarkable gains over the forecast timespan from accelerated efforts by food manufacturers to adopt effective sanitizing and disinfecting practices.
Within the beverage industry, compounds can be used for cleaning milking equipment, bulk tanks and other surfaces that come in contact with organic milk or similar products. Milk and other dairy offerings are witnessing consistent rise in demand and producers are required to clean and sanitize any equipment, storage tanks and packaging before utilization. Benzalkonium chloride products are also available as sanitizers for PET as well as glass bottles in which numerous beverages are sold. As evident, the beverages segment is bound to provide significant revenue prospects to the benzalkonium chloride industry.
In a nutshell, a number of critical applications in the food and beverages segment will fuel the development of the global benzalkonium chloride market, which is anticipated to surpass billion dollar valuation by 2025. Prominent companies outlining the competitive dynamics of the industry include  Dishman group, Jinshan Jingwei Chemical, Manav Aktteva Biopharma LLP, Merck Millipore and Novo Nordisk.
Author Name : Pankaj Singh
Construction sector is surging at a rapid pace across BRICS nations, making vital contributions towards Construction Chemicals Market revenue. Thriving APAC construction industry will positively influence the business with China displaying strong growth trends. High preference for weather resistant and earthquake resistant buildings will provide construction chemicals industry players with new opportunities for exploring untapped markets.
Escalated government focus on improving the infrastructure and constructing eco-friendly houses will stimulate construction chemicals industry growth. As per the European commission, buildings consume nearly 40% of overall energy and account for over 30% of total carbon dioxide emissions. Ability of construction chemicals to reduce the GHG emissions will result in high market demand. According to Global Market Insights reports, "Construction Chemicals Industry size is slated to reach USD 50 billion by 2024."
China construction chemicals market size, by product, 2013 – 2024 (USD Million)

Based on the regions, construction chemicals industry displays the following trends:
Asia Pacific construction chemicals industry is expected to record a CAGR of 9% over the period from 2016 to 2024, having collected a revenue of USD 14 billion in 2015. China construction sector, estimated at USD 1.7 trillion in 2015, is expected to boost the regional growth. India and Japan are the few of the other countries of APAC, which are expected to make significant contributions towards the regional revenue, having attained a collective revenue of over USD 1 billion in 2015.
Europe construction chemicals market, estimated at USD 4.5 billion in 2015, is expected to grow at an annual rate of 8% during the next seven years. Large-scale use of protective coatings in residential & commercial constructions to build fire resistance will add to the revenue. Mounting need for renovating heritage buildings will boost the demand for sealants and adhesives.
Concrete admixtures, sealants, protective coatings, adhesives, and asphalt modifiers are the key products of construction chemicals industry. Concrete admixtures, which made major contributions to the overall revenue in 2015, is expected to occupy a significant chunk of construction chemicals market share in future. Its ability to enhance cement quality and high resistance property have made it more popular in commercial and residential projects. Adhesives and sealants worth USD 2.5 billion and USD 1.5 billion in 2015, are predicted to make notable contributions towards the construction chemicals industry revenue over the coming seven years.
Get a Sample Copy of this Report @ https://www.gminsights.com/request-sample/detail/348
The presence of multinational corporations has made construction chemicals industry extremely consolidated, with top four market players accounting for nearly 50% of the overall revenue. The business space is highly competitive with market participants depending on technological innovations, strategic alliances, and joint ventures to raise their production and retain their market positions.
Arkema, Pidlite Industries Limited, Ashland Incorporation, BASF SE, Evonik Industries, The DOW Chemical Company, Sika AG, Huntsman Corporation, The Tremco Group, Mapei, W. R. Grace & Company, RPM International Incorporation, Henkel AG & Company KGaA, Fosroc, The 3M Company, AkzoNobel Chemicals, Knopp GmbH, and Albemarle Corporation are the major participants of construction chemicals industry.
Author Name :Dhananjay Punekar