Chemical
The global industrial communication market has thrived successfully in the recent decade as growing adoption of these components in Industry 4.0 has effectively helped increased productivity in major industries. Labor reduction, waste reduction, repeatability, enhanced quality control, and integration with existing business systems have given companies an added advantage by lowering long-term costs, which could indirectly increase product output and revenue.
U.S. Industrial Communication Market Revenue, By Component, 2018 & 2025, (USD Million)

An industrial communication network is the backbone for any automation system architecture as it can offer powerful means of data exchange, controllability and flexibility to connect to various devices. The use of digital communication networks in industries can also lead to improved end-to-end digital signal accuracy and integrity.
Communication networks like LAN (Local Area Network) or WAN (Wide Area Network) can communicate large amounts of data via limited number of channels. Whereas industrial networking enable implementing various communication protocols between field devices, digital controllers and several automation related software tools and external systems. Therefore modern industries have demonstrated increased adoption of industrial communication networks over traditional LAN and WAN. This has led to industrial communication market size depicting a substantial increase lately.
For instance, according to renowned automation conglomerate ABB, and one of the notable players in industrial communication market, the firm's revenue increased by 5% to $7,395 million in 2018. This has been credited to the strong growth in robotics & motion, robust performance achieved from electrification products and a steady result owing to industrial automation.
Some of the trends that industrial communication market is being defined by are mentioned below:
Long-term application of industrial communication in the industrial automation sector
Growing demand for increased data processing speed will foster industrial communication market size in the automation sector. As industrial operations are becoming more complex and variable, the market has registered immense growth over recent years. Indeed, a greater number of network-based programmable controllers and mechanisms are required within modern industries to attain faster decisions and increased productivity and efficiency.
With network-based automation, companies can also attain increased saving in work force, energy, raw material, better control on product quality and enhanced plant availability and operational safety. In fact, the technology can help in raising the levels of process control & continuity with improved efficiency, eventually bringing potential production figures to the nominal plant capacity by cutting downtime, corrective maintenance and the lack of raw material supply to minimum.
With efficient real-time communication system like PROFIBUS-DP or PA, Fieldbus and more, distributed peripherals such as Input/output (I/O) modules, transducers, drives, valves and operational panels can also communicate with automation systems more accurately.
Thus, with the advent of the automated systems that are based on advanced industrial communication and technology, the automation sector will attain enhanced benefits in terms of maintenance, and increase plant productivity, further augmenting industrial communication market size.
Get a Sample Copy of this Report:@ https://www.gminsights.com/request-sample/detail/3367
S. to emerge as a pivotal revenue pocket for industrial communication market in the forthcoming years
Being a major producer of automation equipment, U.S. is anticipated to drive massive growth in industrial communication market. Citing International Trade Association (ITA) reports, the country is the leading producer of hardware components that are used in automated systems as well as a major supplier to manufacturing or production industries across the globe.
In fact, in 2015, U.S. exported nearly $10.5 billion worth of automation equipment to foreign markets, claims ITA. Sources suggest that supportive government policies and the presence of global automation players like General Electric, Honeywell, Rockwell, Emerson Electric and more will pave the way for industrialization in the region. Additionally, the increasing adoption of Industry 4.0 will boost the demand for the industrial communication technologies in the coming years, successfully proliferating U.S. industrial communication industry size.
Wireless communication technologies to enhance industrial operations
Advancements in wireless communication along with growing adoption of advanced tech-based devices will drive the industrial communication industry. The key advantage of wireless systems is that they can be installed in remote locations in an efficient and cost-effective manner. As battery-powered transmitters don't require wired infrastructure or power supply, they can be installed across areas that are far away from power wiring and wired fieldbus.
They can also be installed in sites where setting up power and cabling systems would be dangerous or too expensive. This flexibility allows use of wireless in both Greenfield projects and ongoing Brownfield projects.
Owing to the low-power nature of Wireless HART devices, users can also operate such equipment for several years without replacing the battery. Moreover, engineering, procurement, and construction contractors and plant owners can increasingly shift to wireless communication technology as it is beneficial in terms of reducing physical fixed infrastructure, managing schedule risk and cost escalation, and reducing space requirements and weight.
According to reports, adopting wireless solutions have reduced commissioning time by 50% for some contractors. The technology further helped in streamlining the design and engineering process, maintaining project schedule and improving user's ability to manage change on their project. The prominence of this technology is rather overt from the estimate that wireless charging market size is slated to cross $14 billion by 2024.
Moreover, with industry-leading process plants installing wireless infrastructure, industrial communication market size from the wireless communication protocol is estimated to grow at a CAGR of over 22% over 2019-2025.
In a nutshell, it would not be incorrect to quote that industrial communication industry is likely to come up as a highly profitable vertical of the overall electronics cosmos. As per estimates, global industrial communication market size is anticipated to exceed USD 160 billion by 2025.
Author Name :Mateen Dalal
The revenue graph of operator training simulator market is projected to foresee exponential growth owing to the continuous improvement in these products and rising emphasis on recruiting skilled workforce. Skill development helps to enhance productivity, safety, profitability, controllability, and stability of the enterprise operations. The increasing focus to reduce injuries and fatalities to maintain safe operations across various business verticals is expected to aid the market growth.
Brazil operator training simulator market, by application, 2018 & 2025 (USD Million)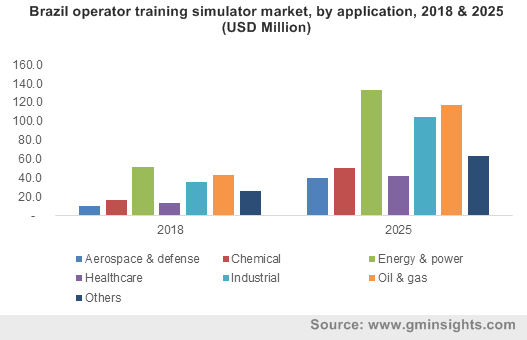 Industry professionals are training their operators to tackle life-threatening situations which has led to increased emphasis on safety of workers, optimization and efficiency of simulators – a factor that is likely to impel the operator training simulator market share in the times to come.
Operator training simulators improve decision making of the operators at critical times while increasing familiarity with the operations. Pilots are required to develop skills like decisiveness, quick thinking, confidence and situational awareness which can be enhanced by simulator trainings. Operator training simulators strengthen confidence to tackle the unfavorable situations. To underscore the significance of simulators, the recent instance of fatal aircraft crash of Ethiopian Airlines can be considered. The crash killed all 157 on board just five months after a similar crash on a Lion Air flight which killed all 189 passengers and crew.
After the accident, the Allied Pilot Association has demanded training on simulators which includes scenarios like those experienced by the pilots of Ethiopian Airlines and Lion Air and additional computer training for 737 MAX to cement the lessons of failure modes in the minds of pilots. Apparently, the deployment of advanced simulators would be crucial in building confidence among pilots, essentially boosting the growth of operator training simulator market.
Get a Sample Copy of this Report:@ https://www.gminsights.com/request-sample/detail/1285
Apart from aviation industry, the railway sector has also emerged as a major end-user to deploy operator training simulator for realistic and robust training to avoid fatalities. For instance, in the year 2018, Indian railways had announced to invest INR 350 crore in operator training simulators to train 1.5 lakh loco pilots and assistant loco pilots to bridge the gap between theoretical and practical learning. The investment is meant to make drivers learn how to navigate rail tracks, curves, signals, bridges and any other situation as if they are driving a real train.
Over 12,000 diesel and electric locomotives daily run on a 66,000-km network across the country. There are about 86,000 train drivers and the simulator training with real feel experiences will assist these drivers to run locomotives efficiently. Apparently, the Indian government's program is a testimony to the increasing prominence of governmental support to high-end simulator training across various geographies – a vital factor that will enhance the growth prospects of the operator training simulator industry.
Notably, defense academies have also been proactive in adopting operator training simulators for public safety and enhancing the overall skill-set of cops. As the police department is responsible for the safety of citizens and maintenance of peace across any country, cops face highly stressful situations on a regular basis which requires high level of patience and panic control. In this regard, simulator training has proved to be of immense help and numerous police academies are deploying these simulators on their premises.
For instance, the New Britain Police Academy has recently adopted simulator trainings to train police to manage stressful responses and make decisions under pressure. The Milo Simulator – chosen by the academy – is an advanced simulator in the state which combines driving an emergency vehicle in highly unfavorable situations such as armed encounters. The human reaction under pressure is unpredictable but this training simulator can help police officers to calmly handle stressful situations.
Operator training simulators have found usage in aviation, railways, police trainings and have applications in several other industries, including healthcare, energy, and chemicals. Operator training simulators play a vital role in training operators in manufacturing and industrial plants. The simulators enhance familiarity with the operations by creating a visual and real-time experience to cement the learnings by experiencing high-risk situations.
Retiring experienced workforce and the increasing demand for quality training of young staff will also contribute in proliferating the operator training simulator industry trends. According to a research report by Global Market Insights, Inc., the operator training simulator market is expected to surpass a remuneration portfolio of USD 20 billion by 2025.
Author Name : Anchal Solanki
The increasing deployment of heating and cooling systems across various commercial, industrial, and household buildings have been fueling heat meters market. The surging concerns among the policymakers and regional governments about energy efficiency has also been having a positive influence on the product demand pertaining to its capability to measure energy consumption within cooling and heating systems. In the cold climatic regions, governments are encouraging people to deploy district heating systems to maintain warmth in the winters. The growing importance of sustainability and energy efficiency across the globe will thus propel heat meters industry share.
Sweden Heat Meters Market Size, By Application, 2017 & 2024 (USD Million)

On the grounds of garnering heat and electricity savings, most of the countries have been installing heat meters in industrial, commercial, and residential buildings. The large-scale deployment of energy consumption measuring equipment has generated lucrative opportunities for the giants in heat meters market. In addition, many financial organizations also have been supporting regulators to install heat meters by providing favorable funding. For instance, in 2017, the Europe Bank for Reconstruction and Development (EBRD) has sanctioned USD 27 million loan to deploy heat meters across the residential sector. Over the last few years, EBRD has been supporting many nations which are looking forward to harnessing sustainability and energy efficiency.
Another region where heat meters market has been gaining traction is Kazakhstan, wherein the fluctuating climatic condition has been impelling the product requirement. Apparently, in the summer season, the heat in Kazakhstan can increase beyond 30 degree Celsius and in the freezing winter, the temperature reaches to -40 degree Celsius. Amidst these extreme climatic conditions, energy efficiency is playing a vital role in the region, leading to the deployment of heating and cooling systems. The deployment of heat meters to save electricity and heat will also help district cooling/heating system firms to control the system losses, optimize the energy supply, and reduce the energy wastage. In 2017, the Kazakhstan government fit heat meters in about 45% of households and was planning to cover more than 80% volume of household buildings within three years.
Get a Sample Copy of this Report:@ https://www.gminsights.com/request-sample/detail/2597
In another instance, the Swiss government and the International Finance Corporation (IFC) have also lent support to Ukraine to create more energy efficient homes. In this regard, Ukraine's State Agency for Energy Efficiency has designed a program dubbed as Warm Loans to improve the heating system of homes. In most of the apartments across Ukraine, district heating systems have already been deployed, but due to more heat loss, energy bills were perpetually high. Reportedly, households in Ukraine account for more than 50% of its overall natural gas production. The remarkably growing awareness among the Ukrainian people about the rising domestic heating bills is thus estimated to fuel heat meters market size.
The transforming technology trends across the globe have also had a significant influence on heat meters market share over the last few years. The development of smart meters is one of the next-generation product inventions that helps customers track daily energy use very easily. Considering the benefits of modern technologies to improve the energy efficiency, leading giants in the heat meters market have been adopting various new technology advancements such as IoT (Internet of Things) and AI (artificial intelligence). For instance, a team from the Danish smart metering company, Kamstrup, and Finnish electricity firm, Herrfors Nät-Verkko have recently planned to use NB-IoT technology in smart metering. With the help of this technology, the Finnish company can monitor more than 6,000 heat and electricity meters that will result in 10% cost savings.
The development of innovative and cost-effective solutions will favorably promote the heat meters industry trends over the years ahead. The supportive stand taken by the regional governments and energy-related organizations to encourage the installation of heat meters will further enhance the industry growth. In line with the increasing deployment of heating and cooling systems mainly across cold climatic regions, heat meters market will generate a revenue of more than USD 1 billion by the end of 2024.
Author Name :Sunil Hebbalkar
The global packaging equipment market is projected to witness an accelerated growth rate over 2018-2024, primarily driven by the expanding F&B & pharma sectors. Having held a valuation of $38 billion in 2017, packaging equipment market thrives on the changing trends of the food industry that conceptualizes state-of-the-art packaging solutions depending on the shifting consumer preferences. The rising urbanization and improving living standards around the world with the rise in disposable incomes have conjointly led to a surge in the demand for ready-to-eat foods and subsequently, innovative packaging, thereby stimulating packaging equipment market growth.
UK packaging equipment market, by application, 2017 & 2024 (USD Million)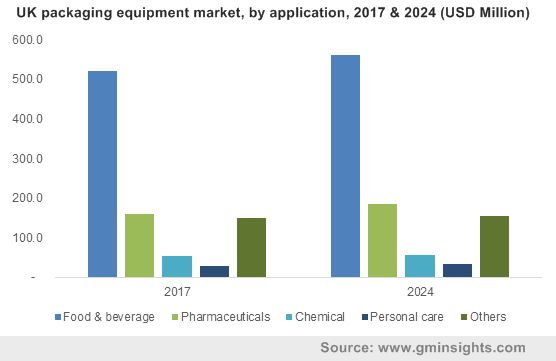 Unveiling North America packaging equipment market trends
According to a report about the food packaging trends by the Packaging Machinery Manufacturers Institute (PMMI) – a trade association that is made up of over 800 North American manufacturers and suppliers, food and beverage would account for more than 55% of the projected share by 2019. The association's report also estimates that the food packaging market in the U.S. alone would be worth over $31 billion by 2022, thereby reiterating the significance of the food industry in North America. It is rather overt that in the years to come, food & beverage companies will continue to expand their product portfolios as they jostle with each other to capitalize upon the growing middle-class populace and its disposable income. The rising competition is certain to act as a catalyst, prompting food & beverage companies to begin constructing new plants, thereby augmenting the regional packaging equipment market trends.
As per estimates, in 2017, North America held more than 25% of the overall packaging equipment market share and is expected to grow at a robust pace in the years ahead. Being one of the technological nerve centers of the globe, packaging equipment manufacturers in North America have been working to incorporate advanced technologies in these devices so as to automate the components with intelligent features. Eventually, this would lead to lesser human intervention and enable a seamless integration of hardware and software, resulting in manufacturers developing highly accurate and efficient products. This in consequence, along with the rising economic growth of the region, are certain to augment the growth graph of North America packaging equipment market.
Get a Sample Copy of this Report:@ https://www.gminsights.com/request-sample/detail/2829
Apart from the F&B applications, global packaging equipment market will be receiving a sizable boost from the pharmaceutical sector as well. The inherent need for pharmaceutical companies to thoroughly and properly package their manufactured medical products to maintain the correct chemical composition will drive the packaging equipment market growth from pharmaceutical applications. The industry has also gradually been influenced by customer feedbacks that often request certain aesthetic features to be added to the medicine's packaging to help distinguish them from other drugs.
The growth of the pharmaceutical industry across APAC would prove to be one of the most viable driving forces for the regional packaging equipment market. The economies such as India, South Korea, China, and Japan have been increasingly shifting toward the adoption of smart solutions in manufacturing. Furthermore, the continent, as a whole, is driven by a strict regulatory landscape mandating pharma companies to adhere to certain rules, further augmenting the regional packaging equipment market.
The accelerated growth of food, pharma, and numerous other end-use sectors is thus certain to impel the commercialization landscape of the overall packaging equipment industry. While North America will continue to remain one of the most lucrative hubs as far as packaging machinery is concerned, emerging economies across the Asia Pacific are also racing ahead in packaging equipment market. Powered by a strong global manufacturing sector and the subsequent demand for packaging devices, the overall packaging equipment market size is slated to register a CAGR of 3% over 2018-2024.
Author Name :Akshay Kedari
Growing emphasis on consumer satisfaction and safety has proliferated the testing, inspection, and certification (TIC) services market as governments worldwide have implemented stringent quality regulations on almost every industry vertical. Whether it is construction, automobile, energy, healthcare or other segments, continuous advancement in products and components have necessitated upgraded testing and certification requirements. Improvements in management, product quality, manufacturing processes, supply chains and service value have become imperative for the growth of any business, imposing a need for the TIC services market. Existence of recognized certifications such as ISO:9001 or ISO/TS 16949 make it easier for customers to search for companies that provide excellent product quality, better customer service and new, innovative solutions. The global TIC services market valuation in 2017 stood at over USD 150 billion, driven by the obligation of companies towards meeting specific product requirements and to comply with international quality standards.
U.S. Testing, Inspection, and Certification (TIC) Services Market Revenue, By Service, 2017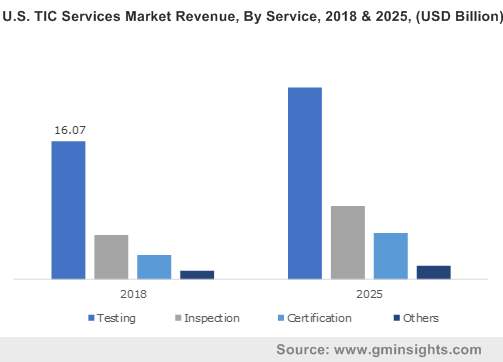 Besides helping to control the quality, effective testing and inspection processes aid in minimizing rejections, reduce manufacturing costs and identify reasons for a defective output. The transportation segment, in general, constitutes a major part of the global manufacturing industry where thousands of components or auto parts go through daily quality checks. As governments and international agencies are constantly raising the weight, material and other standards of automobile components to enhance the safety and efficiency of vehicles, the TIC services industry is subsequently gaining massive popularity. OEMs as well as small auto component vendors are striving to achieve high level of quality and get certified, to get documented and provide validity to their proficiencies and expertise. Frequent inspection and evaluation of manufacturing processes by in-house or third party services to maintain a grip on the quality level will continually boost the TIC services market.
Get a Sample Copy of this Report:@ https://www.gminsights.com/request-sample/detail/2318
As per estimates, the EU alone produced over 17 million passenger cars and 2.6 million commercial vehicles in 2017. With strict regulations in place to enhance the fuel efficiency of future vehicles and reduce carbon emissions, the TIC services market will experience tremendous growth from testing and inspection of advanced auto components and manufacturing processes. New processes need to be sufficiently tested before implementation and vigorously inspected for any faults or defects to ensure product uniformity. Globally, an emerging product line in the automotive sector is connected and self-driving cars, which presents a challenging task for the TIC services industry. Chipmakers and testing companies are helping to develop these products by adhering to ideal temperature, voltage, electromagnetic interference and several other standards put down for an efficient autonomous system. Automotive standards like ISO 26262 have been introduced related to the safety of electrical and electronic systems within vehicles, warranting adequate testing and inspection to be done on advanced automotive chips.
The TIC services industry is rapidly witnessing demand from the healthcare and life sciences segment, with test and inspection reports of pharmaceutical equipment being critical in assessing whether the international standards are met. TIC companies are trying their best to evolve with technological developments and remain up-to-date with new regulations pertaining to safety and quality. Products, apparatus and supply chains are subject to quality testing activities regularly, as pharmaceutical companies are responsible for providing vital therapeutic solutions. Even other parties involved in the supply chain must go through intense inspection by assigned representatives to be eligible to acquire critical certifications. Citing an instance that signifies the importance of the TIC services market, Swiss WorldCargo recently received IATA's Center for Independent Validators (CEIV) Pharma certification, which encompasses not only the airline but also the entire organization.
To elaborate, a CEIV Pharma certification indicates that the lifesaving pharmaceutical products are being handled in compliance with the best global standards of safety, security and efficiency by the certified party. With this certification, Swiss WorldCargo has attained a milestone which only a small number of airlines have been able to earn, recognizing them as globally consistent in exhibiting high quality standards while handling pharmaceutical products. Further, U.S. based Nu-Med Plus Inc. has established a quality management program and trained its employees regarding quality standards in an effort to gain ISO 13485 certification. The certification is essential for the company before it files for the approval of its new nitric oxide delivery devices with the FDA and demonstrates the significance of the TIC services market in forming the image of a top-quality healthcare product or service provider.
Overall, the TIC services industry will undergo remarkable transformation due to incessant developments in the life sciences field, resulting from the existence of rigorous certification eligibilities in healthcare and mandates that demand high quality control. Slated to record a 6% CAGR from 2018 to 2024, the TIC services market is highly dispersed with key players like Intertek, SGS SA, Bureau Veritas, DEKRA, TUV SUD, Apave and Eurofins being the major participants.
Author Name : Pankaj Singh
A major sub-vertical of the specialty chemicals sphere, n-Hexyl alcohol market has established itself as a profitable business space owing to the ever-expanding personal care industry. Given how extensively the product is used across the production of soaps, shampoos, lotions, & creams, the growth of the personal care business is certain to have a highly appreciable impact on n-Hexyl alcohol industry trends. This directly proportional liaison is not confined to a limited set of regions but would be applicable across major geographies. Say for instance, VLCC recently launched a range of personal care and wellness products, the sales of which have been speculated to commendably impact India n-Hexyl alcohol market outlook.
U.S. N-hexyl Alcohol Market Size, By Application, 2013 – 2024 (USD Million)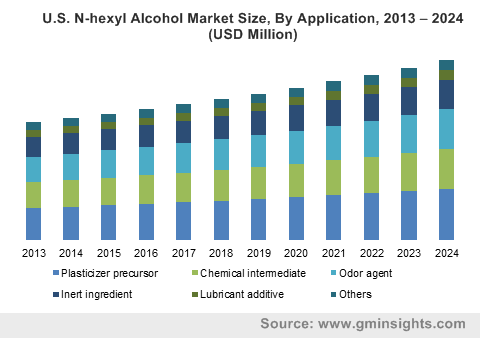 Besides being used as an antiseptic and preservative in cosmetics, n-Hexyl alcohol market has garnered considerable returns from the use of the chemical in modern packaging industry. Pharmaceutical packaging such as wrapping which includes capsules, tubes, bottles, vials, etc., has proved to be exponentially lucrative for the growth of this industry. Speaking of the pharmaceutical space and the use of wrapping materials, it is worthy to mention that N-Hexyl alcohol is also widely used as a plasticizer precursor for packaging. The product is used in the production of PVC – the basic material for many packaging substances that range from wrappings in the medicine industry to wrappers in the cosmetics sphere.
The F&B sector has established itself as a vital application avenue for N-Hexyl alcohol market, essentially because of the chemical's deployment in direct food contact packaging material such as food grade wraps and polymer films. Hexanol also finds widespread application as an emulsifying and preserving agent, with the rising demand of alcohol in food flavoring. Indeed, alcohol plays a huge role in the production of baked foods, ice-creams, gelatins and puddings, enlarging the scope of n-Hexyl alcohol market from the food industry.
Get a Sample Copy of this Report @ https://www.gminsights.com/request-sample/detail/1409
Besides the mainstream uses of hexanol, some unconventional uses of the chemical are also coming to attention that have the potential to augment the commercialization scope of n-Hexyl alcohol market, especially in relation to the current drive to achieve sustainability in fuels. An experiment to increase the sustainability of diesel through the addition of hexanol in ethanol diesel has shown that smoke emission can be significantly lowered by a blend of ethanol-hexanol diesel. The resultant blend apparently encompasses more oxygen content, while helping to improve engine performance as well.
The rising levels of nitrogen oxide in urban areas, depletion of petroleum reserves, and smoke emission from diesel engines have led to research programs being conducted to find sustainable fuel for the automotive industry. The blend fuel method, that requires no changes to the diesel engine while effectively combating the problem of GHG emissions, has emerged as a clearly superior method. Quite overtly, the mainstream use of this methodology is certain to revolutionize n-Hexyl alcohol market trends in the ensuing years.
The availability of chemicals that can potentially substitute hexanol like N-decanol, N-octanol, N-undecanol, N-nonanol, etc., can pose as a major threat to the growth of n-Hexyl alcohol market. However, the chemical's deployment across personal care products is so tremendously vast that the commercialization scope of this industry is certain to expand in the ensuing years. The expansion of the personal care space across the economies of India, China, South Korea and Japan would also significantly impact the overall n-Hexyl alcohol market growth.  According to estimates, n-Hexyl alcohol industry size will register a CAGR of 4% over 2017-2024, further strengthening its stance in the billion-dollar business sphere.
Author Name : Paroma Bhattacharya