Chemicals
Growing population and a subsequent rise in the demand for food & beverage products globally will propel fermentation defoamer market size over the forecast timeframe. Fermentation defoamers are widely used in the production of dairy items such as cheese, yogurt and sour cream, as well as alcoholic beverages including wine, beer, whiskey, and others. The product also finds application in making products such as coffee, bread, tofu, soy sauce, among numerous others. Consistent expansion of the food & beverage segment worldwide, outlined by evolving consumer preferences, is expected to augment fermentation defoamer industry share in the coming years.
North America Fermentation Defoamer Market Size, By Product, 2014 – 2025 (USD Million)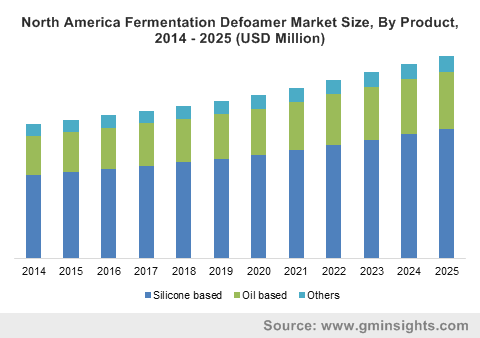 Asia Pacific (APAC) processed food & beverage industry has witnessed stellar growth in the past decades owing to increasing household income levels, rapid urbanization, growing population, changing lifestyle as well as the entry of multinational food companies, specifically in India and China. Apparently, China is currently one of the leading beer producing countries around the globe. Both India and China are two of the largest producers of milk and dairy offerings, which require the use of defoamers to ensure suitable quality of the end product. All these factors will play a considerable role in fostering APAC fermentation defoamer industry scope over the projected timeline.
Rise in the demand for biofuels to address carbon dioxide emission concerns is anticipated to promote fermentation defoamer market size over coming years. Fermentation defoamers are extensively used in industrial fermentation processes to manufacture biofuels like ethanol and biogas, biodiesel, butanol and biohydrogen. Biofuels are expected to substitute conventional fossil fuels in the future owing to their eco-friendly properties. Increased consumption of biofuels all over the world will certainly bring new opportunities for businesses providing required materials and chemicals used in their production. However stringent regulations and strict guidelines regarding product usage in various segments could impede the industry growth to some extent.
Get a Sample Copy of this Report:@ https://www.gminsights.com/request-sample/detail/3735
Alcohol has historically played, and continues to play an important role on social occasions for bonding and engagement. A recent study conducted by a team of researchers for Addiction and Mental Health, in Canada and Germany, reports that at the global level, consumption of alcohol per year had surged by 70% between 1990 and 2017, which can be attributed to the growing popularity of alcoholic drinks among the younger generations. Defoamers are used in the production of alcoholic beverages to stop the formation of foams, representing a crucial application segment reinforcing fermentation defoamer market trends.
Increased consumption of cheese globally owing to shift in eating trends is another key factor that will surge the demand for defoamers. According to reports, an average American consumes approximately 23 pounds of cheese in a year. Over the years, processed food segment has grown rapidly owing to advancements in food processing technology. Apparently, most processed foods use some form of cheese for preparation. Global yogurt sales have experienced a tremendous increase owing to nutritional benefits and preference of health conscious consumers, suggesting substantial opportunities for fermentation defoamer industry growth from various dairy food products.
Consumption of coffee and its variants in North America has surged rapidly due to the lifestyle of people. The U.S. remains one of the leading consumers of coffee in the world and statistics suggest that coffee drinkers in the country consume an average of roughly 3.1 cups per day. In the U.K., bread remains the most favored choice of food, with nearly 99% households purchasing bread daily. Both bread and coffee make up an integral part of people's day-to-day lives, and an increased consumption of these items will bolster fermentation defoamer market outlook.
Fermentation defoamers are proficient in minimizing the amount of foam produced during industrial fermentation process, which makes them an integral part of fermentation-based industrial applications. Climbing demand for antibiotics and the rising consumption of alcoholic beverages will prove to be crucial elements aiding the industry development. Global fermentation defoamer market size is estimated to exceed USD 2 billion annually by 2025.
Author Name : Hrishikesh Kadam
The global fluorinated ethylene propylene market is slated to experience immense growth prospects in the coming years owing to the product's extensive use across the automotive, electronics, food & beverage, and medical industries. In the automotive sector, FEPs are widely used in compact and small-sized cars, in the tubing, bellows, and pressure hoses. The increasing shift among car buyers from sedans to more compact cars, especially in emerging economies will thus propel the growth of FEP industry.
U.S. Granules Fluorinated Ethylene Propylene (FEP) Market Size, 2018 & 2025, (Kilo Tons)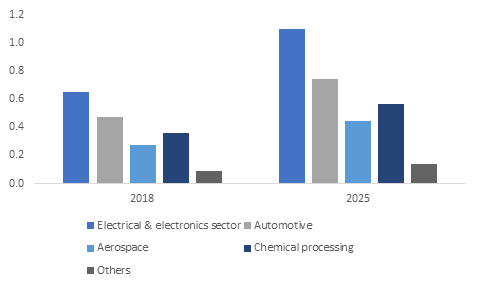 Small cars are also the most affordable vehicles to get on to the road and are easy to park as they don't take up much space. For a middle-class family in emerging nations, a compact car facilitates savings since they are more fuel-efficient compared to sedans and SUVs. Hatchbacks also serve as the best option, in terms of passenger and driver safety with advanced collision control at affordable prices. In 2018, car manufacturers in India invested heavily on small cars to enhance sales records in smaller parts of the country.
For instance, Hyundai, relaunched its most loved hatchback Santro to appeal to Tier 1 and 2 cities where per capita vehicle ownership is still significantly small. Therefore, increasing demand for small vehicles from emerging and low-to-middle income nations will boost the global FEP market outlook.
Growing product demand for automotive ball bearings, paints, and adhesives, and sealants from the construction sector will also help the global FEP market gain traction in the coming years. Latest data from The Bureau of Labor Statistics and Timetric's Construction Intelligence Center, estimates the construction industry to grow at a modest rate over the next several years. Industry professionals further predict one of the largest increase in real output for the construction space, with the business hitting the trillion-dollar remuneration space by 2020. This would remarkably surge the need for adhesives and sealants, driving FEP industry share.
Get a Sample Copy of this Report:@ https://www.gminsights.com/request-sample/detail/3263
Construction of residential housing will witness growth in the years to come owing to the rising population in the United States. Government spending to support homeownership, housing developments and a sustainable community in a bid to provide access to affordable housing will further increase the demand for construction projects. The development in the construction industry will massively boost the demand for paints, adhesives, and sealants, which will eventually drive the fluorinated ethylene propylene market in the coming years.
Fluorinated ethylene propylene tubing is a robust engineering fluoropolymer which offers excellent fluid visibility, low-temperature resistance, and low coefficient of friction and is perfect for flow control monitoring. Hence, the product finds significant use in chemical processing applications as well as the petroleum and oil & gas industry.
For instance, the Indian government has come out with new policy reforms, which makes drastic changes in the country's Hydrocarbon Exploration Licensing Policy and the Open Acreage Licensing Policy in a bid to garner more domestic and foreign investment for exploration of oil and gas, which if successfully implemented could drive the demand for FEP tubes. According to a report by Global Market Insights, Inc., FEP tubes market from chemical processing application is estimated to register more than 6% over 2019-2025.
These materials are also commonly used in solar panel applications. Fluorinated ethylene propylene films serve as the perfect protective front sheet for solar panels due to their smooth, flexible and light-weight features. The material also makes sheets stronger, thereby improving the durability and life span of solar panels, while enhancing its looks as compared to traditional glass. The adoption of these glasses will be fueled by growing energy consumption and issues concerning energy-efficiency.
Increasing efforts to generate energy from renewable sources, stringent government regulations and the benefits pertaining to efficient energy use and affordability of solar panels will further propel the solar power industry. Recently, in an effort to become America's leading rooftop solar company, automotive and energy giant Tesla, slashed prices of solar panels. Such moves will accelerate the adoption of solar energy, which will boost the demand for FEP films, thereby driving the global FEP market growth over 2019-2025.
Fluorinated ethylene propylene will continue to attract huge demand from numerous industries owing to its vast benefits. According to Global Market Insights, Inc., the fluorinated ethylene propylene market valuation is anticipated to reach $1.2 billion by 2025.
Author Name : Krithika Krishnan
With the increased popularity of the attractive fragrance of citrus fruits, especially oranges in personal care products, dipentene market has registered considerable expansion lately. Dipentene or limonene is the colorless liquid hydrocarbon that adds the distinct citric flavor and fragrance in many processed foods, beverages and cosmetic formulations of hygiene and personal care products. Owing to the versatile characteristics of limonene, dipentene market is expected to cater to a widespread range of applications – indeed, the product even finds deployment as an alternative to mainstream pesticides.
U.S. Dipentene Market Size, By End-user, 2013 – 2024 (USD Million)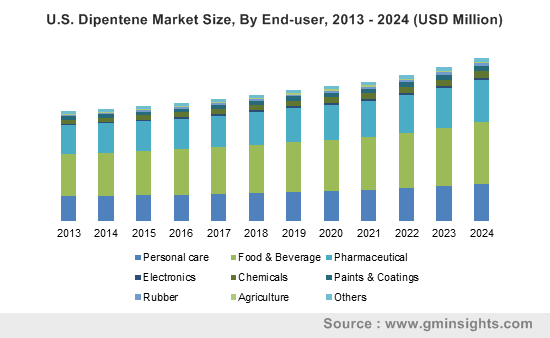 Limonene market has also been expanding rapidly on the grounds of the fact that the product is an alternate solvent to replace petroleum-based ones in several industrial applications such as paints and coatings where VOC emission and low biodegradability of solvents has become a major cause of concern for the wellbeing of the planet.
Global cosmetics and personal care industry statistics clearly point out that the said industry has been earning record revenue as beauty and self-care to preserve a youthful appearance is becoming one of the chief concerns for consumers all over the world. International beauty product companies that offer superior quality products as compared to local products have gained a commendable portion of the cosmetics and personal care industry in emerging nations as income levels of such nations continue to rise. Since limonene is expansively used in beauty products to add a freshening citrus odor, dipentene market is expected to garner major profits in Asia Pacific where the cosmetic market size is projected to surpass USD 126 billion by 2020 and where multinational companies are rapidly establishing a significant foothold. In fact, Asia Pacific has been forecast to be the fastest growing region in the limonene market over 2018-2024.
Get a Sample Copy of this Report:@ https://www.gminsights.com/request-sample/detail/2526
It will be prudent to mention here that dipentene, due to its colorless constitution and fresh, natural fragrance is used in various health care and cosmetic products like suntan products, bath products, cleansers, aftershave lotions, bubble baths, eye shadows, haircare products, lipsticks, perfumes, moisturizers and shampoos.
Rising levels of income is playing a subtler role in the growth of the limonene market as with more disposable income, consumers are opting for more effective ingredients in their products rather than cheaper ones. Manufacturers are therefore touting their products for greater efficiency rather than competitively pricing them which is adding to the enhanced inflow of revenue into the dipentene market. Diversification of distribution channels for cosmetic brands such as online shopping, vending machines, television infomercials, spas and home shopping are adding impetus to cosmetics market and consequently boosting growth of limonene industry.
Dipentene market will diversify its growth avenues beyond the cosmetic industry as research has found that chemicals obtained from orange peel could be utilized as a means of breaking the modern world's reliance on crude oil by being the building blocks in products ranging from plastics to paracetamol. Due to various adverse environmental effects, global industries had been trying to cut down on their dependence on the chemicals and materials that are obtained from fossil fuels, which are rapidly diminishing. As the world is increasing its focus on the development of renewable chemicals from an assortment of sustainable resources such as sugarcane and fatty acids in the production of biofuels, essential oils obtained from waste citrus peels have rapidly come to the forefront as a source that is being investigated with real zest as limonene shares many similarities with the chemicals obtained from fossil fuels.
Though limonene has been recognized as an important component of a bio-based chemical industry it will take the limonene industry considerable time to become a fully commercial means of plastics or polymer production. Issues hindering limonene market include the lack of reliable and greener supply of limonene. As research and development programs exert appreciable focus in bringing petroleum alternatives to the market, it is expected that dipentene industry will massively profit from such endeavors.
Author Name : Paroma Bhattacharya