Chitosan Market Size
In a world consumed with the concern of reducing waste and bring down greenhouse gases emission, chitosan market has gained major prominence in the last couple of decades since the compound has proven to be one of the most ecofriendly biopolymers. Recently a group of bioengineers from University of Nottingham in UK have joined a counterpart team in Nile University, Egypt to develop a substitute for conventional plastic carry bags using chitosan. The biodegradable alternative will be designed to be greener than more conventional polythene derived from fossil fuels and can also be used to extend the shelf life of foodstuffs.
U.S. chitosan market size, by end-user, 2013 – 2024 (USD Million)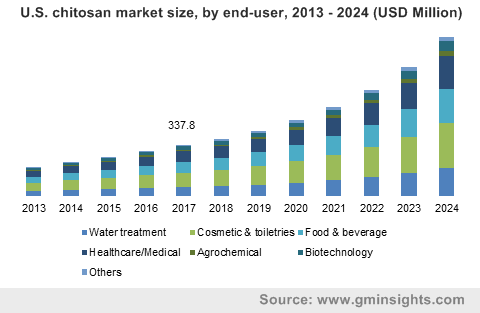 Apparently, developing nations like Egypt have a major problem when it comes to disposal of plastic bags and reduction of water contamination. The use of bioplastics is not feasible in the African nation where most plants are grown for food and cotton. Chitosan, the man-made polymer derived shrimp shell, has emerged as viable solution for the production of a biopolymer nanocomposite material that can replace polyethene. The success of chitosan in Egypt can lead to British manufacturers opting for it as well which is eventually expected to lend a major boost to the chitosan market over 2018-2024.
Chitosan is already a very recognized material in waste water treatment industry as well as food packaging industry. Research has demonstrated that the biopolymer chitosan can be used as a coagulating agent for organic compounds, toxic heavy metals and for adsorption of dyes and minor concentrations of phenols in various industrial wastewaters. Absorption in waste water treatment has been attracting scientific focus as it is a high efficiency, low cost method and absorbents are easily available. Driven by industrialization and urbanization, water pollution has become a major threat on Planet Earth. Chitosan industry has forged a remarkable growth avenue for itself as it has proved to be one of the most effective compounds for the removal of heavy metals or metalloids through adsorption.
Get a Sample Copy of this Report @ https://www.gminsights.com/request-sample/detail/760
Chitosan market has also etched out a growth path through the development of edible alternatives in food packaging. Researchers are therefore developing packaging alternatives made of chitosan as an option that has the potential to replace plastic in the food and animal feed industries. As per the Australian Marine Debris Initiative Database, plastics constitute one of the biggest pollutants in the Australian waterways, with up to 130,000 tones winding up in the ocean each year. Researchers at the National University of Singapore have succeeded in developing an ecofriendly food packaging material that is chemical additives free by fortifying natural chitosan composite film with seed extract from grapefruit. This innovative food packaging material can impede fungal growth resulting in doubling the shelf life of perishable food. As such packaging options come to achieve mainstream acceptance, chitosan market is bound to register a growth influx over the ensuing years.
The production procedure for chitin and chitosan involves use of hydrogen peroxide and high temperatures besides the use of aggressive agents, concentrated solutions of acids and sodium hydroxide. Large volumes of industrial wastewater containing acid and alkali are produced during the chemical treatment of chitin and chitosan. However, the compounds are used across a wide array of industries that include medicine, agriculture, cosmetics and food processing. Considering such applications and the relative eco friendliness of chitosan, extensive research and development is being conducted in the chitosan market to create a product that is not as harmful to the environment.
Recently a research endeavor has succeeded in obtaining low-molecular-weight, water-soluble chitin and chitosan that relies on electron-beam plasma degradation of chitosan in a specialized plasma chemical reactor. The new technique not only has the advantage of being environmentally friendly but also reduces the time needed to produce water-soluble chitosan from several days to minutes. As more investments related to chitosan find their niche in R&D programs, it is imperative that the chitosan market will register a massive growth rate over 2018-2024.
Author Name :Paroma Bhattacharya