Cinnamic Aldehyde Market
With a recorded valuation of USD 1 billion in 2016, the growth curve of global cinnamic aldehyde market is claimed to witness a steady pace of progression over the coming years, courtesy- extensive utilization of flavor and fragrance enhancers in food items. Flavor enhanced confectioneries, chewing gum, candy, and ice cream, in particular, have emerged as the most preferred beverage choices for global consumers. This, in consequence, has created massive growth opportunity for cinnamic aldehyde market, primarily on account of the product's substantial deployment in food items as a flavoring agent. A report put forth by Medical Safety and Global Health in 2014, claims that almost 180,000 kg of cinnamaldehyde is consumed each year, out of which approximately 141,000 kg is exclusively used as a flavoring agent, i.e. almost 95% of the overall consumption. The fraction, itself gives a clear picture of the growth potential of cinnamic aldehyde industry from flavoring applications.
U.S. Cinnamic Aldehyde Market, By End-Use, 2016 & 2024 (Tons)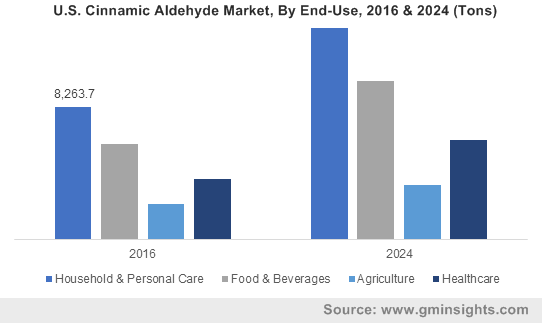 Testament of the fact is the estimation analyzed by Global Market Insights Inc., which depicts that overall cinnamic aldehyde market share from flavoring agent would exceed a revenue of USD 650 million by 2024. The organic compound, having been already authorized by the international standards like U.S. FDA approval and GRAS status, has further aided cinnamic aldehyde industry penetration across the food and beverage space.
Get a Sample Copy of this Report:@  https://www.gminsights.com/request-sample/detail/1385
Regionally, Asia is claimed to be an emerging ground for cinnamic aldehyde market progression over the coming years. The reason behind APAC to become the hotspot for market investors is quite obvious- increasing consumer spending on food and beverage items across this belt. The economic boom in Asia Pacific belt has triggered middle-class populace to shore up the disposable income, which by extension enabled them to invest more on luxurious food items. This changing food consumption pattern has eventually entailed an increased demand for cinnamic aldehyde for various food applications particularly in regions like China, India, and Indonesia. Another driving factor that has immensely favored APAC cinnamic aldehyde market proliferation is abundant availability of cinnamon in these regions. Having procured almost 35% of the overall cinnamic aldehyde market share in 2016, Asia Pacific, undoubtedly, stands in a position to be claimed as one of the remunerative growth grounds for the entire business space over the coming years.
Powered by presence of both local as well as international players such as Emerald Kalama Chemical, Vee Kay International, Kalpsutra Chemicals, Graham Chemical, and LANXESS, the competitive landscape of the overall cinnamic aldehyde market is claimed to be highly fragmented. These biggies have been increasingly focusing on developing integrated supply chains for an easy procurement of raw materials which would ultimately reduce the overall cost trends. In this regard, Emerald Kalama Chemical, has apparently invested almost USD 40 million in a bid to expand its benzaldehyde and benzoic acid business in Rotterdam.  As claimed by the Netherland based cinnamic aldehyde market giant, this expansion would support its amyl cinnamic aldehyde and hexyl cinnamic aldehyde plant in Widnes, England, that it had procured two years back from Innospec, in the year 2015. With shifting manufacturer focus toward cost reduction along with spreading consumers' awareness with regards to product credibility and functionality, cinnamic aldehyde industry size is forecast to exceed a valuation of USD 2 billion by 2024.
Author Name : Satarupa De