Civil Engineering
Predominantly driven by widespread applications in iron ore pelletizing, drilling muds, refining, and foundry sands, the global bentonite market is anticipated to garner considerable remuneration over 2018-2024. Subject to rising foreign direct investment from developed nations such as the U.S. and Japan, the steel market in India and China has promoted the iron pelletizing business. In this regard, it would be prudent to mention that bentonite is the major raw material that is utilized as a binding agent to speed-up mineralization rates in the steel manufacturing companies, essentially accelerating the bentonite industry share growth.
U.S. Sodium Bentonite Market Size, By Application, 2017 & 2024, (Kilo Tons)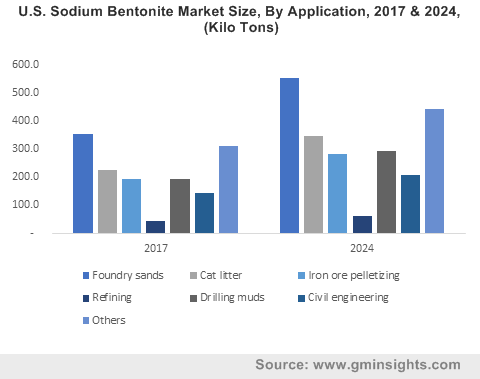 Elaborating on the numerous unique properties of bentonite, it is used to improve thermal resistance, increase drop strength, impart structural stability to iron pellets. Owing to these excellent features, the uptake of bentonite has increased in the steel mills. Moreover, bentonite increases the productivity of sponge iron with less amount of energy. Here, it is quite imperative to mention that steel companies have been feeding the output to iron palletization plants to make the ore usable in steel manufacturing – a factor that has undoubtedly provided immense business opportunities for the players operating in the global bentonite market.
Increasing O&G exploration activities across various geographies to boost calcium bentonite industry:
Numerous developed and emerging nations across the world have initiated large-scale oil and gas exploration activities, of late, to reduce the volume of petroleum imports so as to decrease the widening current account deficits of their respective economies. In this regard, it would be prudent to mention that calcium bentonite is utilized in drilling & fracking activities owing to its high viscosity and applications in drilling mud. It helps in keeping the stone detritus in suspension when purge pumps are inoperative while creating boreholes in the ground to access petroleum reserves.
Get a Sample Copy of this Report:@ https://www.gminsights.com/request-sample/detail/2939
Enumerated below are a few examples of developed and emerging economies where the increasing number of oil and gas exploration and mining operations have been instrumental in boosting the growth potential of calcium bentonite market:
The overall oil and natural gas production capacity of the U.S. has been reaching record levels in the recent time. In 2017, the North American country reportedly became a net natural gas exporter for the first time in 6 decades. According to the statistics published in the Annual Energy Outlook 2018, a report compiled by the U.S. Energy Information Administration, the total natural gas production capacity of the nation was registered to be 73.6 billion cubic feet per day (Bcf/d) in 2017 and is slated to reach 118 Bcf/d in 2050. The rising natural gas production has invariably benefited the overall U.S. calcium bentonite industry share which is slated to grow at a 5% CAGR over 2018-2024.
In an attempt to drastically enhance its domestic crude oil production and cut its mounting crude oil import bill, India has been increasing its natural gas production on the onshore blocks in the recent years. As per reliable estimates, India's natural gas output grew 2.5% to 32,649 Million Standard Cubic Meter in the fiscal year 2017-2018, the highest in six years. These statistics are a testimony to the growing number of oil and gas drilling activities in the nation – a factor that has contributed toward bentonite market share expansion in the past few years.
Driven by rising infrastructural growth, escalation in automotive manufacturing, and increasing activities of oil and gas drilling, the overall commercialization scale of bentonite industry is expected to exceed USD 1.95 billion by 2024. MIDPOINT Chemicals, Wyo-Ben, Halliburton, Black Hills Bentonite, CETCO, Delmon Group of Companies, and Mineral Technologies are the prominent companies spearheading the global bentonite market.
Author Name : Saif Ali Bepari
A slew of advancements in geospatial technology has been instrumental in adding impetus to aerial imaging market lately, to such as extent that government organizations to commercial businesses, have now found ways to utilize the technology to their own advantage. Hurricane Harvey is one of the most iconic examples that demonstrates the progress of aerial imaging industry. The prompt intervention of EagleView Technologies had then restored some relief to the hurricane affected victims, while simultaneously increasing the popularity of aerial imaging.
Aerial Imaging Market Size, By Application, 2017 – 2024 (USD Million)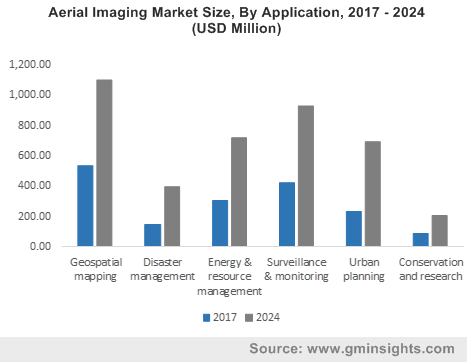 Elaborating further, when Harvey flooded Texas and Louisiana with 27 trillion gallons of water in 2017, it turned out to be one of the most devastating natural disasters in the US history. Besides, it also happened to be one of the most expensive catastrophes which cost approximately $190 billion. Amidst a scenario where thousands of people were displaced from their homes and thousands of others did not know if they had any home left to go back to, the Henrietta based aerial imaging company EagleView Technologies presented a possible means of relief to the victims of the destruction Harvey left in its wake. The company launched a website that depicted aerial views of the streets ravaged by the hurricane. Users could enter a street name and view before and after images to access the extent of damage. EagleView Technologies has so far collected almost 350 million images of over 90% of the most populated areas of the U.S. on behalf of clients which comprise local and state governments as well as insurance companies, that may benefit the hurricane victims.
Get a Sample Copy of this Report @ https://www.gminsights.com/request-sample/detail/105
However, aerial imaging industry is not limited to amassing millions of pictures alone. The vertical is now focusing on collecting images and teaching machines to look at images and generate a report if something of crucial importance is being reflected in those images. For instance, when an electric utility company requires aerial imaging, they do not just want thousands of images of power lines, what they want is to discern which poles are damaged or have broken conductors and need to be repaired. Machine learning facilitates this process by analyzing each image and producing a report for the repair crew with the location of the problem spots. Information collecting companies that are mainstream end-users of aerial imaging market are heavily dependent on this technology to access damage of personal and public property after natural catastrophes. Since it is not possible to send out claim adjustors to every place right after the disaster despite the crucial importance to assess damages as quickly as possible, aerial imaging market has received a considerable boost from the insurance industry.
As such implications clearly point out, disaster survey and management is expected to become one of the most lucrative growth avenues for the aerial imaging industry. In fact, aerial imaging market size from disaster management is expected to register a CAGR of 16% over 2018-2024. Most governments have regulations dictating the pilot of an aerial imaging vehicle to be in the visible range of the vehicle. But as climate change has increased the incidence of natural disasters, such restrictions are being slowly lifted. Advancement of technology is also ensuring that human pilots can be replaced with self-flying drones. This not only decreases the chance of harming human life while they are out in disaster zones but also helps in better assessment as machines can be taught to fly straight and maintain constant altitude. The advent of advanced technology will thus play a pivotal role in aerial imaging market expansion.
Recently Airbus Aerial and DroneBase announced a partnership that will deliver a multi-source data service solution for aerial imaging from a single provider. Such an initiative will enable companies to use a single service provider for all their data and imagery insights. With an international leader and pioneer in aerospace industry like Airbus and DroneBase which has 100,000 commercial missions flown in over 70 countries making a significant investment, other investors are also expected to join in the battle. As the contributions by prominent contenders strengthens the case for this vertical, aerial imaging industry size is expected to cross USD 4 billion by 2024.
Author Name : Paroma Bhattacharya