Class 8
The rising concerns pertaining to vehicular emissions are expected to boost the global battery electric vehicle market over the forthcoming years. In 2018, carbon emissions were at an all-time high, with the automotive industry being a major contributor. Emissions from cars and trucks using fossil fuels continue to grow at an alarming rate in all parts of the world. A common factor among both developed and developing economies on these grounds has been the continuous rise in the use of oil in the transport sector.
Brazil Battery Electric Vehicles Market, By Vehicle, 2018 & 2025, (USD Million)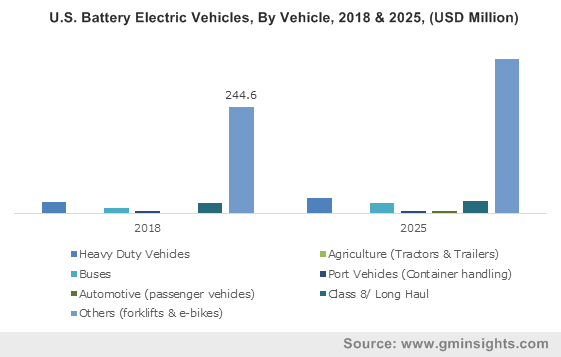 According to the latest forecasts, the level of CO2 in the atmosphere is projected to witness an average rise of 2.75 parts per million over 2019. If the world needs to meet the temperature goals of the Paris agreement, global emissions need to plummet by 2020. Unlike conventional vehicles though, battery powered vehicles don't require fuels and hence don't release much CO2. The growing number of issues related to vehicular emissions paired with the increasing need to reduce the effects of greenhouse gases will thus propel battery electric vehicles industry share in the future.
Over the last few years, electric vehicles have nearly gone mainstream, at least in the key global markets. Now having accomplished a small but significant share of the passenger-car market, the EV industry has been eying the public transit sector. Companies are now manufacturing battery-electric buses and selling them to cities interested in reducing their carbon footprint. Major manufacturers active in the electric-bus business comprise Canada-based New Flyer, China's BYD and the US-based startup Proterra.
Recently, Austin became the fifth Texas city to invest in the Proterra battery-electric buses. A complete all-electric fleet is the main goal of the city's transit agency Capital Metro, that purchased 40 buses along with 4 Proterra-charging systems of 60 kilowatts. Through no tailpipe emission, battery electric buses can help the agency meet its sustainability goals efficiently. The increasing adoption of such vehicles for public transportation will further proliferate the global battery electric vehicle market.
Get a Sample Copy of this Report @ https://www.gminsights.com/request-sample/detail/3181
Recently, Daimler Trucks North America claimed that battery electric vehicles will pave the way for zero-emission commercial transportation. According to the European Federation for Transport and Environment, emissions from heavy-duty vehicles such as trucks and busses grew by 36% between 1990 and 2010 and has continued to grow ever since. By the year 2030, trucks and buses will release around 15% of overall effort sharing or non-ETS emissions. Unless additional measures are taken, heavy-duty vehicle emissions could rise to contributing 40% of overall road transport emission by 2030. This presents BEV industry contenders with a viable growth opportunity, to manufacture batteries for heavy duty vehicles.
Recently, Germany-based Daimler announced the production of Freightliners, the company's heavy-duty battery electric vehicles, from its manufacturing plant in Portland. According to Global Market Insights, the BEV market share from heavy-duty vehicles segment will exhibit a CAGR of 9% over 2019-2025. The adoption of battery electric heavy-duty vehicles in a bid to reduce emission from commercial transportation will thus propel the global BEV market in the coming years.
The adoption of battery-operated passenger cars, buses or trucks will be further supported by the imposition of stringent vehicular emission standards across the world. For instance, the European Parliament recently agreed to new CO2 emission standards for newly purchased cars and vans with an objective to witness 37.5% reduction in emission from new cars and 31% lower emissions from new vans by the end of 2030.
Such regulatory initiatives along with the increasing need to prevent the severity of global warming would accelerate the adoption of BEVs in the future. For the record, the global battery electric vehicle market is anticipated to surpass $425 billion by 2025, according to a research report by Global Market Insights, Inc.
Author Name : Krithika Krishnan
Fuel cell electric vehicle market share is anticipated to display a marked ascent in the forthcoming years, owing to the fact that governments across a host of nations are undertaking various initiatives to bolster the utilization of zero-emission automobiles in a bid to lower greenhouse gas emissions and contain the ever-rising pollution levels. Moreover, it would be prudent to mention that the painstaking efforts being put in by automobile manufacturers in enhancing the existing fuel cell technology and revamping the current infrastructure of fuel cell EV platforms, has invariably created an unprecedented exuberance pertaining to the growth prospects of the global fuel cell electric vehicle industry.
U.S. Fuel Cell Electric Vehicle Market, By Vehicle, 2018 & 2025, (USD Million)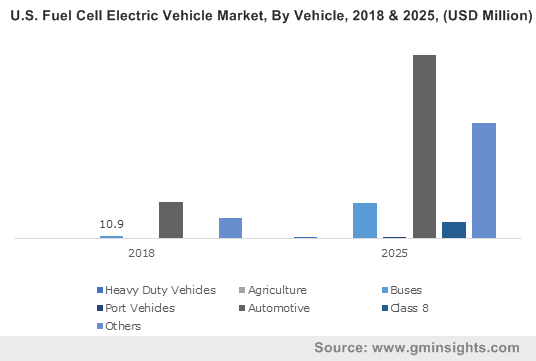 Citing an instance to highlight the same, one of the foremost fuel cell electric vehicle market players, Ford Motor Company has recently announced that it would amplify its current investment in electric vehicle manufacturing by over two times, taking the figure to a staggering USD 11 billion. Moreover, a range of other dominant fuel cell electric vehicle industry giants including Toyota, General Motors, and Volkswagen have already carved out aggressive plans to manufacture more such vehicles in the next few years. Apparently, the aforementioned declarations undoubtedly showcase a favorable progression path of the worldwide fuel cell electric vehicle market.
In the recent times, it has been observed that the leading fuel cell electric vehicle industry players are being benefitted immensely from the noteworthy increase in consumer preference for fuel cell-powered vehicles over battery-powered ones. Apparently, the major advantage of fuel cell-powered vehicles is that they can be charged in lesser time duration than the vehicles running on batteries. Furthermore, fuel cell electric vehicles are known to cover longer distance after a single charge, possess greater off-road mobility, better torque, and enhanced field configuration than the battery-powered vehicles. This goes on to explain the increased focus of a number of fuel cell electric vehicle industry giants on manufacturing fuel cell-powered long-distance trucks and SUVs. As a consequence, long distance traveling automobiles are set to apportion a major revenue share of the overall fuel cell electric vehicle industry by 2025.
Get a Sample Copy of this Report@ https://www.gminsights.com/request-sample/detail/2375
Speaking along similar lines, Toyota Motor North America, Inc, has recently released its concept truck heavy-duty truck equipped with advanced hydrogen fuel cell system that is expected to broaden the application of zero-emission fuel cell technology. Moreover, the fully functional truck, named as Project Portal, has an exceptional torque capability to seamlessly carry out port drayage operations and transport goods over short and long distances. Needless to mention, the launch of such innovative vehicles would provide a vigorous boost to the global fuel cell electric vehicle market size expansion over the estimated time frame.
Meanwhile, it would be prudent to take note of the major factors that are likely to hamper the fuel cell electric vehicle market size progression over the next few years. Establishing a robust network of fueling stations has always been a matter of contention across the globe as it requires a substantial amount of investments. Taking this shortcoming into consideration, the renowned fuel cell electric vehicle market player General Motors Company has recently unveiled a new fuel cell platform, christened as Silent Utility Rover Universal Superstructure (SURUS), which has reportedly been designed for variegated vehicle models. The latest platform is being described as a significant development considering the use of microgrids in military applications. Furthermore, the platform has been developed in such a manner that it would double up as a stationary power source to charge the electric vehicle. The US Army is expected to be the first to utilize SURUS on a wide scale, given that it is already experimenting with semi-autonomous convoys to strengthen its existing fleet of fuel cell electric vehicles that cover long distances.
As regional and international regulatory agencies are determined to reduce carbon emissions coupled with the extensive efforts being deployed by leading fuel cell electric vehicle participants, the popularity of fuel cell-powered vehicles is anticipated to soar over the next seven years. In addition to this, the robust growth being witnessed across global renewable energy sector would favorably influence the fuel cell electric vehicle market size that is estimated to surpass USD 11,600 million by 2025.
Author Name : Saif Ali Bepari
Tesla's latest Class 8 marvel is indeed a classic phenomenon that has posed several challenges for heavy-duty trucks market players. The automotive giant has unveiled the 'Tesla Semi' – its all-electric semi-truck that boasts of superior charging capacity and has been designed to travel from 0 to 60 mph in merely a 5-second span. In fact, towing a load of close to 80,000 lbs alongside, this truck can travel from 0 to 60 mph in just 20 seconds, setting quite a remarkable precedence for companies partaking in heavy-duty trucks industry share.
U.S. Heavy-Duty Trucks Market, By Class, 2018 & 2025, (USD Million)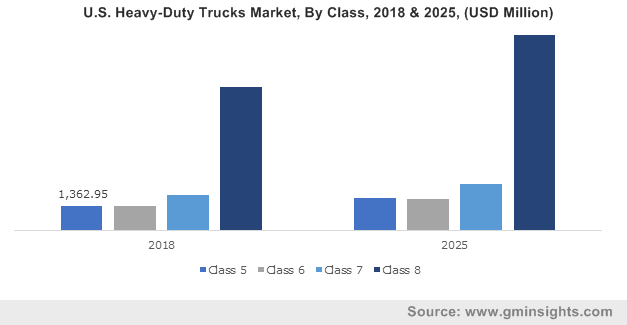 What's precisely noteworthy though, is not the Semi's speed range or its aesthetic appearance, but the fact that it offers a transmission which requires no gear shifting with regenerative braking – essentially, a provision that delivers infinitesimal brake life for the vehicle. Endowed with such an amazing intrinsic design such as this, the Tesla Semi is certain to cause a stir in heavy-duty trucks market.
It is prudent to state that the Tesla Semi being a Class 8 wonder is an indicator of the fact that class 8 vehicles are indeed being pursued with renewed gusto by heavy-duty trucks industry players. In fact, a report by Global Market Insights, Inc., claims class 8 vehicles to accumulate a considerable portion of the global revenue in heavy-duty trucks market over 2019-2025, pertaining to their enviable ability to sustain heavy loads. Generally deployed for high-power applications such as construction and mining, class 8 vehicles are diesel-powered and have a gross weight vehicle rating of more than 33,000 lbs. Subject to the extensive demand for these beauties, companies have been sparing no expense in R&D activities, to bring forth newer class 8 vehicles endowed with superior features, that would ultimately help augment the sales graph of the overall heavy-duty trucks industry.
Get a Sample Copy of this Report:@ https://www.gminsights.com/request-sample/detail/2015
Not so long ago, Daimler, one of the most prominent players of heavy-duty trucks market, had unveiled a prototype of its much-awaited vehicle at the Tokyo Motor Show. Daimler's truck unit, Mitsubishi FUSO, claimed that its heavy-duty truck, called the E-FUSO Vision One, weighs more than 51,000 lbs and is capable of driving up to 220 miles on a single charge. The product was viewed as a cutthroat competition to Tesla's Semi, leading to some level of consolidation in heavy-duty trucks industry. In consequence, it is undeniable that products endowed with superior properties and high-caliber innovations would prevail in this business space, thereby increasing the sales figures and the overall revenue of heavy-duty trucks market, which is anticipated to surpass USD 160 billion by 2025.
Unquestionably, renowned biggies have not been programmed to remain the underdog in heavy-duty trucks industry. In this regard, Volvo Trucks, the Sweden-based truck manufacturer, recently launched LNG and biogas powered, Euro 6-compliant heavy duty trucks, that apparently possess the same driving ability, fuel consumption, and performance level as that of Volvo's diesel-powered vehicles. However, the proportion of carbon emissions from the all-new Volvo FM LNG and Volvo FH LNG is 20% to 100% lower than the diesel vehicles, based on which fuel is specifically chosen. Furthermore, these trucks are also available for heavy long-haul operations, with 420 hp to 460 hp, that may make them one of most sought-after vehicles in heavy-duty trucks market.
Most companies spanning across the competitive spectrum of heavy-duty trucks industry have lately been concentrating on cost-reduction methodologies. This paradigm shift, it has been observed, is being carried out through the introduction of novel remanufacturing business models that ultimately help to reduce the production expense. One of the pivotal factors responsible for the expansion of heavy-duty trucks market is the robust growth of the automotive domain, especially across the emerging economies.
In fact, heavy-duty trucks market players such as Toyota, Daimler, Ford Motor Company, Tata Motors, Volvo, and General Motors have strongly established bases across the developing geographies, owing to the convenient availability of resources coupled with a supportive regulatory frame of reference, which has proved to be rather lucrative for the overall business sphere.
It is imperative to mention that in the last half a decade or so, the prevalence of high-grade technological advancements, say for instance, such as telematics services and self-driving has increased to a rather commendable extent. As on today, these technologies are considered to be some of the key drivers that help expand the consumer pool for heavy-duty trucks industry players.
With tech-savvy clients willing to wield the convenience and flexibility of contemporary technologies, companies have been rapidly exploiting the latest tech-oriented mechanisms in product manufacturing, leading to increased vehicle sales and by extension, an escalated revenue collection for heavy-duty trucks market. With state-of-the-art technologies in action, in conjunction with the widespread penetration of truck fleets in several end-use domains, heavy-duty trucks market size is likely to depict a massive surge by the year 2025.
Author Name : Saipriya Iyer