Cleaning
Stakeholders envisage facilities management market share to proliferate at a robust pace in the wake of unprecedented surge in smart city projects. Smart cities—integrated, powered and enabled by digital technologies—have propelled commercial spaces, transportation sector, namely. In recent years, awareness of facilities management has heightened owing to expanding tourism and hospitality industries.
Palpable surge in investments in construction and real estate is expected to underscore robust-looking facilities management market size. For instance, the Canadian government issued an additional funding of US$ 81.2 bn in 2017 across five main funding streams, including green infrastructure; public transit; social infrastructure; trade & transportation projects and meeting the 'unique' needs of rural and northern communities. Apparently, the unique needs include facilities to underpin food security, improved broadband connectivity and local access roads.
The Investing in Canada plan propounded in Budget 2016 and expanded on in Budget 2017, aims to build advanced economic cities. With burgeoning construction projects, demand for various services, including maintenance, construction, electric, operation and mechanical work has soared in recent times.
Get a Sample Copy of this Report:@ https://www.gminsights.com/request-sample/detail/4403
Facilities management market size is projected to surpass US$ 2 trillion by 2025, according to the latest research report by Global Market Insights, Inc.
Despite companies in the late 2000s focused on insourcing, of late there has been notable surge in outsourcing consumption. Companies tend to streamline their operations by embracing outsourcing that reduces business risks, expands profitability, grows competitiveness, enhances productivity and lets companies focus on their major business and competitive advantage.
As such, the outsourced services segment is slated to expand profoundly during the forecast period. That said, seemingly tepid adoption of outsourced FM services may dent the growth of the industry. Meanwhile, given that outsourcing apparently enhances operational efficiency, the outsourced services will underscore facilities management market size.
Popularity of smart homes and offices, including HVAC systems, fire safety systems, elevators, mechanical equipment has augured well for hard services segment that is set to hold significant share during the forecast period. As such, potential dominance of hard service segment is slated to bolster facilities management market share by 2025.
North America facilities management market is anticipated to expand robustly against the backdrop of proliferating tourism industry. With huge revenue at stake, governments globally are vying to woo would-be travelers to their countries led by aggressive marketing and favorable policies.
According to International Trade Administration (ITA), the U.S. travel and tourism industry garnered an economic output of over US$ 1.6 trillion in 2017. The dramatic upsurge witnessed in the number of tourists has been instrumental in rendering facilities management services across shopping malls, airports, amusement parks, and large food centers.
Leading companies are grappling to secure a government deal for FM services to augment their profitability and expand facilities management market size. In Q1 2019, Madrid City Government inked a four-year contract worth 18.62 mn with the facility management company ACCIONA. Reportedly, the Madrid City picked ACCIONA to enhance energy efficiency in 400 municipal buildings, including sports centers, schools, social and cultural centers, among others.
Author Name : Sunil Jha
Touted as an essential component across a slew of household and industrial applications, glycol ether market size has increased with concurrent expansion of the chemicals, cosmetics, personal care, paints and pharmaceutical sectors worldwide. As a vast number of products manufactured in these segments are water-based, effective solvents are needed to ensure their stability, shelf life and performance. Supposedly, a variety of product formulations and element combinations would not be possible without the presence of glycol ethers to support their reactions.
U.S. Ethylene Glycol Propyl Ether (EGPE) Market Size, By Application, 2018 & 2025, (Kilo Tons)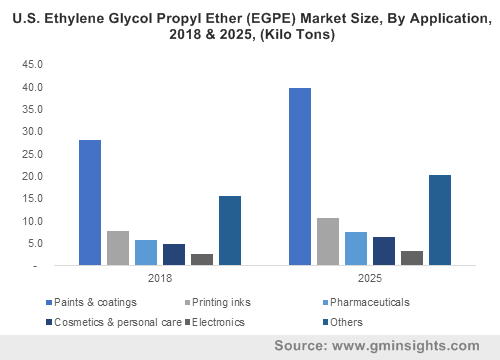 Glycol ethers are applicable in the production of electronics and rubber products, while paints and coatings utilized by automotive OEMs represent a vital segment where glycol ether industry share could witness steady expansion in the years to come. Painting of vehicles represents one of the most critical coating applications, with end products ranging from passenger cars and bikes to all kinds of trucks. Basecoats or clearcoats and topcoat enamel finishes are applied by OEMs during assembly using various paint systems, and glycol ether-based solvents are now being preferred due to their high solvency and evaporation rates.
Suitable coatings provide various aesthetic benefits like enhanced shine and color, along with protecting against UV rays which can fade the exterior paint of a vehicle. Considering few other advantages of these solvent-based coatings and the number of vehicles produced each year, glycol ether market is poised to witness steady demand over the coming years. Evolving automotive sector, which is highlighted by increased preference towards more eco-friendly production processes, will further strengthen the industry outlook.
Get a Sample Copy of this Report:@ https://www.gminsights.com/request-sample/detail/3269
Asia-Pacific (APAC) region boasts of the largest population base as well as some of the fastest growing economies in the world. Not only has the region produced many leading automakers, but car companies form Europe and North America have also established a significant operational presence in the area. Unsurprisingly, auto manufacturing has provided a major boost to the economic growth and created tremendous opportunities for other business verticals, including glycol ether industry.
Referring to data released by the OICA, in 2018 China, India and Indonesia had manufactured more than 34.3 million vehicles combined, indicating the vast prospects benefiting the supportive industries in the region. Driven by rising disposable incomes and the development of more fuel efficient vehicles, the automobile segment in the region can be expected to grow at a considerable pace, in turn generating increased demand for effective paints and coatings. Subsequently, the segment could lead to augmented consumption of glycol ether solvents in APAC over the forecast period.
China's state-owned automobile company, SAIC, had confirmed in late 2018 that a new $2.5 billion plant in Shanghai would be built under its joint venture with Volkswagen AG, where the German carmaker's Audi branded vehicles will be produced. Production at the facility, having a 300,000 annual capacity, is likely to commence from 2020. In addition, SAIC had unveiled recently that it could invest nearly $350 million in India for setting up another manufacturing unit in the country for its MG brand. Similar expansion plans will drive glycol ether market outlook favorably from the paints & coatings segment.
The advent and growing popularity of electric cars (EVs) could reinvigorate glycol ether industry trends, since these vehicles are fast replacing their combustion engine predecessors on assembly lines and on the roads. Accelerated production of EVs globally will simultaneously propel the demand for glycol ether-based solvents to ensure that high-performance and efficient coatings are applied to them, which additionally provide other chemical benefits. For instance, Chinese firm BYD recently signed a deal with an Australian company to build EVs in Adelaide by 2020.
Evidently, a broad application scope and a fast growing automotive sector will significantly foster the consumption of glycol ether based paints and coatings. Globally, glycol ether market size is predicted to exceed $8.5 billion in annual revenues by 2025, outlined by the presence of key industry participants like Exxon Mobil, BASF SE, Dow Chemical, SABIC, Shell and HanNong Chemicals.
Author Name : Pankaj Singh