Cloud Security
With global enterprises rapidly embracing cloud platforms as well as other networking technologies, cybersecurity market is anticipated to observe a massive upscale in revenue. As more and more organizations transition into the cloud and work to minimize security risks, making the enterprise network less vulnerable to a plethora of cyber-attacks, the average annual spending on cybersecurity is expected to rise significantly. In fact, back in 2017 the average spending on cybersecurity solutions by organizations went up as much as 23% accounting for more than $11.7 million. This increasing cyber security budget in several organizations globally is expected to be one of the most prominent growth inducing factors propelling cybersecurity market.
U.S. Cybersecurity Market Revenue, By Product, 2017 & 2024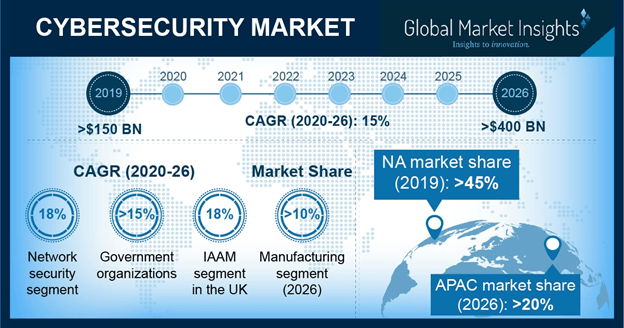 While the topic of cybersecurity once received perfunctory response from global governments, the scenario has undergone a drastic change today. A number of nations have increasingly begun looking for ways to protect their government agencies from malicious attacks by boosting their cybersecurity preparedness efforts. The potential of the threat is so much that in 2018, the World Economic Forum launched Global Centre for Cybersecurity to protect the world against hackers. These cyber security efforts were further magnified in late 2018 when more than 50 countries signing an international cyber security principles agreement that aims to put an end to malicious cyber-activities in peacetime – an act that is bound to significantly drive the growth prospects of cybersecurity industry.
Hefty adoption by large enterprises to fuel global cybersecurity market size
As businesses worldwide undergo a digital transformation, wherein they move the critical applications of their enterprise network onto the cloud, the issue of cybersecurity has garnered mainstream attention. The digital transition has undeniably allowed organizations to significantly improve their operating efficiencies, but has also made them vulnerable to a plethora of cyberthreats that could bring their operations to a grinding halt if they fail to manage the security risks properly. In fact, according to Telstra, over 59% organizations across Asia experience a business-interrupting cyberattack at least once a month due to inadequate cyber security measures.
Get a Sample Copy of this Report @ https://www.gminsights.com/request-sample/detail/3078
Driven by the threat potential of cyberattack more and more large enterprises are embracing cyber security solutions. Indeed, large enterprises accounted for over 60% of the global cybersecurity market share in 2017. It is also prudent to mention that 2017 was witness to one of the biggest cyberattacks ever, where the WannaCry ransomware, which affected over 400,000 machines across 150 nations, cost the world approximately $4 billion in losses. Large enterprises on an average lost over $10 million because of cyber security breaches.
Prompted by the WannaCry attack, that enabled the average cyber-attack cost to rise as much as 11%, enterprises were further encouraged to embrace more advanced security solutions. The cybersecurity market is also expected to attract sizable gains on account of the growing Bring Your Own Device (BYOD) trend, wherein businesses are allowing their employees to utilize their personal devices on the job.
How has the new U.S. national cyber strategy impacted the cybersecurity industry trends?
The United States of America has been facing consistent threats from an increasing number of highly-sophisticated malicious entities that are motivated by a whole host of different factors ranging from ideological & political interests to espionage & financial gains. The Armed Forces Communications and Electronics Association (AFCEA), in September of 2018 had pointed out that the U.S. government did not possess a comprehensive cyber security strategy leaving U.S. critical infrastructure and federal agencies extremely vulnerable to cyberattacks. In the days that followed, the Trump administration released the National Cyber Strategy, the nation's first, fully-articulated cyber strategy in over 15 years.
Propelled by the cyber strategy, in conjunction with the rising adoption of cybersecurity solutions by an extensive number of enterprises spanning the nation, the U.S. cybersecurity industry is anticipated to crop up as one of the most prominent regional markets over 2018-2024.
It is rather overt that the global cybersecurity market is well positioned to establish itself as a lucrative investment ground. As per Global market Insights, Inc., cybersecurity industry size, driven by the growing number of cyberthreats that are frequently cropping up, is anticipated to be pegged at $300 billion by 2024.
Author Name : Akshay Kedari
In an era where connected cars are deemed to mark the future of mobility, automotive cybersecurity market is indeed set to occupy a pivotal stance in smart and sustainable tech space. The cyber threats or security breaches in connected cars enable external access to the vehicle's network and not just compromise the driver's data privacy but can also pose serious threats to the driver's physical safety and car's operation. With data security breaches becoming intensely sophisticated, automotive cybersecurity industry has turned out to be an inevitable investment spot that would aid automotive sector's continued roadmap toward connectivity without risk.
Spain Automotive Cybersecurity Market Size, By Security, 2017 & 2024 (USD Thousand)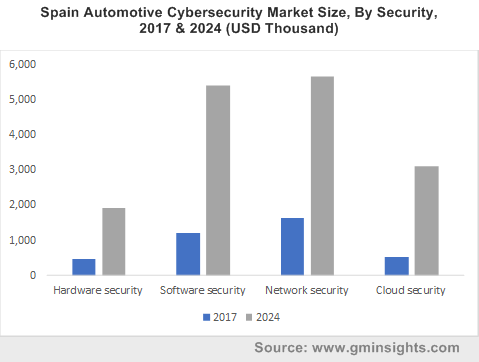 The dynamics of automotive cyber security involves two major rationales; the product's design, developments, maintenance, and operations and the operating environment comprising the regulatory and strategic framework. The multiple aspects associated with the two parameters are sort of prerequisites for the automotive cybersecurity market players to enhance and expand their stance in this landscape.
Speaking of competitive trends, strategic collaborations and partnerships have emerged as two of the top-notch measures adopted by the automotive cybersecurity market giants. One of the recent trends in this regard has been the JVs established between the automotive companies and technology conglomerates, in a bid to understand and resolve the security complexities in modern or connected vehicles.
Get a Sample Copy of this Report @ https://www.gminsights.com/request-sample/detail/2714
One of the recent instances that validates the growing stance of collaborations & JVs as prominent growth tactics has been the partnership between SafeRide, one of the formidable automotive cybersecurity market players and Netherland based digital platform security giant, Irdeto. Under the terms of the recently inked partnership, SafeRide in collaboration with Irdeto is claimed to provide the OEMs and tier -1 automotive suppliers with a holistic cybersecurity solution for autonomous and connected vehicles.  Allegedly, SafeRide's flagship vSentry solution would be integrated with Irdeto's famous Connected Transport solution, Cloakware, to offer a multi-layered approach in protecting the platforms against tampering, automated attacks, and reverse engineering.
The aforementioned instances only bear a fraction of the developments underlining automotive cybersecurity market, which as per Global Market Insights, Inc., would surpass a valuation of USD 837 million by 2024. The growing deployment of in-vehicle connectivity such as infotainment services, navigation, mobile phone connectivity, voice recognition, and communication in modern vehicles has further allowed the automotive cyber security market to make profound inroads in consumer vehicle segment. As per estimates, this particular application segment procured almost 90% of the global share in 2017.
Not to mention, the collaborative approach of the governmental agencies and with software players to provide telematics cybersecurity solutions is another prominent factor characterizing the automotive cybersecurity industry outlook.
In May 2018, The Department of Homeland Security Science and Technology Directorate partnered with the Volpo National Transportation Systems, a subsidiary of DOT, with an aim to build an efficient operational network and cybersecurity implementation for telematics systems in Federal vehicles. In yet another instance, Red Balloon Security, the globally acclaimed embedded security technology leader and Auto-ISAC had recently announced the commencement of a new partnership. The two entities through this tie-up intend to provide advanced security tools and training programs to spread cybersecurity awareness in the automotive sector. Red Balloon Security's advanced specialized tools and trainings are expected to help professionals deal with potential cyber threats in vehicle embedded device systems in a much comprehensive way.
Powered by the dynamism in the growth portfolio, investors are highly optimistic toward the revolutionizing automotive cyber security market outlook and are betting big to exploit the potential opportunities it is likely to offer. The renowned Japanese automotive component manufacturer Denso's USD 2 million investment in Dellfer, the renowned cybersecurity and IOT giant this year marks the onset of this approach by the automotive sector. The deal also implicates the rising focus of the auto giants toward protecting the connected vehicles from potential and rather sophisticated cyber threats.  It is overt that with the increasing commercialization of autonomous and connected vehicles, the deployment of cybersecurity technologies is deemed to be humongous. In terms of profitability, the global automotive cybersecurity market is slated to record a double-digit growth rate over 2018-2024.
Author Name : Satarupa De
The number of cyber-crimes across the globe is sky-rocketing – a factor that has provided a substantial push to FWaaS market, an integral vertical of the network security landscape. According to recent news reports, roughly 2 billion data records around the globe were stolen or lost by cyber-attacks in the first half of 2017. The increasing complexity and sophistication of these attacks further paint a grim picture of today's network security landscape, in extension leading to Firewall as a Service (FWaaS) market emerging in rather a gigantic way. FWaaS industry is capitalizing on the back of ever-growing demand for network security and data protection. The maturation of Firewall as a Service (FWaaS) market can also be accredited to the increased utilization of the ever-expanding cloud computing and the regulatory guidelines being prescribed by the Governments around the world to protect critical data and information. Furthermore, the large enterprises are gradually realizing the significance of firewalls and are increasingly adopting the cloud-based firewalls to fortify their data. The prominent cloud firewall service providers and software vendors are collaborating to enhance the customized products and solutions to address the growing market-specific demand. As per a report compiled by Global Market Insight, Inc., Firewall as a Service market size is estimated to grow at a robust CAGR of over 25% from 2017 to 2024.
Firewall as a Service Market Size, By Application, 2016 & 2024 (USD Million)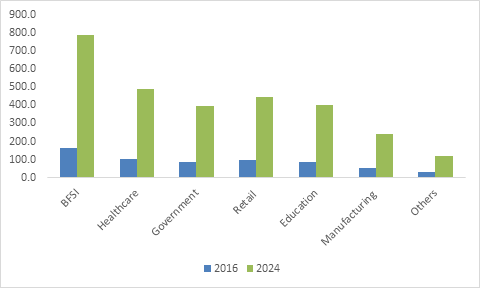 Some of the remarkable benefits of cloud-based firewall services include simplified management, better internal threat protection, comprehensive protection services, reduced cost of training the staff, improved threat perception, and enhanced disaster recovery. The BFSI sector stands to contribute immensely toward firewall as a service industry growth, as the most ferocious cyber-attacks are directed towards financial institutions. The BFSI application, as per the estimates, is contemplating a resilient and sturdy growth of over 22% CAGR from 2017 to 2024. The Governments across the globe are willingly joining hands with the firewall service providers to contain the burden of cyber thefts on the national exchequer, which is carving a profitable roadmap for the Firewall as a Service (FWaaS) market to reap huge benefits in the near future.
Get a Sample Copy of this Report @ https://www.gminsights.com/request-sample/detail/2125
The recent trend of the increasing collaboration of firewall service providers and pure software vendors is seen to be growing. These proactive and dynamic prospects are vividly underlining the competitive and strategic landscape of firewall as a service industry. To cite an instance, Tata Consultancy Services, a dominant Indian IT service provider, has recently teamed up with US-based security firm Palo Alto Networks to assist enterprises to reliably transfer applications and data to the public cloud infrastructure. The Global Security Operations Centres of TCS will be leveraged to keep a tab on the sophisticated and complex cyber-threats and ward off malicious cyber-attacks trying to inflict organizations. Furthermore, Firewall as a Service (FWaaS) market is striving to be a combative market as the leading players are continuing their efforts to integrate with cloud companies to cater to a wider range of customers.
As enterprises are willing to invest in upgrading and refining the cloud security and automation of firewalls, the firewall management software market will obtain a much-required boost. If the recent news reports are to be believed, the hackers are making a concerted effort to reverse-engineer devices and apps. A simple misconfiguration would expose a serious vulnerability in the network of any enterprise. The loopholes include downtime, irregular optimization of firewalls, and infringement of policy guidelines. In response, the firewall management softwares like the Next Generation Firewall (NGFW) is set to make a rather pronounced impact in the firewall as a service market, courtesy its multifunctional security potential.
Speaking of the regional distribution of firewall as a Service market, North America has the largest market size and is presumed to grow at a higher rate owing to its network security infrastructure, heightened awareness and the speedy adoption of latest cutting-edge cybersecurity technology. The Asia Pacific FWaaS market, which has the highest number of SME's, is expected to thrive in the coming few years as the increased awareness, security infrastructure and technology adoption acquire significance. In terms of global commercialization potential, Global Market Insights, Inc. estimates the firewall as a service industry to hit a revenue of USD 2.5 billion by 2024.
Author Name : Saif Ali Bepari