Cloud Service Provider
In this age of technology, increased accessibility to the internet has dictated the augmentation of the network traffic analytics market for monitoring and managing traffic, across different platforms in several consumer driven industry verticals. Traffic analysis is crucial in gaining detailed insights into the type of data that is flowing through a network, so as to have a better understanding of a business' network utilization, connection speeds and the type of data packets. Providing the origin and destination of a transaction enables an enterprise's IT system to identify any suspicious data packet, promoting the utility of the network traffic analytics industry. With the growing frequency of cyberattacks threatening to disrupt operations and data security in major organizations, the network traffic analytics market will experience a tremendous uplift through enhanced network monitoring solutions.
France Network Traffic Analytics Market Size, By Services, 2017 & 2024 (USD Million)

Real-time data analysis has proven to be vital in ensuring fast detection and investigation capabilities of a company's network handling system. The network traffic analytics market, boasting a valuation of over USD 780 million worldwide in 2017, has evolved accordingly to provide solutions for conducting analytics on real-time network information. Essentially, the breakdown of network traffic helps to establish a normal working pattern of an organization's functioning, allowing easier recognition of components that seem out of the ordinary, like connection of any unregistered device or unusual traffic spike. Network monitoring, in a sense, adds a level of security against a probable event and enables the implementation of proactive safety measures. The BFSI sector, particularly, stands to benefit extremely from advancements within the network traffic analytics industry.
Get a Sample Copy of this Report:@ https://www.gminsights.com/request-sample/detail/2818
Companies in the BFSI sector need to guarantee a reliable, safe and consistent service to retain customers, making them uniquely positioned among other industry domains. A network breach or downtime can result in distrust among the customers regarding the security of their savings, investments and private information. The network traffic analytics market comprises of solution providers that offer centralized monitoring systems to track, analyze and resolve network issues on not only physical but also virtual platforms. This is also necessary as many businesses in the BFSI sector have a number of units dispersed throughout a region, requiring efficient system for collating network data from all the locations and display it on an integrated dashboard.
Similar to the thousands of external transactions that organizations such as banks monitor every day, even internal network and communication is prone to slowness, errors and malicious attacks, presenting a need for the services of the network traffic analytics industry. Network monitoring supplies extensive information on internal traffic, highlights slow applications and detects the presence of spywares that could jeopardize a company's image. The ability to monitor suspicious activity assists in spotting outflow of personal information of customers which could lead to huge financial thefts through banking platforms. For example, in 2015 a bank in Kiev, Ukraine, was informed that their ATMs are dispensing cash without authorization, and investigation into the case led to the discovery that the bank's internal computers are affected.
Elaborating further, it was established that a malware had infiltrated their system that was permitting cybercriminals in different regions to access records pertaining to the behaviors of bank employees and how they conducted daily tasks. Reportedly, the criminals were able to also transfer millions of dollars from the U.S., Russian, Swiss and Japanese banks into their own dummy accounts. Effective analysis of network traffic to identify unfamiliar connections can help banks and other financial institutions to prevent such a disaster, implying the compulsion of the network traffic analytics market for providing network traffic monitoring solutions.
The integration of new and innovative technologies with network monitoring and analysis systems will further improve their ability to measure performance metrics at granular levels, mitigate cyber threats and deliver faster return on investment. Lastline, a leading cybersecurity company, has recently introduced an AI-powered network traffic analysis solution. Representative of an emerging segment within the network traffic analytics market, which will create a smarter system for analyzing the traffic entering or operating inside a network. The solution applies AI (artificial intelligence) to the network traffic and could become one of the most effective threat monitoring technology available in the market.
The AI network analysis solution identifies the initial point of infection, movement within system, along with every system that has been compromised by an attack, internal communication or external outflow of data. Lastline's product can be expected to reinvigorate the network traffic analytics industry competition, as it is more accurate and efficient in making threats visible than manual monitoring, which can be affected by lack of experience and the load of a large IT network. All in all, the global network traffic analytics market, estimated to register a 20% CAGR from 2018-2024, will witness enormous growth from advanced traffic monitoring solutions.
Author Name : Pankaj Singh
The telecommunication sector is probably embarking on a transformational shift in recent years. Software Defined Networking (SDN) market is deemed to be a major stipendiary of this transition. Telecommunication networks, apparently, have migrated from traditional hardware and appliance centric deployment to cloud based model, with software playing a pivotal role in network functionality. The increasing popularity of SDN industry can be majorly attributed to this fundamental aspect.
Software defined networking emerged as an advanced architecture paradigm, amalgamating different technological capabilities applied to management of network functions, design, and service platforms. Pertaining to these benefits, numerous IT service companies have been feverishly changing their perspective toward adoption of software-based solutions for resolving several business challenges, which in a way is impelling SDN industry share. It had been stipulated by Cisco in one of its Cloud Index reports, that over 65% of all data centers would adopt SDN technology partially or fully by the end of 2021, a sharp rise from the 2016 records.
U.S. Software Defined Networking Market Share, By Solution, 2018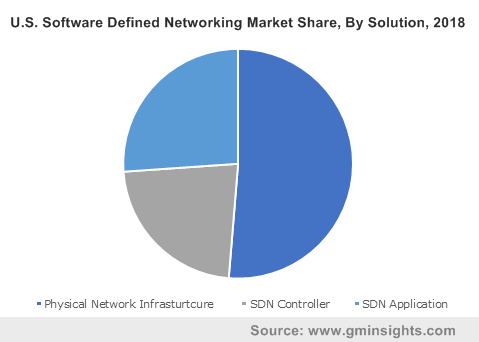 Cradlepoint, one of the formidable players dealing with SDN services, made it to the headlines a while ago, with the launch of its NetCloud service package, that reportedly includes advanced IBR1700 mobile router. Reportedly, this newly designed solution package for its NetCloud platform, brings the benefits of SD-WAN (Software-Defined Wide-Area-Network) to LTE mobile networks for transit operators, first responders, and other fleet-based organizations. As claimed by the cloud-4G network service provider, the new solution is in compliance with the security and performance requirements of FirstNet, the independent authoritative entity under NTIA within U.S.
In a bid to reinforce its position in SDN market, Orange Business Services signed a collaborative agreement with Cisco a while back. Apparently, in consequence of this deal, the former is planning to showcase the onboarding of Cisco's SD-WAN virtual network function on Cisco ENCS (Enterprise Network Compute System). In fact, with the aforementioned platform under its belt, Orange Business Services' customers would gain a fully functional visualized solution for their network services, as a part of Orange universal CPE offering.
The U.K. based telecommunications behemoth, Colt Technology Services, had apparently declared its plan of expanding its On Demand SDN service across APAC belt. Powered by Colt IQ Network, the firm's On Demand SDN services are characterized by high flexibility, real-time bandwidth variation, and agility. Making a profound headway in APAC SDN market share with the successful launch of these services in Japan, Colt had also planned to introduce the same On Demand SDN services in Hong Kong and Singapore as well.
Get a Sample Copy of this Report:@ https://www.gminsights.com/request-sample/detail/2395
Tremendous technological interventions in the telecom sector have evidently narrowed the gap between developing and developed nations, giving SDN industry players lucrative opportunities to extend their geographical reach. However, considering the immense investments by U.S. telecom service providers in software defined networking, the regional SDN market has undoubtedly turned out to be hotbed for potential investors. For instance, American telecom giant AT&T has recently poured in USD 200 million to support startups that mainly focusses on promoting SDN technology and connected services. These kinds of hefty investments toward integrating new age software facilities in the existing telecommunication network is certain to leave a positive impression on U.S. SDN market size.
Speaking of its commercialization potential at the global scale, overall SDN industry size is forecast to exceed a valuation of USD 100 billion by 2025. With incessant efforts undertaken by the tech giants to unlock software-based technology potentialities in telecommunication industry, which has, of late, become more insight driven, SDN market demand is claimed to be on a robust incline. In fact, looking at the pace of advancements and expansion in its application spectrum, this particular business vertical is deemed to be one of the most fascinating spheres to watch unfold, claim analysts.
Author Name : Saipriya Iyer