Coating
Touted as an essential component across a slew of household and industrial applications, glycol ether market size has increased with concurrent expansion of the chemicals, cosmetics, personal care, paints and pharmaceutical sectors worldwide. As a vast number of products manufactured in these segments are water-based, effective solvents are needed to ensure their stability, shelf life and performance. Supposedly, a variety of product formulations and element combinations would not be possible without the presence of glycol ethers to support their reactions.
U.S. Ethylene Glycol Propyl Ether (EGPE) Market Size, By Application, 2018 & 2025, (Kilo Tons)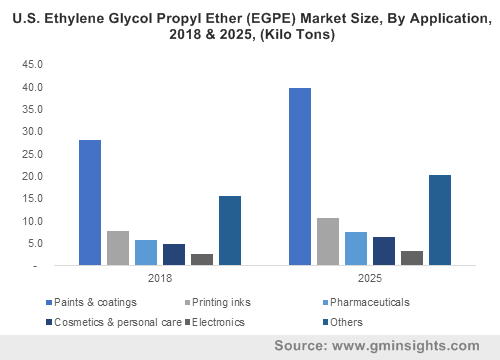 Glycol ethers are applicable in the production of electronics and rubber products, while paints and coatings utilized by automotive OEMs represent a vital segment where glycol ether industry share could witness steady expansion in the years to come. Painting of vehicles represents one of the most critical coating applications, with end products ranging from passenger cars and bikes to all kinds of trucks. Basecoats or clearcoats and topcoat enamel finishes are applied by OEMs during assembly using various paint systems, and glycol ether-based solvents are now being preferred due to their high solvency and evaporation rates.
Suitable coatings provide various aesthetic benefits like enhanced shine and color, along with protecting against UV rays which can fade the exterior paint of a vehicle. Considering few other advantages of these solvent-based coatings and the number of vehicles produced each year, glycol ether market is poised to witness steady demand over the coming years. Evolving automotive sector, which is highlighted by increased preference towards more eco-friendly production processes, will further strengthen the industry outlook.
Get a Sample Copy of this Report:@ https://www.gminsights.com/request-sample/detail/3269
Asia-Pacific (APAC) region boasts of the largest population base as well as some of the fastest growing economies in the world. Not only has the region produced many leading automakers, but car companies form Europe and North America have also established a significant operational presence in the area. Unsurprisingly, auto manufacturing has provided a major boost to the economic growth and created tremendous opportunities for other business verticals, including glycol ether industry.
Referring to data released by the OICA, in 2018 China, India and Indonesia had manufactured more than 34.3 million vehicles combined, indicating the vast prospects benefiting the supportive industries in the region. Driven by rising disposable incomes and the development of more fuel efficient vehicles, the automobile segment in the region can be expected to grow at a considerable pace, in turn generating increased demand for effective paints and coatings. Subsequently, the segment could lead to augmented consumption of glycol ether solvents in APAC over the forecast period.
China's state-owned automobile company, SAIC, had confirmed in late 2018 that a new $2.5 billion plant in Shanghai would be built under its joint venture with Volkswagen AG, where the German carmaker's Audi branded vehicles will be produced. Production at the facility, having a 300,000 annual capacity, is likely to commence from 2020. In addition, SAIC had unveiled recently that it could invest nearly $350 million in India for setting up another manufacturing unit in the country for its MG brand. Similar expansion plans will drive glycol ether market outlook favorably from the paints & coatings segment.
The advent and growing popularity of electric cars (EVs) could reinvigorate glycol ether industry trends, since these vehicles are fast replacing their combustion engine predecessors on assembly lines and on the roads. Accelerated production of EVs globally will simultaneously propel the demand for glycol ether-based solvents to ensure that high-performance and efficient coatings are applied to them, which additionally provide other chemical benefits. For instance, Chinese firm BYD recently signed a deal with an Australian company to build EVs in Adelaide by 2020.
Evidently, a broad application scope and a fast growing automotive sector will significantly foster the consumption of glycol ether based paints and coatings. Globally, glycol ether market size is predicted to exceed $8.5 billion in annual revenues by 2025, outlined by the presence of key industry participants like Exxon Mobil, BASF SE, Dow Chemical, SABIC, Shell and HanNong Chemicals.
Author Name : Pankaj Singh
Polyurea market size is forecast to register surge at a CAGR of 4.8% and reach 249.6 kilo tons from 2015 to 2022, according to the new research by Global Market Insights. The report provides 7 year market projections with important analytical and statistical information on the global developments, technology shifts, industry structure, applications, market shares, key market players, industry dynamics, and critical market trends.
View a summary of the "Polyurea Market Size, Industry Analysis Report"
@ https://www.gminsights.com/industry-analysis/polyurea-market
The report provides:
An in-depth analysis of the global polyurea market.
Analysis of global market trends, with data from15, forecasts for 2016, and projections of CAGRs through 2022.
Detailed analysis of applications.
Exploring the latest trends and new technological advancements in the market.
Profiles of key market participants.
The polymer is obtained by the reaction of isocyanate compounds and synthetic resin polymer, through the technique of step-growth polymerization. It has distinctive properties like pigment compatibility, fast set-time, thermal stability, highly crack resistant, and superior water sensitivity.  It is processed to manufacture adhesives, lining systems, sealants and coatings and is widely used in numerous applications including construction, transportation, and industrial etc.
Finer advantages of this polymer like excellent elongation, long lasting, etc. over other substitutes like polyurethane and epoxy is anticipated to propel the industry. Growing investments in infrastructure expenditure are projected to boost polyurea market growth during the anticipated time frame. Furthermore, the favorable market price trend is poised to open avenues for niche applications and innovation. Increasing environmental safety measures, strict regulations for environmental pollution is likely to impel market trend in the near future.
Aromatic market size is anticipated to register highest gains by 2022. Aliphatic raw materials are likely to witness moderate growth at a projected CAGR of over 4% during the estimated time frame. Lining product is poised to observe growth at a projected CAGR of over 4% during the predicted period.
Get a Free Sample Copy of this Report @ https://www.gminsights.com/request-sample/detail/163
The report covers the in-depth analysis of the market on a regional scale. Asia Pacific polyurea market is likely to continue its dominance and register highest gains over the next few years owing to the proliferation of protective coatings in industrial and automotive applications especially in China and India. The U.S. market share is anticipated to exhibit moderate growth at a projected   CAGR of over 4% by 2022.
The report features competitive landscape, business strategies and key trends of the market with profiles of key participants in global polyurea industry. Key players in the industry include Huntsman Corporation, PPG Industries, Bayer MaterialScience (Covestro), Specialty Products Inc., and BASF.
Author Name : Dhananjay Punekar