Colon
The growing number of technological advancements in cancer screening techniques have underlined the significance of in-vitro colorectal cancer screening tests market across the ever-evolving healthcare and medical devices industry. At the same time, the increasing demand for non-invasive cancer diagnosis methods has been a pivotal factor to have created a slew of business opportunities for companies operating in this vertical. With an overall valuation of about USD 785 million in the year 2016, in-vitro colorectal cancer screening tests market is projected to proliferate at an exceptional pace in the times to come.
China In-Vitro Colorectal Cancer Screening Tests Market, By Test Type, 2013 – 2024 (USD Million)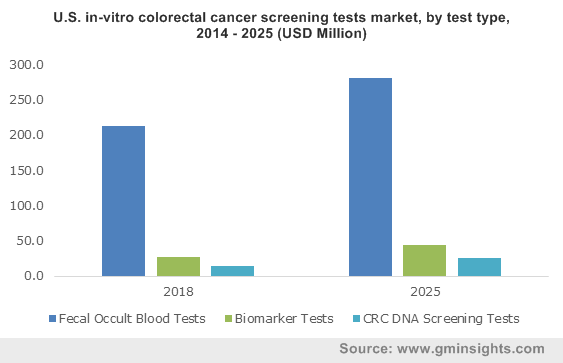 The latest trends affecting in-vitro colorectal cancer screening tests industry: How a slew of regulatory approvals have shaped the expanse of this business sphere
With an exclusive focus on the early detection and prevention of colorectal cancer, prominent in-vitro colorectal cancer screening tests industry contenders have, of late, focused on unveiling easy-to-use and patient-friendly screening assessments and test kits. Apparently, these tests have been proving to be beneficial for people of the age group of 50 and older who are at an average risk of developing colorectal cancer. Moreover, numerous innovative tests have been well-received by the healthcare regulatory authorities in the recent past which has had an optimistic influence on the overall growth potential of in-vitro colorectal cancer screening tests market. Enumerated below are a few noteworthy instances of regulatory approvals:
In August 2014, the Wisconsin based molecular diagnostics company Exact Sciences Corporation declared that the Food and Drug Administration (FDA) of the U.S. has approved it's noninvasive, stool DNA colorectal cancer screening test, Cologuard. As has been reported, the test has been formulated to detect biomarkers from DNA in cancer that is shed from the colon as part of the blood released in the stool and the overall digestive process. Furthermore, the test has been proven to find 69 percent of the most advanced precancerous polyps. Cologuard has also been recognized across the in-vitro colorectal cancer screening tests market as the first noninvasive screening assessment that analyzes both blood biomarkers and stool DNA.
One of the major providers of sample and assay technologies for pharmaceutical research, molecular diagnostics, applied testing, Qiagen had announced in 2012 that the U.S. FDA has approved its genetic test. Reportedly, the therascreen KRAS RGQ PCR Kit would assist physicians to decide if cetuximab would be a conclusive treatment for colorectal cancer based on the lack of a gene mutation. It would be prudent to mention that cetuximab is conventionally known to target epidermal growth factor receptor on colorectal cancer cell surfaces and interrupts a signal preventing cell growth. Studies have shown that KRAS provides information about the KRAS mutation in patients whose colorectal cancer has metastasized – a development that is anticipated to bring about a paradigm shift across in-vitro colorectal cancer screening tests industry.
Get a Sample Copy of this Report:@ https://www.gminsights.com/request-sample/detail/451
Speaking of the geographical growth outlook of this business sphere, the United States has persisted to be the forerunner across the North America in-vitro colorectal cancer screening tests market in 2016. Owing to unhealthy dietary habits, sedentary lifestyle, and rising levels of alcohol consumption, the prevalence of colorectal cancer among the residents of the nation has aggravated in the recent past. Moreover, due to the lack of patient compliance with screening tests recommended by healthcare professionals, colorectal cancer has emerged as one of the leading causes of cancer-related deaths in the U.S. According to reliable estimates, around 23 million Americans between the age of 50 and 75 avoid getting screened each year.
With several private and public undertakings unveiling highly effective awareness programs pertaining to the significance of screening tests coupled with technological advancements in diagnostic methodologies, the commercialization scale of in-vitro colorectal cancer screening tests industry appears highly promising. In fact, according to a research report put together by Global Market Insights, Inc., the total revenue share of this business space is forecast to surpass the billion-dollar frontier by 2024.

Author Name : Saif Ali Bepari
Global Carcinoembryonic Antigen Market is set to register profitable growth in the near future and surpass USD 2.8 billion by 2023. This growth is attributed to factors including consistent technology advancements, development of novel biomarkers and growing prevalence of cancer. Global Market Insights, Inc. announces the addition of a new research report on Carcinoembryonic Antigen (CEA) market to their offering.
View a summary of the "Carcinoembryonic Antigen (CEA) Market Size, Industry Analysis Report" @ https://www.gminsights.com/industry-analysis/carcinoembryonic-antigen-cea-market
The report gives you a basic overview of the CEA market with market definition, applications, segmentation, and value chain analysis. The report covers competitive landscape with the leading company profiles and recent events in the industry. Equipped with all vital information including current scenario, forecasts, and future predictions, it offers insights to foresee challenges and opportunities that will aid in making informed decisions.
Growing demand for minimally invasive diagnostics procedures is projected to contribute a significant part in shaping market growth. Increasing geriatric population is another key factor to intensify the Carcinoembryonic Antigen market growth. The development of novel combination biomarkers and initiatives by the government concerning improved diagnostic rates are likely to open growth avenues for CEA market. The advent of various tumor markers, which can be used along with CEA to monitor or diagnose colorectal cancer is predicted to influence the market growth positively.
North America, hinged on the U.S. Carcinoembryonic Antigen market size, is predicted to lead the segment with estimations of USD 800 million in 2016. Growing awareness about detecting cancer at an early stage and improved health care services for cancer therapeutics are anticipated to propel growth. Asia-Pacific region driven by India and China is targeted to foresee growing prevalence of cancer owing to changes in lifestyle and aging population in the area. The growth is mainly attributed to improved treatment facilities and high disposable income. The Asia-Pacific market share can surpass USD 380 million in the near future.
Colorectal cancer tops the application segment and is expected to foresee growth over the forecast period. Breast cancer segment is likely to be the most lucrative with estimations of over USD 460 million at over 7% CAGR during the projected time frame.
Get a Sample Copy of this Report @ https://www.gminsights.com/request-sample/detail/427
The key players in global carcinoembryonic antigen market include
Quest Diagnostics
Roche Diagnostics
GenWay Biotech, Inc.
Abbott Diagnostics
Focus on early detection methods and product innovation owing to rising demand for minimally invasive procedures is a key strategy adopted by the key participants in the market.
Author Name : Dhananjay Punekar