Commercial
Emirates Central Cooling Systems Corporation, one of the pioneers of district cooling market, recently generated a heavy momentum in this fraternity with the news of connecting almost 40 buildings with its district cooling services in the first half of 2018. The total connected load in this period was more than 52000 RT (refrigeration tonnes). Reportedly, the company has further awarded the suppliers and contractors with 25 contracts on new projects across various areas in Dubai, in which the company currently operates 73 district cooling plants. For the record, Empower started its operation in the year 2014 by providing district cooling services to only two buildings and the company set a record of providing services to more than 1000 buildings by the end of 2017. Empower's initiative not just reflects the company's strengthened position in Middle East district cooling market, but also depicts the growing consumer awareness regarding the importance of energy efficient cooling technologies.
China District Cooling Market Size, By Production Technique, 2017 & 2024 (USD Million)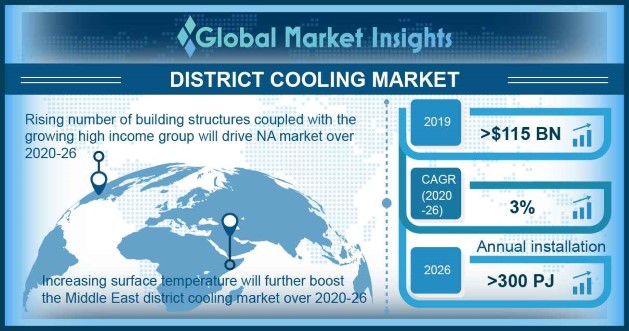 For the uninitiated, district cooling technology bears inherent advantage for areas with dense demographic pattern and huge demand for efficient air conditioning. This is the fundamental reason why district cooling industry observes a massive growth scope across GCC countries. In a bid to unlock the potential of the technology, regional governmental bodies are taking significant initiatives that has immensely contributed in the business share.
The Dubai Supreme Council of Energy, a couple of years back, declared its plans to improve the regional district cooling operations by increasing its investment in the technology from 20% to 40% by 2030. Reportedly, this is in sync with the Dubai Clean Energy Strategy 2050 that aims to transform Dubai into an International hub for clean energy. The initiative was touted as a part of the implementation of the demand side management strategy for the energy sector.
Get a Sample Copy of this Report @ https://www.gminsights.com/request-sample/detail/2672
Another gulf country that has emerged to be a profitable growth avenue for district cooling industry is Saudi Arabia. Increasing construction spending in major cities like Macca and Riyadh in tandem with favorable regulations promoting adoption of district cooling systems are two of the interlinked factors that are expected to push Saudi Arabia district cooling market to reach USD 1 billion by 2024.
From the economic point of scale as well, district cooling market is indeed a viable investment spot for GCC countries. Air conditioning across these regions is deemed to be highly cost intensive. As per estimates, the cooling capacity installation across GCC belt approximately costs around USD 50 billion. Accounting for almost 50% of annual electricity consumption and an annual fuel opportunity cost of USD 20 billion, air conditioning presently is the chief determinant of the region's increasing power requirements. It has been claimed that the cooling demand in this belt would nearly triple by the end of 2030, due to extreme climatic conditions. Meeting this requirement would cost GCC nearly USD 100 billion for installing new cooling capacity and an additional USD 120 billion for new power capacity, if it continues to maintain the existing cooling technology pattern.
District cooling market, however, makes economic sense in areas of highly cooling density. According to estimates, district cooling consumes nearly 40 to 50% less energy for every refrigeration ton-hour that traditional in-house building technologies. In fact, as per experts' opinion, these sustainable services under favorable circumstances offer significant operational efficiency as well as cost gains.
It is imperative to mention that the full potential of the district cooling market can only be achieved via effective governmental interventions. Its long-term potential capacity & fuel saving alone justify the immediate need for sufficient governmental involvements in making this technology mainstream. By incorporating district cooling in urban planning, governments can allow this ecofriendly technology to play a vital part in the overall economic growth. With a strong regulatory backup and unprecedented technological advancements, overall district cooling market is certain to attain remarkable proceeds over the ensuing years.
Author Name : Satarupa De
Primarily driven by the improving global economy and rising disposable income levels, catamarans market has established a remarkable reputation for itself in the worldwide industry of water vessels. Technological innovations in agility & speed and the spotlight put on catamarans' sports in the 2013 America's Cup have expanded the appeal and popularity of this business sphere, in turn encouraging industry players and sailing enthusiasts to invest generously in this sector. In fact, water sports activities such as boat racing, cat racing, sailing, and motor sports have gained immense momentum in the recent years, thereby augmenting catamarans industry players to come up with latest technological advancements & innovations.
U.S. Catamarans Market, By Sailing, 2017 & 2024 (Units)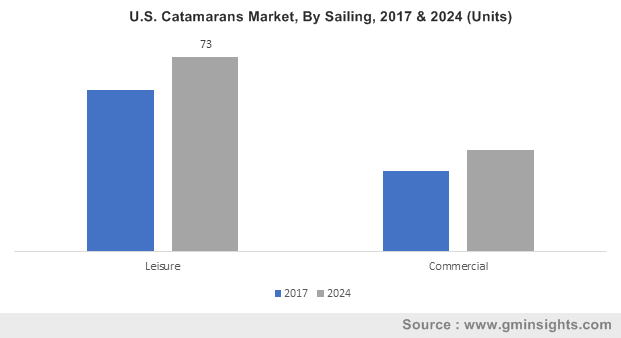 Citing a recent instance, Cape Dory Cruisers and Catamarans have collectively introduced a complete new range of power boats varying in size between 22-36 feet. The new vessels, according to the reports, are designed to provide efficiency with low structural weight and help lower fuel consumption. The firm plans to phase each model into the market in stages through a network of select dealers across North America and rest of the world. Cape Dory's introduction of range of water vessels, according to industry analysts, is one of the classic examples of the robust demand and the incredible growth the catamarans market is experiencing in recent years. The evolution of the modern catamaran from the simple double canoe to the most impressive multihulls across the globe has accelerated even more, with all the latest innovations in materials and structures – a factor that has further contributed to the unprecedented growth of the catamarans industry.
Get a Sample Copy of this Report @ https://www.gminsights.com/request-sample/detail/2642
A report by Global Market Insights, Inc., further sheds light on the robust growth of this industry by claiming the global catamarans market to have pegged USD 1.5 billion in the year 2017. The report states that rising urbanization, the growing fleet of upper-class end users spending on luxury and leisure, and the expansion of the travel & tourism industry have augured well for the growth of catamarans market in the past few years. In fact, if reports are to be believed, the travel & tourism industry has emerged as one of the fastest growing economic sectors registering a 4.6% growth in 2017 – a 50% faster rate than the global economic growth. With such strong prospects and continued momentum, catamarans market has been anticipated to grow in excess of 6.5% each year through 2018-2024.
U.S. to emerge as a lucrative investment hub over 2018-2024
Much of US's outbound growth may be attributed to the region's advanced infrastructure, strong economic growth, and higher leisure spending capacity. In fact, the region is registered among one of the highest income spenders on recreational activities in the boating sector. The propagation of stringent regulatory norms toward coastal security has also significantly changed the growth prospects of the U.S. catamarans market for the better.
According to an estimate released by the U.S. Coast Guard in 2015, the nation recorded 4158 accidents including 2613 injuries and 626 deaths that accounted for property damages surpassing USD 42 million. Catamarans however, are designed to have a balanced structure & provide better safety from such accidental cases. These factors are held in high regard in shaping the growth trends of U.S. catamarans industry, projected to surpass a volume of 567 units by 2024, with an estimated 3.4% CAGR over 2018-2024.
The governmental defense and regulatory contributions toward catamarans industry is not limited only to the U.S., even the Asia Pacific region with China at its foray has been investing heavily to enhance the continent's marine & defense infrastructure. It is prudent to mention that China has built over 80 different variety of Type 22 Houbei-Class – a catamaran designed with fast & sharp attack missile craft feature, to fasten its coastal safety & security.
The shifting focus of countries worldwide toward shipbuilding will have a lasting impact the profitability landscape of catamarans market, as is rather overt from the aforementioned regional trends. Aided by such as strong topographical landscape and product innovations in line catamarans market share is certain to upsurge in the ensuing years.
Author Name : Ojaswita Kutepatil
Increasing investments in sustainable urban development fall among the principal driving factors of Europe district cooling pipeline network industry. Centered basically around energy efficiency, district cooling systems are prominently deployed by regional governments of the EU in commercial as well as residential establishments to fulfill escalating demand for cooling systems. As the requirement continues to escalate, municipal bodies are finding it mandatory to establish long-term contracts with Europe district cooling pipeline network industry giants to set up district cooling plants. The growing acceptance of these systems owing to their economic and environmental benefits is certain to propel Europe district cooling pipeline network market size, valued at USD 900 million in 2017.
One of the most proactive countries across Europe that has accomplished quite some fame as far as urban development is considered is Denmark. Since the last few years, the Denmark government has quite commendably achieved its goal of minimized energy consumption. One of the cities in Denmark, Carlsberg, has earned the reputation of being one of most green cities in the country, solely on account of the deployment of district cooling facilities. Currently, in Carlsberg city, two storage tanks with a storage capacity of 2 million liters are deployed to enable energy-efficient and economically viable district cooling for office areas spanning a mammoth 300,000 square meters.
France District Cooling Pipeline Network Market Size, By Diameter, 2017 & 2024 (USD Million)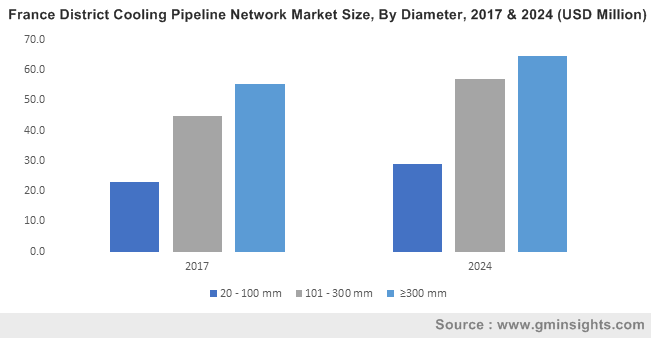 As these systems provide eco-friendly energy solutions, many commercial companies as well as residential building developers have been installing centralized cooling systems. The shifting trends toward the growing deployment of centralized cooling systems is thus likely to boost Europe district cooling pipeline network market size.
A prime driving force behind the growth of Europe district cooling pipeline network industry is the escalating implementation of energy efficient directives for reducing carbon footprints. Having recognized the potential energy savings that can be achieved with these systems, the European Union has framed a set of norms that would increase the deployment of these facilities across the continent. Regional government bodies have also affirmed that these systems will contribute extensively to the reduction of carbon emissions, a factor that is likely to impel Europe district cooling pipeline network industry outlook.
Get a Sample Copy of this Report@ https://www.gminsights.com/request-sample/detail/2571
Numerous member countries of the EU have been liasoning with one another in order to conjointly develop district heating and cooling systems for enhancing energy efficiency in residential buildings. These countries have also pledged to lower the proportion of CO2 emissions that arise due to energy consumption in residential as well as commercial buildings. Validating the abovementioned fact, in 2018, the Scotland government signed a deal with Denmark for reducing energy consumption in buildings by 15% by 2032 and derived emissions by 23%. This cooperation depicted by the EU member countries is certain to impel Europe district cooling pipeline network industry.
With the growing deployment of district cooling systems, pipeline manufacturers in Europe are naturally witnessing a stellar growth in product demand. In order to consolidate their stance as well in Europe district cooling pipeline network industry, these manufacturers are working independently to establish new manufacturing facilities across several European countries. Powered by their efforts in conjunction with the presence of a stringent regulatory landscape and the implementation of these systems across the residential, industrial, and commercial arenas, Europe district cooling pipeline network market is forecast to cross a valuation of USD 1 billion by 2024.
Author Name :  Sunil Hebbalkar
As the lighting industry progresses from incandescent bulbs to CFLs and LEDs, smart lighting market has made its way as the next trending vertical. The vast expanse of this sphere can be aptly demonstrated by an incidence that occurred in Toronto a couple of years ago. A newly constructed building that nearly became a feather in the crown for the Toronto financial district, the EY Tower, made it to the headlines for offering IP addressable LED lights that tenants can control with internet-based building automation. The instance of EY Tower is of particular interest to the smart lighting industry as it demonstrates the steady presence of one of the most important forces, the real estate sector, into the smart cosmos.
Smart Lighting Market Size, By Light Controls, 2017 & 2024 (USD Million)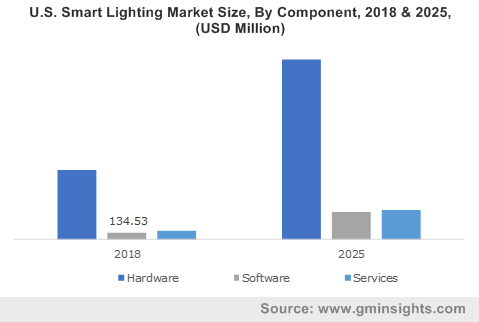 In order to lure tenants with modern technology and convince them to pay premium rents, other prominent real estate developers around the world have also followed the strategy adopted by the Canadian builders of EY Tower. One such instance is the retrofitting of the Torre Europa with Power over Ethernet (PoE) lighting. In the project that has been undertaken by Philips and Cisco, 14 floors will be equipped with 5,400 PoE luminaires.
Advocates of such retrofitting of buildings with smart lighting technologies have pointed out the twofold advantage of the undertaking. It drastically reduces the cost of new wiring by virtually eliminating the need for certified electricians. This is because the low voltages that are capable of driving LEDs can travel safely over Ethernet and do not require the more-costly processes associated with installing conventional 120 Volt and 240 Volt electrical wires. The chief attraction of using smart lighting in buildings however, lies in the fact that connecting luminaires directly into information networks makes it possible to control the 'switch on and off', color temperature, brightness and hues via gadgets and sensors. It also turns lights into nodes that can trigger other operations such as adjusting the heating, and that can collect data about building use and assets. PoE is one of several technologies emerging to make lighting a crucial part of the Internet of Things (IoT). The novelty of the technology and the ease with which it can be controlled even remotely has majorly propelled smart lighting industry trends.
Get a Sample Copy of this Report@ https://www.gminsights.com/request-sample/detail/413
The energy efficiency that smart lighting systems can afford is a major factor driving smart lighting industry size. In 2016, in the UN Climate Change Conference, Philips Lighting demonstrated how smart energy solutions work and can make a real difference to climate change. The event showcased the profoundly transforming capabilities of the smart lighting market, including demonstrations that depicted the energy and greenhouse gas saving potential of this one single technology. Indeed, the technology is equipped with the potential to reduce energy demand from lighting by half.
Philips also exhibited that increasing the rate of energy efficiency to 3% can unlock significant economic benefits – close to 6 million new jobs can be created by 2020, fuel costs can be reduced by €2300 billion by 2030 and household energy bills be reduced by one-third. These estimates are evidence enough to testify the robust latitude of smart lighting industry.
With the rapid proliferation of smart cities, smart lighting market is bound to become one of the most remunerative verticals for investors to pour their money in. Netherlands in this case, can be quoted as a bright example of the onslaught of smart cities, as even the smallest of towns in this country have deployed smart lights which can detect motion and switch themselves on and off. Larger cities like Rotterdam and Amsterdam have already installed smart lights on the streets that are not only energy efficient, but also add a swanky edge to the town or city that can make it more lucrative for growth and investments. As the number of smart city projects across the globe increase, providers of smart lighting for city streets are diversifying their services by turning smart street lighting poles into a potential hub for free Wi-Fi, or to sense the quality of air and even to notify police about public aggression or accidents. This shifting focus is more than likely to expedite smart lighting industry outlook in the ensuing years.
One of the simplest drivers that can be credited for the superb projection of smart lighting market is the eagerness of consumers to upgrade to the latest technology. Currently, smart lights are being designed to be controlled with a smartphone or with AI personal assistants such as Siri or Alexa. In consequence, they have become infinitely more attractive to a generation of consumers who not only have the available disposable income to afford smart lighting but also want to own smart homes where the lighting can be controlled with a voice command. With the popularity of smart lighting on the rise in both the industrial and residential sectors, smart lighting industry size is projected to register a remarkable 20% CAGR over 2018-2024.
Author Name : Paroma Bhattacharya
Europe district cooling market, in recent times, has been witnessing an exponential growth graph, owing to the growing need for energy optimization and the massive deployment of these cooling systems across the continent. Given that the installation of these systems primarily revolves around reduced energy consumption, Europe district cooling market is extensively regulatory-driven. According to the European Union, the demand for cooling systems has been observing a remarkable surge across the residential and commercial sectors, especially in summer. However, in order to ensure optimized usage and lower energy consumption the EU has been encouraging end-users to upgrade existing cooling systems with more efficient technologies, that would add a new growth dimension for Europe district cooling industry players.
Norway District Cooling Market Size, By Production Technique, 2017 & 2024 (USD Million)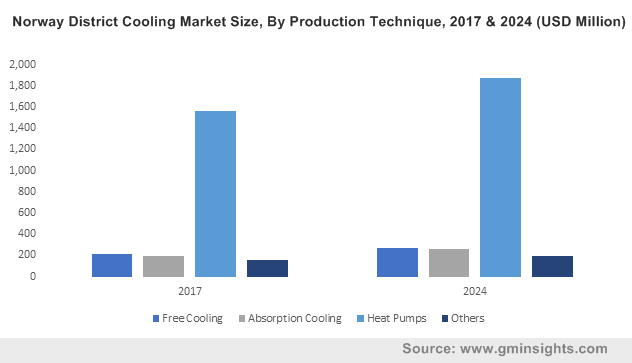 Speaking along the same lines, to combat the issue for massive energy deployment across offices, homes, hospitals, schools, and factories, the European Union had conceived a strategic plan called 'The Heating and Cooling Strategy' to boost the usage of renewables. This initiative was aimed toward curbing the dependency on fossil fuels and reducing harmful carbon emissions. It was also expected to contribute toward the upgradation of cooling systems integrated with electricity components across the industrial and residential sectors. Pertaining to the increasing deployment of sustainable energy solutions, especially across the densely populated regions in the continent, Europe district cooling industry size from the residential sector is poised to register an annual growth rate of more than 2% over 2018-2024.
The Heating and Cooling Strategy, incidentally, will also include plans to ease the number of energy efficient renovations to buildings, make it convenient to develop energy efficiency guidelines for hospitals and schools, and improvise on the reliability factor of energy performance certificates for buildings. The construction industry behemoths would specifically need to adhere to the guidelines proposed by the EU in this regard.
Get a Sample Copy of this Report @ https://www.gminsights.com/request-sample/detail/2478
Speaking of the construction industry, it is pivotal to mention that building owners of late, have been giving extensive preference for outsourcing operations. That is to say, many of them have been inclining toward taking help from energy companies in the first place to get district cooling systems installed. In fact, big shot construction firm owners are particularly keen on establishing partnerships with energy firms to get these systems installed and ensure optimized energy utilization. On these grounds, it has been observed that many energy companies have been wanting to penetrate Europe district cooling market.
Taking into account the expanding renewable energy sector across Europe, established companies in Europe district cooling market have been implementing robust growth tactics such as JVs and M&As. Merely a few weeks earlier, NIBE Industrier acquired Alfa Laval's district cooling systems business unit and conveniently extended its customer base across France, Sweden, U.K., Finland, Czech Republic, and Russia. Given that Alfa Laval is already an established player in Europe district cooling market, the acquisition contributed toward augmenting NIBE's position in the regional industry.
Powered by the countless number of efficient initiatives undertaken by the European Union, Europe district cooling industry share has witnessed a commendable incline since the last couple of years. In fact, the regional business valuation in 2017, had been pegged at USD 35 billion. As the requirement for decarbonization and energy efficient facilities increase, Europe district cooling industry demand is likely to witness an upsurge. Additionally, the continent has been observing an influx of projects focusing on the renovation of conventional district cooling systems for optimized energy usage. Aided by a plethora of supportive norms and the implementation of strategic initiatives, Europe district cooling market size is expected to surpass a revenue collection of USD 40 billion by 2024.
Author Name : Sunil Hebbalkar
Mounting government support with regards to the adoption of renewable energy has majorly propelled hybrid solar wind energy storage market. Regulatory bodies across the globe have set strict deadlines to drastically diminish the amount of greenhouse gases and to create a sustainable environment for the future of the planet. This has resulted in such initiatives like the EU 20-20-20 established in 2014, aimed at reducing greenhouse gases, increasing the renewable energy, and improving energy efficiency, each by 20% by the year 2020. Other regional governments are also catching up quickly on the trend, augmenting hybrid solar wind energy storage market. For instance, the Ministry of New and Renewable Energy of India is planning to build the world's largest solar-wind hybrid mega project that will have a capacity of 160 MW, with the help of funding by the World Bank.
U.S. Hybrid Solar Wind Energy Storage Market Size, By End Use, 2016 & 2024 (MW)

Such large-scale projects not only validate the potential of renewable energy generation using hybrid systems but also the importance of energy storage. It thus goes without saying that the growth of hybrid renewable energy industry and hybrid solar wind energy storage market is directly proportional. The combination of two major renewable energies is slated to ensure a reliable and flexible source of energy as compared to standalone solutions. The storage system ensures resilient solution for providing energy even when faced with prolonged cloudy days with low wind speeds.
With the prominent use of renewable energy, standalone hybrid solar wind energy storage market is anticipated to witness a profitable growth in the years ahead. A number of private sector-based companies have started to offer standalone hybrid solar wind energy systems for homes and businesses. For example, Maine based Pika Energy offers its users the combination of 1700 watt producing wind turbines and 6000-watt range of solar panels. With these, they add an energy storage unit such as the Tesla Powerwall and a very viable standalone hybrid solar wind energy system is created. The idea of standalone hybrid solar wind energy system is appealing to consumers who are looking to move away from the power security and financial constraints of grid dependence. On these grounds, standalone hybrid solar wind energy storage market share has been forecast to increase at a CAGR of 5% over 2017-2024. Incidentally, its counterpart, the grid connected hybrid solar wind energy storage industry is also projected to register steady growth over 2017-2024 due to the potential of uninterrupted power supply and effective capacity utilization provided by the grid connected system.
Get a Sample Copy of this Report @ https://www.gminsights.com/request-sample/detail/2438
Legislative bodies around the world have been making tremendous efforts to increase the adoption of renewable energy. The Department of Energy of U.S. has proactively deployed the utilization of renewable energy across the country. This has resulted to 18% of power usage in U.S. from renewable sources, in 2017. With a shift toward solar and wind power, the total electricity generation was an improvement over the 15% produced in 2016. The use of renewable energies also potentially ended the droughts in the West and a dip in gas emission through power generation and decline in consumer spending on power. Driven by the anticipated growth in the overall renewable energy space in the U.S., it has been projected that U.S. hybrid solar wind energy storage market will depict quite a commendable growth in spite of the Trump administration's desire to cut renewable energy funding.
The trend of encouraging renewable energy deployment has taken a massive upsurge across numerous other geographies. Say for instance, the Clean Energy Regulator of Australia set a Renewable Energy Target for 2020, which the country was confident at surpassing as investments in clean energy soared 150% between 2016 and 2017. The total investment in renewable energy in Australia rose to $9 billion and broke the previous record of $6.2 billion in 2011.
As initiatives for renewables adoption increase across myriad geographies, hybrid solar wind energy storage industry is expected to witness a tremendous surge in terms of volume and sales. As per estimates, hybrid solar wind energy storage market size is expected to cross a capacity of 1GW by 2024.
Author Name : Paroma Bhattacharya