Commercial
Global outboard engines market forecast will be largely propelled by increased consumer participation in recreational, leisure boating and boat club activities. Outboard motors are extremely easy to handle and operate and offer superior engine acceleration characteristics. Moreover, outboard engines are generally compact in design which enables boat manufacturers to provide additional interior room and accommodate a greater number of people.Advancements in technology have resulted in the development of high-power energy-efficient outboard engines which are extensively used in large boats. Strong demand for these motors from boat manufacturers for deployment in large cruise boats will enhance the industry scope. Manufacturers are strategically upgrading their engine production lines to address this increasing demand which will present promising growth opportunities for outboard engines market.
Industry participants are making increasing R&D investments and efforts to meet the rising consumer expectations pertaining to performance, reliability and durability of these motors. Manufacturers focusing on launching innovative products using recycled materials to meet the ever-growing demand for outboard engines. This in turn will help manufacturers cut raw material procurement costs and facilitate significant minimization of environmental impact.
2-stroke outboards engines are prominently used in small watercrafts and fishing boats on account of several major advantages including higher operational output and simpler structure as opposed to the 4-stroke versions. In addition, 2-stroke outboard motors are lightweight and compact in design, making them best-suited for application in smaller boats. 2-stroke outboard engines industry size will hold over 40% of the global share in terms of revenue by 2025.
Mounting concerns pertaining to emission of hazardous gases and substances have consequently resulted in development of highly energy-efficient alternatives such as electric fuel type outboard motors. Low-power electric motors are gradually emerging as a potential substitute for gasoline-driven motors and engines. Electric fuel type outboard engines market share will register a healthy 8.5% CAGR over 2019-2025.
Get a Sample Copy of this Report:@ https://www.gminsights.com/request-sample/detail/4386
Electric ignition type engines are majorly employed in commercial boats owing to benefits such as easy and hassle-free ignition of motor even in adverse weather conditions. Manufacturers are increasingly incorporating electric ignition type engines in smaller watercrafts and fishing boats due to the aforementioned advantages, which will undeniably expand outboard engines industry scope in the next few years.
High-power outboard engines market is projected to generate revenues in excess of USD 9.5 billion over the projected timeframe. This growth can be mainly attributed to positive application outlook in larger boats and yachts which are facing robust demand worldwide. Manufacturers are aiming to expand and upgrade their existing motor production facilities and making investments to develop high-power motors to keep up with the global demand.
Military represents a key application segment driving global outboard engines industry trends. These engines find widespread use in rescue boats and inflatable boats. Surging demand for outboard motors by the U.S. Coast Guard will further fuel the product demand, bolstering outboard engines market outlook. North America outboard engines market size will witness unprecedented growth in the coming years mainly due to the presence of prominent boat manufacturers along with motor distributors.
An increasing number of people are undertaking recreation and leisure boating activities in the U.S. and Canada which will further propel the regional demand. Robust economic growth coupled with favorable government initiatives to upgrade the boating infrastructure will ensure lucrative opportunities for regional manufacturers.
Author Name : Hrishikesh Kadam
Pet tech market trends are anticipated to depict a rapid transformation owing to the rising prevalence of pet e-commerce and advent of products with tech enabled services that lead to the pets' enhanced wellbeing and security. Nowadays pet owners are looking for novel approaches to keep their pet happy and healthy which would further substantially influence pet tech market outlook over the forecast period.
U.S. pet tech market share, by product, 2018 & 2025 (USD Million)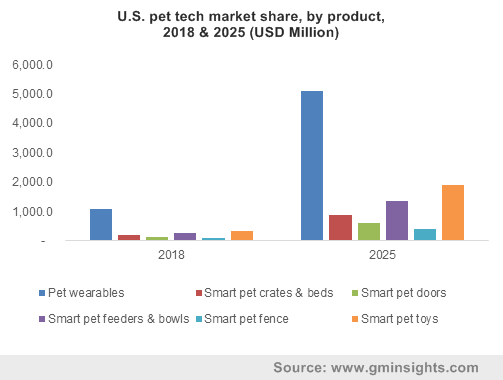 Prominent reports suggest that in recent years, the annual spending on pets has surged to double due to the busy schedule of pet owners. As companies continue to offer top-grade products like high-tech fences, pet cameras, automatic food bowls, and more, pet tech industry size is expected to substantially increase in the ensuing years.
Pet technology has become a rapidly emerging market remnant of electronic and connected solutions which help owners to train, monitor, feed, and play with their furry friends. According to studies, security and safety are considered as major concerns for the pet owners and most of them opine that technology will help resolve them efficiently. Pet tech manufacturers are looking to develop new products and advanced solutions for pets that will help attract a significant consumer pool comprising pet lovers. This would further enhance the growth of pet tech market share in the upcoming years.
Get a Sample Copy of this Report:@ https://www.gminsights.com/request-sample/detail/4187
Of late, companies have been working to launch novel products like smart cameras that are designed to be the perfect assistants for busy pet parents through which they can talk, watch and even play with their pets remotely. The pet owners can receive notifications about their pet's behavior and can undertake continuous home monitoring. Such products brought forth by industry players will considerably contribute to stimulate pet tech industry trends.
In terms of the regional landscape, the North America pet tech market held more than 55% of the industry share in 2018 and will experience steady growth due to the increase in the adoption of technological solutions in the household sector. It has been observed that major changes in pet ownership are in the pipeline due to the advent of technological and cultural change.
Nowadays, pet parents are opting, not for traditional food but nutritious food with healthy ingredients for their pets. They are also paying more attention to pet care, grooming, transportation, and many other aspects. The pet owners in North America are spending massively on the health and fitness of their pets as well.
In 2017, it was projected that the mutual gross written premiums of pet health insurance were registered at more than USD 1.2 billion. The household pet ownership in the region is witnessing high growth, which stimulates pet care companies to manufacture more tech-enabled products, in turn, propelling the pet tech industry share.
Pet tech companies are on the continuous quest of undertaking novel methods to keep pets close to their owners which has given rise to several new applications and solutions that can make the pet's life feasible and trouble-free. For instance, in May 2019, Petz, a chain of pet shops in Brazil had recently created an e-commerce tool named Pet-Commerce which combines artificial intelligence with facial recognition to aid dogs make their own online shopping decisions and provide their dogs the best- ever experience. These novel innovations will attract more pet owners and highlight the substantial growth potential for pet tech industry players.
Considering the efforts undertaken by the remarkably industry players, it is clear that the pet tech market would depict substantial growth in the forthcoming years. The competitive spectrum of this industry is distinctive and consists of renowned companies such as Fitbark, IceRobotics, Garmin Ltd., Konectera, Whistle Labs LLC, Loc8tor, Motorola, Nedap N.V., Pod Trackers Pty Ltd, Tractive, Petcube, Inc., Petnet Inc., Scollar, PetPace LLC, CleverPet, Petrics, and WOPET.
Exemplary initiatives by the leading players will undoubtedly have a lasting impact on the growth prospects of this industry. Global Market Insights, Inc. estimates that pet tech market size will exceed the USD 20 billion mark by 2025.
Author Name : Deeksha Pant
The global PoE solutions market share is on the rise, a trend that is expected to continue over 2019-2025. PoE solutions industry outlook will be augmented by widespread adoption of VoIP solutions, IP cameras, smart office buildings, access control systems etc. PoE solutions are estimated to make huge strides in various sectors owing to the new wave of technology and digital advancements that are transforming security operations.
APAC Power over Ethernet (PoE) Solutions Market Share, By Region, 2018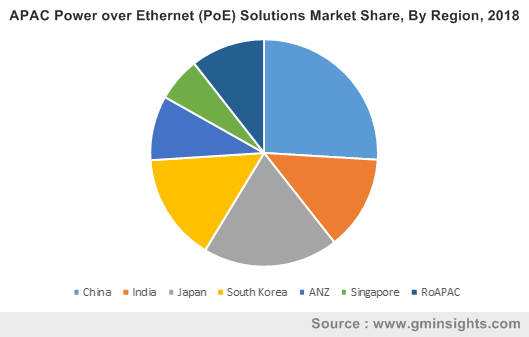 The healthcare ecosystem is increasingly coming to include smart technologies that will significantly contribute to Power over Ethernet solutions market growth in the forecast years. For instance, use of IP cameras in the hospitals and healthcare facilities is anticipated to become ubiquitous in the times to come. Hospitals have started deploying IP cameras to monitor when a patient sits up in bed, gets out of bed, or is tossing and turning in a restless effort to get to sleep. These cameras have enhanced patient care to a greater extent. Use of IP cameras has been growing in hospitals to observe high risk patients efficiently. Adoption of IP cameras will in turn augment PoE solutions market outlook in the coming years.
Another utilitarian device which will supplement growth of PoE solutions industry is increasing use of VoIP phones. By deploying VoIP phones, enterprises have been incessantly improving communication and collaborations among employees and remote users to increase business productivity. Leveraging the benefits of converged voice and data services, companies have enhanced their performance and communication. The convergence of unified communication services and enterprise VoIP to enable video-conferencing, live-chat, and other calling capabilities is expected to fuel VoIP market size and invariably expand PoE solutions industry trends.
Get a Sample Copy of this Report:@ https://www.gminsights.com/request-sample/detail/3346
Several technology companies have been toiling to develop PoE solutions and devices to support innovation. For instance, IP-COM has reportedly rolled out the G3210P, an 8-Port gigabit PoE switch with 2-Port SFP. The G3210P has been designed independently to satisfy the need of building a high-performance Gigabit Ethernet network. It can source electricity to high-power PDs and also can transmit data and supply electricity at the same time to IP Phone or IP Camera, AP via Cat.5e twisted-pair cables. Companies launching such devices in the market will remarkably contribute to foster PoE industry share by 2025.
Proliferation of Internet of Things (IoT) is among major drivers that will lead to PoE solutions market size expansion in the coming years. Adoption of IoT among enterprises has increased rapidly to support advancements in business infrastructure. Around 85 percent of organizations who acquire deep expertise with IoT have succeeded in propelling revenue share faster than rivals.
Nearly 68% of enterprises are using IoT to track security of physical assets, making this use case the most common across enterprises today. Approximately, 34% of global businesses are using IoT in daily operations, up from 29% in 2018, with 95% of IoT adopters already recording appreciable benefits. Rapid deployment of IoT among organizations is going to considerably increase PoE solutions market share as PoE has the potential to power the network ecosystem of the future that will enable global digital transformation.
Businesses have also increased focus on infrastructure security to protect sensitive data. Office spaces these days are being equipped with various security systems that require considerable investments. For instance, Euromicron AG has reportedly secured the contract for a major building technology project worth €3.6 million. The building will be completely equipped with access control. Transponder readers will be installed at all entrances and doors on floors, at the entrances to stairways, in the underground car park and basement, and at the doors to the IT technical rooms. PoE solutions industry outlook will be positively influenced by the rising deployment of security and access control systems throughout technologically advanced office spaces.
Smart lighting is yet another feature that is being widely integrated into the smart buildings of tomorrow. Typically, lighting is responsible for 40 percent of a building's electricity use. To develop smart office spaces with minimal electricity use, smart lighting industry players have been striving to adopt various strategies.
For instance, in the year 2015, Philips and Cisco had announced a global strategic alliance to create new value in energy savings, building efficiency and employee productivity by promoting connected lighting system. Both the companies had intended to deliver a consistent PoE-powered LED lighting solution utilizing a highly secure IT network. Close to 80% in energy savings and decreased building maintenance expenses can be achieved by operating, integrating and regulating a Philips LED connected lighting system via a network with Cisco. Instances of such efforts are in plenty and are anticipated to propel Power over Ethernet solutions market share.
Significantly, commercial sector has contributed to a market share of nearly 30% to PoE solutions industry in 2018 and the trend of integrating smart solution will help to maintain similar growth patterns over 2019-2025.
With growing adoption of smart solutions in office and commercial space, PoE solutions will be much in demand for enabling these smart solutions. Global Market Insights, Inc., has estimated that global PoE solutions market share is anticipated to exceed $2 billion by 2025.
Author Name : Anchal Solanki
Global space robotics market is estimated to procure commendable returns in the ensuing years, primarily owing to the increasing investments and efforts dedicated toward space research and exploration in countries such as the United States, India, and Russia. Space robotics is significant in the development of machines that are capable of expanding the human capacities in space by facilitating abilities beyond human limitations in extreme space environments.
China space robotics market, by application, 2019 & 2025 (USD Million)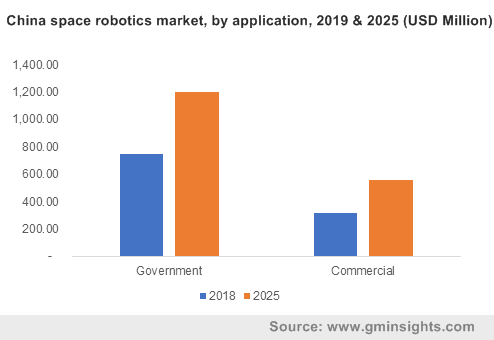 Space explorations have always attracted the interests of several private companies. Case in point, Boeing has built the Saturn V rocket, the 363-foot booster rocket capable of lifting the entire apparatus to the edge of space. In the last few years, the space exploration arena has witnessed the emergence of multiple competitors such as Blue Origin, SpaceX, Virgin Galactic, and more. The introduction of new technologies by key players, would positively influence space robotics industry trends over the forecast period.
A perfect example is the partnership between Tokyo's ispace and Elon Musk's SpaceX to send a series of robots to the moon. The Lunar Lander will orbit the moon in this mission that's scheduled in mid-2020. A rise in the integration of robotics technology for future space missions will substantially drive space robotics market outlook in the future.
Although government funding to organizations like NASA is facing a slump, the space industry is slowly moving to the private sector, with Elon Musk's SpaceX and Jeff Bezos' Blue Origin signing more contracts. SpaceX is reportedly gearing up to launch its eighteenth contracted CRS mission to the International Space Station through its Cargo Dragon spacecraft. The mission will also use the Space Station's robotic arm Canadarm 2 to extract IDA-3 from the Dragon's trunk. Increasing collaborations between established space stations and emerging private firms will present space robotics companies with major growth prospects in the ensuing years.
Get a Sample Copy of this Report:@ https://www.gminsights.com/request-sample/detail/3219
Increasing investments in space programs will also have significance in driving demand for space robots in the coming years. Recently, SpaceX was awarded a $50.3 million contract by NASA to launch its X-Ray Polarimetry Explorer mission. Major funding toward potential space missions will provide a huge scope for space robotics engineering, thereby augmenting space robotics industry share in the future.
A farfetched but plausible idea that has begun surfacing the international space industry is the possibility of space travel for recreational purposes. With numerous firms embarking on a quest to launch spaceflights for civilians, space travel is starting to seem less like a dream. Possibilities of recreational space travel could present a major opportunity for space robotics companies, thus augmenting the space robotics market share in the future.
In terms of segmental growth, the robotic arms segment is slated to witness immense demand over the coming years. Robotic arms have proved to be one of the most reliable machines in space missions. Recently, NASA's Jet Propulsion Laboratory finished installing a 2.1-meter-long robot arm on the Mars 2020 rover. The new arm has been designed to perform much more complex activities. Increasing penetration of robotic arms for advanced space mission will result in segmental growth for the global space robotics industry.
The North America space robotics market is currently a highly profitable growth ground owing to the presence of substantially funded organizations like NASA and the Canadian Space Agency. The region is also witnessing several ongoing and upcoming space missions that are anticipated to generate considerable demand for space robots, further strengthening the region's space robotics industry size.
The Asia Pacific market is also likely to emerge as a strong contender due to increasing implementation of major space projects. For example, the Indian Space Research Organization's second moon mission Chandrayaan 2 is the nation's first attempt at robotic space explorations. Increasing adoption of space robotics engineering for upcoming space programs and explorations would primarily contribute to expanding Asia Pacific space robotics market size.
The numerous benefits depicted by these technologies will accelerate the adoption of space robots in the coming years. Products like space probes are capable of exploring areas that are beyond human accessibility. Moreover, space robots can also withstand extreme temperatures and perform programmed tasks for longer durations. These advantages will play a major role in further accelerating the adoption of space robotics.
According to a research report by Global Market Insights, Inc., space robotics market is estimated to surpass $3.5 billion by 2025.
Author Name : Krithika Krishnan
Profound application in the commercial and healthcare sectors will drive human centric lighting market size. Human centric lightings (HCL) are designed to offer illumination solutions that physiologically and psychologically benefit human-beings. They are intended to promote improved concentration, efficiency and enhanced safety at offices and other work environments. HCL also supports healing processes and prevention of chronic diseases among people with irregular work routines.
Germany human centric lighting market, by application, 2018 & 2025 (USD Million)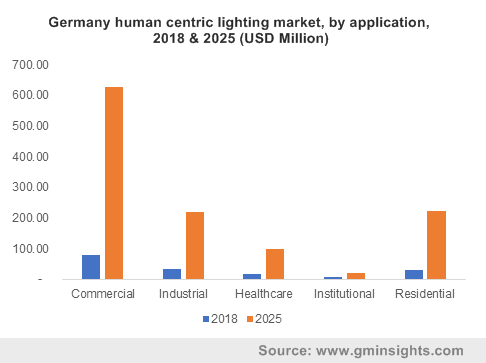 Increasing advancements in lighting technologies along with rapid adoption of Internet of Things (IoT) will support human centric lighting market growth globally. Using IoT, lighting systems can effectively be controlled and customized in real-time. IoT sensors can detect changes in environmental parameters, further directing and improving HCL capabilities.
With emergence of smart LED bulbs that offer a wide spectrum of colors and intensities along with advanced controller hardware, human centric lighting market will witness new growth opportunities over the coming years.
Human centric lighting market is anticipated to garner significant proceeds in the commercial sector. Renovation of enterprise infrastructure and installation of smart building and lighting products to develop comfortable workspaces will foster business growth. HCL solutions allow improved productivity and boost concentration in commercial work areas. In fact, research results suggest that the systems can increase work performance, reduce fatigue and significantly increase concentration and work satisfaction.
According to Lighting Society Europe, human centric lighting can significantly enhance employee performance to the point of improving productivity by 4.5%, reducing errors by 2% and further slashing rate of work absenteeism. HCL can also significantly improve visibility, thereby reducing the risk of tripping, falling and potential injuries. With employees spending more time in offices and other workplaces, HCL systems will become an essential lighting solution in the commercial sector, fostering HCL industry size.
Get a Sample Copy of this Report @ https://www.gminsights.com/request-sample/detail/3637
Increasing traction in the healthcare sector will augment human centric lighting market share. In hospitals and old age homes, HCL is well suited to implement lighting cycles comprising sunrise, sunset and daylight simulations. The system offers patients with enhanced benefits like higher activity levels during day, better sleep during night, reduced recovery time and lowered intake of anti-depressants.
In fact artificial lighting can compensate for biologically active effects of insufficient daylight exposure, thereby stabilizing the sleep-wake rhythm. It can also lead to more restorative sleep, thus ultimately improving the mental and physical wellbeing of hospitalized patients.
In old-age homes, HCL systems can offer high color temperatures, higher illuminance, and dynamically adjusted light distribution levels, further improving the quality of life of the elderly people. Additionally, in the healthcare sector, the systems can significantly reduce surplus cost of electricity bills.
For instance, according to a A.T. Kearney study, the annual efficiency gains achieved from human centric lighting in a hospital with 1,000 beds and 1,500 employees amounted to over €300,000. Instances such as these implicate growth opportunities in the healthcare sector, furthering human centric lighting industry outlook.
Europe human centric lighting market is expected to witness increased traction in commercial, residential and healthcare sectors. Infrastructure refurbishment in Europe currently focus on developing well-illuminated building environments.
The region naturally observes less exposure to sunlight which eventually creates an impact on human health, thereby creating the need for human centric lighting market solutions. With presence of leading market players along with rising investments, Europe human centric lighting market will witness rapid technological growth in the upcoming years.
Global human centric lighting market is being propelled on account of increasing application in healthcare and commercial sector. The industry is witnessing rising investments in R&D from leading players, government organizations, and lighting associations. Increasing consumer awareness and focus on the implementing energy-efficient work environments are anticipated to expand human centric lighting industry size in the future.
Author Name : Mateen Dalal
Increasing production of aircrafts with durable and reliable window frames will increase aircraft window frame market share in the coming years. Regional governments are also considerably backing their air defense budgets to improve national security. Growing use of advanced materials in aircraft window frames and surging commercial fleets to be used for mobility services in the coming years will significantly supplement aircraft window frame market size.
U.S. Aircraft Window Frame Market, By Aircraft, 2018 & 2025, (Units)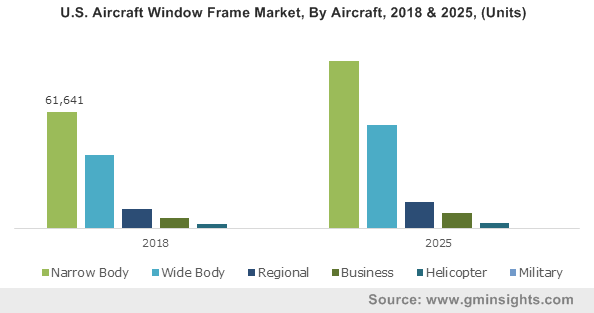 Mobility as a Service (MaaS) is reshaping the world of transport in ways that were previously presumed insurmountable. After analyzing the success of mobility service on roads, companies are now planning to introduce air mobility services. Indeed, air mobility companies have been working toward launching commercial helicopters that may have the potential to revolutionize aviation applications – from air ambulances and emergency services to cargo delivery.
The innovation of such commercial aircrafts is just an inception that will further translate to the production of many such airplanes, expanding the air mobility service portfolio. Increasing production of commercial helicopters will directly influence aircraft window frame market size. Revolutionary, cutting-edge innovations by aircraft manufacturers are also likely to increase revenue share of aircraft window frame industry.
The expansion of aircraft window frame market will be influenced by the demand of airliners in the military. Lately, the U.S. Air Force was reported to conceptualize plans to buy 80 units of F-15X over the next five years. The deadly fighter jet is equipped with strengthened airframes for increased maneuverability and airframe life span of around 20,000 hours, giving the advanced fighter plane enhanced dogfighting capability.
In 2018, the U.S. defense budget was recorded at around $640 billion and is likely to register growth in upcoming years. The rising defense budget of the nation will also contribute to augment North America aircraft window frame market share, the growth of which will be driven by the presence of multiple aircraft manufacturers, suppliers and distributors in the region.
Get a Sample Copy of this Report:@ https://www.gminsights.com/request-sample/detail/3096
The contribution of numerous industry players and concerns about national security will increase the demand for advanced and lightweight components which will influence North America aircraft window frame market outlook. As per estimates, North America will dominate aircraft window frame industry size over 2019-2025.
In the times to come, an increase in the defense budget will be observed not only in North America, but most of the developed and developing economies of the globe. This will lead to an upsurge in the demand for tested aircraft components in the armed forces that will propel aircraft window frame market size.
With the demand of reliable and innovative aircraft window frame material in military and commercial aircrafts, organizations are coming up with the use of several advanced constituents to be used in airplanes. The need of high strength and lightweight automotive window frame material with outstanding corrosion resistance is providing a push to the use of titanium sponge in aircrafts. Titanium also possesses good weldability, owing to which it is often used for airframes.
According to the International Titanium Association (ITA), the aerospace industry is expected to be the largest market for titanium mill products. Growth in the aerospace industry along with the higher use of carbon fiber composites, which are compatible with titanium, are likely to increase the remuneration share of global titanium sponge market, thereby indirectly supporting the growth of aircraft window frame industry share.
Speaking about the cost-effective innovations in aircraft window frame market, Boeing has been reportedly using a new approach to design 787-8 airplane which will have 30 percent lower airframe maintenance costs than any comparable product. The Boeing 787 makes better use of composite materials in its airframes and primary structures than any previous Boeing airliner. The use of the composite materials used for manufacturing aircraft window frames contributes considerably towards improving corrosion resistance, lowering overall weight, and enhancing durability.
Prominent aircraft window frame market players, such as ACE Advanced Composite Engineering GmbH, Otto Fuchs KG, LMI Aerospace, PPG Industries Inc., GKN Aerospace etc., are also using composite materials to enhance certain properties of aircraft window frames.
Aircraft window frame industry is likely to witness extensive growth with the support of government funding for military aircrafts, innovations and future air mobility. The demand of advanced aircraft window frame material to be used in airframes will also contribute to increase the growth of aircraft window frame market. According to a research report by Global Market Insights Inc., aircraft window frame industry share is estimated to exceed $180 million by the year 2025.
Author Name : Anchal Solanki