Commercial
Rising emissions from marine engines & growing environment concerns owing to degrading air quality will drive marine emission control system market growth in the years to come. Reportedly, oceanic vessels contribute to a majority of the pollution in the coastal environment – around 8%-12% of the global NOx emissions and around 40% of global NOx emissions from transport of freight mean. Having taken into consideration these alarming statistics, in 2008, the International Maritime Organization (IMO) launched a directive for controlling emissions from diesel engine vessels, built or installed on and after 1st January 2016. The directive also specifies a global sulfur limit for reducing the sulfur content in fuel to 0.5%, that will go into effect from 1st January 2020. The presence of a strict regulatory landscape will thus prove to be one of the preeminent driving factors of marine emissions control system market.
Europe Marine Emission Control Systems Market Size, By Application, 2017 & 2024 (USD Million)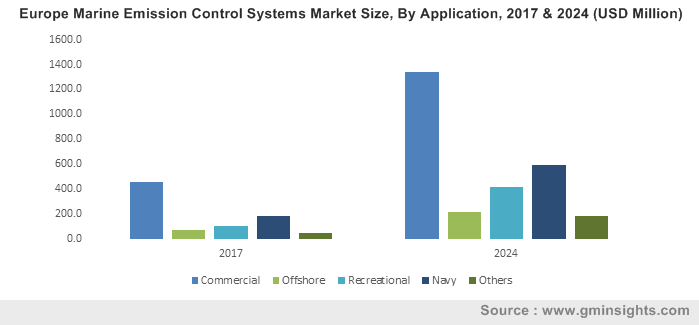 The growing number of trade activities along with advancements in emission control technology will also serve to boost the demand for marine emission control systems. Globally, around 85% of goods are transported using maritime routes. In almost 70% of the cases shipping is carried out within 400 km from the coastline, influencing the air quality within several hundred kilometers from the coast. The most widely adopted propulsion systems used by these ships are two or four strokes diesel engines, which apparently consume large amount of heavy fuels.
Estimates from the U.S. Energy Information Administration, 2011, cite that the merchant navigation sector alone accounted for about 1.75% of the total energy demand and about 5% of the global crude oil consumption back then. Also, ships were recorded to manufacture around 15% of the global NOx (the world's buses, cars, and trucks combined), 2.5% – 4% of greenhouse gases, and between 3% – 7% of global SOx output and 5% of black carbon emission. Quite overly, these figures reveal the overall impact of the maritime segment on global atmospheric pollution, which has led to a spike in the demand for marine emissions control systems.
Get a Sample Copy of this Report:@ https://www.gminsights.com/request-sample/detail/2542
Reportedly, in a bid to reduce the environmental footprint of ships, the IMO has also tightened the regulations on NOx and SOx emissions from marine engines. As measures to reduce NOx emissions, emission control systems like exhaust gas recirculation (EGR) and selective catalytic reduction (SCR) have been adopted. For reducing SOx emissions however, scrubbers have been intensively deployed to lessen the sulfur content of fuel oil.
Scrubber marine emission control systems market to thrive over 2018-2024
Scrubber units are typically used for high dust configurations and are more efficient when coupled with fuel switching. By mounting an exhaust gas cleaning system like a SOx scrubber, ship-owners can efficiently operate on low-priced, heavy fuel oil and still be compliant with IMO's SOx emission regulations. Sources suggest that, from 2020, the demand for exhaust gas cleaning systems, like SOx scrubber, will increase as to compliment stringent SOx regulations that exhibit a global 0.5% limit on SOx and 0.1% limit on ECA emission.
The ability of hybrid scrubber systems in particular, to treat high temperature and gas streams along with increasing R&D initiatives toward green shipping will also positively impact the scrubber-based marine emission control system market share.
Speaking of the geographical penetration, marine emission control system market has been touted to amass substantial returns from China. This is prominently on account of the newly imposed regulations favoring the installation of these products. Reportedly, to improve the quality of domestic shipping and endorse environment friendly development of marine transport within China, the Chinese Ministry of Transport, on 3 July 2018, published new requirements for controlling nitrogen oxides (NOx) emission. The standards will be applicable to both newbuild vessels (after July 2020) and ships in operation (after July 2021) and will further be imposed on ships particularly involved in Chinese domestic trade.
Powered by moves such as the aforementioned and the rising number of cross-border tax inversions and M&As, the demand for these systems has been considerably rising in this APAC economy, thereby augmenting China marine emission control systems industry.
A plethora of marine emission control systems including SCR, EGR and scrubber are sulfur, nitrogen & particulate matter abatement technologies, are lately being deployed across engines & boilers to restrain emissions. The implementation of scrubber systems specifically, will observe an upsurge in demand owing to reduced payback period and long-term operational flexibility. The growing demand for sustainable systems along with stringent government initiatives will thus positively impact marine emission control systems market size, slated to cross USD 14 billion by 2024.
Author Name : Mateen Dalal
The global marine selective catalytic reduction systems market, in the recent years, has been witnessing strong investment trends by the major stakeholders, given the stringent environmental regulations in protecting human and aquatic life. Large amount of emissions pertaining to marine polluting substances and amendment of strict regulations regarding the same have in fact raised the bar for marine selective catalytic reduction systems industry players to bring in more advanced diesel engine designs that are capable of minimizing marine pollution. These SCR systems, designed to curtail nitrogen emissions, are thus gaining traction in the recent years and have significantly taken the marine industry by storm.
Europe Marine Selective Catalytic Reduction Systems Market Size, By Application, 2017 & 2024 (USD Million)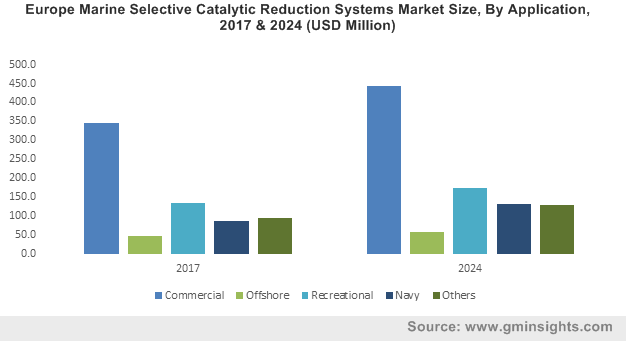 Introduction of IMO Tier III legislation to act as a major catalyst for rapid marine SCR systems market growth
An important factor which stood as a major growth promoter for the overall marine SCR systems industry is the enforcement of The Tier III NOx emissions regulations (IMO3) of the International Maritime Organization that came into power in 2016. According to reports, the recent IMO3 legislation has been forcing the engine manufactures to achieve a NOx reduction of more than 70% from Tier II for all the ships sailing in the NECA (NOx Emission Control Areas). The selective catalytic reduction technology in this regard has been gaining immense momentum as it was being able to operate as the standalone technology that reduced as much as 80% of NoX. The SCR system's compliance with the IMO3 has thus elevated the business landscape of global marine selective catalytic reduction systems market, and is further expected to proliferate across the coastal waters of U.S., Canada, and China – where the legislations are enacted more severely.
China to emerge as a lucrative investment hub
The Chinese Ministry of Transport, recently in July 2018, has published new requirements with a target to limit NOx emission for the second-hand imported & Chinese-flagged diesel engine vessels. According to the regulations these engines are required to comply with the IMO3 norms and will be applicable to vessels that are converted or imported for domestic trade after September 1 2018. These new NOx emission control requirements have paved the way for robust commercialization of SCR systems in China. Moreover, the rapid growth in the long-distance and international voyage and the rising inter-border trade activities has further fortified the regional product demand. In response to these mandatory protocols, China marine selective catalytic reduction systems market size is anticipated to register a CAGR of 3% over 2018-2024.
Get a Sample Copy of this Report:@ https://www.gminsights.com/request-sample/detail/2942
Further considering the geographical expanse, it is imperative to mention that, thriving on the cusp of fierce stringency in regulatory framework, the U.S. marine SCR systems industry is also expected to be one of the lucrative regions for business expansion. In addition, ongoing technological advancements in the commercial & recreational marine vessels and the presence of core industry manufactures in the country are foreseen to further complement the regional growth in the ensuing years.
Further speaking on the competitive scenario, it wouldn't be wrong to say that the sustainability and go-green trends are also vividly characterizing the marine industry vertical and impelling the prominent companies to adopt necessary market growth strategies for business proliferation. An apt instance standing as a substantiation to the aforesaid is that of Cummins Inc., that has recently introduced its new IMO3 certified QSK60 engine package that offers cleaner emissions. If reports are to be believed, the company has added selective catalytic reduction systems to meet the new emissions standards without impacting the fuel economy. Endorsed with similar product innovation and business expansion trends, several other industry players including Wärtsilä, Tenneco, DEC Marine, Mitsubishi, Hyundai, and ME Production are also seen ramping up their positions in the global marine selective catalytic reduction systems market.
All in all, it would be apt to quote that stringent regulatory protocols and highly innovative product development with technological advancements are to remain the two prominent drivers majorly shaping the business trends in the years ahead. In terms of remuneration, the global marine selective catalytic reduction systems market size is forecast to exceed a valuation of over USD 5 billion with annual installations surpassing 3,000 units by 2024.
Author Name : Ojaswita Kutepatil
Asia Pacific smart water metering market is expected to make remarkable inroads in the global smart technology space, primarily pertaining to the increasing deployment of smart infrastructure in the utility sector. Lately, there has been a rapid expansion in advanced water metering technology, especially in the developed economies of the Asia Pacific, given that smart water meters consist of a two-way communication or drive-by reads that provides utility companies with an additional connection to be offered to customers. In addition, a smart water meter can better understand water quality and distribution parameters, thereby enabling service reliability and efficiency across the electricity, water/sewer, natural gas, and oil sectors. These factors have naturally led to improved financial benefits to the utility industry as well as enhanced satisfaction for customers, providing a viable base for the expansion of APAC smart water metering market.
China Smart Water Metering Market Size, By Application, 2017 & 2024 (USD Million)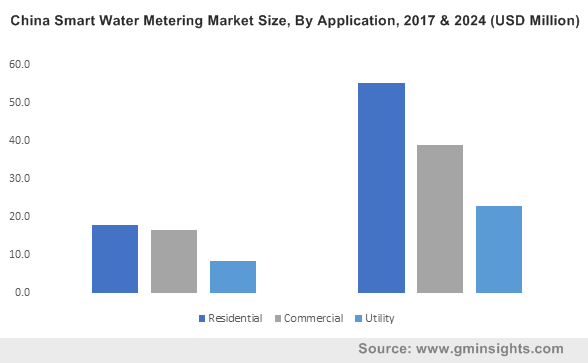 Asia Pacific, being a powerhouse of the manufacturing and construction sectors, has been the recipient of exorbitant electricity bills since quite a while. Indeed, the per capita consumption across some of the Asian nations has been reported to be among the highest across the globe. It is thus rather overt, that the deployment of advanced smart water meters, that have reportedly given water utilities accurate and timely data that better help serve their customers and also offer additional tactics for conserving water, thereby lowering water bills, is extremely crucial for the continent.
Due to rapid advancement in the water metering industry, utilities across the APAC now use cloud based IoT and analytics driven smart water metering solutions that potentially help end-use industries and consumers in making better decisions towards the conservation of natural resources. In addition, big data technology has also led to managing industry related challenges such as identify performance related issues, improving customer service and recording trends of events, eventually enabling industries experience the benefits of reduced operating costs and better prioritized infrastructure investments. Powered by the robust deployment of big data enabled water metering solutions, APAC smart water metering market is projected to experience substantial momentum ahead.
Get a Sample Copy of this Report:@ https://www.gminsights.com/request-sample/detail/2904
APAC smart water metering market to accrue hefty proceeds from China
China is expected to emerge as one of the most pivotal revenue grounds for APAC smart water metering market, particularly on account of the extreme water scarcity and the poor quality of water in the country. The issue is vividly being addressed by the government by means of active promotional programs in tandem with the implementation of digital devices.
Reports claim that Chinese government, in its 12th & 13th five-year plans, has launched the smart city investment hub to propel the deployment of smart water and electricity meters across the country. Powered by the support of government authorities, APAC smart water metering market size from China is anticipated to grow at a CAGR of 15% over 2018-2024.
India to be a prominent revenue pocket for APAC smart water metering market
APAC smart water metering market size from India is projected to grow at an appreciable pace in the ensuing years, driven by the  aging commercial infrastructure in the nation. Not to mention, India, for the longest time, has been remnant of leakage issues and non-revenue water loss. That said, the ever-expanding populace of the country is also responsible for the growth of the regional industry. Sources predict that by 2050, almost 70% of total Indian population will reside in its urban cities. With shrinking water reservoirs, low rainfall, and high population density, fulfilling the region's water requirement has emerged as quite a challenge. In the face of this ordeal, the adoption of smart water meters equipped with sensors that deliver real time monitoring could help identify and reduce water leakages and water wastage considerably.
The APAC smart water metering industry size from India will also be aided by a plethora of supportive regulations that intent to replace existing meters in the country. The Indian government's smart city programs are also expected to help propel the deployment of smart water meters in the nation. Indeed, in 2015, the government of India, under its Smart Cities Mission, declared that it plans to set up 100 smart cities, in the consideration of which the cabinet has already given the green signal for a funding of USD 13 billion. Aided by a favorable regulatory spectrum and the proposed large-scale urbanization, APAC smart water metering market size from India is anticipated to increase in the years to come.
Major players across the Asia Pacific smart water metering market include Schneider Electric, Honeywell Elster, Siemens, Badger Meter, Aclara Technologies, Diehl Metering, Arad Group, Kamstrup Metering Solutions, Sensus and Jiangxi Sanchuan. The adoption of tactics such as collaboration and acquisitions with leading tech providers has helped industry players provide high-grade and cost effective smart metering technologies to customers. Powered by the deployment of cloud IoT, big data and analytics, the issues surrounding water bill management and unwanted leak avoidance are being suitably dealt with, in the emerging APAC economies. As per reliable estimates, APAC smart water metering market size, by the end of 2014, is likely to cross an annual installation of 6 million units.
Author Name : Mateen Dalal
Owing to the rapid adoption of advanced technologies by diverse industrial sectors, the simultaneous localization and mapping (SLAM) technology market has been witnessing gradual increase in demand over the last decade. Unprecedented growth in digital and remote communication technology has accelerated the development of robots and UAVs, which are ideal for installing sensors and mapping systems. The eagerness of core industries to utilize modern technology for replacing human workforce in hazardous or time consuming tasks has further pushed the SLAM technology market penetration. Constant innovations in robotics are providing more opportunities to integrate new systems that help in achieving cost-efficiency across distinct processes, boosting demand for the global SLAM technology market, which registered a valuation of over USD 56 million in 2017.
Singapore SLAM Market Share, By Application, 2017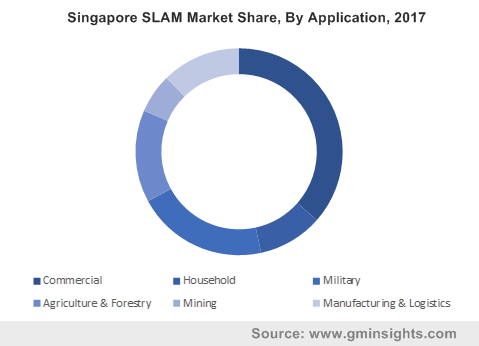 Growing automotive and manufacturing segments have not only deployed collaborative robots that assist in assembling products but also autonomous robots that roam factory floors and have to face a number of human and stationary obstacles during operations. The need for accurately handling objects and moving across the floor has brought the SLAM technology industry into limelight. Various tech firms have cropped up throughout the world, developing more precise mapping solutions to complement existing and new localization systems. These can be incorporated within robots for purposes like surveying and moving objects from one place to another on congested surroundings. Increasingly declining costs of manufacturing robots will certainly boost their presence in several industry verticals, presenting tremendous growth opportunities for the SLAM technology market.
The International Data Corporation had projected that by 2021, the spending on robotics worldwide would reach USD 230.7 billion, driven by increased utilization in areas such as manufacturing and resource industries, besides healthcare, education and retail. The resource industry, consisting of mining, oil & gas and agriculture has the potential to become a key target segment for the SLAM technology market. Mining, in particular, offers immense prospects for the use of new technologies as it is a business filled with dangerous exposure for humans, and requires a lot of capital to carry out mining operations. Inaccuracy of underground maps pose serious threats to the safety of miners and robotic exploration is seemingly a more feasible option in regard to this.
Get a Sample Copy of this Report:@ https://www.gminsights.com/request-sample/detail/2928
In the imminent future, integrating simultaneous localization and mapping technology with autonomous mobile robots would be an effective way to build accurate 3D maps of underground mines, helping to plan the overall operations. Aside from mining robots that would replace humans in hazardous environments, companies are also building robots that would work alongside people to assist them in analyzing quality of ore samples, carrying loads and other necessary devices. The SLAM technology industry will consequently experience a prolific growth rate over the next few years, with solutions being developed to automate mining activities. Key factors for the industry propagation would definitely be elimination of safety hazards, reduction in overall costs and time saving.
Benefitting from higher commodity prices, the top 40 mining companies globally had recorded earnings of nearly USD 496 billion in 2016, demonstrating the massive scale of mining activities and the potential to improve bottom lines. As old mines get exhausted, these companies are expected to start exploring new mines to keep the mineral supply flowing, indicating the possibility of significant expansion for the SLAM technology market. For instance, the Victoria Gold's Eagle mine, under development in Canada, would become the biggest mine in the territory of Yukon with production anticipated to at 12.5 million tons per year across a 10-year life span. Further, the USD 2.9 billion South Flank iron ore mine in Australia being constructed by BHP is slated to commence production in 2021 and supply ore until at least 2046.
With many such mines being explored to fulfil the global requirement of essential minerals like copper, gold, silver, coal and uranium, the SLAM technology market could establish a strong hold due to the need for safe mapping of underground mines as well as open quarries. Increasing production of consumer electronics has elevated the demand for minerals like silver, strengthening the global mining industry. The SLAM technology market is expected to grow at a CAGR of 71% over 2018-2024, influenced by the rising need for mitigating safety risks and improving bottom lines.
Author Name : Pankaj Singh
The increasing deployment of heating and cooling systems across various commercial, industrial, and household buildings have been fueling heat meters market. The surging concerns among the policymakers and regional governments about energy efficiency has also been having a positive influence on the product demand pertaining to its capability to measure energy consumption within cooling and heating systems. In the cold climatic regions, governments are encouraging people to deploy district heating systems to maintain warmth in the winters. The growing importance of sustainability and energy efficiency across the globe will thus propel heat meters industry share.
Sweden Heat Meters Market Size, By Application, 2017 & 2024 (USD Million)

On the grounds of garnering heat and electricity savings, most of the countries have been installing heat meters in industrial, commercial, and residential buildings. The large-scale deployment of energy consumption measuring equipment has generated lucrative opportunities for the giants in heat meters market. In addition, many financial organizations also have been supporting regulators to install heat meters by providing favorable funding. For instance, in 2017, the Europe Bank for Reconstruction and Development (EBRD) has sanctioned USD 27 million loan to deploy heat meters across the residential sector. Over the last few years, EBRD has been supporting many nations which are looking forward to harnessing sustainability and energy efficiency.
Another region where heat meters market has been gaining traction is Kazakhstan, wherein the fluctuating climatic condition has been impelling the product requirement. Apparently, in the summer season, the heat in Kazakhstan can increase beyond 30 degree Celsius and in the freezing winter, the temperature reaches to -40 degree Celsius. Amidst these extreme climatic conditions, energy efficiency is playing a vital role in the region, leading to the deployment of heating and cooling systems. The deployment of heat meters to save electricity and heat will also help district cooling/heating system firms to control the system losses, optimize the energy supply, and reduce the energy wastage. In 2017, the Kazakhstan government fit heat meters in about 45% of households and was planning to cover more than 80% volume of household buildings within three years.
Get a Sample Copy of this Report:@ https://www.gminsights.com/request-sample/detail/2597
In another instance, the Swiss government and the International Finance Corporation (IFC) have also lent support to Ukraine to create more energy efficient homes. In this regard, Ukraine's State Agency for Energy Efficiency has designed a program dubbed as Warm Loans to improve the heating system of homes. In most of the apartments across Ukraine, district heating systems have already been deployed, but due to more heat loss, energy bills were perpetually high. Reportedly, households in Ukraine account for more than 50% of its overall natural gas production. The remarkably growing awareness among the Ukrainian people about the rising domestic heating bills is thus estimated to fuel heat meters market size.
The transforming technology trends across the globe have also had a significant influence on heat meters market share over the last few years. The development of smart meters is one of the next-generation product inventions that helps customers track daily energy use very easily. Considering the benefits of modern technologies to improve the energy efficiency, leading giants in the heat meters market have been adopting various new technology advancements such as IoT (Internet of Things) and AI (artificial intelligence). For instance, a team from the Danish smart metering company, Kamstrup, and Finnish electricity firm, Herrfors Nät-Verkko have recently planned to use NB-IoT technology in smart metering. With the help of this technology, the Finnish company can monitor more than 6,000 heat and electricity meters that will result in 10% cost savings.
The development of innovative and cost-effective solutions will favorably promote the heat meters industry trends over the years ahead. The supportive stand taken by the regional governments and energy-related organizations to encourage the installation of heat meters will further enhance the industry growth. In line with the increasing deployment of heating and cooling systems mainly across cold climatic regions, heat meters market will generate a revenue of more than USD 1 billion by the end of 2024.
Author Name :Sunil Hebbalkar