Communication
With significant advancements in artificial intelligence and wireless technologies, high altitude platform market is expected to witness remarkable growth in the coming years. The emerging market for broadband data provision and multimedia are highly impacting the growth of projects – that are launching terrestrial and satellite systems for enhancing wireless and internet services. Airships, tethered aerostat systems, unmanned planes, and so-called pseudo satellites are some of the most significant high altitude platforms that are been used to enhance global communication, wireless technologies, and surveillance applications. Statistically, it has been observed that the application scope and involvement of special deep-pocketed proponents have significantly led high altitude platform market to cross the billion-dollar frontier in 2016. According to the estimates provided by Global Market Insights, Inc., high altitude platform market size was over USD 1 billion in 2016 and is expected to surpass a valuation of USD 1.5 billion, expanding at 5% CAGR over 2017-2024.
U.S. HAP market size, by application, 2016 & 2024 (USD Million)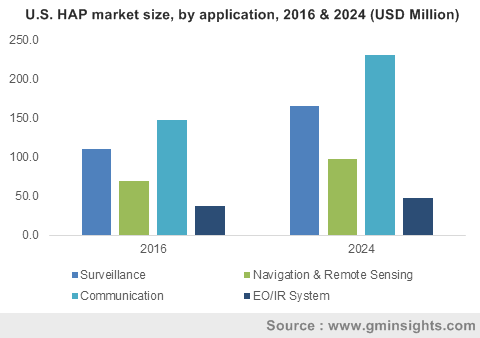 Speaking of the prominent companies expanding their reach in the high altitude platform industry, the social media giant Facebook and leading aerospace manufacturer Airbus are teaming up to develop their separate solar powered unmanned airships. As per reports, these systems are designed to fly above the height of 70,000 feet to provide the broadband internet service in the remote areas. Another recent development witnessed across high altitude platform market is of Google, who has successfully launched HAP projects such as Loom and Skybender to beam internet services to the underserved and rural location across the globe. These instances clearly validate the recent developments spanning the installations and commercialization of UAVs, satellites, and drones, that, in turn, is certain to boost the revenue stream of overall high altitude platform industry.
Get a Sample Copy of this Report:@ https://www.gminsights.com/request-sample/detail/683
Interestingly, telecommunications and wireless networks are not the only thriving application segments of high altitude platform market. Analysts deemed that surveillance application of HAPs dominated the business sphere, on account of its rising demand from the military and public safety sectors. The profound significance that these high altitude platforms hold in identification of criminals, terrorist attacks, and tracking activities have remarkably uplifted the demand of HAPs in surveillance applications. The recent instance of the sniper attack in the Las Vegas accounted for more than 59 deaths and 527 injuries, which has drastically impacted the business operations of HAP market. It is noteworthy to mention that, such situations demand strong surveillance, wherein the HAP plays an important role in providing clear and concise images of objects from distance. In this scenario, several governments of countries including U.S., UK, and India have initiated grants for companies operating in the high altitude platform industry to enhance the research and development of these platforms for defense purposes.
Reports claim North America and Western Europe to be the leading regions witnessing high adoption of HAPs in military and naval forces.  For the remote sensing purpose, HAPs have an important advantage of low orbits and longer timespans over satellites. This has favored HAPs to permit better resolution images on account of being comparatively closer to the covered areas. High penetration of UAV aircraft coupled with strong spending on other LTA systems are identified as the prime factors responsible for surging growth of high altitude platform industry. As per reports, U.S. is anticipated to be a major region dominating the regional high altitude market landscape. Also, considering the worldwide demand for HAPs, Asia Pacific is projected to be another lucrative growth ground for HAP market expansion. The rising adoption of the technology, especially in the emerging countries of South-east Asia, for telecommunication and remote sensing purpose, is expected to drive the APAC industry demand. The region is further expected to observe strong foothold in the global high altitude platform industry, owing to the rapid involvement of regional governments in tackling foreign & internal conflicts, smuggling, and terrorist activities.
Given the extensive adoption of HAP technology on the global level, it is prudent to mention that these systems will be a prominent part of the modern-day infrastructure developments. Driven by the diversified application matrix and rising participation of tech giants to harness this technology, analysts affirm the global high altitude platform market to witness a rather profitable roadmap down the line.
Author Name : Ojaswita Kutepatil
This entry was posted in Electronics and Media and tagged Airships, Communication, EO/IR System, High Altitude Platform Market, High Altitude Platform Market Report, High Altitude Platform Market Research, High Altitude Platform Market Share, High Altitude Platform Market Size, High Altitude Platform Market Trends, Navigation, Remote Sensing, Surveillance, Tethered Aerostat Systems, UAV.
Considering the increasing proliferation of laser technologies in medical space, Laser Materials Market demand is undoubtedly set to grow substantially in the forthcoming years. Technological interventions have not only influenced laser materials portfolio but also have widened the application scope of the market. An exemplary transformation in the therapeutic model in terms of medical facilities has acted in favor of the business growth. For instance, shifting trend toward replacing non-laser technologies across various domains that include oncology, neurology, and dentistry has been immensely catapulting the market expansion over the years. Speaking of healthcare, laser technology has already gained a momentum in this space and with technological advancements, it is anticipated to unfold a series of new opportunities, leaving a subsequent impact on laser materials market.
Europe Laser Materials Market Size, By Application, 2013 – 2024 (USD Mn)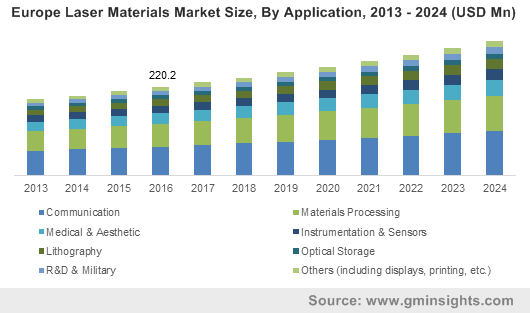 Estimates depict, the industry will exceed a valuation of USD 1.7 billion by the end of 2024, with a projected CAGR of 5.5% over 2017-2024. Plastic technology is the latest thriving trend in laser materials market that is opening new avenues for the investors. With the continuous evolution of polymers and composite materials configuration, the technology is likely to penetrate deeper into the business. On that note, it is important to consider the unprecedented efforts the instrument manufacturers are taking in reducing the complexity of these devices, which again will prove to be favorable for laser materials industry outlook.
With digital disruptions globally, the volume of data has been exponentially increasing across various industries. Communication sector is one of the profound spaces witnessing the proliferating penetration of laser materials. Communication applications procured one-third of laser materials industry share in 2016. Military applications have been also gaining a traction lately. High demand for lightweight cost-effective armaments has resulted in the utilization of laser materials in this domain. Key market players are also investing in research activities to extend the product portfolio to win a competitive edge in the global landscape.
Get a Sample Copy of this Report@ https://www.gminsights.com/request-sample/detail/1600
Geographically, Asia Pacific is one of the significant regions partaking in the laser materials market. The expanded manufacturing base along with upgraded healthcare infrastructure are the prime factors driving the regional market.  China, Taiwan, India, And South Korea are the major countries contributing substantially toward the regional share. Increasing population in APAC is also a vital factor enhancing laser material market dynamics. With a significant contribution toward the overall revenue in 2016, APAC will continue to be a strong participant in the global laser materials market in the years ahead.
North America laser materials market is also anticipated to chalk a lucrative growth path, subject to the region's progressive military terrain particularly in the U.S.  The country receives a huge amount of funding every year for laser weapons. With U.S. as a forerunner, North America laser materials industry in the coming seven years is slated to carve a profitable road map.
Laser technology undoubtedly is one of the most commendable innovations of the twentieth century. With a broader spectrum of application across the healthcare, military, and communication, laser materials market penetration has generated a remarkable momentum. Reduced material prices coupled with their reliability and enhanced lifespan are further pushing the laser materials market demand. Prominent industry participants include Asahi Glass Co., Ltd, Morgan Advanced Materials, BASF SE, Dow Chemical Company, GrafTech International, Taishan Fiberglass inc., CeramTec GmbH, Sinopec Shanghai Petrochemical Co., Ltd, Murata Manufacturing Co., Ltd., Anglo American plc., Mitsubishi Chemical Holdings Corp., Norilsk Nickel, Evonik Industries, Universal Laser Systems, Inc., and Corning Inc.
Author Name : Satarupa De
This entry was posted in Polymers and Advanced Materials and tagged Ceramic, Communication, Glass, Instrumentation & Sensors, Laser Materials, Laser Materials Market, Laser Materials Market Analysis, Laser Materials Market Forecast, Laser Materials Market Growth, Laser Materials Market Outlook, Laser Materials Market PDF, Laser Materials Market Price, Laser Materials Market Report, Laser Materials Market Share, Laser Materials Market Size, Laser Materials Market Trends, Laser Materials Market Update, Lithography, Materials Processing, Medical & Aesthetic, Metal, Optical Storage, plastic, R&D & Military.
Global Automotive Electronics Control Unit (ECU) Market is likely to chart out a lucrative growth path over the next few years, subject to the highly developing automotive sector. The recent joint venture between BMW AG, Delphi, and Intel that aims to develop a highly automated self-driving platform for BMW, with Delphi handling the spare parts configuration and software connectivity may also give a major boost to automotive ECU market. Of late, the automotive industry has observed a major shift with changing consumer preferences toward purchasing luxury cars, which will generate new avenues for the business.
China Automotive ECU Market size, by application, 2012-2023 (USD Billion)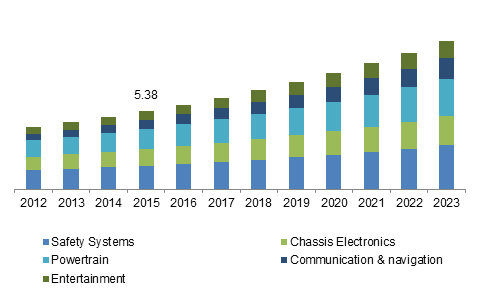 The automotive industry is going to experience a huge growth due to the surging preference for sustainable technologies, electric vehicles, eco-friendly driving systems, and energy-preserving vehicles, which will subsequently boost automotive ECU market. Global Market Insights, Inc., reports that automotive ECU industry size, which was assessed at USD 32 billion in 2015, is slated to surpass USD 50 billion by 2023.
Incorporation of additional innovative features such as connected navigating, infotainment, telematics, advanced control, and communication systems in the vehicles will help in increasing the automobile sales, thereby contributing considerably towards automotive ECU market revenue.  The emerging advanced driver assistance system (ADAS) sector, driven by rising safety concerns, is expected to steer the business growth over the span of few years.
Automotive ECUs find wide application in communication & navigation, electric vehicle powertrain, chassis electronics, entertainment, and safety & security sectors. Automotive electronic control unit (ECU) industry size from safety applications, which was evaluated at USD 9 billion in 2015, is forecast to observe a lucrative expansion over the coming years. Mounting requirement for passenger security along with strict safety guidelines set by law enforcement agencies to ensure safe driving will impel automotive ECU industry growth.
Get a Sample Copy of this Report @ https://www.gminsights.com/request-sample/detail/109
High inclination toward the use of convenience technologies for improving the driving experience is projected to raise automotive electronics control unit (ECU) market size across the communication & navigation sector.
Electric vehicle powertrain applications are expected to contribute substantially towards automotive electronics control unit (ECU) market share in the future, driven by the deployment of electronic control units in electric vehicle powertrains for controlling the operations of electric motors, power electronics systems, and battery.
Considering the regional landscape, Middle East & Africa automotive ECU industry is set to record a CAGR of 4.5% from the period of 2016 to 2023. Escalated vehicle production by various automobile manufacturing firms across the region is expected to augment the revenue. Egypt, Nigeria, Iran, and Algeria are likely to be the key regional share contributors.
Asia Pacific automotive electronics control unit (ECU) market, which contributed to a major share of the overall revenue in 2015, is predicted to grow at an annual rate of 7.2% over the period of 2016-2023. An increase in the automobile sales, escalating vehicle safety standards and low fuel usage are few of the key growth drivers. Japan, China, and India are predicted to boost the regional revenue.
Automotive electronics control unit (ECU) industry size in Mexico, which was estimated at USD 1 billion in 2015, is projected to register significant gains over the coming timeframe. High funding to construct new automobile manufacturing units across the region to fulfill the consumer demand for vehicles is predicted to push the regional revenue.
Europe automotive electronics control unit (ECU) market value, worth USD 8 billion in 2015, is projected to experience a substantial surge over the years to come. Favorable government regulations mandating the deployment of advanced emergency braking systems in vehicles for ensuring the safety of pedestrians, commuters, and drivers will drive the regional demand.
Market players will increase their ROI through mergers & acquisitions, high R&D financing, technological innovations, and product differentiation.  Takata Corporation, Atmel Corporation, Autoliv Incorporation, Robert Bosch GmbH, Faurecia, Calsonic Kansei Corporation, Performance Electronics, Limited,  Broadcom Limited, Johnson Controls, Dow Corning Corporation, Denso Corporation, Infineon Technologies AG, Mitsubishi Electric Corporation, Altera Corporation, TRW Automotive, Continental AG, Delph Automotive PLC, Lear Corporation, Voxx Electronics Corporation, The Hyundai Motor Company, Panasonic Corporation,  Hitachi Automotive Systems Limited, Advics Company Limited, Texas Instruments Incorporation, Aisin Seiki Company Limited are the key participants of automotive electronics control unit (ECU) industry.
Author Name :Dhananjay Punekar
This entry was posted in Automotive & Transportation and tagged Automotive ECU Market, Automotive ECU Market Analysis, Automotive ECU Market Share, Automotive Electronics Control Unit Market, Automotive Electronics Control Unit Market Size, Chassis Electronics, Communication, Entertainment, Global Automotive ECU Market, Global Automotive Electronics Control Unit Market, Navigation, Powertrain, Safety, Security.