Companion Diagnostics Industry
Global companion diagnostics market is slated to gain substantial momentum over the coming years owing to the growing prevalence of chronic diseases and adverse drug reactions. Companion diagnostics tests help identify patients that are most inclined to benefit from a therapeutic product. They also help patients susceptible to an increased risk of serious side effects due to treatment with a particular therapeutic product. Moreover, they monitor a patient's response to a particular treatment, so health professionals can adjust them to ensure high safety and treatment effectiveness, which will impact industry trends over the forecast period.
U.S. Companion Diagnostics Market Share, By Product, 2018 & 2025 (USD Million)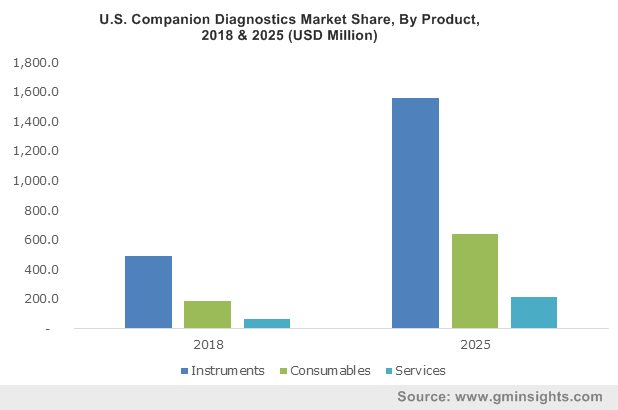 The increasing prevalence of adverse drug reactions is a significant driving force for global companion diagnostics market share. ADR is a major public health problem, and a vital cause of mortality and morbidity. According to a study, most ADR cases occurred during hospitalization or admission to internal medicine wards, out of which maximum were preventable. The use of companion diagnostics helps medical professionals detect patients at higher risk of side effects, thereby enabling their safety. Increasing consumption of new medications is more likely to spur ADR, which will boost companion diagnostics market share in the ensuing years.
A key growth factor for companion diagnostics market is the increasing pervasiveness of chronic ailments like cancer. Data by the International Agency for Research on Cancer suggests that by the year 2040, the number of cancer patients is estimated to increase to 27.5 million and cancer deaths to 16.3 million owing to the growing elderly population paired with increasing risks of a sedentary lifestyle. Cancer patients' reaction to drugs differs with each medication, thus necessitating personalized therapy. As companion diagnostics tests deliver precise data concerning the drug's safety and efficacy among various patient groups, they would witness high demand to treat the growing number of cancer cases in the future.
Diagnostics laboratories are one of the highest-grossing end-use segments for global companion diagnostics industry, which are estimated to continue their growth trend in the coming years as well. Recently, BrightEdge, a new venture fund by the American Cancer Society, offered funds worth $160 million to blood-diagnostics firm Freenome, which is developing a test for early cancer detection. Increasing funding for diagnostics tests will support segmental growth, thereby driving global companion diagnostics market size.
Get a Sample Copy of this Report:@ https://www.gminsights.com/request-sample/detail/3972
The hospitals segment is also poised to amass commendable revenue share due to growing hospital admission instances paired with increasing geriatric population and the surging prevalence of chronic diseases. Hospitals often are the first to adopt advanced technology, in a bid to provide safe and effective treatment for their patients. Moreover, with the global outburst in the geriatric population, hospitals will observe increasing admissions, which in turn, will escalate companion diagnostics industry share from the hospital segment.
In terms of technology, the in-situ hybridization segment is estimated to prosper over the foreseeable years. This technology is unique among molecular analysis methods for providing accurate microscopic localization of mRNA, microRNA, and genes in metaphase spreads, tissue, and cell preparations. It is also an appropriate therapeutic intervention in cases of breast and lung cancer. According to the World Health Organization, lung and breast cancer were the most common cancers in 2018, with each accounting for over 2 million cases each. The increasing number of cancer patients will continue to benefit the adoption of in-situ hybridization technology in the future.
North America companion diagnostics market is estimated to be the highest revenue contributor due to the presence of well-known private and government hospitals across nations in the region. Well-established hospitals are more likely to adopt advanced medical technologies in a bid to enhance patient care and safety. Countries within the region are also experiencing a growth in geriatric population which implies that the prevalence of chronic diseases and patient admissions are set to rise in the coming years, thus augmenting companion diagnostics market share in the region.
Asia Pacific is also a substantial market for global companion diagnostics industry outlook. Creditable economic development paired with the increasing privatization of hospitals and medical centers are the major factors driving market growth. Furthermore, countries like China are seeking to improve its healthcare sector by imposing reforms for medicine and healthcare systems, which will further increase the demand for companion diagnostics tests in the region.
According to the latest research report available with Global Market Insights, Inc., companion diagnostics market is anticipated to be worth more than $6.5 billion by 2025.
Author Name : Krithika Krishnan