Component
With the robust penetration of smart technologies in the transit space, smart transportation market has been progressing at a prodigious pace in the recent years. The growth can be aptly credited to the efforts of the automotive industry players that have been striving to bring in innovative products to the masses. However, the governmental bureaucracy is also to be accredited with some appreciation, given that these authorized bodies have been extensively adopting smart technologies to solve traffic problems, in addition to providing substantial financial support for modernizing transportation.
Smart Transportation Market Size, By Mode of Transportation, 2017 & 2024 (USD Million)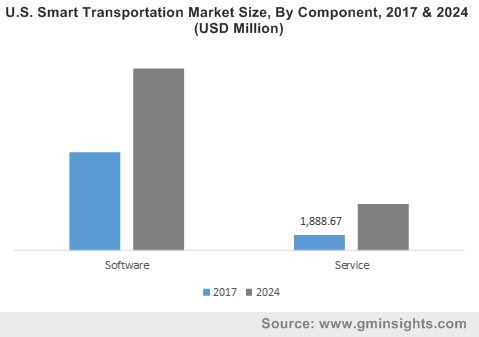 Urban planners along with technology experts are focusing on building smart cities that will use automated transportation, smart grids, artificial intelligence and digital sensors. Such cities are expected to become a hub for the expansion of the smart transportation industry. Furthermore, the advent of the Internet of Things (IoT) and artificial intelligence (AI) will also be playing a major role in popularizing smart transport, extending its reach across the masses. Indeed, it is being speculated that smart transportation market will emerge as one of most revolutionizing business spaces of the 21st century.
How China is contributing toward smart transportation market share
China, the biggest automotive market across the globe, has been highly proactive in improvising its automobiles, thereby emerging as a pivotal contributor in smart transportation market. The nation has seemingly deployed intelligent transportation systems such as traffic signal control systems, variable message signs, car navigation, speed cameras and automatic number plate recognition. This is being done primarily to update transportation systems and resolve various social issues that are often indirectly related to poor transportation. In fact, one of the most iconic instances demonstrating China's proactiveness in smart transportation industry is the construction of an intelligent highway equipped with battery chargers, solar panels and mapping sensors all along the 1.08 km stretch.
Get a Sample Copy of this Report @ https://www.gminsights.com/request-sample/detail/2512
China also aims at ensuring that at least 10% of all automobiles across the country are electric vehicles. This would warrant that smart highway projects such as the aforementioned are always on the run, thereby providing an added growth avenue for smart transportation industry. The Intelligent Transport System Association of China has recently even declared an investment of USD 30 billion in the intelligent transport industry by 2020 that would help construct electronic charging systems and encourage green transport system.
Dubai: Revolutionizing the dynamics of MEA smart transportation industry
Dubai has recently joined the trend of smart city development. Apparently, under the umbrella of the Dubai Plan 2021, the government is aiming at transforming infrastructure, designing ambitious projects and providing citizens with enhanced benefits. The regional smart transportation market has witnessed increased investment under the Dubai Plan, as transportation is being viewed as a key pillar to the development of a smart city.
The Roads and Transport Authority of Dubai has implemented unique smart car rentals that can be collected by tech-savvy commuters on an hourly basis and returned to kiosks located close to metro stations. Apparently, estimates claim that 40% of slow traffic movement in Dubai is caused by drivers looking for a parking spot. On these grounds, intelligent parking systems are being developed that will guide drivers to find parking spots near their destination. Safety of bus commuters is also being developed by the installation of a system of buses that will assess the physical condition of the driver and identify signs of exhaustion or illness. It has been estimated that IoT technologies can amplify Dubai's potential value to reach $5 billion by 2019.
Smart technology, ideally, is still a long time away from reaching market maturation. Besides, even regulatory systems have much progress to make with regards to helping existing roads adapt to the new smart mode of travel. However, smart transit systems offer ubiquitous connectivity, remote sensors, dynamic traffic signals and vehicular communications – commendable social and economic benefits that are certain to aid smart transportation industry emerge as a mainstream vertical.
Experts point out that between 2035 and 2045, the advent of autonomous vehicles can save around 585,000 lives while reducing commuting time by 250 million hours per year on a global basis. Also, machine directed vehicles are likely to stray from distractions and will contribute towards improving highway safety. According to certain statistics, autonomous vehicle technology is expected to add $7 trillion to the global economy by 2050 when they will come to constitute more than half the new vehicles sold worldwide.
In the forthcoming years, vehicle ownership is likely to be displaced with the rapid proliferation of Mobility-as-a-Service technology. Smart transportation market is expected to witness an altogether new scenario of ride-hailing services and pilotless vehicle options, revolutionizing the automotive & transportation space in its entirety. As per estimates, smart transportation industry size is anticipated to increase commendably in the ensuing years, with a target valuation of USD 130 billion by 2024.
Author Name : Paroma Bhattacharya
Owing to the rapid adoption of smart technologies such as IoT and Big Data, wireless fire detection system market share has witnessed a remarkable uptick of late. The convergence of integrated solutions coupled with a marked increase in the deployment of advanced fire detection systems would further augment product demand. Apparently, the new-age systems offer enhanced aesthetics by eliminating the need for drilling holes and cabling requirements, prevent the utilization of asbestos, and provide ease-of-installation. Subject to this, technology providers have focused on developing advanced fire detection technologies so as to ensure security and safety in new construction projects, that would consequentially aid wireless fire detection system industry.
U.S. Wireless Fire Detection Systems Market size, by commercial applications, 2017 & 2024 (USD Million)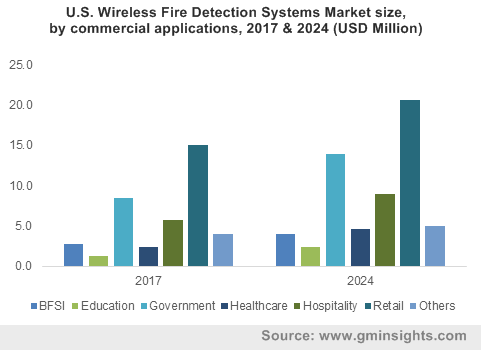 Elaborating further, it has been observed that periodic revision and streamlining of fire safety standards is a crucial factor to have influenced the overall wireless fire detection system market trends. Moreover, numerous developing nations have been concentrating on constructing smart cities to sustain and reenergize their economies. Apparently, the seamless functioning of these smart cities would require stringent enforcement of enhanced fire safety codes.
In accordance with the same, it is rather imperative to state that regulatory agencies have a vital role to play in such a scenario. Enumerated below are a few major instances of government agencies which have prescribed forward looking and advanced guidelines that are quite significant for the global wireless fire detection system industry:
One of the major organizations that has contributed immensely toward drafting improved safety standards in wireless detection system market is the Occupational Safety and Health Administration (OSHA). Being one of the foremost agencies of United States Department of Labor, OSHA has time and again laid out stringent regulatory guidelines with regards to fire safety that has been mandated to be complied to, especially in the construction sector. In the US, OSHA's regulatory directives such as 29 CFR 1910.160 and 29 CFR 1910.164 have acquired increased prominence given that they are strictly required to be complied with while installing wireless fire detection systems.
European Union's popular directive, named as EN54 Part 25, is predominantly known for outlining the precise safety requirements and laboratory tests for components utilizing radio links across wireless fire detection system industry. Apparently, these directives consist of detailed guidelines pertaining to heat detectors, smoke detectors, voice alarm control and indicating equipment, alarm transmission and fault warning routing equipment, point fire detectors which use carbon monoxide sensors, etc.
Get a Sample Copy of this Report @ https://www.gminsights.com/request-sample/detail/2493
Concurrently, the swift advancements being observed in networking infrastructure coupled with the aforementioned robust regulatory structures is certain to impel the wireless fire detection system market over the ensuing years.
Meanwhile, it would be prudent to mention that the wireless fire detection industry share, which can be termed as being in the nascent stage, has been marred with a few obstacles in the recent times. Subject to various vulnerabilities of wireless infrastructure and the high cost of fire detection systems, the end user segment appears rather apprehensive with regards to adopting these systems on a wide scale.
However, owing to the incorporation of cutting-edge technologies in these systems, numerous household safety device manufacturers have been unveiling convenient and smarter consumer products in wireless fire detection market. For instance, Samsung has recently teamed up with Vodafone to provide a range of smart home products with a special focus on security devices including multipurpose sensors, home alarm assistant, and security cameras. Reportedly, the users would receive alerts on their mobile phones in the event of fire at their home. Needless to mention, the launch of such innovative solutions would undeniably propel the wireless fire detection system market size.
With the development of smart cities across numerous countries complemented with a robust regulatory framework in place, the commercialization prospects of wireless fire detection system industry appear to soar new heights in the near future. In fact, as per a research report by Global Market Insights, Inc., the overall remuneration portfolio of wireless fire detection system market is estimated to exceed USD 500 million by the year 2024.
Author Name : Saif Ali Bepari
The telecommunication sector is probably embarking on a transformational shift in recent years. Software Defined Networking (SDN) market is deemed to be a major stipendiary of this transition. Telecommunication networks, apparently, have migrated from traditional hardware and appliance centric deployment to cloud based model, with software playing a pivotal role in network functionality. The increasing popularity of SDN industry can be majorly attributed to this fundamental aspect.
Software defined networking emerged as an advanced architecture paradigm, amalgamating different technological capabilities applied to management of network functions, design, and service platforms. Pertaining to these benefits, numerous IT service companies have been feverishly changing their perspective toward adoption of software-based solutions for resolving several business challenges, which in a way is impelling SDN industry share. It had been stipulated by Cisco in one of its Cloud Index reports, that over 65% of all data centers would adopt SDN technology partially or fully by the end of 2021, a sharp rise from the 2016 records.
U.S. Software Defined Networking Market Share, By Solution, 2018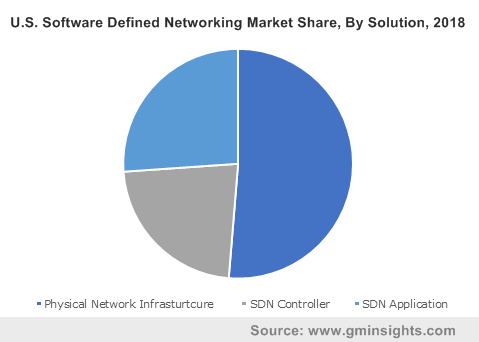 Cradlepoint, one of the formidable players dealing with SDN services, made it to the headlines a while ago, with the launch of its NetCloud service package, that reportedly includes advanced IBR1700 mobile router. Reportedly, this newly designed solution package for its NetCloud platform, brings the benefits of SD-WAN (Software-Defined Wide-Area-Network) to LTE mobile networks for transit operators, first responders, and other fleet-based organizations. As claimed by the cloud-4G network service provider, the new solution is in compliance with the security and performance requirements of FirstNet, the independent authoritative entity under NTIA within U.S.
In a bid to reinforce its position in SDN market, Orange Business Services signed a collaborative agreement with Cisco a while back. Apparently, in consequence of this deal, the former is planning to showcase the onboarding of Cisco's SD-WAN virtual network function on Cisco ENCS (Enterprise Network Compute System). In fact, with the aforementioned platform under its belt, Orange Business Services' customers would gain a fully functional visualized solution for their network services, as a part of Orange universal CPE offering.
The U.K. based telecommunications behemoth, Colt Technology Services, had apparently declared its plan of expanding its On Demand SDN service across APAC belt. Powered by Colt IQ Network, the firm's On Demand SDN services are characterized by high flexibility, real-time bandwidth variation, and agility. Making a profound headway in APAC SDN market share with the successful launch of these services in Japan, Colt had also planned to introduce the same On Demand SDN services in Hong Kong and Singapore as well.
Get a Sample Copy of this Report:@ https://www.gminsights.com/request-sample/detail/2395
Tremendous technological interventions in the telecom sector have evidently narrowed the gap between developing and developed nations, giving SDN industry players lucrative opportunities to extend their geographical reach. However, considering the immense investments by U.S. telecom service providers in software defined networking, the regional SDN market has undoubtedly turned out to be hotbed for potential investors. For instance, American telecom giant AT&T has recently poured in USD 200 million to support startups that mainly focusses on promoting SDN technology and connected services. These kinds of hefty investments toward integrating new age software facilities in the existing telecommunication network is certain to leave a positive impression on U.S. SDN market size.
Speaking of its commercialization potential at the global scale, overall SDN industry size is forecast to exceed a valuation of USD 100 billion by 2025. With incessant efforts undertaken by the tech giants to unlock software-based technology potentialities in telecommunication industry, which has, of late, become more insight driven, SDN market demand is claimed to be on a robust incline. In fact, looking at the pace of advancements and expansion in its application spectrum, this particular business vertical is deemed to be one of the most fascinating spheres to watch unfold, claim analysts.
Author Name : Saipriya Iyer
The deployment of modern construction technologies for a luxurious, healthy lifestyle has been rapidly pushing window automation market trends in the last few years. Tech advancements such as augmented reality and IoT are proliferating the construction domain at a robust pace, creating new opportunities for window automation industry players. The incorporation of intelligent control systems in newly installed windows has today proved to be one of the most advantageous technological additions across residential as well as industrial sectors. Pertaining to their sustainability and lesser energy consumption capability, the demand for automated windows has only been escalating lately.
UK window automation market size, by application, 2017 & 2024 (USD Million)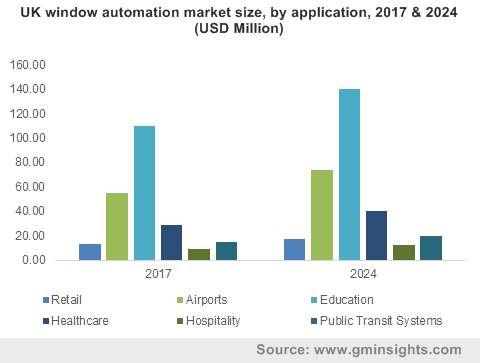 Ever since the advent of the smart era, smart homes and smart cities have become somewhat of a universal trend, prompting regional government bodies to come up with a supportive regulatory framework as well as suitable initiatives to aid the implementation of smart cities. In consequence, this would push the demand for automated components such as doors and windows. One of the primary factors behind the incorporation of these systems however, is the fact that they help reduce excessive energy consumption. Across Western Europe for instance, 40% of the overall energy consumption is for buildings. Being essentially fuel-based, this proportion leads to severe CO2 emissions, escalating the demand for automated windows and doors, given that they help lower these emissions. The deployment of automated windows for optimized energy usage and reduction of carbon emissions will thus impel window automation market share.
Get a Sample Copy of this Report @ https://www.gminsights.com/request-sample/detail/1356
One of pivotal challenges construction behemoths are facing today is the onslaught of fresh air in the living space. This fundamentally involves combating with environmental conditions such as indoor temperature, wind, rain, snow, and carbon dioxide levels, leading to the necessity of advanced sensing systems to be integrated in windows. In recent times, these systems are being developed with highly advanced sensing technologies that are far more efficient and reliable than their predecessors. In order to make these windows smarter than before and ensure that they react appropriately to the occurrence of natural calamities, temperature sensors, and motion sensors are also being incorporated during construction. Driven by the increasing use of innovative sensing solutions, sensors & detectors based window automation industry size is expected to be pegged at USD 950 million by the end of 2024.
The growing popularity of automated windows among the masses has considerably encouraged window automation industry contenders to come-up with innovative solutions. Recently for example, one of the leading window and door manufacturers, Kolbe Windows & Doors showcased its highly innovative portfolio encompassing inswing doors and awnings with automated activation, sliding patio doors, and numerous modern, upgraded window designs at the NAHB IBS (National Association of Home Builders International Builders' Show). Having successfully integrated modern technologies into its existing window and door product ranges, Kolbe has set a benchmark for other giants in window automation market.
The use of advanced systems for ensuring building and occupant safety is now becoming mandatory, considering the occurrence of life-threatening hazards. Across numerous geographies, governing authorities have mandated the installation of smoke ventilation solutions for operating windows automatically in case of an accidental fire. The increasing deployment of building safety regulations will thus emerge as another contributing factor toward window automation market growth.
Of late, escalating living standards and the increasing need for building safety have generated considerable opportunities for window automation industry contenders. With evolving developments in smart technology, the demand for next-generation components such as motion sensors and IoT based control panels will observe an appreciable upsurge, drastically transforming window automation market outlook. Taking into account the ease of functionality of these systems, governments bodies have also been encouraging residential building developers to deploy automated windows in their projects. In essence, powered by a supportive regulatory framework and a strong technologically-aligned industry background, window automation market size has been forecast to register a CAGR of 6% over 2018-2024.
Author Name :Sunil Hebbalkar