Concrete Surface Treatment Chemicals Market
With concrete tagged as one of the materials of choice for construction projects, it comes as no surprise that the global concrete surface treatment chemicals market is traversing alongside a lucrative growth path. Lately, the growing population and the consequent demand for affordable housing, in tandem with high-end frills brought on by increasing disposable incomes have led to the demand for a number of commercial outlets such as shopping complexes, multiplexes, entertainment centers, restaurants, etc., along with residential edifices. The upswing in construction activities to build residential establishments and commercial setups such as towers, malls, skyscrapers, etc., due to surge in urbanization will contribute to a major hike in concrete surface treatment chemicals industry share.
Europe Concrete Surface Treatment Chemicals Market Size, By End-user, 2014 – 2025 (USD Billion)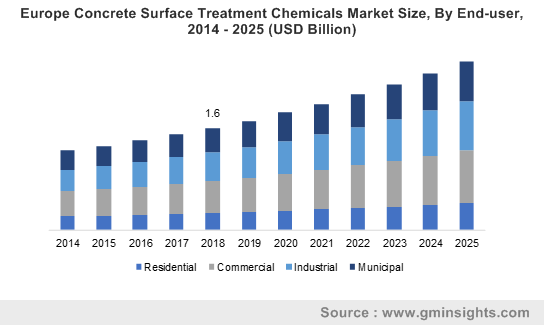 Regionally speaking, Asia Pacific is claimed to emerge as a highly viable growth ground for concrete surface treatment chemicals market. Encompassed mostly with developing economies, the continent plays host to a majority of the global populace. As per estimates, the global population was recorded at over 6 billion in 2000 and as on 2018, it stands at over 7.5 billion. APAC economies India and China are touted to account for a substantial proportion of this estimate, leading to a significant demand for housing.
Proliferation in population density and rising urbanization will thus impact the regional construction industry, which would, in consequence, propel the APAC concrete surface treatment chemicals industry share.
In recent times, consumer demand for durability and strength in buildings is on a consistent rise. This has led to an upsurge in the use of concrete curing chemicals to ensure strong construction with minimal use of water. Curing compounds, as a matter of fact, help provide optimal curing at a time when protection from solar heat is necessary. These compounds are majorly used in the construction of highways, curb paving, streets, runways, etc., and are applied through the spraying procedure.
Get a Sample Copy of this Report @ https://www.gminsights.com/request-sample/detail/3259
Incidentally, curing compounds find applications across regions with scarcity of water and high temperatures, since protection of concrete structures from a harsh environment has become mandatory. The growing demand for strong, durable edifices across the urban landscape is likely to boost concrete surface treatment chemicals industry share from curing compounds, slated to depict a CAGR of 6.5 percent over 2019-2025.
One of the most profound factors that is expected to augment the growth of the global concrete surface treatment chemicals industry is the penetration of numerous companies in the construction chemicals market. The expansion of the construction chemical industry has been, as a matter of fact, attracting existing chemical majors to increase their market share in the vertical. Citing an instance validating the same, recently, BASF and Adani Group joined hands to set up a petrochemical plant worth INR 16,000 crore in Mundra. This plant will manufacture chemicals that would be deployed across a score of industry verticals, including construction.
Citing yet another instance, Birla Corporation, last year in the fourth quarter, unveiled its plans to enter construction chemicals and additive market, pertaining to the surging demand for construction additives like waterproofing material and wall putty. The increasing interest of companies to invest in the construction chemicals industry is certain to provide a positive impetus to the expansion of concrete surface treatment chemicals market.
Powered by the increasing number of construction activities, in tandem with the rising demand for building repair, reconstruction, and renovation, the growth map of concrete surface treatment chemicals market is certain to remain exponential in the years to come. Manufacturers have been consistently planning to invest in the development of construction chemicals and have been striving to bring forth a spate of innovations in the industry, which would eventually propel concrete surface treatment chemicals market size.
Author Name : Anchal Solanki