Connectivity
Pertaining to the growing adoption of renewable energy in tandem with stringent regulations to curb CO2 emissions, the global power optimizer market is likely to traverse alongside a highly remunerative growth graph in the years ahead. Essentially a module-level power electronic (MLPE) device that can efficiently increase a PV solar panel system's energy output and adjust DC characteristics to maximize energy yield, the product has become a technologically essential component in many residential, commercial and utility-scale solar system designs.
Europe Power Optimizer Market Size, By End Use, 2018 & 2025 (USD Million)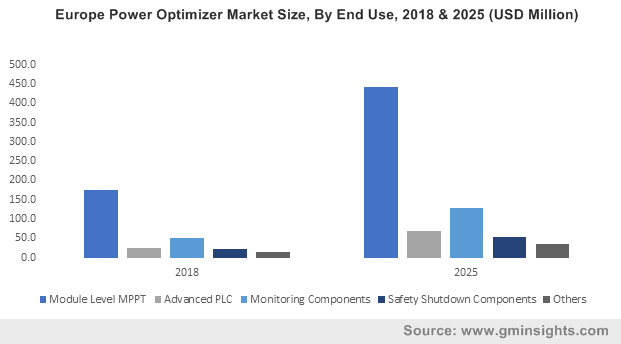 By utilizing modules that are integrated with power optimizers, system designers can now reduce the overall power loss from interrupting shade obstructions, thus protecting the systems from long-term module mismatch owing to uneven soiling or debris. Several PV module OEMs are also incorporating this next generation DC performance optimization technique to gain an edge in the power optimizer industry, further pushing the market trends.
Power optimizers are increasingly emerging as an ideal substitute for module level power monitoring & management, enhancing the benefits of MPPT with higher operational efficiencies of string inverters. Furthermore, the product's ability to offer constant, uninterrupted output in a partially shaded environment is anticipated to facilitate its adoption sooner than ever. Indeed, shade on any part of a PV solar panel affects a system's total output performance. However, with the capability of power optimizers to mitigate the shading losses, users are benefitted with stable output power, irrespective of changing sun exposure. This would serve to majorly expedite the demand for the product across countries such as China, Russia and Iceland, impelling the global power optimizer industry trends.
The residential construction sector has been touted to emerge as an invaluable growth hub for power optimizer market. This can aptly be credited to the escalating number of schemes mandated by regional governments – such as incremental energy efficiency grants to support residential roof-top installations. The product has also gained traction in power optimizer industry on account of the rising influx of new, flexible module designs. Say for example in 2018, GreenBrilliance USA, a solar solution provider launched an AI-based solar power optimizer for residential homes called Neurobotz. As per reports, the system's predictive analytics algorithm generated an optimal load curve and could effectively control the incoming power flow to significantly reduce the amount of electricity consumed in residential zones.
Get a Sample Copy of this Report @ https://www.gminsights.com/request-sample/detail/3075
Advancements such as the aforementioned are anticipated to pave the way for next-gen solar energy systems, thereby impelling power optimizer market growth. Driven by the robust technological advancements in product design and development and the advantages provided by government subsidies, power optimizer market size from residential applications has been estimated to cross annual installations of more than 10 million units by 2025.
Apart from GreenBrilliance, some of the other pivotal players in power optimizer market include SolarEdge, SMA Solar, Altenergy, Ampt, Tigo, Huawei, Kuby Renewable Energy, igrenEnergi, Maxim Integrated, Darfon Electronics, Texas Instruments, Alencon, ABB, Mornsun, Xandex, Ferroamp and Fronious. Companies have been consistently investing in R&D programs and have been looking out to tap the latest technologies to gain an edge in the industry. Last year in September for example, Panasonic Eco Solutions and SolarEdge Technologies launched the HIT S Series Module – an all-new premium smart module, optimized by SolarEdge, for the U.S. residential market. Reportedly, the  module is indicative of the integration of the leading solar technology from both Panasonic and SolarEdge in order to accelerate solar module installation and ensure more power delivery to homeowners.
Power optimizers are irrefutably essential in almost all PV panel systems to attain ensure stable performance, particularly in partially shaded environments. Powered by the product's robust deployment across the residential, commercial and utility-scale solar designs and escalating technological advancements, power optimizer market size is likely to cross 30 million units in terms of annual installations by 2025.
Author Name :Mateen Dalal
In recent times, barcode printers market has been witnessing rapid expansion owing to the cutting-edge products being unveiled by prominent industry players and their consistent adoption of strategic growth tactics. Citing an instance of the latest product innovation, Printronix Auto ID Inc., one of the global leaders partaking in industrial barcode printing industry, has launched a high-performance thermal barcode printer, the T6000. Equipped with advanced features such as an enhanced print speed of 14 inches per second, an interactive screen which lowers downtime, postscript and pdf support for complex labelling requirements, and improved RFID capabilities, this product is indeed revolutionary.
It would also be imperative to state that this latest thermal barcode printer seamlessly integrates with any network infrastructure with plug and play facility and comes with unique online data validation process which assists in producing barcodes that eliminate exorbitant compliance fees. Such dynamic and encouraging technological advancements in product development are set to favorably influence the growth prospects of barcode printers market in the upcoming years. According to research analysts, the global barcode printers industry size stood at USD 2.4 billion in 2017.
UK barcode printers market, by application, 2017 & 2024 (USD Million)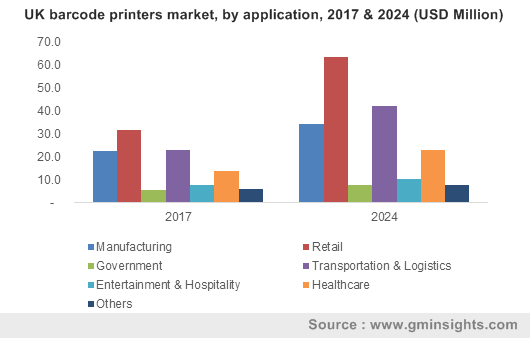 Thermal barcode printers have indeed found commendable traction over the years in various industry domains due to their outstanding thermal transfer technology. Embedded in thermal barcode printers, this technology offers long-lasting labeling applications, which have in turn found extensive usage in printing cards, magazines, posters, picking and shipping labels, receipts, and books. Evidently, the adoption of these printers has had a major impact on barcode printers market outlook. Indeed, thermal-based printers account for more than 65% of the overall industry share and are likely to gain commendable returns in the ensuing years owing to their excellent durability and low operational costs.
Concurrently, the diverse applications of barcode printers are increasingly being deployed in the healthcare industry. Noteworthy applications such as desktop barcode printers in particular, are contemplated as an ideal product for the healthcare industry, as they have helped boost the efficiency and productivity of medical care operations. The product has emerged to be of immense use in hospitals as it offers accurate patient information, enhanced medicine administration, parcel post, specimen collection and identification, shipping/receiving labels and patient identification. The growing demand for products such as barcode-based wristbands for patient identification will thus drive desktop barcode printers market trends over 2018-2024.
Get a Sample Copy of this Report:@ https://www.gminsights.com/request-sample/detail/147
Meanwhile, it would be well advised to enumerate the challenges that would impede the growth potential of barcode printers industry in the longer run. The vertical apparently, has been marred by the low printing quality of labels, add to it the rising prominence of Radio Frequency Identification (RFID) tags. In the years to come however, these restraints are likely to take on a turn for the better, as companies continue to conduct R&D activities to develop innovative solutions with a high level of reliability.
Speaking of the regional expansion outlook, Europe barcode printers market is likely to garner appreciable return in the coming years. This growth can be primarily attributed to the rising deployment of these products to improve customer experience and visibility. The ability of these systems to enhance efficiency and lower costs incurred through errors in shipping, packing, and manual input enables companies to achieve high Return on Investment (ROI), thereby impelling the regional barcode printers industry share.
This business fraternity is anticipated to witness intense competition among the major industry players such as Printonix Auto Id Inc., Epson America Inc., Toshiba Tec Corporation, Zebra Technologies, Honeywell Scanning and Mobility, Dascom, Printek, Seiko Epson Corporation and Godex International Co. Ltd., etc. In a bid to strengthen their positions across the vertical, companies have been highly vigilant as far as conducting robust collaborations and alliances is concerned, as enumerated by the partnership between the leading barcode printers' producer, Epson America Inc. and the barcode labeling software manufacturer TEKLYNX International. The alliance features the seamless integration of TEKLYNX barcode label design software and Epson's inkjet color label printer that would provide GHS-compliant chemical barcode labeling for all the sizes in the manufacturing industry.
As the adoption of lucrative growth tactics among market participants surges in the years ahead, barcode printers industry trends are likely to undergo a major transformation. Having been pegged at a valuation of 3 million units in terms of shipments in 2017, barcode printers market size has been forecast to register a CAGR of 5% over 2018-2024.
Author Name : Saif Ali Bepari