Construction equipment
The growth of stone crushing equipment market can be attributed to the expansion trends across the mining, infrastructure and building, and metallurgy sectors as well as highways, railways, and canals. The massive surge in the use of stone crushers for construction of highways, bridges, skyscrapers, roads, etc., in the developed as well as developing economies will enhance their adoption, thereby impelling the growth graph of stone crushing equipment industry globally.
UK stone crushing equipment market, by product, 2018 & 2025 (USD Million)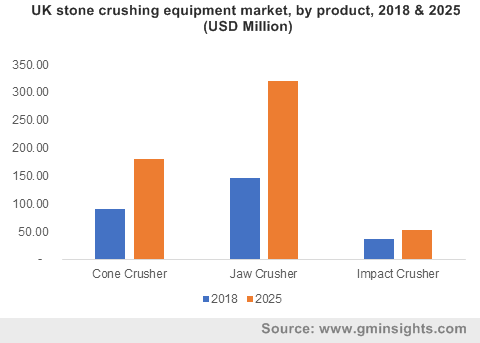 The globally rising urbanization trends are also responsible for augmenting stone crushing equipment market share. As the demand for residential and commercial establishments across urban locales continues to rise, the requirement of finely crushed stones for these buildings as well as the construction of buildings and highways will quite overtly exhibit an upsurge. Given the rising pace of industrialization and the shortage of land, numerous construction and renovation projects are in the works, which calls for the mass requirement of crushed stone globally. In consequence, this would majorly impact the growth map of stone crushing equipment market.
The product landscape stone crushing equipment market is primarily characterized by jaw, cone, and impact crushers, though it would not be completely incorrect to state that the latter is not as commonplace or popular as the first two. Indeed, jaw crushers possess versatility in crushing efficacy regardless of the industry, and are known to help crush a widespread range of materials.
Jaw crushers are mostly preferred by contractors because of their efficiency, low cost maintenance, and availability in different sizes and capacities for different applications. They are highly suitable for crushing materials with a moisture level below 15 percent and has the ability to crush 1 to 2 tons of material on an hourly basis. Aided by their convenient operations and widespread availability, in tandem with the spate of construction projects in execution globally, jaw stone crushing equipment share is expected to depict a massive upsurge over 2019-2025.
Get a Sample Copy of this Report @ https://www.gminsights.com/request-sample/detail/2011
Another popular type of stone crushing equipment with the capacity to crush a variety of materials apart from stones is the cone crusher. The product can operate on higher speed and strokes which improves its productivity. It is also equipped with anti-wear protection which improves its lifespan.
Given its easy-to-maintain capability and convenient operational ability, it comes as no surprise that cone stone crushing equipment market size was valued at over USD 1 billion in the year 2018. As the demand for versatile, reliable and highly productive stone crushers increases, cone stone crushing equipment industry will continue to gain traction in the years to come.
Unlike fixed stone crushers, mobile crushing equipment has been registering extensive demand because of the ease of transportation. Mobile crushers are suitable for various terrains and are not only easy to install, but can also be conveniently assembled and dismantled. The extensive deployment of mobile crushers for myriad ongoing construction projects will significantly upscale the growth graph of stone crushing equipment market.
The competitive spectrum of global stone crushing equipment is characterized by a slew of innovations lately, as companies work effortlessly to produce a huge range of productive and reliable stone crushers. The U.S. based company IROCK Crushers, a few years ago, had developed a new TC-20 Track Impact Crusher equipped with a high-performance four-bar impactor, feeder, and heavy-duty components. The product was known to offer accurate precision, reliability and efficiency, which positioned it as powerful and productive stone crusher in the market. The growing earnestness by industry contenders to design unique stone crushers will thus act as a key driver for stone crushing equipment market size globally.
The competitive landscape of stone crushing equipment market is inclusive of several key players, like Thyssenkrupp, Astec Industries, Eagle Crusher Company, Inc. It has been observed that these companies have been undertaking appreciable efforts to expand their distribution network and increase their customer base across the globe, that would eventually serve to impel the global stone crushing equipment market.
Author Name : Anchal Solanki
The rising construction & infrastructure upgradation projects & the deployment of heavy-load lifting equipment have been fueling tower crane market growth since the last few years. Tower cranes are renowned across the global construction sector for their ability to conveniently transport raw material to and from the construction site, significantly reducing the project's overall development time. In fact, tower cranes have become so essential in construction that today they are a common fixture at any major construction site globally.
The overall tower crane market, pertaining to increasing product demands, has been witnessing numerous technological advancements, including the integration of hydraulic systems or electric motors & internal combustion engines (ICEs). These advancements greatly increase the component's efficiency and facilitate an enhanced level of productivity for end-use sectors. Not to mention, the ICEs & electric motors also help in eliminating carbon emissions – a major factor to be considered, given the regulations that are currently enforced on the construction, utility & mining sectors. As on today, an increasing number of manufacturers & customers are focusing more on employing environmentally friendly practices to reduce the global pollution, which would open up new growth avenues for the overall tower crane industry.
Global tower crane market | Impact of the recovering construction sector across Europe
The construction sector is considered to be of extreme importance in the European economy given that it is home to more than three million enterprises that directly employ a total of 18 million individuals, as claimed by the European Builders Confederation. The organization further estimates that the European construction sector accounts for more than 9% of the total GDP of the European Union. While the economic crisis severely affected the continent's construction segment between 2008 & 2013, the market slowly began its recovery in 2015.
Get a Sample Copy of this Report @ https://www.gminsights.com/request-sample/detail/3155
Eurostat & Euroconstruct have both attributed the recovery to factors such as strong economic growth, the state of public finances, rising household income and growing corporate profits. These factors, along with the simultaneous construction-output growth across 19 Euroconstruct nations, were responsible for the EU recording an overall peak growth 4.1% in 2017. In the years ahead, the regional construction sector is expected to record substantial gains bringing respite to the Europe tower crane market.
According to the Spring 2018 Economic Forecast by the European Commission, prospects for EU's construction industry look very bright with construction investment growth in 2019 slated to remain very strong. This would majorly augment the Europe tower crane market as it capitalizes on the expansive demands of the regional construction industry.
Global tower crane market | Impact of the expanding construction sector across the APAC
According to the World Economic Forum, construction is a massively proliferating industry in APAC with numerous economies in the region building their way to a more developed & interconnected future. From extensive redevelopment projects that aim to reinvigorate ageing transport-hubs to new schemes that are specifically designed to open up the region to the global market, nations across the APAC are investing in infrastructural development at an immense scale. This in consequence, would help APAC tower crane market chart out an extremely lucrative growth graph in the ensuing years.
On of the most prominent regional grounds for the APAC tower crane industry would be India. The country's Prime Minister, Narendra Modi, in 2017 announced a drive to facilitate proper housing facilities to the nation's population of 1.3 billion. Increasing income levels and the subsequent affordability are slated to release a trillion-dollar wave of investment across the nation's housing sector over the coming years. The drive expects to construct more than 60 million new homes between 2018 & 2024, generating approximately 2 million new job opportunities on an annual basis.
The India tower crane market is also witnessing a rise in production capacities & rental facilities because of customers' low investment profiles. Driven by the numerous ongoing & upcoming residential, infrastructure & commercial projects across prominent APAC economies, including China, Singapore, Japan, Malaysia and Australia, the APAC tower crane market is slated to experience a CAGR of 9.5% over 2019-2025.
Fueled by the robust expansion of the tower crane market across myriad geographies, the global industry is expected to attract significant investments in the years ahead. In fact, according to Global Market Insights, Inc., the overall tower crane market size is slated to surpass the $5.5 billion renumeration mark by 2025.
Author Name : Akshay Kedari
Hoist controller market is claimed to be a considerably paramount business space, given the agonizing attempts by the researchers toward unlocking the potential of the technology across various off-beat spheres. By 2025, the global hoist market is projected to surpass a valuation of USD 3 billion with a CAGR of 5% over the coming seven years. Overtly, the expansion would leave a synonymous impact on the worldwide hoist controller industry outlook.  Electric hoists, in this regard, are slated to contribute immensely to the overall commercialization potential of this vertical. In the year 2017, the electric hoists procured a mammoth 90% of the product landscape and are anticipated to witness an industry share of more than USD 100 million by 2025.
U.S. Hoist Controller Market Size, By Type, 2014 – 2025 (USD Million)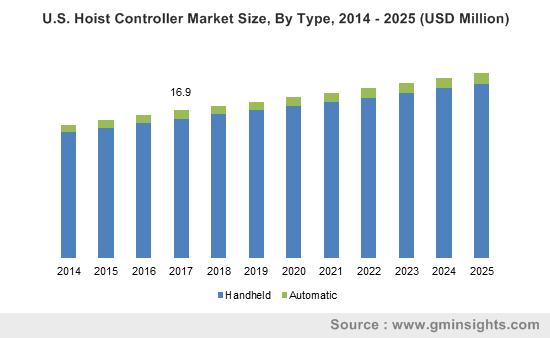 It is prudent to mention that the emerging economies are gaining commendable traction in context of the demand contribution of these controllers. The chief attributing factor is the rapid industrialization in these belts. Endorsed by the rising economic portfolio, APAC stands as one of the strongest avenues for hoist controller market expansion, with an anticipated market share of USD 32 million by 2025. China, India, and Japan are touted to be the chief revenue pockets for the APAC belt, with the expanding construction sector bagging the growth credit.
As per reliable estimates, China construction industry size in 2017 stood at more than 25 trillion yuan, which indeed resulted in an extensive demand for hoist controllers from the cement sector. In fact, the cement sector procured a massive chunk of the overall end-use landscape of this fraternity in 2017. By 2025, the overall handheld hoist controller market size from cement applications is projected to surpass USD 19 million by 2025.
Get a Sample Copy of this Report @ https://www.gminsights.com/request-sample/detail/2671
In addition to the cement sector, another major end-use vertical gaining significant momentum in the market is military. In a recent turn of events, Bluedrop, an acclaimed name in the hoist controller industry made it to the headlines with its launch of virtual reality hoist stimulator. The USD 1.1 million stimulator setting a groundbreaking example of technology interventions in hoist controller market, is deemed to enable training in an affordable, safer, and eco-friendly manner. Reported to be delivered to 12 Wing Shearwater next month, this environmentally viable rescue training simulator is likely to mark its footprint in the military applications of hoist controller industry.
It is prudent to mention that hoist controller market growth is highly ancillary to the increased demand for cranes and hoists across manufacturing domains for material handling purposes. An anticipated trend to watch for remains the rivalry between North America and Asia Pacific in terms of regional contendership. For the record, North America held the second largest share in the global landscape in 2017. The region is forecast to register a revenue of USD 24 million by 2025. A presence of large manufacturing base in tandem with the rising demand for automated hoist controllers will mainly characterize the North America hoist controller market trends.
All in all, persistently channelized by dynamic technological breakthroughs in lifting ecosystem, hoist controller market is set to trigger a consequential transformation over the coming timeframe. In terms of commercialization, the overall business space is slated to cross USD 104 million by 2025.
Author Name : Satarupa De