Construction
Highlighting the rapid developments across the global flexible foam market, it would be pivotal to state the mention the Germany-based global leader in flexible foams, Armacell. Apparently, the firm has recently opened its new manufacturing facility in Bahrain. According to news reports, the facility has an annual operational capacity of 60,000-cu m of technical insulation foam, in turn providing a wide range of insulation solution for the domestic market including elastomeric insulation & high-density materials for HVAC (heating, ventilation, and air conditioning) systems. Industry analysts deem that Armacell's move to open flexible foam manufacturing facility will not only cater to the strong product demand in the Gulf region, but will also strengthen its foothold in the global flexible foam industry space.
Asia Pacific flexible foam market, By Type, 2018 & 2025, (Million Tons)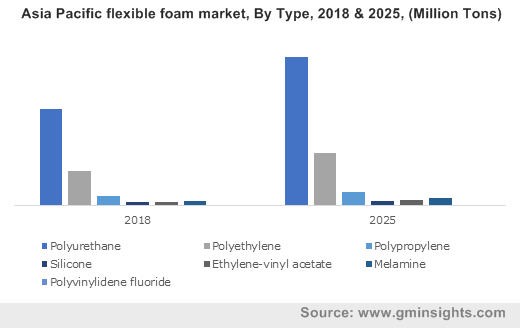 This German company, however, is not the only major flexible foam industry player that's seizing the growing product demand from myriad applications including packaging, construction, furniture & upholstery, bedding, pillows, carpet cushion, mattresses, consumer goods, and automotive interiors.  FRX Polymers Inc., recently for instance has introduced its Nofia non-halogenated polyphosphonates that will be used in UL 94 V-0 high-temp polyurethane flexible foams used in the transportation & electronic industries. For the record, Nofia phosphonate oligomers act as a flame retardant & heat stabilizer in polyurethane flexible foam products and retain mechanical performance.
A statement by FRX claims that the Nofia FR enabled the fire retardant polyurethane foam to conveniently handle higher temperatures – with respect to both, the continuous use temperature and peak temperature. FRX's launch of Nofia is an apt instance validating the significance of polyurethane as a vital type of flexible foam. The material apparently, is characterized by outstanding features such as light weight, lower installation time, enhanced resiliency, improved cushioning, lightweight, increased shelf life, and durability.
Get a Sample Copy of this Report @ https://www.gminsights.com/request-sample/detail/1735
Elaborating on the extensive deployment of polyurethane for introducing light weightiness in vehicles, it would be prudent to mention that high-density polyurethane foam components can be effectively coated to seem like the original product, and can be manufactured with a closed-cell structure that boasts of being water-tight. Ergo, the component is not susceptible to rotting, delaminating from water intrusion, or warping. PU foam is also equipped with exceptional self-skinning properties, making the product ready for painting or coating. This has consequently increased the deployment of PU foams in myriad automotive and aerospace applications, thereby driving the PU flexible foam market share.
Powered by its excellent characteristics, polyurethane foam is widely used across a spate of industry verticals. As a matter of fact, polyurethane dominated the overall flexible foam market in 2018, with a share of over 60% of the demand. Driven by its innumerable applications in lightweight automotive parts, as thermal insulation products in buildings, in automotive interior components, and as cushioning in beddings, upholstery, etc., polyurethane-based flexible foam industry is slated to traverse alongside a highly profitable growth path in the years ahead.
Speaking of the regional spectrum of flexible foam market, the APAC undeniably, has emerged as a forerunner, a feat that can be credited to the expanding automotive and consumer goods industries in the region. As a matter of fact, the continent boasts of increased expenditure on luxurious consumer goods coupled, thereby fueling the demand for memory foams in mattresses and beddings. The region's construction industry has also been undergoing a robust expansion of sorts, that has considerably increased the demand for flexible foams in the continent.
Powered by the expanding hospitality industry, specifically across the South-East Asian nations of Thailand, Singapore, Malaysia, Vietnam, and Indonesia, on account of supportive FDI policies, APAC flexible foam market share is anticipated to depict a commendable rise in the years ahead. Indeed, as per estimates, Asia Pacific led the overall flexible foam market share in 2018, accounting for more than 30% of the demand.
As the demand for flexible foams exhibit an incline across a slew of prominent industry verticals, the global flexible foam market is anticipated to gain quite some traction in the years ahead. The industry is also characterized by the launch of highly innovative products by numerous industry contenders. Say for instance, Deacom, Inc., the popular developer of a comprehensive ERP solution, recently concluded an implementation for an innovative PU foam chemical technology manufacturer, Foam Supplies, Inc., with Ecomate®, its patented blowing agent. The new system is expected to provide the technology foundation to manage Foam's production operations. Aided by a ferocious competitive spectrum and a widespread application landscape, the global flexible foam industry size is set to be pegged at USD 65 billion by 2025.
Author Name : Saipriya Iyer
With expansion of industries like textile, paper & pulp and wastewater treatment, it is now rather evident that bleaching agents market will register significant growth over 2018-2025 as such chemicals find extensive application in the aforementioned industries. For instance, in October 2018, textile and apparels exports in India recorded a notable 38% jump as overseas demand for Indian clothing accelerated. As the global economy has begun to recover, U.S. has led the demand for Indian clothing and compared to October of 2017 which recoded the export of Rs147.79 billion worth of apparels, in October 2018, exports stood at Rs203.53 billion.
U.S. bleaching agents market size, by application, 2014 – 2025 (USD Billion)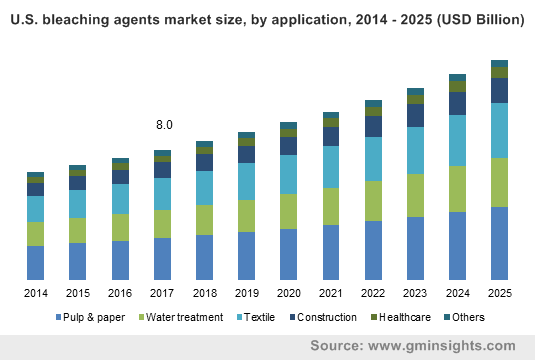 Considering that the Confederation of Indian Textile Industry is actively working to maintain such export revenues, it is rather overt that the Indian textile industry will receive a prominent boost from such endeavors and the bleaching agents market will in turn reap the benefits of such developments over 2018-2025.
It should be noted that Asia Pacific bleaching agents market generated quite some appreciable returns in 2017 that can be largely attributed to not only the textile industry of India but also the textile industry of China, which is incidentally the largest textile producer and exporter in the world. The rapidly growing Chinese textile industry has become one of the pillars in the country's economic development with China's textile exports being valued at approximately $10 billion in 2017, which is estimated to be 37.2% of the global market share. A massive and low-cost labor force as well as material supply availability has lent a competitive edge to China in the textile industry landscape. As a result, the country has come to occupy a leading position in the bleaching agents market as well as bleaching agents are one of the most essential chemicals involved in the textile industry.
Get a Sample Copy of this Report:@ https://www.gminsights.com/request-sample/detail/2525
A part of the Asia Pacific bleaching agents market revenue in 2017 can also be attributed to the use of bleaching agents in the paper & pulp and chemical industries in countries like China and India. Bleaching agents like hydrogen peroxide find extensive application in digital printing and flex printing as well as in manufacturing of packaging materials. Other Asian countries like Indonesia have come to realize the potential in the paper & pulp industry and are increasing investments not only to bring in the latest technology to support the growth of the industry but also to increase competitiveness of its products in the global market.
Indonesia apparently has the raw materials and favorable subtropical climate that makes it a major competitor in the paper & pulp industry. With national industrial policies being aligned to prioritize the paper & pulp industry in Indonesia as it provides a significant contribution to the national economy, the bleaching agents industry in the country is also expected to receive a significant boost over 2018-2025.
It should be mentioned that in world increasingly concerned about the ecological effects of harsh bleaching agents, the bleaching agents market has faced some major challenges when it came to expanding operations. However, active research and development in the bleaching agents industry and innovative new agents have effectively by-passed such hurdles that stood in the way of the industry's growth.
For instance, the pulp and paper industry has made efforts to reduce the chloro-organic and chloride discharges by substituting harmful chlorine-based chemicals with oxygen, hydrogen peroxide and ozone. Modifications at the pulping and bleaching stages in the manufacturing process have been made to reduce the toxic effect of bleaching waste water in order to adhere to stringent emission standards and environmental concerns.
The utilization of industrial waste water to manufacture products like enzymes and the utilization of enzymes in bleaching to minimize the chemical consumption of chlorine-based bleaching agents offer innovative and environmentally sensible technologies that can significantly reduce the environmental impact of the bleaching agents industry. With innovations paving the way for a profitable bleaching agents industry, it is estimated that the bleaching agents market will record a commendable growth rate in the years ahead.
Author Name : Paroma Bhattacharya
Rising demand for strong and durable plastic products across a slew of industry verticals has helped augment rotomoulding powder market, given that the rotomoulding process enables the production of efficient and high stress-bearing products. Rotationally, molded parts can be manufactured from different materials, can be multilayered and the process facilitates the production of standard or even custom designed parts. As compared to other plastic molding techniques, rotomoulding is less labor-intensive and the equipment can be configured for complex shapes, offering design flexibility, enhancing the rotomoulding powder industry scope.
North America Rotomoulding Powder Market, By Product, 2017 & 2024 (Kilo Tons)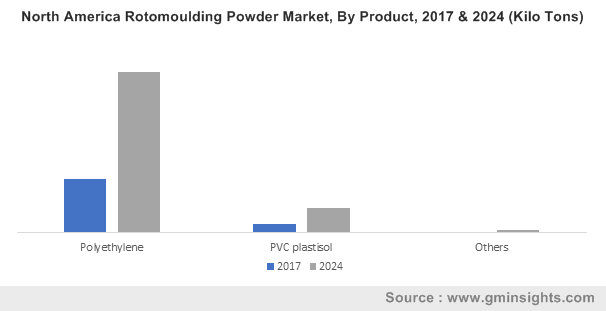 Manufacturing light, strong, corrosion resistant and durable components, whether big or small, is achievable through rotomoulding. Thus, the need for weight reduction in automobile, construction and material handling applications will boost the rotomoulding powder market consumption in the years ahead.
A wide variety or containers are available in the market for shipping and material handling, such as shipment containers, barrels and drums, refrigerated boxes and bulk containers, combined bins and military containers. The rotomoulding powder industry has gained massive remuneration owing to a large demand for small and heavy industry material handling containers worldwide. Rotomoulded crates and eskies are considered ideal for transporting vegetables, fruits, liquids and chemicals since most of such products are made from food-grade plastic. As they are long-lasting and do not deteriorate like wood or get corroded like metals, these containers can prove to be a good investment due to their utility in fulfilling innumerable material handling needs, promulgating the rotomoulding powder market. Many businesses opt for rotomoulded containers for transporting goods because their one-piece design offers a higher capacity for load-bearing and guarantees durability.
It is a well-known fact that global economic growth and the purchasing power of citizens immensely affect the material handling activities, as material handling orders are dependent on the demand for goods. The International Monetary Fund (IMF) in January 2018 had forecast that the global growth rate from 2018 to 2019 would be a strong 3.9%, indicating a positive industrial environment and the augmented need for material handling. The rotomoulding powder industry has additionally capitalized on a large number of small scale enterprises preferring rotomoulded containers and tanks for their low maintenance properties. Another promising source of revenue for the rotomoulding powder market could be the increasing number of recycling activities which require appropriate containers for sorting and handling waste materials.
Get a Sample Copy of this Report:@ https://www.gminsights.com/request-sample/detail/1337
To elaborate, environmental concerns and government initiatives have emphasized the need for waste management and have led to the establishment of numerous waste recycling and metal scrapping facilities across the globe. For catering to these requirements, manufacturers have been providing customized rotomoulded containers and bins to the waste management services or recycling plants, where different kinds of materials are handled every day, even chemically reactive ones. The Asia-Pacific (APAC) region comprises of several emerging economies where recycling initiatives are intensifying and thus presents a great opportunity for the rotomoulding powder market. Recently, it was revealed that just 8 countries in APAC are responsible for 63% of the total plastic waste flowing into the oceans. Add to it, the mounting surplus of electronic and metal scrap has escalated the waste recycling industry in the region, in turn highlighting the material handling requirements.
The APAC region subsequently contributed nearly 25% to the overall rotomoulding powder market in 2017, with the increased demand for containers as well as other rotomoulded plastic products like tanks, porta-loos, components used in construction and automobile parts. Lightweight parts help to reduce the gross vehicle weight and improve fuel efficiency, leading to the deployment of rotomoulded automobile components such as fuel tanks, dashboards, instrument panels and wheel arches. Reportedly, in 2017 more than 37.1 million passenger cars were produced by just three countries combined, namely China, India and Japan. With surging population, pollution concerns and the economic uplift across most of the APAC countries, the rising investments made to expand manufacturing capacities by automakers will propel the rotomoulding powder market.
All in all, the low cost, eco-friendly production of rotomoulded containers or parts with minimum material wastage and least design constraints have prompted the material handling and automobile manufacturing segments to adopt these products. The industry growth is further aided by the efforts of rotomoulding powder market players such as BASF, Reliance Industries, ExxonMobil, Dow Chemical Company, GreenAge Industries, Pacific Poly Plast and Eco-polymers.
Author Name : Pankaj Singh
Growing emphasis on consumer satisfaction and safety has proliferated the testing, inspection, and certification (TIC) services market as governments worldwide have implemented stringent quality regulations on almost every industry vertical. Whether it is construction, automobile, energy, healthcare or other segments, continuous advancement in products and components have necessitated upgraded testing and certification requirements. Improvements in management, product quality, manufacturing processes, supply chains and service value have become imperative for the growth of any business, imposing a need for the TIC services market. Existence of recognized certifications such as ISO:9001 or ISO/TS 16949 make it easier for customers to search for companies that provide excellent product quality, better customer service and new, innovative solutions. The global TIC services market valuation in 2017 stood at over USD 150 billion, driven by the obligation of companies towards meeting specific product requirements and to comply with international quality standards.
U.S. Testing, Inspection, and Certification (TIC) Services Market Revenue, By Service, 2017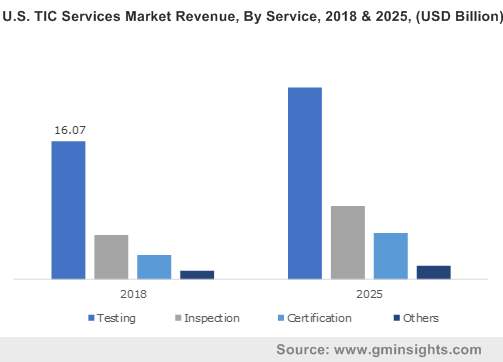 Besides helping to control the quality, effective testing and inspection processes aid in minimizing rejections, reduce manufacturing costs and identify reasons for a defective output. The transportation segment, in general, constitutes a major part of the global manufacturing industry where thousands of components or auto parts go through daily quality checks. As governments and international agencies are constantly raising the weight, material and other standards of automobile components to enhance the safety and efficiency of vehicles, the TIC services industry is subsequently gaining massive popularity. OEMs as well as small auto component vendors are striving to achieve high level of quality and get certified, to get documented and provide validity to their proficiencies and expertise. Frequent inspection and evaluation of manufacturing processes by in-house or third party services to maintain a grip on the quality level will continually boost the TIC services market.
Get a Sample Copy of this Report:@ https://www.gminsights.com/request-sample/detail/2318
As per estimates, the EU alone produced over 17 million passenger cars and 2.6 million commercial vehicles in 2017. With strict regulations in place to enhance the fuel efficiency of future vehicles and reduce carbon emissions, the TIC services market will experience tremendous growth from testing and inspection of advanced auto components and manufacturing processes. New processes need to be sufficiently tested before implementation and vigorously inspected for any faults or defects to ensure product uniformity. Globally, an emerging product line in the automotive sector is connected and self-driving cars, which presents a challenging task for the TIC services industry. Chipmakers and testing companies are helping to develop these products by adhering to ideal temperature, voltage, electromagnetic interference and several other standards put down for an efficient autonomous system. Automotive standards like ISO 26262 have been introduced related to the safety of electrical and electronic systems within vehicles, warranting adequate testing and inspection to be done on advanced automotive chips.
The TIC services industry is rapidly witnessing demand from the healthcare and life sciences segment, with test and inspection reports of pharmaceutical equipment being critical in assessing whether the international standards are met. TIC companies are trying their best to evolve with technological developments and remain up-to-date with new regulations pertaining to safety and quality. Products, apparatus and supply chains are subject to quality testing activities regularly, as pharmaceutical companies are responsible for providing vital therapeutic solutions. Even other parties involved in the supply chain must go through intense inspection by assigned representatives to be eligible to acquire critical certifications. Citing an instance that signifies the importance of the TIC services market, Swiss WorldCargo recently received IATA's Center for Independent Validators (CEIV) Pharma certification, which encompasses not only the airline but also the entire organization.
To elaborate, a CEIV Pharma certification indicates that the lifesaving pharmaceutical products are being handled in compliance with the best global standards of safety, security and efficiency by the certified party. With this certification, Swiss WorldCargo has attained a milestone which only a small number of airlines have been able to earn, recognizing them as globally consistent in exhibiting high quality standards while handling pharmaceutical products. Further, U.S. based Nu-Med Plus Inc. has established a quality management program and trained its employees regarding quality standards in an effort to gain ISO 13485 certification. The certification is essential for the company before it files for the approval of its new nitric oxide delivery devices with the FDA and demonstrates the significance of the TIC services market in forming the image of a top-quality healthcare product or service provider.
Overall, the TIC services industry will undergo remarkable transformation due to incessant developments in the life sciences field, resulting from the existence of rigorous certification eligibilities in healthcare and mandates that demand high quality control. Slated to record a 6% CAGR from 2018 to 2024, the TIC services market is highly dispersed with key players like Intertek, SGS SA, Bureau Veritas, DEKRA, TUV SUD, Apave and Eurofins being the major participants.
Author Name : Pankaj Singh
Vehicle tracking market, in the recent years, has been traversing along a rather lucrative growth path mainly on the cusp of the technological advancements that have taken the automotive industry by storm. The rising need to monitor vehicle movement and the growing awareness regarding the benefits of vehicle tracking in terms of safety are regarded as the key drivers impelling vehicle tracking industry growth. According to reports, this business sphere has been drawing tremendous remuneration with a growing number of companies investing heavily in vehicle tracking systems to better position their business operations.
U.S. Vehicle Tracking Market, By Vehicle, 2016 & 2024, (USD Million)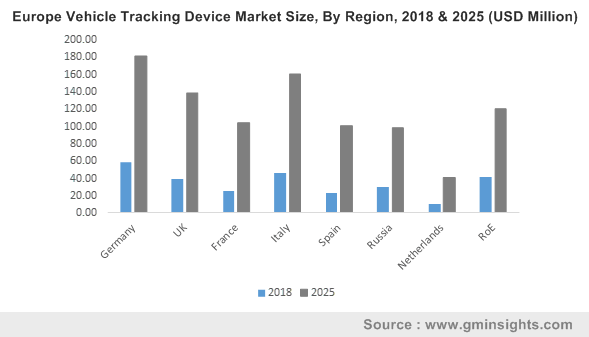 Speaking of the commercialization potential of this business space, analysts deem that having drawn close to USD 6 billion in terms of revenue in 2016, global vehicle tracking market, quite undeniably is set to be a profitable growth ground for potential stakeholders. It has also been observed that in tandem with the core industry participants, the automakers and governmental bodies have been joining forces to develop products and simultaneously commence promotional campaigning programs to encourage the masses to adopt vehicle tracking systems.
A very recent instance validating the authenticity of the aforementioned statement is that of the Roads and Transport Authority of Dubai mandating the installation of monitoring devices in all the brand new heavy vehicles that will be entering Dubai roads from the month of August. Reports reveal that the move comes on the heels of RTA's expansion of its vehicle tracking program that will also include more heavy vehicles weighing 2.5 tons and above. The program further requires all the heavy 20-year-old trucks to have a vehicle tracking device installed to monitor over speeding, traffic accidents, driving in prohibited timing or places, sudden braking, reckless driving and over accelerating.
Get a Sample Copy of this Report @ https://www.gminsights.com/request-sample/detail/193
Another significant instance depicting the involvement of government bodies in this business space is that of the Maharashtra local government body and Regional Transport Office (RTO) mandating the installation of intelligent transport systems that comprise panic buttons & a vehicle tracking system. According to reliable reports, more than 3.70 lakh existing vehicles will have to install these systems in the state – this would prove highly lucrative for the regional vehicle tracking industry.
It is prudent to mention that the demand for numerous vehicle types has a pivotal role to play in augmenting the revenue graph of vehicle tracking market. Say for instance, heavy-commercial vehicles have lately been gaining massive traction in this business sphere. As per report in fact, vehicle tracking market share from the heavy-commercial vehicles is likely to register a y-o-y growth of 12% over 2017-2024. This robust growth can be credited to the growing demand for passenger & goods transportation coupled with rising consumer interest in tracking fleet performance.
Further elaborating on the product trends, it has been observed that wired vehicle tracking systems are gaining considerable preference over their wireless counterparts. Analysts deem that the major factor contributing to the growth of wired vehicle tracking market is the cost effectiveness of the product over the wireless units. Moreover, perpetual innovations such as enhanced satellite view and mobile tracking have also been primarily fueling the product adoption, leading to vehicle tracking industry gaining renewed traction.
Connected car trends to propel multi-million-dollar opportunities in vehicle tracking market
With driverless and connected cars garnering mass momentum, vehicle tracking market is certain to amass extensive remuneration in the years to come, given that connected technologies are set to transform the way one commutes, interacts, and communicates with automobiles. Authentic sources in fact claim that the number of cars that will be equipped with embedded connectivity will rise by a whopping 300% over the next five years. In essence, the growing importance of security features and other advanced technologies that help reduce road accidents and fatalities are indeed likely to stimulate vehicle tracking industry share. It is estimated that by the end of 2024, the global vehicle tracking market will surpass USD 11 billion with more and more organizations beginning to dabble in this technology, taking advantage of the changing fleet management landscape.
It is prudent to mention that despite the significant initiatives, there has been an ongoing debate regarding the installation of tracking systems. Nonetheless, vehicle tracking market has been expected to gain exceptional proceeds in the ensuing years, specifically due the contribution of regional governments. That apart, the escalating deployment of the product speaks for itself, and is deemed to push this business space to exceptional heights. As per estimates, vehicle tracking market size will increase at a CAGR of 7% over 2017-2024.
Author Name : Ojaswita Kutepatil