Consulting
The increasing importance for geospatial technologies for visualizing and analyzing geospatial data has stimulated mobile mapping industry trends. The advent of new technologies such as Lidar, AI, and IoT has also significantly transformed mobile mapping technology over the last few years. With more innovations across this technology, it has become easier and effective to carry various tedious projects like urban development, rail-road creation, and power plant construction across inaccessible areas. Thus, the increasing use of this technology to survey numerous mobile platforms is poised to propel mobile mapping industry share.
U.S. Mobile Mapping Market Revenue, By Component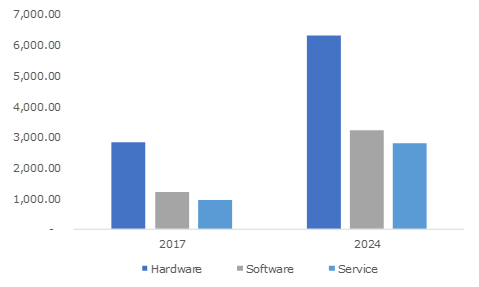 The involvement of companies in novel product development activities for high efficiency and productivity will have a notable impact on the business over the years ahead. In the last few years, companies have come up with a diverse set of products that can deliver remarkable benefits to users and asset owners. Validating the aforementioned fact, in February 2018, the California based software development company, Trimble developed a next-generation mobile mapping system, which has been designed with multi-camera imaging, mobile lidar system, and field software. This newly launched Trimble MX-9 mobile mapping technology has the capability to capture 360-degree immersive geo-referenced imagery with the help of already installed laser scanning sensors, GNSS technology, and spherical camera. The improved accessibility of such newly developed mobile mapping devices via smartphones and tablets will augment the growth of mobile mapping market.
Speaking more about the recent advancements, it is prudent to mention that 3D mobile mapping is also one of the latest developments in geospatial technologies that helps users to record, measure, visualize, and understand environments. The advent of 3D mobile mapping has overcome the limitations of conventional mobile mapping systems and helps to carry out a detailed visualization of climatic conditions. In 2018, a German company which develops software and hardware to navigate, map, and digitize the indoors, NavVis made it to the headlines for generating a fully integrated product for indoor mapping aided with six cameras. NavVis has developed this product in accordance with customers' request to have sophisticated and more versatile systems. This product is likely to prove beneficial for the end-users like construction product manufacturers, construction companies, and AEC (architecture-engineering-construction) professionals to generate high-quality data owing to its capability to capture immersive imagery.
Get a Sample Copy of this Report:@ https://www.gminsights.com/request-sample/detail/2652
The increasing importance for geospatial technologies has also been encouraging the players in the mobile mapping market to carry out vigorous research and development activities for capturing more business space. For instance, the Italy based SITECO Infomatia SRL has been proactive in developing varieties of products from road-scanners to pave-scanners. In 2018, it has launched software assisted mobile mapping devices. The integration of software and LiDAR system has helped the company to enhance the performance of mobile mapping platform. The widespread availability of multi-scanners and high-performance mobile mapping platforms is slated to propel the industry growth over the years ahead.
In addition to higher performance, cost-effectiveness is also one of the major factors promoting mobile mapping market size. As of now, Google is one of the leading contributors of navigation applications, but due to rise in subscription amounts for accessing its Google Maps, other contributors in mobile mapping market have been able to race ahead with the launch of low-cost navigation features. For instance, a few days before, a digital mapping company, TomTom has started offering free software development kits to Android and iOS users to access maps and traffic information for free. Such initiatives will help IoT companies and autonomous vehicle manufacturers to load the traffic and routing data free of cost.
The advancement in consumer electronics and shifting trends toward the deployment of autonomous vehicles for the betterment of the environment will have a positive influence on the mobile mapping industry share. As of now, most of the automotive companies have been involved in the development of highly modernized infotainment systems for improving the driving experience that is likely to enhance the product demand. In accordance with the expanding end-use sectors, the strategies adopted by the key player will help them to strengthen their business position over the years ahead. Reportedly, driven by new product launches, mobile mapping market will generate a revenue more than USD 40 billion by the end of 2024.
Author Name : Sunil Hebbalkar
In the recent years, smart grid market has earned substantial revenue due to the increasing awareness about the incredible benefits provided by these products. In addition, this vertical has also received quite some impetus on account of the rising requirement of power grids that can accommodate and support increasing numbers of electronic devices in each household. The importance of smart grids has been recently upheld by the city council of Sault Ste. Marie in Canada when a multi-million-dollar implementation of smart grid technology was cleared. Authorities managing the development of the project assured citizens that the upgrading to smart grid will have no financial, reliability or environmental drawbacks. In fact, it would bring about a 11-cent reduction in the monthly energy bills and drastically reduce CO2 emission to 2,804 tons annually within the city.
U.S. Smart Grid Market Size, By Technology, 2017 & 2024 (USD Million)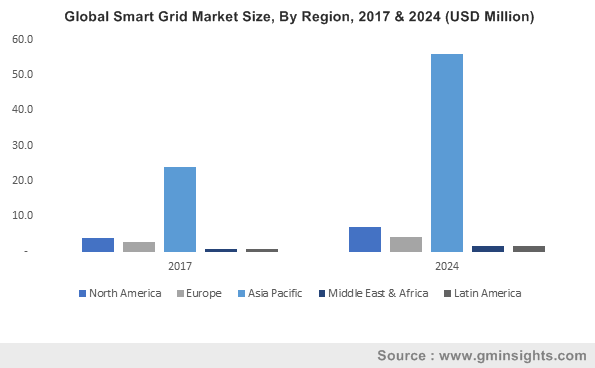 As the disasters caused by rapidly incremental climate change have plagued the news headlines of late, investment in the smart grid industry in the United States has also registered a cumulative upsurge. In 2017, U.S. smart grid market was valued at $3 billion. Recently the Massachusetts Department of Public Utilities issued an approval for significant upgrade in the state's electric grid. The order authorized utility companies of the state to invest $220 million in the modernization of the existent grid. The improvement project, which is expected to improve reliability and efficiency, will require 3 years for the upgrade. Agencies with environmental interest such as Energy and Environmental Affairs of U.S. have acclaimed the order to be a recognition to the role advanced meters and smart grids play to reduce costs, increase energy efficiency and maximize clean energy generation.
The grid modernization investments will automate the process for improved visibility of mechanical equipment, creation of a self-healing grid and automated command and control. These improvements will help reduce power outages and improve the process of storm restoration, as well as enhance the utility companies' ability to integrate distributed energy resources onto the electric grid. The success of the modernization is expected to encourage such investments in other states as well thus contributing to the expansion of the smart grid industry in the United States.
Get a Sample Copy of this Report @ https://www.gminsights.com/request-sample/detail/1365
Similar efforts are also in motion in Europe where the EU is aiming at replacing 80% of the electric meters with smart meters by 2020. In a recent venture, EU and China have released a joint statement with the intention of exchanging potential innovative and legislative solutions to meet the global demand of clean and green energy alternatives. Both China and EU agreed that improvement of energy supply security will enhance energy efficiency, support switching to low carbon energy sources and increase the share of renewable energies. According to findings presented by the European Commission, China and EU consume 22% and 12.5% of the global energy respectively and both are trying to break the dependence on fossil fuel imports. To achieve this goal, increasing the share of renewable energy sources and upgrading the potential of smart grids has been mentioned to be pivotal, pointing towards the increase in investment in the smart grid industry over the coming years. The smart grid market is being predicted to perform well in these regions as EU is currently drafting a 2050 decarbonization strategy and China has committed to bring down its carbon footprint by setting carbon reduction goals and other renewable targets to be met by 2030.
Speaking about China's investment in the smart grid industry it will be prudent to mention that other Asian countries are also recognizing the potential of a smart grids. Indeed, APAC smart grid industry is estimated to grow over 12% over 2018-2024. Citing an instance, the Indian government recently announced that it would develop a smart grid project in the financial and technological hub near New Delhi, Gurugram. The underground smart grid is expected to be completed by 2022, saving 120-150 MW of electricity every day and solving the long-standing issues of power theft and technical faults. A software-based technology will be used to replace manual maintenance in all low-transmission (LT) lines that will be located underground. The underground placement of the lines will potentially curb pilferage and theft that has been impairing power supply by almost 20%. The incidence provides apt evidence that India smart grid market is poised for a bright future.
Smart grids add monitoring, control, analysis and communication capabilities to electrical delivery system while reducing energy consumption. Utilities also benefit from smart grids as it allows them to move electricity around the system more economically and efficiently. Smart grids are also positioned to take advantage of new technologies such as hybrid electric vehicles, smart metering, distribution automation and solar energy. As governments look to optimize the operation of the entire electrical grid, increased smart grid deployment will be witnessed across the globe. As per reliable estimates, smart grid market is anticipated to surpass $70 billion by 2024.
Author Name : Paroma Bhattacharya
Industrial control systems (ICS) security market, tagged as one of the most revolutionary verticals of the smart & sustainable technologies space, has garnered massive remuneration in the recent years, given the increasing demand for network connectivity to support critical infrastructure. Industrial automation and digitization trends have practically computerized most of the machinery and engineering components that have undeniably changed the way operations are now performed but have however increased attack surface areas. Reports in fact claim that the industrial sector witnessed a significant increase in the number of vulnerabilities in ICS between the years 2015 and 2017. It has been estimated that the number of vulnerabilities reported by major companies offering ICS solutions were 115 in 2016 and the number rose to over 197 in 2017.
North America Industrial Control Systems (ICS) Security Market Size, By Security Type, 2017 & 2024 (USD Million)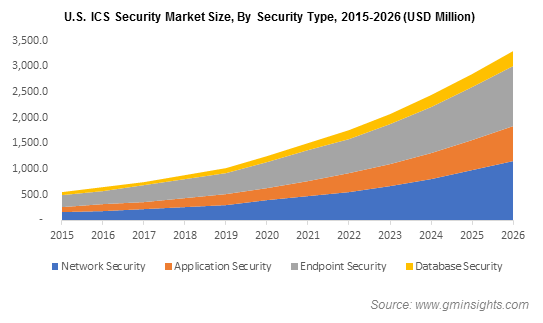 The growth in the ICS security industry can be attributed to these rising malware attacks that generally drain the bank accounts, steal identities, and blackmail organizations to bring services to a halt. A significant instance is that of the NotPetya ransomware that shut down several industrial IT networks across the U.S. and Europe. The gigantic outbreak resulted in losses of thousands of millions of dollars for large enterprises, from pharmaceutical company Merck to shipping firm Maersk. WannaCry was another popular ransomware that caused enormous damage, however it was later realized that this unsophisticated attack could have been easily prevented by following the basic IT security practices.
The robust prevalence of incidences similar to the aforementioned has served as a pivotal driver for ICS security market. Owing to these constantly evolving cyberattacks that are becoming more commonplace, security concerns have grown considerably in recent times, resulting into robust demand for ICS security solutions. Speaking of the growth in the commercialization potential, reports claim that the industrial control systems security market bagged USD 1.5 billion for the year 2017 and is expected to thrive further with industry players focusing on strategic collaborations and product innovation trends.
Get a Sample Copy of this Report @ https://www.gminsights.com/request-sample/detail/2680
Kepware's latest release of the KEPServerEX® version 6.5 industrial connectivity platform, in this regard is quite an example of the rising product innovation & diversification trends in the industrial control systems security market. The company's new product launch demonstrates its commitment to ICS security and its word in providing customers with best tools and services that support defense-in-depth programs. According to reports, the 6.5 version, which existing users can now avail for free, includes features such as enhanced password configuration, greater project file protection, comprehensive secure deployment guidelines, and other updated security components. Kepware, a business arm of PTC, also claims that it will introduce a Shared Responsibility Model that will enable the company to work together with its customers and address security issues experienced by industrial organizations of all sizes.
Industry experts speculate that in today's security landscape, the real pressure on all the industrial enterprises is to secure their operational networks. And Kepware's commitment in adding new security features and maintaining up-to-date components that would help customers reduce exposure to cyber-attacks and vulnerabilities will in turn strengthen its footprints in the competitive landscape of the global ICS security industry.
The partnership between Rockwell Automation and Claroty is another fine instance that portrays how leading industrial control systems security market players are constantly expanding their reach through such strategic collaborations. The partnership between the two is expected to develop a purpose-built anomaly detection software for the industrial network security.
Numerous other leading ICS security industry players like Cisco, Honeywell, IBM, Schneider Electric, and GE Digital are also expected to keep pace with the changing dynamics of cyberattacks while ensuring the delivery of comprehensive security solutions. On grounds of these efforts being undertaken by the industry players to innovate advanced & efficient products, industrial control systems security market is certain to tread along a lucrative roadmap in the years ahead. As per Global Market Insights, Inc., the overall industrial control systems security market size has been forecast to be pegged at USD 7 billion by 2024.
Author Name : Ojaswita Kutepatil
Green data center market is gaining immense popularity lately with the rise in concerns about the increasing energy costs impacting operational and economic efficiency. Most companies are presently implementing strategies to improve cooling and power infrastructure which is one of the vital factors influencing organizational performance, reliability, and serviceability. The shifting trends toward the deployment of green data centers for storing, managing, and distributing information have helped many software companies reduce energy consumption as well as the total energy cost. In fact, energy conscious companies are heavily investing in development of these centers for regaining cooling and power capacities, thereby providing impetus to green data center industry share.
Germany green data center market size, by solution, 2017 & 2024 (USD Million)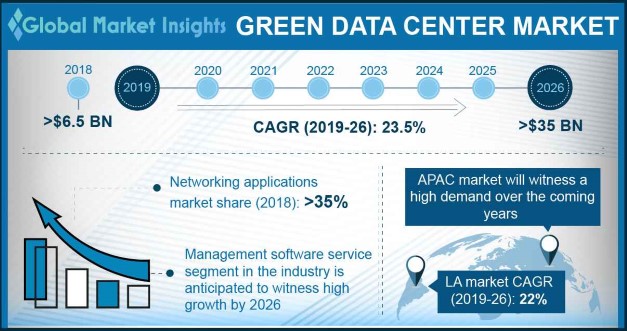 Though expensive, considering the long-term benefits of this technology, numerous companies ranging from internet giants to automotive biggies and manufacturing firms to software companies have been involved in green data center infrastructure development. The paragraphs below succinctly elaborate the contribution of myriad companies propelling efficient data center industry share.
In 2018, the leading industry behemoth, Siemens signed a deal with the Irish renewable energy contributor, CES Energy for providing on-site electrical generation services for data centers of various technology multinationals located in Ireland. This on-site energy generation is touted to be rather beneficial for data centers in terms of reducing carbon footprints and energy costs, in addition to helping them meet their data center timeframes with the supply of reliable power. The incidence validates that the availability of renewable energy facilities ensuring on-site generation assistance for achieving emission targets will prove to be a key factor reducing the carbon emissions across Ireland, strengthening green data center market trends.
Get a Sample Copy of this Report @ https://www.gminsights.com/request-sample/detail/2420
Ireland seems to be an ideal location for the establishment of data centers pertaining to climatic conditions, on the grounds of which green data center industry players have been focusing on facility expansion across the nation. Taking into account the shifting focus of technology companies, the regional government is striving to establish Ireland as the European data capital. A few months earlier, the renowned e-commerce contributor, Amazon received approval from the Ireland government to construct a new data center facility in Dublin. The government provided land of 223,000 square feet for the center and an investment of EUR 200 million, with the help of which Amazon plans to establish seven data centers. The implementation of high-profile projects such as the aforementioned is certain to propel Ireland effective data center market.
Presently, many tech giants are looking forward to investing in data center infrastructure development across well-established industrial parks. Through this business expansion strategy, these companies plan to facilitate most of the energy so generated for enhancing operational efficiency. Validating the aforementioned fact, recently, social media giant, Facebook made it to the headlines for planning to invest USD 750 million to develop a data center facility in Huntsville based in Alabama after receiving approval from the local officials. In order to supply power to this facility, Facebook plans to use 100% energy from renewables. The company's strategy is certain to help Alabama achieve economy benefits, as it is touted to receive about USD 300 million in new tax revenue from Facebook's future data center over the coming 30 years. It is thus overt that massive investments in renewable data center facilities are likely to impel green data center market size across several geographies.
In addition to already established behemoths like Google and Facebook, many start-up companies are also entering green data center market. For instance, the U.S.-Norwegian start-up company, Kolos is planning to build the world's largest data center in Northern Norway that will apparently use local hydropower and chilled air for minimizing energy costs. In order to develop this 600,000 sq/m, four-storey green data center building, Kolos has raised funds from the U.S. investment bank and several Norwegian investors. The start-up company declared that this project will be one of the world's largest green data center as this plant will receive all the required energy from wind and hydropower, which will reduce energy costs by 60% and provide cost-effective benefits to customers.
The increasing awareness regarding green energy among the regulatory bodies of various topographies is certainly a pivotal factor driving green data center market share. In fact, most of the European countries have already implemented strict regulatory norms to encourage the adoption of renewable energy facilities. In this regard, myriad technology contributors have also started deploying renewable energy powered data centers, which has considerably pushed product demand. The continuous investments in facility expansions for achieving higher working efficiency with the reduction of overall operational cost is likely to boost green data center industry share. For the record, by the end of 2024, green data center market will collect a revenue of USD 25 billion.
Author Name : Sunil Hebbalkar
The surging implementation of IT in several end-use sectors including banking, retail, and telecom is likely to fuel data center cooling market. Currently, data centers play a pivotal role in the functioning of several business enterprises, given that any failure in data center operations can have a rather negative impact on business growth. In fact, data center heat removal is one of the essential back strategies to maintain data centers. The growing priority for precise cooling and heat rejection facilities in order to collect unwanted heat from data centers is slated to stimulate data center cooling industry share. The ongoing innovations in cloud computing and data center platforms has also been favoring the growth of this business vertical. In addition, the emergence of IoT and artificial intelligence has also positively influenced the revenue potential of data center cooling market size, pegged at USD 8 billion in 2016.
China data center cooling market size, by service, 2016 & 2024 (USD Million)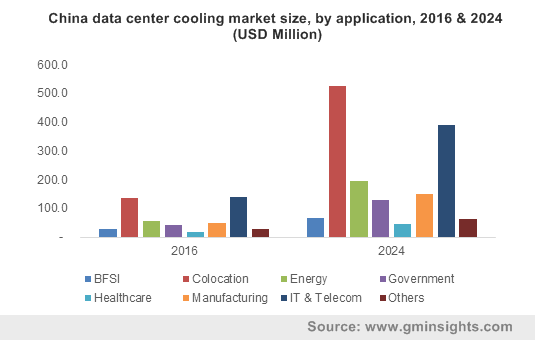 Data center cooling is one of the primary challenges ahead for data center users, owing to the adverse effects of excess heat and high temperature on the performance and lifespan of date centers. In order to enhance operational performance, many organizations are deploying more blade servers, which however results in high electricity requirement. The rise in electricity and cooling demand not only hampers the productivity of data centers but also increases the cooling costs. In this regard, several business enterprises are investing heavily in the development of efficient cooling and heat management facilities, which would considerably impact data center cooling industry trends. For instance, well-known internet giants Facebook and Google have declared an investment plan of USD 700 million to construct data centers in Iowa across U.S, which would help impel the commercialization scope of the regional data center cooling market. Thus, the rising number of investments in data center infrastructure development by leading tech behemoths is likely to influence data center cooling market outlook positively over the years ahead.
Get a Sample Copy of this Report @ https://www.gminsights.com/request-sample/detail/423
Traditionally, in order to construct a new data center, nearly 35% of overall expenditure should be invested on cooling equipment. In fact, the increasing usage of emerging technologies such as Internet of things (IoT) and AI are fueling the requirement of powerful and larger data centers. In this regard, many of the giants in data center cooling market including Black Box Corporation, Schneider Electric SE, Rittal GmbH & Co. KG, Nortek Air Solutions, AdaptivCOOL, and Airedale International Air Conditioning are investing heavily in research and development activities to develop efficient and cost-effective cooling technology. As of now, most of the business organizations are primarily giving preference to liquid cooling systems, pertaining to its capability to consume lesser energy as compared to other systems. Some of the pointers supporting the deployment of these systems have been enumerated below.
Reduction in required floor space: Liquid cooling system takes 50% to 75% less floor space, which may help to install a new data center within available space.
Simplified infrastructure: Pertaining to the removal of components such as ducting, chillers, small PDUs and CPS, LCS's simple infrastructure allows data centers to fit more IT facilities within the same space, thus augmenting data center cooling industry trends.
Safety: Liquid cooling systems offer complete safety when used alongside electronic components.
The robust growth in digitalization across the globe and the increasing demand for big data and cloud computing are likely to have a tremendous influence on data center cooling market. More importantly, increased application development and the fierce competition may help generate lucrative opportunities for data center cooling industry players, thus favoring the growth of the overall business vertical.
Author Name : Sunil Hebbalkar
The commercialization scale of data center infrastructure management (DCIM) market has been witnessing remarkable upswing in the recent years. The steady rise of this business space can apparently be accredited to the burgeoning complexity of managing large data centers and the limitations with regards to space and power. In addition to this, the robust proliferation of cloud technologies and big data along with the emergence of Internet of Things has necessitated numerous business verticals to focus on planning of physical infrastructure of IT based services. This has consequentially led to DCIM industry gaining tremendous traction over the past few years. In fact, according to reliable estimates, the overall revenue share of this business space is set to surpass USD 3 billion by 2024.
U.S. data center infrastructure management (DCIM) market size, by solution, 2017 & 2024 (USD Million)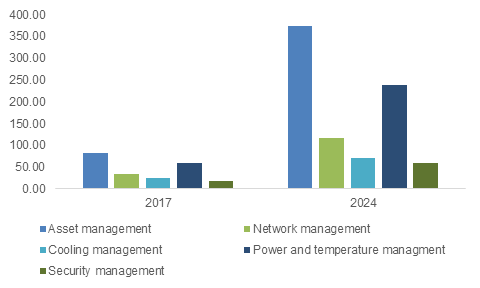 Government sector to emerge as one of the leading end use segments that would drive DCIM market expansion
In an era when cyber-attacks from 'nation state actors' have become an everyday occurrence across the globe, it has been observed that numerous governments are increasingly allocating massive resources to fortify network security. In addition to this, various regulatory authorities have mandated stringent guidelines to monitor and identify potential vulnerabilities in the digital infrastructure of developed and developing nations.
Get a Sample Copy of this Report@ https://www.gminsights.com/request-sample/detail/2496
Nlyte Software, one of the major US based DCIM market giant, has recently announced to have received the much-coveted approval of the Department of Homeland Security for its DCIM suite. Reportedly, the latest approval makes it the first DCIM solution across the U.S. to adhere to all the stipulations prescribed in the Phase 1 of Continuous Diagnostics and Mitigation (CDM) Program of the federal government. For the record, the U.S. federal government had rolled out a Continuous Diagnostics and Mitigation (CDM) Program a few years back to ensure security and integrity of software and hardware assets of the nation.
Apparently, industry experts claim that such approvals would provide advanced tools and capabilities to various governmental agencies to continuously monitor the safety of critical data centers across various nations. Furthermore, it is quite needless to mention that such encouraging developments would eventually impel the growth potential of the overall DCIM industry in the ensuing years.
Elaborating further, it would be prudent to mention a similar instance of governmental initiative that has provided a substantial boost to the firms operating in Australia's DCIM industry space. The Northern Territory government of Australia has recently declared its Budget for 2018-19 in which it has allocated a total sum of around AU$18.38 million to support initiatives under the Department of Corporate and Information Services.
As part of this scheme, the government plans to upscale the number of physical servers from 444 to 460 and intends to increase the number of its fully managed servers from 1600 to 1700 in the next financial year. With such enormous upgradation program in the pipeline, it is quite obvious that prominent firms partaking in DCIM industry of Australia sense an excellent opportunity to deploy their expertise in securing the nation's data center network.
One of the major challenges being faced by DCIM market players has been the responsibility of bridging the complex web of interconnections among a network of data centers. With the advent of enhanced automated tools, highly optimized management workflow procedures, and deployment of real-time monitoring systems, the aforementioned challenges are being gradually surmounted by DCIM industry stakeholders. This trend of improved functionality coupled with powerful IT-based applications would invariably have a favorable influence on the growth prospects of DCIM market share in the times to come.
Author Name : Saif Ali Bepari