Consumer goods
Highlighting the rapid developments across the global flexible foam market, it would be pivotal to state the mention the Germany-based global leader in flexible foams, Armacell. Apparently, the firm has recently opened its new manufacturing facility in Bahrain. According to news reports, the facility has an annual operational capacity of 60,000-cu m of technical insulation foam, in turn providing a wide range of insulation solution for the domestic market including elastomeric insulation & high-density materials for HVAC (heating, ventilation, and air conditioning) systems. Industry analysts deem that Armacell's move to open flexible foam manufacturing facility will not only cater to the strong product demand in the Gulf region, but will also strengthen its foothold in the global flexible foam industry space.
Asia Pacific flexible foam market, By Type, 2018 & 2025, (Million Tons)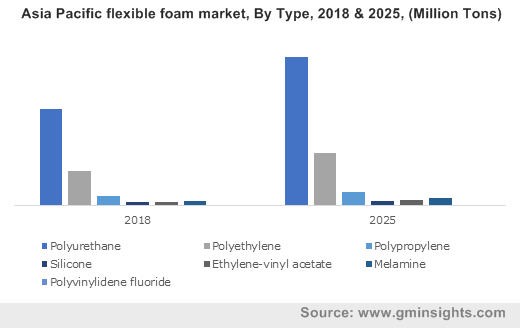 This German company, however, is not the only major flexible foam industry player that's seizing the growing product demand from myriad applications including packaging, construction, furniture & upholstery, bedding, pillows, carpet cushion, mattresses, consumer goods, and automotive interiors.  FRX Polymers Inc., recently for instance has introduced its Nofia non-halogenated polyphosphonates that will be used in UL 94 V-0 high-temp polyurethane flexible foams used in the transportation & electronic industries. For the record, Nofia phosphonate oligomers act as a flame retardant & heat stabilizer in polyurethane flexible foam products and retain mechanical performance.
A statement by FRX claims that the Nofia FR enabled the fire retardant polyurethane foam to conveniently handle higher temperatures – with respect to both, the continuous use temperature and peak temperature. FRX's launch of Nofia is an apt instance validating the significance of polyurethane as a vital type of flexible foam. The material apparently, is characterized by outstanding features such as light weight, lower installation time, enhanced resiliency, improved cushioning, lightweight, increased shelf life, and durability.
Get a Sample Copy of this Report @ https://www.gminsights.com/request-sample/detail/1735
Elaborating on the extensive deployment of polyurethane for introducing light weightiness in vehicles, it would be prudent to mention that high-density polyurethane foam components can be effectively coated to seem like the original product, and can be manufactured with a closed-cell structure that boasts of being water-tight. Ergo, the component is not susceptible to rotting, delaminating from water intrusion, or warping. PU foam is also equipped with exceptional self-skinning properties, making the product ready for painting or coating. This has consequently increased the deployment of PU foams in myriad automotive and aerospace applications, thereby driving the PU flexible foam market share.
Powered by its excellent characteristics, polyurethane foam is widely used across a spate of industry verticals. As a matter of fact, polyurethane dominated the overall flexible foam market in 2018, with a share of over 60% of the demand. Driven by its innumerable applications in lightweight automotive parts, as thermal insulation products in buildings, in automotive interior components, and as cushioning in beddings, upholstery, etc., polyurethane-based flexible foam industry is slated to traverse alongside a highly profitable growth path in the years ahead.
Speaking of the regional spectrum of flexible foam market, the APAC undeniably, has emerged as a forerunner, a feat that can be credited to the expanding automotive and consumer goods industries in the region. As a matter of fact, the continent boasts of increased expenditure on luxurious consumer goods coupled, thereby fueling the demand for memory foams in mattresses and beddings. The region's construction industry has also been undergoing a robust expansion of sorts, that has considerably increased the demand for flexible foams in the continent.
Powered by the expanding hospitality industry, specifically across the South-East Asian nations of Thailand, Singapore, Malaysia, Vietnam, and Indonesia, on account of supportive FDI policies, APAC flexible foam market share is anticipated to depict a commendable rise in the years ahead. Indeed, as per estimates, Asia Pacific led the overall flexible foam market share in 2018, accounting for more than 30% of the demand.
As the demand for flexible foams exhibit an incline across a slew of prominent industry verticals, the global flexible foam market is anticipated to gain quite some traction in the years ahead. The industry is also characterized by the launch of highly innovative products by numerous industry contenders. Say for instance, Deacom, Inc., the popular developer of a comprehensive ERP solution, recently concluded an implementation for an innovative PU foam chemical technology manufacturer, Foam Supplies, Inc., with Ecomate®, its patented blowing agent. The new system is expected to provide the technology foundation to manage Foam's production operations. Aided by a ferocious competitive spectrum and a widespread application landscape, the global flexible foam industry size is set to be pegged at USD 65 billion by 2025.
Author Name : Saipriya Iyer
The telecommunication sector is probably embarking on a transformational shift in recent years. Software Defined Networking (SDN) market is deemed to be a major stipendiary of this transition. Telecommunication networks, apparently, have migrated from traditional hardware and appliance centric deployment to cloud based model, with software playing a pivotal role in network functionality. The increasing popularity of SDN industry can be majorly attributed to this fundamental aspect.
Software defined networking emerged as an advanced architecture paradigm, amalgamating different technological capabilities applied to management of network functions, design, and service platforms. Pertaining to these benefits, numerous IT service companies have been feverishly changing their perspective toward adoption of software-based solutions for resolving several business challenges, which in a way is impelling SDN industry share. It had been stipulated by Cisco in one of its Cloud Index reports, that over 65% of all data centers would adopt SDN technology partially or fully by the end of 2021, a sharp rise from the 2016 records.
U.S. Software Defined Networking Market Share, By Solution, 2018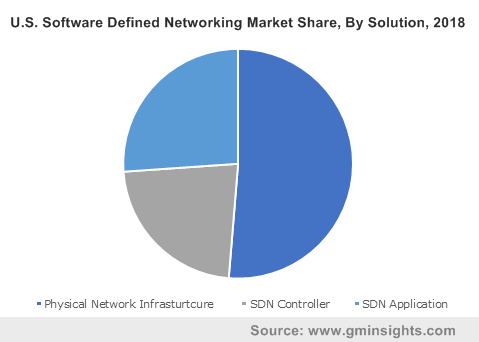 Cradlepoint, one of the formidable players dealing with SDN services, made it to the headlines a while ago, with the launch of its NetCloud service package, that reportedly includes advanced IBR1700 mobile router. Reportedly, this newly designed solution package for its NetCloud platform, brings the benefits of SD-WAN (Software-Defined Wide-Area-Network) to LTE mobile networks for transit operators, first responders, and other fleet-based organizations. As claimed by the cloud-4G network service provider, the new solution is in compliance with the security and performance requirements of FirstNet, the independent authoritative entity under NTIA within U.S.
In a bid to reinforce its position in SDN market, Orange Business Services signed a collaborative agreement with Cisco a while back. Apparently, in consequence of this deal, the former is planning to showcase the onboarding of Cisco's SD-WAN virtual network function on Cisco ENCS (Enterprise Network Compute System). In fact, with the aforementioned platform under its belt, Orange Business Services' customers would gain a fully functional visualized solution for their network services, as a part of Orange universal CPE offering.
The U.K. based telecommunications behemoth, Colt Technology Services, had apparently declared its plan of expanding its On Demand SDN service across APAC belt. Powered by Colt IQ Network, the firm's On Demand SDN services are characterized by high flexibility, real-time bandwidth variation, and agility. Making a profound headway in APAC SDN market share with the successful launch of these services in Japan, Colt had also planned to introduce the same On Demand SDN services in Hong Kong and Singapore as well.
Get a Sample Copy of this Report:@ https://www.gminsights.com/request-sample/detail/2395
Tremendous technological interventions in the telecom sector have evidently narrowed the gap between developing and developed nations, giving SDN industry players lucrative opportunities to extend their geographical reach. However, considering the immense investments by U.S. telecom service providers in software defined networking, the regional SDN market has undoubtedly turned out to be hotbed for potential investors. For instance, American telecom giant AT&T has recently poured in USD 200 million to support startups that mainly focusses on promoting SDN technology and connected services. These kinds of hefty investments toward integrating new age software facilities in the existing telecommunication network is certain to leave a positive impression on U.S. SDN market size.
Speaking of its commercialization potential at the global scale, overall SDN industry size is forecast to exceed a valuation of USD 100 billion by 2025. With incessant efforts undertaken by the tech giants to unlock software-based technology potentialities in telecommunication industry, which has, of late, become more insight driven, SDN market demand is claimed to be on a robust incline. In fact, looking at the pace of advancements and expansion in its application spectrum, this particular business vertical is deemed to be one of the most fascinating spheres to watch unfold, claim analysts.
Author Name : Saipriya Iyer