Consumer
The rising occurrence of a host of advanced, complex cybersecurity threats has helped impel the global virtual private network (VPN) market, given that these threats stand to jeopardize the integrity, privacy and data of businesses. With globalization becoming widely commonplace, and businesses striving to expand their sphere of influence to operate on an international level, the need for organizations to connect their business units together has also risen in proportion. These factors, over the last decade, have made the internet the preferred platform for companies and individuals to conduct their business. However, the vulnerability characterizing the internet has rendered it extremely inadequate in terms of security, a flaw that cybercriminals typically exploit to commit frauds & thefts.
U.S. VPN Market Revenue, By Component, 2017 & 2024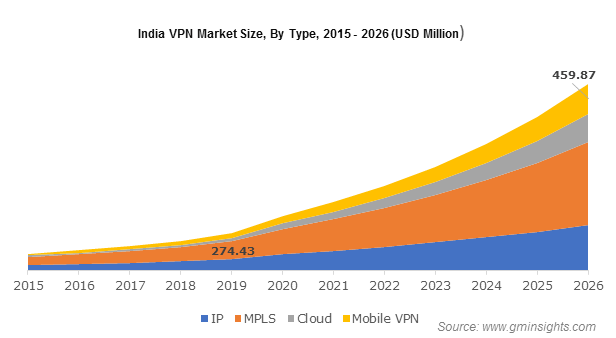 In a manner of speaking, the VPN technology facilitates a cost-effective and safe solution to the issue of safeguarding company networks. The growing prominence of wireless devices across different organizations & businesses would thus drive the growth of VPN market as improving internet speeds coupled with falling prices are catapulting the rate of adoption of a plethora of wireless & mobile devices. Given that such devices are commonly used across organizations to access several applications present on private company networks from remote locations, the VPN technology has consolidated itself as an extremely crucial business component, thereby driving VPN market trends.
Unveiling global virtual private network market trends from commercial applications:
The commercial sector is one of the most prominent application segments of the global VPN market. Comprising end-use domains such as the BFSI, healthcare, manufacturing, government and IT & telecommunication sectors, VPN market size from commercial applications is expected to grow at an impressive CAGR of about 15% over 2018-2024. This growth can be primarily attributed to the surging practice of digital recordkeeping and the adoption of cloud technology in these sectors that is completely changing the way customers access their information, rendering VPN technology as the backbone of these businesses.
Get a Sample Copy of this Report:@ https://www.gminsights.com/request-sample/detail/2756
While, organizations in these domains usually utilize a VPN of their own, a majority of them opt for commercial VPN services provided by private companies. According to Surveillance Self-Defense, an independent non-profit organization, a commercial VPN is a privately offered service that provides organizations a secure channel to relay their data over the service provider's own network. These services, if hosted in a foreign nation, while protecting users' data from cyber threats, also protect the information from local governments and allow the information to bypass national censorships.
Unveiling global virtual private network market growth via rising adoption of remote access connectivity:
Remote access connectivity has been touted to be one of the most deployed models in VPN market. The increasing need of organizations to find a secure as well as affordable way to relay secure company data from their private network to employees working at a remote offsite location is a primary factor driving the growth of the remote access-based VPN market. As opposed to site-to-site VPN, which allows a large-scale business to connect a cluster of its offices in several fixed geographical locations with each other, the ability of the remote access topology to connect individual hosts to their respective organization's private networks makes it an ideal match for small & medium-sized enterprises (SMEs).
Incidentally, the topology also allows employees from large organizations working through site-to-site VPN to connect to the company's network remotely and be able to perform their work from a remote location over home networks or public Wi-Fi networks without worrying about the security of company data. Aided by the convenience and reliability provided by this model, the remote access connectivity-based VPN market size is projected to register a CAGR of approximately 17% over 2018-2024.
Attributed to the rising need for facilitating proper secured channels for the exchange of data over an increasingly connected world, the global virtual private network is expected to successfully thrive in the overall technology space in the forthcoming years. According to a report by Global Market Insights Inc., driven by the increasing rate of VPN adoption in myriad businesses, the overall virtual private network market valuation is anticipated to surpass $54 billion by 2024.
Author Name : Akshay Kedari
Global explosives and pyrotechnics market has recorded a commendable growth graph due to increasing mining activities, military spending and greater demand for recreational fireworks. Rapid industrialization has created massive demand for mined commodities which has resulted in increased mining activities in countries such as South-Africa, China, Indonesia, the U.S. etc. adding to the demand for explosives used in mining industry.
U.S. Explosives & Pyrotechnics Market Size, By End-user, 2014-2025 (USD Million)

Mounting government spending on the defense sector in various countries including the U.S., India, China, France, Saudi Arabia, U.K. and Russia will positively impact explosives market size. On the other hand, pyrotechnics (fireworks) market is forecast to gain traction with rising cracker shows on occasions, festivals and sports events.
Pyrotechnic articles are not only used for entertainment but are also utilized in technical & military cases for illumination and signaling, as pesticides and for various other purposes. Pyrotechnics are designed to give out specific effects, such as whistling, illumination, smoke formation, detonation, propulsion, shooting and disintegration.
The APA (American Pyrotechnics Association) predicted an exceptional year for fireworks sale in 2019. According to APA, consumer fireworks revenue has increased from $407 million in 2000 to $945 million in 2018. The APA estimates that fireworks revenues could exceed $1 billion during the 2019 fireworks season. On days like New Year's Eve, almost every nation celebrates with elaborate firework shows. For instance, in 2017, the German Pyrotechnic Industry Association reported €137 million in sales in the final four days of the year. In 2019, New Year's Eve fireworks sale in Netherlands amounted to €70 million, which is €2 million more than 2018 figures. Such a trend will ultimately prove beneficial for increasing  explosives and pyrotechnics market share.
Get a Sample Copy of this Report @ https://www.gminsights.com/request-sample/detail/828
In spite of the ongoing trade war between U.S. and China, tariffs were not raised on the import of fireworks from China to U.S. as imports of fireworks have long surpassed domestic production in the United States. In 2018, China exported $325 million worth of bottle rockets, Roman candles and other fireworks/pyrotechnics to the U.S., accounting for 90% of pyrotechnic imports of the country, clearly underlining the growth of explosives and pyrotechnics industry in the region.
With record-breaking growth in backyard fireworks usage and liberalization of consumer fireworks laws, the number of fireworks-related injuries have dramatically declined. Currently, the fireworks-related injury rate is 56% lower than what it was in 2000. There is no such consumer product in the market that has an exceptional consumption growth and declining injury rate – which will encourage more expansive use of fireworks and add indirect impetus to explosives and pyrotechnics industry.
Another factor significantly augmenting explosives and pyrotechnics market size is ongoing political unrest between countries, which has resulted in increased military spending. The top five spenders in the world in 2018 included U.S., China, Saudi Arabia, India and France, which accounted for approximately 60% of world military spending. The total world military spending has risen by 2.6% to reach USD 1,822 billion over 2017-2018, according to SIPRI (Stockholm International Peace Research Institute). Military segment accounts for approximately 45% in explosives and pyrotechnics market share. The segment growth is majorly influenced by political clashes in African countries, Middle East and Europe.
North America and Asia-Pacific are the major regions having maximum growth rate in the explosives and pyrotechnics market. In 2018, Asia Pacific accounted for 35% share in the global explosives and pyrotechnics market.
Explosives are majorly used in mining. Growing technological expenditure for enabling effective exploration, sustainable processing of low grade and complex minerals are fueling mining activities. For instance, countries such as Indonesia have stringent government policies to generate up to 50% of power from domestic coal which is resulting in increased mining operations. Such initiatives are expected to positively influence explosives and pyrotechnics market growth over 2019-2025.
With major coal producing countries such as China, India, Indonesia and Australia, Asia Pacific is a region that is largely concentered on mining industry. The growth trends recorded by mining industry in Asia Pacific has added impetus to explosives and pyrotechnics market outlook. For instance, National Energy Agency of China has approved 7 major coal mining projects adding up a capacity of 22.5 million tons in 2019. Additional activities in mining sector not only due to the demand for coal but also other valued commodities like iron ore and copper are expected to fuel explosives and pyrotechnics industry trends during the forecast timeline.
Rapidly growing mining sector, increased political tensions leading to greater military spending and trends encouraging fireworks display will together augment revenue share of explosives and pyrotechnics market in the coming years.
Author Name : Aakriti Kakkar