Control Systems
The global smart elevator market share is on the rise lately owing to the product's growing adoption in emerging markets like India and China, coupled with growth in the construction and infra sectors worldwide. Smart elevators are estimated to make big strides in the global elevator market owing to the new wave of technology and advancements that are transforming the global landscape.
UK smart elevator market, by application, 2018 & 2025 (USD Million)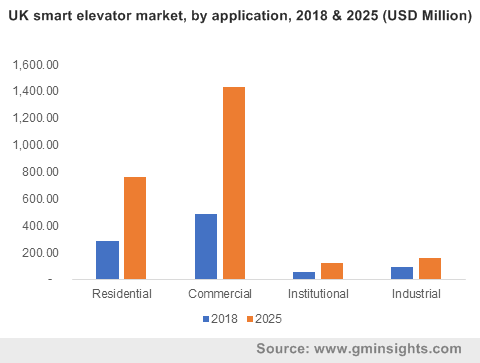 Enumerated below is an insightful summary of the top technological trends which are likely to offer impetus to smart elevators industry share.
1) Internet-connected elevators
The future of elevators is connectivity, which is expected to play a huge role in product demand over the coming years. With several smart elevator manufacturers already considering its implementation, it won't take long for internet-connected smart elevators to become common. A smart elevator company that is currently exploring this possibility is Otis Elevators. The company has initiated development of smart elevators that are capable of communicating with passengers, service staff, building managers, and others for enhancing performance and passenger experience.
Otis is also looking to develop technologies that can enable passengers to summon elevators through their phone. The implementation of connectivity and smart features is a major ongoing trend which is estimated to overcome problems concerned with efficiency, repair schedules, as well as waiting and traveling time. The burgeoning demand for the integration of such technologies within residential and commercial spaces will pump up smart elevator market share in the ensuing years.
2) IoT driven elevators technology
Technologies like IoT are reshaping the surroundings and helping countless businesses perform better. Smart elevators companies have also started recognizing the potential of these disruptive technologies and are beginning to embrace them. A smart elevator market analysis reveals that IoT seems to have majorly influenced the industry dynamics lately. Case in point, smart elevator company Schindler recently entered a partnership with Spanish telecom giant Telefónica to enhance its cloud-based digital offerings with Telefónica's IoT connectivity services.
Such provisions will offer greater convenience, interactivity, and personalized services to smart elevator passengers. Also, the extraordinary pace at which high-rise buildings are mushrooming across the globe offers numerous growth opportunities to the technology providers in the IoT domain. The surging adoption of IoT in smart construction and connected buildings will fuel the smart elevator market share over the forthcoming years.
Get a Sample Copy of this Report:@ https://www.gminsights.com/request-sample/detail/1593
3) Multi-directional elevators
With rapid urbanization, the population in cities will continue to rise, generating a high demand for residential establishments, which can be sufficed by building more high-rise and economical buildings. While the conventional elevator technology obstructs this possibility, the implementation of rope-free and multidirectional elevators seems a viable option.
German elevators giant Thyssenkrupp's latest innovation Multi is a ropeless multidirectional elevator, which can move up and down a shaft as well as move horizontally. The technology is estimated to bring considerable change to the elevator industry owing to its numerous benefits including more space, less wait time, and fewer restrictions due to elevator shaft height. Successful implementation of this technology could offer new opportunities for the smart elevators industry in the future.
4) Maintenance using augmented reality
Regular servicing and maintenance of a residential or commercial elevator system can fix small problems before they get big enough and end up costing a fortune. The elevator technology is evolving rapidly, triggering the next level of technically advanced maintenance technology. An ideal example in this context is of ThyssenKrupp which has equipped repair engineers with HoloLens, Microsoft's augmented reality technology.
HoloLens allows repair engineers to effectively communicate with coworkers back in office, by sharing schematics through the display, for accelerating servicing and repair. Such a technology will create a massive shift in the smart elevators industry, giving builders the confidence to invest in technologically advanced elevators that are compatible with such services and facilitate seamless functioning of a building.
The smart elevators market analysis based on the aforementioned trends sheds light on the possibility that this industry will embrace modernizations owing to constant innovation in information technology and other tech sectors. Numerous other trends in the world of technology and elevators overtly indicate a lucrative phase for the business space.
Furthermore, the construction of technically advanced structures and green buildings would spark a technological revolution, thereby boosting the smart elevator market share in the future. According to a smart elevator industry analysis by Global Market Insights, Inc., this market is anticipated to be worth more than $25 billion by 2025.
Author Name :Krithika Krishnan
The growing concerns about greenhouse gas emissions along with rapid industrialization will propel energy management system (EMS) market trends over the period of 2016 to 2024. As per the report by Global Market Insights, Inc., "Global Energy management system (EMS) industry will witness an annual growth rate of more than 13% over the coming seven years." The depleting non-renewable energy sources has threatened the environment sustainability. Governments across various countries are taking vigorous steps towards the use of renewable energy sources and are emphasizing on energy conservation, which will in turn boost the demand for energy management system.
Europe Energy Management System Market size, by component, 2013 – 2024 (USD Billion)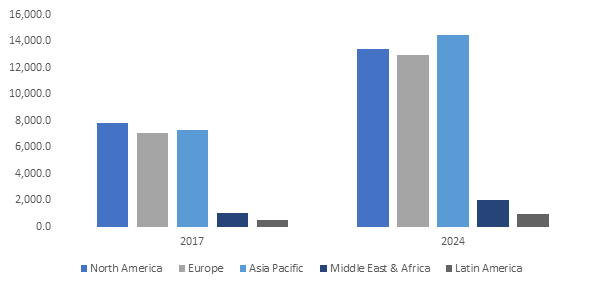 Energy management system component comprises software, hardware, control system, metering & field equipment, sensors, networking device. Sensors accounted for more than 10% of the overall energy management system market share in 2015 and is anticipated to grow noticeably over the coming years. In 2015, metering & field equipment EMS exceeded a revenue of USD 2 billion. Following usage and application of metering & field equipment will generate heavy revenue over the coming timeframe,
To measure total electricity consumption along with consumption pattern and operating cost
It balances the total supply with consumption, thereby improving total network efficiency
Furthermore, control EMS industry will surpass a revenue of USD 3 billion by 2024, mainly driven by its capability to maintain essential environment factors such as pressure, temperature, ventilation, and humidity in a cost- effective manner.
Get a Sample Copy of this Report:@https://www.gminsights.com/request-sample/detail/1115
Buildings, industries, and homes are the some of the major service segments of the energy management system market trends. Building energy management system (BEMS) market collected more than 19% of the total industry share in 2015. Some of the factors will impact positively on BEMS industry growth as mentioned below,
Increasing demand for smart buildings, owing to the rising awareness about carbon footprints
Extensive use of this system in the buildings to control, monitor, and manage energy consumption
Industrial energy management system (IEMS) market surpassed a revenue of USD 9 billion in 2015 and will grow notably over the coming years, owing to its mounting usage to monitor & analyze load fluctuation, real time consumption, and equipment performance.
Home EMS industry size will exhibit an annual growth of more than 16% over the period of 2016 to 2024. The growth can be attributed to government support in terms of financial subsidize to purchase trademark products.
Based on the regional landscape, Japan EMS market share contributed towards 20% of the global revenue in 2015 and is predicted to grow considerably over the coming timeline, due to the rising awareness about GHG emissions coupled with shifting dependency on imported fuel.
U.S. energy management system industry will exhibit a substantial growth rate of over 11% over the coming seven years, owing to government initiations towards energy conservation across this region. China EMS industry is expected to grow noticeably, surpassing a revenue of USD 2 billion by 2024. The attributing factor towards the regional market growth is surging demand for reliable electricity and escalating industrialization.
As per the study, Europe energy management system market share will surge significantly, mainly contributed by Germany, UK, and Italy. The government initiatives regarding energy efficiency will boost Germany EMS market size over the coming years. UK accounted for more than 20% of the overall regional share in 2015 and will observe substantial growth, driven by the fuel scarcity.
Brazil EMS market worth over USD 300 million in 2015 and is expected to register eye-catching growth, which can be attributed to the growing adoption of smart technologies to conserve energy.
Qatar accounted for over 5% of the total regional revenue of the Middle East energy management system industry in 2015. The growing population and rapid industrialization will affect considerably on the regional growth.
The mounting demand for reliable electricity will generate heavy opportunities for market players over the coming years. Few notable industry participants include General Electric Corp., Honeywell International Inc., Schneider Electric, Eaton Corporation, ABB, Emerson Electric, Siemens AG, and Johnson Controls.
Author Name : Sunil Hebbalkar