Controllers
The global Wi-Fi hotspot market has expanded at an unparalleled pace lately owing to the rapid adoption of smartphones and other Wi Fi-enabled smart devices. It was reported that the number of smartphone users has crossed the 2 billion mark and with new, more advanced products being offered consistently the smartphone market will observe remarkable growth. The number people using portable devices like laptops and tablets have increased, encouraging commercial and private sectors to install hotspots across various infrastructure, boosting the Wi-Fi hotspot industry revenue. As most of the public services have become available online throughout the world, governments are undertaking initiatives to develop the Wi-Fi hotspot market in their respective regions.
U.S. Wi-Fi Hotspot Market Revenue, By Component, 2017 & 2024, (USD Million)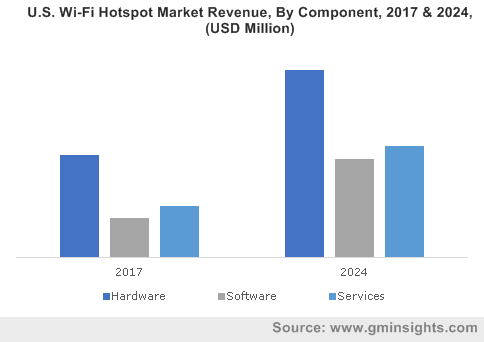 U.S. has been at the forefront of innovations and is one of the key nations attempting to promote and develop smart cities. The country already has a vast network of hotspots at transport facilities, hospitals, restaurants and cafes, as well as at schools and residential buildings, proving to be a significant Wi-Fi hotspot industry hub. Europe, consisting of many developed nations, has also witnessed a tremendous growth in the use of Wi-Fi hotspots and is looking to propagate its services like eGovernance, eTourism and eHealth by giving seamless internet services. Recently, the European Union (EU) secured funds for launching free Wi-Fi hotspots at public places and will allocate EUR 120 million (around USD 136.96 million) to local governments across Europe over the coming three years.
Providing a major propulsion to the Wi-Fi hotspot industry, EU has called for applications from local authorities and will grand vouchers to about 2,800 municipalities for installing public hotspots. Even India, which is one of the fastest growing technology consumers in the world, is embracing the notion of offering easy access to the internet. In October this year the Bharat Wi-Fi project was announced which would involve installing nearly 1 million hotspots in the country by the end of 2019. Other developing nations can also be expected to pursue similar strategies to bolster their technology infrastructure and access to information, proliferating the Wi-Fi hotspot market.
Get a Sample Copy of this Report:@ https://www.gminsights.com/request-sample/detail/198
In terms of the application scope of the Wi-Fi hotspot industry, cafes have contributed substantially to the adoption of Wi-Fi for enabling customers enjoy free or subscribed internet connections with ease. Having a considerably good quality Wi-Fi connection has found to be a strong customer attraction and retention strategy, driving global brands and local cafes towards the Wi-Fi hotspot industry. Starbucks, a prominent coffee shop chain, offers free Wi-Fi to its customers by registering their information and getting authorization details on their smartphone. It also has one click, unlimited Wi-Fi services at all company-owned stores in Canada and with a worldwide presence, the brand represents the enormous prospects existing for the Wi-Fi hotspot market.
The overall potential of the cafes segment can be understood by studying the expansion strategies of key brands, as it indicates the projected need or demand for their services. Starbucks operates around 28,720 outlets spread in 77 markets globally and does seem like halting its growth anytime soon. It is planning to open 100 cafes in Japan, which is quite advanced in technology implementation, bringing the brand's total outlets to 1,700 in the country. Costa Coffee, a well-known name throughout U.K. and Europe, also offers Wi-Fi services to customers through a collaboration with O2 and is gradually expanding.
Elaborating further on the massive opportunities existing for the Wi-Fi hotspot market, Dunkin Donuts has over 9,100 cafes in the U.S. and has recently expressed its intentions to add nearly 1,000 new locations in the country. Dunkin Donuts customers utilize the internet services for browsing, using social networks, gaming and watching videos, all the while consuming their favorite donuts and coffee. The incredible size of the coffee market is demonstrated by the fact that almost 63% Americans drink coffee every day and a considerable number of this population consumes products from cafes.
It must be noted that most of the cafes belonging to global brands or local players offer other food items as well, such as sandwiches, pizzas and bakery items, invariably creating a wide range of customer base. With increasing population, rising consumer spending and growing affordability of required hardware, the café segment will experience a notable rate of Wi-Fi hotspot implementation. Comprising of key industry participants like Alcatel-Lucent, Aruba Networks, Cisco Systems, Ipass, Motorola Solutions, Nokia Networks and Ericsson, the Wi-Fi hotspot market is anticipated to register more than USD 23 billion in revenue by 2024.
Author Name : Pankaj Singh
The explosive amplitude of IoT, spanning virtually every sphere, has a pivotal role to play in the expansion of fog computing market. Still considered a plausible tech sub-space by mere mortals, this business domain, an inherent extension of the cloud computing industry, is likely to actually emerge as a viable niche vertical, starting 2018, as per the predictions of The US office of National Institute of Standards and Technology (NIST). Subject to its extraordinary ability to support latency-sensitive and vertically-isolated applications by means of providing a scalable, ubiquitous, distributed, and layered network connectivity, storage, and computing, fog aims to simplify processing and IoT infrastructure. In consequence, there has been an increasing surge in exploiting the unused IT infrastructure for fog computing applications that need to compute resources in a global network. Subsequently, this has led to fog computing market gaining heavy momentum, reinforcing the buzzword of 'fog technology' across myriad domains.
U.S. Fog Computing Market Size, By Component, 2016 & 2024 ($Mn)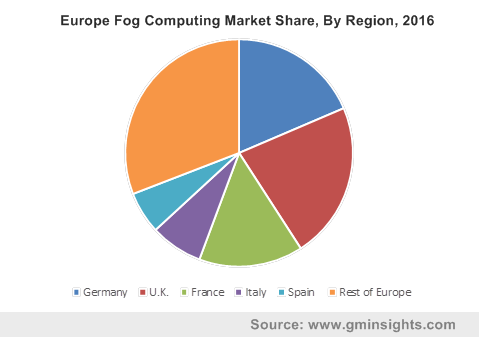 The far-reaching application spectrum of fog computing industry is quite evident from the numerous instances of companies tapping the fog space making headlines. A recent precedence is that of Storj Labs and SONM teaming up to enable fog computing through blockchain technology. Elaborating further, Storj Labs, a software provider has joined hands with Supercomputer Organized by Network Mining (SONM) in order to bring about distributed instances of persistent storage implemented by Storj Labs available to organizations incorporating SONM's blockchain. Accordingly, SONM plans to build a peer-to-peer blockchain network – effectively a fog computing instance that would deal with the computing and storage of resources on the edge of a global network. The partnership marks substantial importance in fog computing marketing, having established the fact that blockchain technology and fog computing are two strongly intertwined mechanisms.
Get a Sample Copy of this Report:@  https://www.gminsights.com/request-sample/detail/2295
The end-use landscape of fog computing market is rather humongous and versatile, though this does not exactly come as a surprise, given how minutely IoT has brought every object under the umbrella of the Internet. As per reliable estimates, the data analyzed on devices functioning on IoT will soon approach a mammoth 40%. It has also been speculated that by the year 2020, 10% of global data will be generated by edge devices. This would fuel the demand for highly efficient fog computing solutions that simultaneously deliver holistic intelligence and low latency, subsequently driving fog computing industry size, slated to cross USD 700 million by 2024. Numerous real-time instances of the benefits of this technology have already made inroads in fog computing market – recently, the IoT company Plat One made headlines for having tapped into fog computing for improving data processing management in its 1 million sensors.
It is pivotal to mention that mainstream hardware component developers, such as Intel, Cisco, and Dell have been making a headway in fog computing industry, as is evidenced from their interest in joining forces with vendors dealing in machine learning and IoT analytics. Through the proposed dealerships, these companies would be able to deliver IoT gateways that support fog computing. Recently in fact, Cisco took a dive in fog computing market with the acquisitions of Jasper, an IoT platform provider and ParStream, a reputed company specializing in IoT analytics. Unrefutably, these buyouts would help the electronics giant to incorporate its networking component infrastructure with highly efficient computing capabilities, which would subsequently reinforce its position in the fog computing market. Following Cisco's lead, numerous analytics software companies have also been attempting to develop new tools for fog computing – Apache's Spark for instance is apt for real-time processing of fog-generated data. In effect, it would be diplomatic to state that fog computing market indeed would emerge as one of most remunerative business spaces of the next decade, traversing a highly profitable growth path over 2017-2024.
Author Name : Saipriya Iyer
Having garnered the reputation of being highly technology-driven, automotive robotics industry thrives on the product innovations brought forth by leading business players. A recent instance citing the validity of the aforementioned declaration is Rimac's collaboration with Dassault Systèmes. Elaborating further, the September of 2017 saw Rimac Automobili, a key manufacturer of high performance electric vehicles, battery systems, and drivetrains, join forces with Dassault Systèmes, a software firm based in France, to acquire the product lifecycle management digital platform from the latter to scale up its business growth. The latter's 3D experience platform referred as electro mobility accelerator will help the former increase its production capacity and connect with its employees across 11 countries. This deal is an apt example that underscores the developments prevalent in automotive robotics industry. The continued trend of similar alliances are likely to encourage entrants explore newer markets – the autonomous car sharing market , for instance.
U.S. Automotive Robotics Market Size, By Product, 2013 – 2024 (USD Million)

Pertaining to the stiff competition prevalent in the automotive robotics market space, companies have been devising a number of business tactics to consolidate their position. In September 2017, for example, Avnet Incorporation, a major participant across information technology and services industry, acquired Dragon innovation, a major producer of consumer electronics products. The acquisition is expected to assist both the firms add to their existing product line and expand their presence in automotive robotics market.
The month of September has also witnessed Technion – an Israeli tech institute, Korean Advanced Institute of Science and Technology, and Hyundai Motor Group forming an alliance to jointly complete the projects on artificial intelligence, autonomous driving, and cyber security. The collaboration has been touted to help the emerging automotive firms and startups in Israel to launch their products with Hyundai's vehicle product line. Vice-versa, the initiative is expected to aid Hyundai Motors establish itself as a leader in automotive robotics market, having experimented with next generation of automotive technologies equipped with artificial intelligence and robotics. The alliance signifies a paradigm shift toward the fourth industrial revolution and new vehicle technology, thereby pushing automotive robotics industry trends.
Get a Sample Copy of this Report@ https://www.gminsights.com/request-sample/detail/210
Robotics has established itself as a principal technology across major end-use domains in the developed geographies such as UK, Germany, and Italy. The surging requirement to achieve time consistency and a higher level of production has led to escalating demand for robotic body assemblies in the country. The deployment of these assemblies to improve the proficiency of the supply chain activities across the automotive sector is likely to impel UK automotive robotics industry expansion.
Germany has a powerful base of automakers, on the grounds of which it has been forecast that robotic applications would be deployed heavily across the automotive sector in the region. Subject to the extensive implementation of robotics, Germany automotive robotics industry is likely to gain a strong ground in the ensuing years. The expansion of this business space across Germany, UK, and Italy is certain to boost Europe automotive robotics market, which contributed nearly 25% toward the overall industry share in 2016.
As per estimates, the demand for robots from vehicle component suppliers increased by 53% in 2016, and that from automotive original equipment manufacturers rose by 32% in the same year. This goes to prove that automotive robotics industry has bright prospects across North America. In fact, research reports claim that North America automotive robotics market is expected to witness a lucrative growth over the coming years, having held a valuation of USD 1 billion in 2016.
A currently compiled market study claims that automotive robotics industry revenue is anticipated to surpass USD 5.96 billion by 2024. Considering the notable contributions made by the automotive giants such as Rockwell Automation, Omron Corporation, The Yaskawa Electric Corporation, and ABB Group, it is no longer a supposition that automotive robotics market will indeed experience a commendable expansion in the years ahead.
Author Name : Dhananjay Punekar