Copper Oxychloride Market Analysis
Global requirement for fresh food pertaining to the increasing population will stimulate copper oxychloride market. Most farmers and landowners use this product to increase the crop yield. Growing awareness among the customers about the consumption of healthy and hygienic food will also influence the product demand. In addition, copper oxychloride industry is characterized by favorable government support promoting the usage of agrochemicals. According to Global Market Insights, Inc., "Worldwide Copper Oxychloride Market generated a revenue of USD 230 million in 2015 and will register an annual growth rate of more than 4% over the period of 2016 to 2024."
U.S Copper Oxychloride Market size, by application, 2013-2024 (USD thousand)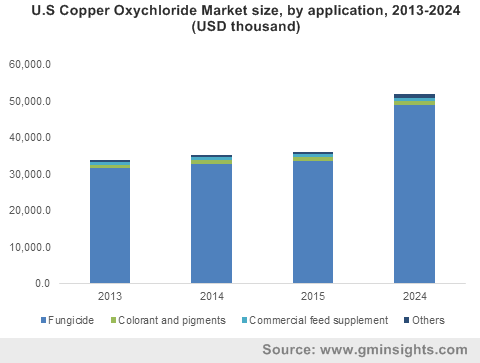 The product is mainly used for the maintenance of agricultural products by controlling bacterial impact. In most cases, the product is used while growing fruits and vegetables, owing to the fact that they contain essential vitamins and minerals. The demand for fruits and vegetables has always been on an all-time high in North America, owing to which North America copper oxychloride market will record notable annual growth rate over the coming seven years, having held a valuation of more than USD 55 million in 2015. U.S. will be the prominent revenue contributor for this region. To increase the crop production, farmers have been using this product across the U.S. on a significantly large scale, which will boost the regional copper oxychloride industry size notably.
Get a Sample Copy of this Report @ https://www.gminsights.com/request-sample/detail/779
Consumers across the globe are giving preference to highly efficient and effective products for better output. The use of fungicides for crop protection is rather common among farmers, as crop protection will ensure quantitative as well as qualitative crop yield. Copper oxychloride market from fungicide applications of will record a CAGR of more than 4% over the years ahead. The product is prominently used to manufacture agricultural fungicide, which is extensively used for producing tomatoes, grapes, citrus, coffee, potatoes, stone fruit, avocados, celery, and carnations.
Rapid industrialization across the globe is one of the most notable factors fueling copper oxychloride market. Subject to the decreasing arable land and the surging need to improve land productivity, Asia Pacific copper oxychloride market will exhibit an annual growth rate of more than 4% over the coming seven years, having collected a revenue of USD 55 million in 2015. The growth can also be attributed to the rising demand for vegetables and fruits pertaining to escalating population along with rapidly changing eating habits of consumers. India and China will contribute significantly toward the APAC copper oxychloride market share.
Apart from the agriculture usage, the product is also applicable for commercial feed supplements and colorant & pigments. It is used in manuscripts, illuminations, and wall paintings. As per statistics, copper oxychloride industry from colorants and pigment applications collected a revenue of USD 5 million in 2015 and will record considerable growth rate over the coming timeframe, owing to the surging demand of the product across the glass and ceramics manufacturing sector. Copper oxychloride is also extensively used in feed supplements to increase nutrition level. Feed supplement application segment of copper oxychloride market will generate a revenue of USD 8 million by 2024. The growth can be attributed to growing use of the product in the different feed formulations for dairy cattle, horses, turkeys, pets, pigs, and chickens.
The key participants in copper oxychloride market are Albaugh, Isagro, Biota Agro Solutions, Spiess-Urania, IQV, Syngenta, Killicks Pharma, Manica S.p.A, Vimal Crop Care, and Greenriver.
Author Name : Sunil Hebbalkar