Cosmetics
Increasing consumption of various consumer and industrial products has led to a steady expansion of the global benzalkonium chloride market, in conjunction with the surge in disposable incomes of the working class population. The compound is effective as a disinfectant and preservative across food & beverage, pharmaceutical and chemical applications, being extensively found in nasal and ophthalmic medicines. Benzalkonium chloride is usually deployed as an antibacterial agent and surfactant in several household products like hand wash and hand wipes, along with personal care products and ointments. An augmented demand for such everyday products worldwide owing to rising population and higher consumer spending will reinforce the position of the benzalkonium chloride industry over the next few years.
U.S. Benzalkonium Chloride Market Size, By Application, 2018 & 2025, (Kilo Tons)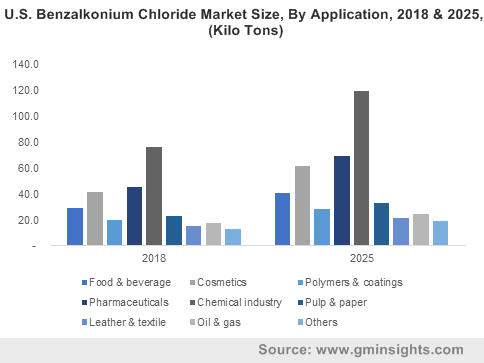 Essentially, the pharmaceutical and cosmetic segments represent two key business verticals where the compound has made a significant impact. It helps preserve the efficacy of medicines while the antimicrobial activities help protect make-up products from disintegrating and increase their quality. Subsequently, consistent consumption of cosmetics and pharmaceuticals will offer considerable momentum to the benzalkonium chloride market throughout various regions. The size of the global pharmaceutical sector is projected to reach US$1.43 trillion by 2020 itself, suggesting vast opportunities for the industry. Narrowing the market potential in terms of using benzalkonium chloride as preservative in eye drops, Bayer and Regeneron's ophthalmic drug Eylea alone had recorded sales of around US$6 billion in 2017.
Expounding the scope of the benzalkonium chloride industry in the food and beverage sector
In essence, the food and beverages industry require suitable disinfecting and sanitizing chemicals for food contact surfaces, to ensure bacteria and other microorganisms are eliminated and the product is not spoilt while in transit or before consumption. Quaternary ammonium compounds such as benzalkonium chloride can counter a wide range of microbes and are applied in appropriate quantities by food producers. The constantly growing demand for packaged food and bottled drinks has made it necessary to tackle all possible threats to health safety and food shelf life, bringing in substantial proceeds for the benzalkonium chloride market. Several reported cases of food-related diseases has notably spurred businesses, government agencies and research organizations to address likely health risks posed by various food-grade chemicals.
Get a Sample Copy of this Report:@ https://www.gminsights.com/request-sample/detail/3233
Referring to a study undertaken by the University of Veterinary Medicine, Vienna, certain strains of gram-positive Listeria seem to be resistant to quaternary ammonium compounds, including benzalkonium chloride disinfectants, and display quite low sensitivity to them. An estimated 47.8 million cases of foodborne illnesses care recorded in the U.S. every year, indicating the enormous need for enhancing food safety. Europe also witnesses nearly 23 million people suffering due to the intake of unsafe food annually, according to WHO. The benzalkonium chloride market is slated to accrue remarkable gains over the forecast timespan from accelerated efforts by food manufacturers to adopt effective sanitizing and disinfecting practices.
Within the beverage industry, compounds can be used for cleaning milking equipment, bulk tanks and other surfaces that come in contact with organic milk or similar products. Milk and other dairy offerings are witnessing consistent rise in demand and producers are required to clean and sanitize any equipment, storage tanks and packaging before utilization. Benzalkonium chloride products are also available as sanitizers for PET as well as glass bottles in which numerous beverages are sold. As evident, the beverages segment is bound to provide significant revenue prospects to the benzalkonium chloride industry.
In a nutshell, a number of critical applications in the food and beverages segment will fuel the development of the global benzalkonium chloride market, which is anticipated to surpass billion dollar valuation by 2025. Prominent companies outlining the competitive dynamics of the industry include  Dishman group, Jinshan Jingwei Chemical, Manav Aktteva Biopharma LLP, Merck Millipore and Novo Nordisk.
Author Name : Pankaj Singh
Pertaining to the surging importance of soybean pertaining to its many medicinal benefits, soy chemicals market has emerged as one of the most profitable spheres of the healthcare cosmos. Experts assert that the consumption of soy can lead to a reduction in cardiovascular diseases, breast cancer, as well as cosmetic and dermatological problems. In addition, soy injections help patients with diabetes mellitus to improve metabolism. Considering the nutritional benefits of soy, most of the nutritionists have been encouraging the consumption of soy and its food derivatives that has resulted in the demand upsurge for soy-based drugs and food products on a large scale. On these grounds, several medical companies have been developing soybean oil-based medicines, providing a push to soy chemicals market trends.
U.S. Soy Polyols Market Size, By Application, 2017 & 2024, (Kilo Tons)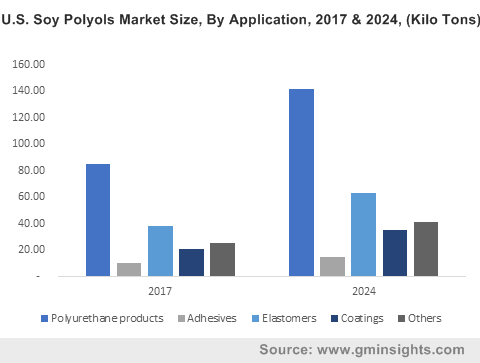 Nowadays, several restaurants and food companies have been making tall claims about having incorporated heart-healthy oils in their products such as dressings, bottled oils, baked goods, snacks, and dips to attract more consumers who have been trying to reduce the inclusion of saturated fat in their diet. The U.S. is one of the largest producers of soybean, accounting for more than 30 percent of worldwide production.  In America, soybean is one of the most used ingredients owing to its health potential. In this regard, the U.S. Food and Drug Administration (FDA) has been providing suitable support to pharmacies and biomedical companies that have been involved in the development of soybean oil-based medicines for reducing the risks associated with coronary heart disease and cancer.
Get a Sample Copy of this Report:@ https://www.gminsights.com/request-sample/detail/2973
Recently, the agribusiness and food ingredient company, Bunge North America received an approval from the U.S. FDA for its claim related to the consumption of soybean oil and its connection to coronary heart diseases. With its versatile portfolio, Bunge is continuously striving to disseminate the importance of soybean oil and its health benefits. Moreover, facilitated with in-depth scientific and clinical research, Bunge is looking forward to strengthening its business with strategic acquisitions and joint ventures. The growing North America soy chemicals industry is slated to generate such attractive business opportunities for players such as Bunge over the years ahead. Indeed, driven primarily by Canada, U.S., and Mexico, North America soy chemicals market, claim estimates, will register a CAGR of more than 5% over 2018-2024.
In order to target the leading consumers of soybean and its food products, globally renowned companies have been establishing suitable partnerships to commercialize their activities by reducing import costs. Validating the aforementioned fact, on February 2018, Cargill and Archer Daniels Midland company formed a JV to supply soybean meal and oil across Egypt. This JV has also acquired the crush plant of the Egypt based oil company located in Borg Al-Arab. In addition, Cargill also has been investing to expand its daily crush capacity from 3000 metric tons to 6000 metric tons with which it will decrease the soybean meal imports in Egypt. This strategy will help Cargill to expand its business across Egypt and North Africa to enhance its customer base by supplying affordable, safe, and healthy food. With the adoption of such business tactics, the players in the soy chemicals market are aiming to utilize their existing facilities and infrastructure in order to meet the growing regional product demand.
The increasing popularity of soybean oil and its byproducts among the manufacturers of consumer and industrial products over petroleum and other hazardous ingredients is slated to stimulate the industry trends over the years ahead. In addition to medicinal usage, the deployment of soybean products for manufacturing coatings, plastics, solvents, adhesives, rubber, and lubricants will also have a positive influence on business growth. Driven by the rising number of facility expansions, soy chemicals market size is anticipated to be pegged at USD 44.5 billion by the end of 2024.
Author Name : Sunil Hebbalkar
Driven by the escalating demand recorded on a global scale for cosmetics and perfumes, fragrance ingredients market is anticipated to make remarkable progress over 2018-2024. It is to be noted that one of the factors that has greatly influenced the direction of the modern fragrance industry is stringently meeting consumer demand which in turn has also extended its influence on the fragrance ingredients market. Formulators are apparently reinventing perfumes for personal products to create new scents that will attract and satisfy a much wider and diverse segment of consumers all over the globe. The fragrance industry encompasses key players across the skin care, makeup, hair care and bath products manufacturing sectors that set the shape, trend, concept and strategies for this business sphere, thereby influencing fragrance ingredients industry.
U.S. Synthetic Fragrance Ingredients Market Size, By Product, 2017 & 2024, (Kilo Tons)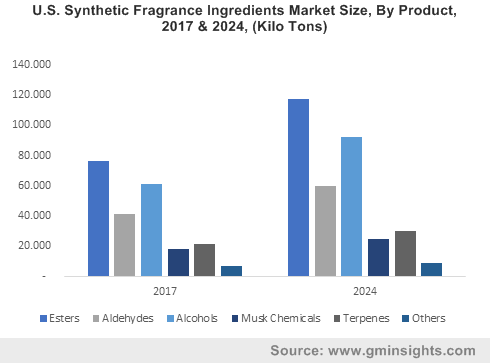 While fragrance ingredients are prominently used across a plethora of end-use sectors, such as soaps & detergents and toiletries, the beauty & personal care domain is likely to emerge as the principal growth avenue for the fragrance ingredients industry. As per Global Market Insights, Inc., fragrance ingredients market size is estimated to cross 1.5 million tons by volume by 2024. With increasing disposable incomes in the emerging economies as well as the recovering economies in the developed nations, a considerable boost in consumer spending on personal care products has been observed. New innovations are also on the radar, as besides women's fragrances increasing demand for men's toiletries and cosmetics in the last few years has acted as a catalyst for experimentation and expansion in the fragrance ingredients market, increasing sales stability.
Considered a conventional element in the cosmetics industry, fragrances have thrived as an industry that has been largely driven by beauty trends and prevalent fashion. The use of perfumes which was once considered a non-essential luxury has come to be considered a must-have personal grooming product as competition in the fragrances industry has become steeper and perfumes have carved a place of their own in the personal care products segment. Though the use of perfumes has become common and an everyday affair, the fragrances ingredients industry has received a boost from use of the ingredients in mass produced products as well as in luxury products that bring special and personalized products to the market and still considered a luxury item meant for connoisseurs. Fragrance ingredients market size from fine fragrances & perfumes is thus set to grow at a remarkable pace in the years ahead, driven by ever-changing consumer demands.
Get a Sample Copy of this Report:@ https://www.gminsights.com/request-sample/detail/2649
E-commerce and globalization have added an extra edge to the fragrance ingredients market as countries with emerging economies have consumers reaching out to buy famed North American and European products helping to expand their demand and reach. Increasing disposable incomes among such consumers have encouraged them to use more personal care products as well as cosmetics which has again indirectly added momentum to fragrance ingredients industry. In the developed nations while the recovering economy is indicating a positive trajectory for perfume and consequentially fragrances ingredients industry, fragrance companies are trying to offset higher costs by introducing eco-friendly products and well-priced gift sets.
Innovations are also changing the face of the perfume industry. For instance, the application of perfumes is not being limited to the neck and wrists. Instead perfumes are being created that can be applied to the hair as long hair is very good at retaining fragrances. More mists, oils and shampoos are being produced that can help hair strands to retain a favorable fragrance. New methods of marketing are also expanding scope for the perfume industry. For example, several new services are being offered that lets the customers try on different perfumes for a month and then decide their favorite or use personality quizzes to match a perfume to the user.  As the consumer base for perfumes and fragrant products continue to expand, it is apparent that the fragrance ingredients market will continue to grow substantially.
Innovation in the perfume industry has been extended to merchandising solutions such as Paperscent, a device that dispenses perfume samples on paper in department stores thus making the test bottle redundant. With consumers demanding more varied scents to be made available and to be used in products, the fragrance ingredients industry is expected to traverse alongside a profitable growth trajectory over 2018-2024.
Author Name : Paroma Bhattacharya
The global anisole market is projected to experience an accelerated growth over 2018 – 2024, primarily fueled by organic chemical compound's applications in the rapidly expanding pharmaceutical and cosmetics sectors. Estimated to be valued at over $77 million, the global anisole market has depicted considerable growth due to the product's rising incorporation in a plethora of cosmetic products, on account of the artificial fragrance that is associated with anisole.
U.S. anisole market size, by application, 2013 – 2024 (USD Million)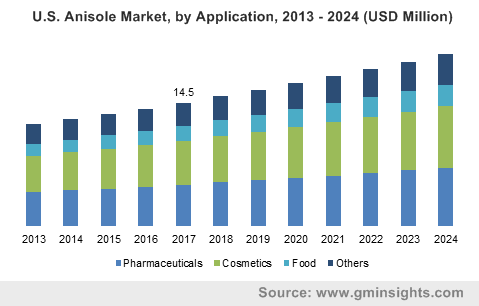 It is prudent to mention that anisole is also used to manufacture several different chemical compounds that find applications across a slew of application verticals. However, pharmaceuticals and cosmetics are among the biggest and the fastest growing application sectors that are not constrained by the burden of serving only a niche demographic – which is the reason why these sectors are thriving in some of the most populous regions of the globe, gradually aiding the growth of anisole market as well.
Unveiling APAC anisole market trends
The Asia Pacific is one of the most lucrative regional anisole markets, that is popularly driven by the rise in demand for cosmetic brought on by the increased disposable incomes and the subsequent affordability in the region. According to a 2017 report by the French personal care and cosmetics company – L'Oréal S.A., the firm's accrued almost 24% of its global sales in 2017 from the Asian belt. This can be undeniably attributed to the rising demands for premium cosmetic products due to the rate at which the discretionary expenditure skyrocketing, especially across the economies of India and China.
Get a Sample Copy of this Report:@ https://www.gminsights.com/request-sample/detail/2615
It is also prudent to mention that APAC anisole market has also received commendable boost on account of the product being used as a pesticide, in the agro-based economies, wherein governments have been attempting to readdress pivotal issues in the agricultural domain. For example, the Indian government has brought about initiative such as Pradhan Mantri Fasal Bima Yojana and Paramparagat Krishi Vikas Yojana in order to reform agricultural production, The government of China has also shifted its focus toward agricultural reformation. These initiatives have led to an escalation in the demand for pesticides, that would gradually help augment the regional anisole market trends. Driven by the efforts across the economies, APAC anisole market share is likely to soar in the years to come. As per Global Market Insights, Inc., the APAC region accounts for 30% of the global anisole market share.
Apart from the cosmetic applications, the global anisole market would also be receiving a significant boost from the pharmaceutical sector. The U.S. pharmaceutical sector has been the most flourishing domestic market for the development and commercialization of different pharmaceuticals. According to a report by PricewaterhouseCoopers (PwC), primary pharmaceutical markets such as Europe, North America and Japan had been under considerable pressure a decade back, having experienced a slowdown in growth. Today however, the pharma sector has witnessed considerable incline across the developed as well as developing economies, thereby making the domain a lucrative growth avenue for the global anisole market. Anisole industry share from pharmaceutical applications is expected to witness a CAGR of 4.4% over 2018-2024, driven by the fact that the product serves as a crucial precursor in producing a plethora of pharma compounds. For instance, 4-methoxyphenol, a phenol derived from anisole is used to create 4-methoxyphenol – a chemical used in manufacturing of bulk pharmaceuticals like Raloxifene and Dextromethorphan.
It is imperative to mention that global anisole market growth is slightly hampered due to the small amounts of anisole required for cosmetics products. For instance, according to a study by the American College of Toxicology, p-Hydroxyanisole, a phenol derived from anisole is used as an antioxidant in different cosmetic products in concentrations as low as 1% because the organization recommends that smaller concentrations would not result into it being a severe irritant. Nonetheless, despite anisole and the anisole-derived phenols being used in small quantities and dilute concentrations, the compounds are still expected to be incorporated in a plethora of cosmetic products worldwide, thereby augmenting the commercial landscape of global anisole industry. As per Global market insights, Inc., anisole market size is projected to cross $100 million by 2024.
Author Name : Akshay Kedari
The crux of business growth in recent times has been extensively attributed to the vast expanse of R&D programs. Wax market, in this regard, has also been experiencing a transformation, given that as a long-in-existence organic compound, wax has found massive applications in numerous end-use domains. A couple of years ago for instance, a research group from the Colorado State University published a study related to edible superhydrophobic coatings from FDA-approved carnauba and beeswax for the food packaging domain. Traditional wax like beeswax or tallow wax and synthetic wax like paraffin wax have been a part of the wax market landscape since its inception. However, now, with the increasing scarcity of fossil fuels, hydrogenated vegetable wax has also marked its debut in this business space. With the advancement of technology and increasing human endeavor for innovation, wax industry has depicted commendable progress through the product's varied usage in packing, cosmetics and candle-making industries.
U.S. wax market size, by product, 2013 – 2024 (USD Million)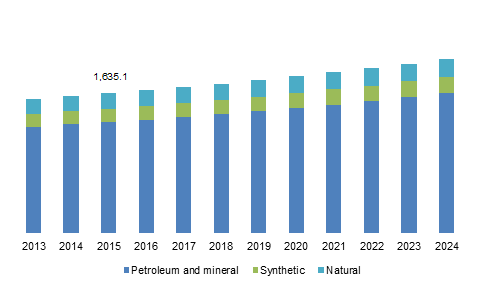 The candle-making industry has been one of the major and ancient drivers for wax market. While the traditional usage of candles as a chief source of light after sundown does not really exist anymore, the candle manufacturing sector still remains a multimillion dollar business. Aided by the presence of the internet and social media, the trend of manufacturing decorative and scented candles has taken shape, added a new dimension to the growth of the candle producing domain, which in consequence has impelled wax industry size from candle manufacturing. With the evolution of myriad candle types, candle manufacturing has witnessed numerous changes over the centuries. At present, candle manufacturers not only use paraffin and fossil-based wax but also synthetic, bio-based and natural wax, which adds to the multi-dimensional growth of wax industry.
Get a Sample Copy of this Report:@https://www.gminsights.com/request-sample/detail/2407
Besides candle manufacturing, the cosmetics domain also acts as a momentous driver for wax market. In a world that is becoming increasingly obsessed with self-image and beauty, cosmetics sector is set to witness massive growth in next few years, a factor that will positively impact wax industry share over 2017-2024. Rise in disposable incomes and an inclination toward beauty has spurred the demand for better skin and personal care products. Owing to drastically changing climatic conditions, consumers have also been demanding natural and ecofriendly cosmetics in the interest of health and environmental ramifications. These shifting trends, in consequence, will inevitably provide the much-needed boost to wax market expansion. Given how extensively wax is used in the manufacturing of lipsticks, mascaras, lip balms, lotions, eye pencils, and creams, the cosmetics and candle-making sectors are likely to vie with one another in terms of which domain would be most lucrative for impelling global wax market size.
It is prudent to mention that wax industry also receives significant stimulus through the use of wax in food packaging, since the product is an effective medium to create a protective barrier between food and deteriorating factors like moisture and humidity. It not only provides a preservative seal but also adds a glossy sheen on food items like fruits, nut seeds, and fertilizers. Wax coatings also help in delaying ripening, loss of internal moisture, and prolonging shelf life in general, thus expanding the scope of wax market from food packaging.
The FDA has approved the use of wax as an edible coating to be safe, non-toxic, and hypo-allergenic. In response, wax is majorly used to coat whole fruits like avocados, mangoes, pomegranates, melons, apples, and papayas and as a glazing agent for nuts. Indeed, this provides another growth avenue for wax market expansion from the food packaging domain.
Wax market is likely to face a major hindrance in the form of fluctuations in raw material supply and prices. With fossil fuels becoming scarce, wax products that depend solely on petroleum or crude oil for their production are becoming costlier. However, wax industry is rife with innovations related to the manufacture of synthetic waxes that use bio-based materials and are more eco-friendly than conventional wax products. With global economies becoming stronger by the day and the rising per capita income, wax market is estimated to garner significant profits over the ensuing years.
Author Name : Paroma Bhattacharya