Cotton
The rising requirement for fabrics that are longer-lasting, need less maintenance, and are comfortable have chiefly propelled blended fibers market. It goes without saying that the apparel and home furnishing sectors are the key arenas driving blended fibers industry growth. As the population of millennials with disposable incomes is on a rise, coupled with consumer interest for luxurious lifestyles, it is estimated that blended fibers market size will exceed 18 million tons by 2024 in terms of volume.
North America Blended Fibers Market, By Application, 2016 & 2024, (Kilo tons)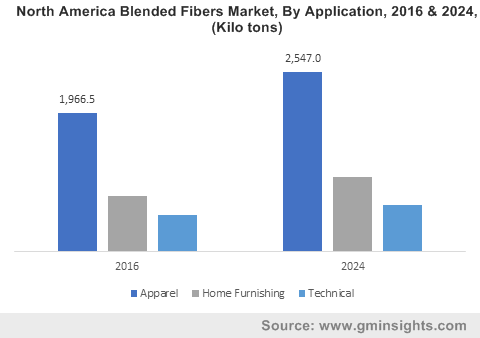 Blended fibers market had first come to evolve with the idea of 'blending' fibers to yield a fabric with unique properties that is much more comfortable than the original and is less taxing to care for. In this regard, a blend of cotton and polyester is one such fabric that has gained mass prominence in this business space. In 2016, cotton/polyester based blended fibers industry size was valued at USD 7 billion. It is noteworthy to mention that cotton is a natural fiber that is comfortable to wear but wrinkles easily. On the other hand, polyester is a synthetic fiber that is not very comfortable to wear but when mixed with cotton keeps the fabric from wrinkling. Blended fibers industry outlook thus depends on the identifying a balanced amalgamation of fibers that complement each other to produce the perfect fabric. A nylon/wool blend is another popular fabric that drives blended fibers market share, as nylon is resilient while wool adds to the warmth and softness of the garment. This blend is deemed perfect for winter wear apparels owing to its enhanced durability and quick-drying quality, thus marking significance in blended fibers market.
Get a Sample Copy of this Report:@ https://www.gminsights.com/request-sample/detail/1718
With the evolving fashion industry and the rising proportion of fashion consciousness consumers, it is important for the apparel industry to delve deeper in blended fibers market to brainstorm new mixed fabrics that will lend a certain charm and appeal to an ordinary piece of clothing. For instance, a draped cardigan made of a warm fabric like Merino can give the warmth of a cardigan but will not drape as beautifully as required. If the same cardigan is made of viscose it may be draped beautifully but will miss out on providing warmth. Ultimately, if a blended fabric like Merino Modal is used, i.e., 60% Merino and 40% Modal, the cardigan will have a beautiful drape while being essentially warm. Driven by appealing challenges such as the aforementioned, blended fibers market share from apparel applications is estimated to witness a CAGR of 3% over 2017-2024.
The home furnishing arena is another lucrative end-use domain of this business vertical. In 2016, 20% of the market valuation was attributed to the home furnishing industry. Rising urbanization, expanding real estate and easy access to home décor items made available through online portals like Amazon, Alibaba and eBay have thus provided a lucrative boost to the home furnishing domain, inherently fueling blended fibers market size.
Asia Pacific is one of pivotal regional markets for blended fibers industry. In fact, APAC market is forecast to surpass 9 billion tons by 2024, driven by the fact that several countries like China, India, Indonesia and Taiwan have expanded their apparel and home décor export base with a surge in demand of handcrafted products and government encouragement campaigns to boost indigenous production. Blended fibers industry has also been expanding in North America – estimates claim the continent to have contributed to 20% of the overall industry share in 2016. The introduction of nanotechnology as well as growing demands for new fabrics in the apparel and home furnishing industries has fueled North America industry trends.
The surging demand for better textile products with enhanced durability and a rather appealing visual appearance will drive blended fibers market. Blending expensive fibers with inexpensive ones offsets the production cost of the overall fabric as well, thus making the fabric more affordable and reliable. Growing economies comprising highly an urbanized, millennial population with disposable incomes will lead to a massive growth in the home furnishing and apparel sectors, thus directly stimulating blended fibers market size.
Author Name : Paroma Bhattacharya
Global bionematicides market is witnessing heavy demand due to rapid industrialization resulting in the depletion of fertile agricultural land. High level of crop infestation by nematodes in agricultural produce is boosting demand for eco-friendly bionematicides as it enhances the quantity and quality of crops. Also, strict government regulations against the use of chemical nematicides will further surge bionematicides industry growth.The worldwide population is expected to hit 9 billion mark by 2050, which presents a key challenge to meet the demand for food across the globe. This will generate a greater need for high yielding bio fertilizers, seed, crop management, and improved crop yielding, which will propel bionematicides market in farming application over the years to come.
According to Global Market Insights, Inc., "
Bionematicides Industry
size is anticipated to grow at a CAGR of more than 4% over the period of 2016-2024."
U.S. Bionematicides Market size, by crop type, 2013-2024 (USD thousand)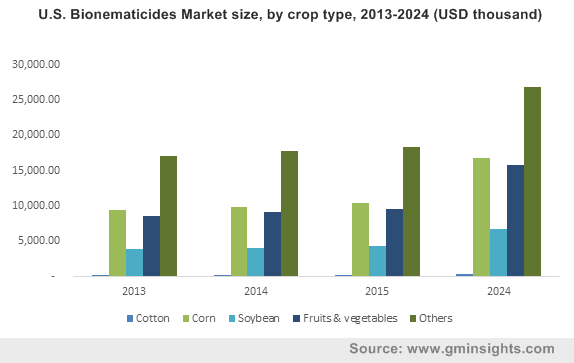 Based on the crops, bionematicides market is mainly segmented into soybean, corn, cotton, and fruits & vegetables. Corn industry will grow at an annual growth rate of more than 4.5% over the period of 2016 to 2024, owing to the growing demand of bionematicides to improve crop productivity and reduce plant diseases.  Fruits & vegetables crop collected a revenue of around USD 41 million in 2015, is projected to grow noticeably over the coming timeframe. The shifting trends towards the consumption of bio-based and organic fruits & vegetables will also favorably impact bionematicides market value.
Get a Sample Copy of this Report @ https://www.gminsights.com/request-sample/detail/783
The cotton crop was worth more than USD 800 thousand in 2015 and is predicted to exhibit significant growth rate over the coming seven years. Bionematicides are prominently used to control the various nematodes such as sting, root knot, lance and cyst, which collectively reduced the crop revenue by USD 80 billion.
Taking into account the regional landscape, Asia Pacific bionematicides industry is predicted to register an annual growth rate of more than 4% over the coming period of 2016 to 2024, mainly driven by the increasing population as well as industrialization. Moreover, sustainability, demographic shifts, and rising environmental concerns will also be the attributing factors toward market growth. The government is supporting the farmers by providing subsidies and loans to promote sustainable farming. India, China, and Japan will contribute considerably towards the APAC bionematicides industry share.
North America bionematicides market will exhibit considerable growth rate over the coming seven years. U.S., having dominated the regional industry share by collecting worth USD 42 million in 2015, is expected to generate considerable revenue over the coming years. The primary attributing factor towards the market growth is the escalating usage of bio-pesticides as opposed to chemical pesticides. Additionally, shifting trends towards agricultural biotechnology like microbe-based pest control will enhance bionematicides industry share.
Market players are expected to invest heavily in the development activities over the coming years, and will adopt important growth strategies such as acquisitions and collaborations. Key industry participants in bionematicides market are Monsanto Company, Dow AgroSciences LLC., BASF SE, Bayer CropScience AG, and Syngenta AG. Other prominent market players include Marrone Bio Innovations, Inc., Valent BioSciences Corporation, Ecoman Biotech Co., Ltd., Certis USA LLC., and LAM International.
Author Name :Sunil Hebbalkar