Creamic Filters Market Trends
Ceramic Filters Market is expected to carve out a lucrative roadmap over the years ahead, subject to highly stringent rules enforced by regulatory bodies such as ASTM, REACH, EPA, and NSF. These organizations have set up strict norms that monitor drinking water filtration systems, thereby propelling the usage of water filters, which will fuel ceramic filters industry share. These organizations are also renowned to undertake supportive initiatives that govern water filtration across industrial and residential arenas. These filters control the BOD (biological oxygen demand) of sewage and waste water before it is disposed into fresh water bodies. In addition, they eliminate harmful pollutant emissions before they are discharged into the environment. This will provide a positive impetus to global ceramic filters market, which is expected to grow at a CAGR of 15.5% over 2016-2023, with a base valuation of USD 900 million.
U.S. Ceramic Filters Market size, by application, 2012 – 2023 (USD Million)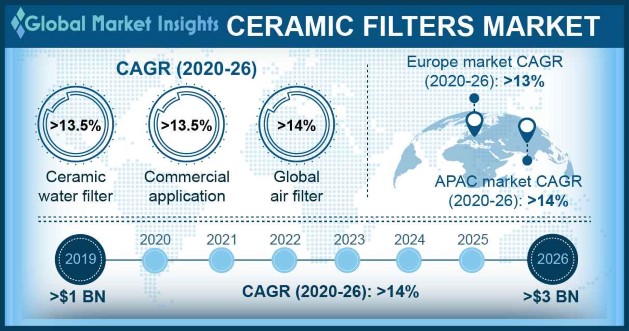 Global ceramic filters industry is fiercely competitive and includes the presence of many leading manufacturers. The rising carbon emissions and the subsequent regulatory pressure will bring in lucrative opportunities for companies to enhance their business position. Key participants of global ceramic filters market include Tri-Mer Corporation, Haldor Topsøe, Anguil Environmental Systems, Inc., Pall Corporation, Clear Edge Filtration India Pvt. Ltd., Glosfume Ltd., 3M, Unifrax, and Doulton. The product value chain is characterized by backward and forward integration.
Air filters are heavily deployed across residential and industrial sectors subject to regulatory mandates to monitor the emissions of carbon and other toxic pollutants. Air ceramic filters market size was worth USD 400 million in 2015 and is anticipated to increase substantially over the next few years. These filters are used in the industrial sector for hot gas filtration, bio filtration, and fluid filtration. Ceramic filters industry size from industrial applications was worth more than USD 300 million in 2015 and is expected to increase at a CAGR of 15.5% over 2016-2023.
Get a Sample Copy of this Report @ https://www.gminsights.com/request-sample/detail/393
Asia Pacific held more than 33% of global ceramic filters market revenue, thereby accounting for the largest share in 2015. With India and China as key contributors, APAC ceramic filters industry size, with an initial valuation of USD 300 million in 2015, is expected to register lucrative gains over the next six years. This growth can be primarily attributed to the rapid industrialization in the region coupled with strict government norms regarding pollutant emissions.
Water ceramic filters market was valued for slightly lesser than USD 500 million in 2015. These products will be heavily used across the industrial and residential sectors for water filtration and air purification. Regulatory norms regarding air and water quality will propel water ceramic filters industry over the next few years.
Residential applications accounted for more than 40% of global ceramic filters market in 2015 and are anticipated to be the key application segment over the next six years. Huge demand for ceramic filters in residential complexes will spur the product demand, leading to ceramic filters industry growth from residential applications, especially, across the African countries.
Subject to the huge number of petrochemical industries and the rising economic growth, Middle East and Africa ceramic filters market is anticipated to grow at a profitable CAGR of 17.5% over 2016-2023. The population across this region has also experienced an increasing awareness regarding the importance of clean, purified water and high air quality, which will augment MEA ceramic filters industry size, slated to cross USD 150 million by 2023.
Ceramic filters are highly corrosion resistant and are inert to most chemicals. In addition, they possess excellent mechanical properties, which will augment product demand. However, volatile raw materials such as zirconium oxide, titanium oxide, and aluminum oxide are vulnerable to periodic price fluctuations. Furthermore, the availability of these materials is also fairly inconsistent, which may result in expensive manufacturing. This poses a major restraint to global ceramic filters market. However, market players have been striving to eliminate these constraints and make the manufacturing process a little less capital intensive.
Author Name :Saipriya Iyer