CRM
Endorsed with a rich portfolio of digitally empowered consumers, artificial intelligence in retail market has been acclaimed as one of the most progressive verticals in the recent years. In the year 2017, this business space registered a global share of USD 650 million and is forecast to record a CAGR of 40% over 2018-2024, which is indeed humongous. With retail space becoming affluent with more number of e-commerce platforms as well as startups with huge technology appetite, the adoption of AI in retail market is bound to proliferate. Add to it, the technology is witnessing a slew of opportunities in sync with the hi-tech trends including the like of blockchain, AR, and Internet of Things establishing its footprints in the retail domain. Amidst all these tech interventions, the focal point of this consumer-driven industry remains delivering unrivaled shopping experience to the customers as well as ensuring optimal management of resources and stocks.
U.S. Artificial Intelligence (AI) in Retail Market Share, By Technology, 2017 (USD Million)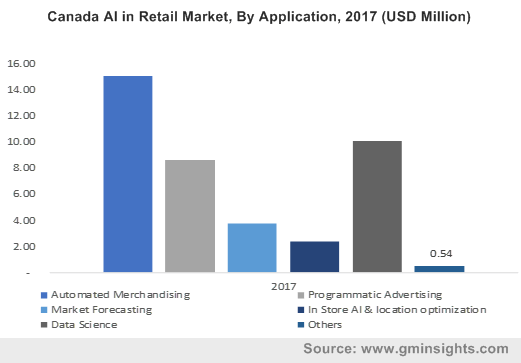 One of the classic examples of leveraging the AI technology is of Baidu, China's renowned artificial intelligence market player. The company grabbed the headlines with its attempt to promote its AI technology in aiding convenience stores manage their food stock more efficiently and resourcefully. For the record, the search engine giant has been supporting Ping++, an AI service provider since September 2017 to work with Today, convenience store chain with regard to a fresh food project. Under the terms, the company utilizes PaddlePaddle, a deep learning platform by Baidu along with its CTR model. Reportedly, the implementation of these technologies had a positive impact on the sales, post which Baidu introduced this model to dozens of stores for testing. In testing stores, the profits surged by 20% and food waste dropped by 30%. The instance vividly portrays the huge scope of artificial intelligence in retail industry. Since the past two years Baidu has invested over USD 1.5 billion in AI research in addition to its investment of USD 200 million for the development of a new R&D facility.
In fact, the Chinese market having the three most powerful names of the retail and tech space – Alibaba, Baidu, and Tencent (collectively touted as BAT), is betting big in the global AI in retail industry space. The three giants which are claimed to have a cut throat competition with the U.S. in terms of resources and capital are positioning themselves to become the 'future AI platforms'. The trio is also expanding in other Asian countries and investing heavily in U.S. based AI startups to leverage the power of AI. Backed by such powerful initiatives and presence of these conglomerates, APAC AI in retail market is forecast to be the fastest growing region, with an anticipated CAGR of 45% over 2018-2024.
Get a Sample Copy of this Report @ https://www.gminsights.com/request-sample/detail/2568
Further elaborating on the geographical trends, North America having procured more than 50% of the global share in 2017, has been leading the regional landscape of AI in retail market. U.S. has a major credit in the phenomenal regional trends with over 65% of investments (including M&As, private equity, and venture capital) in artificial intelligence technology. Add to it, the region is a major hub for startups in tandem with the presence of tech titans such as Google, IBM, and Microsoft.
Analyzing the aforementioned trends and the penetration of AI in retail industry, it is overt that the traditional retail model is bound to witness a disruption of sorts. The technology penetration will reshape the entire inventory management and operation cycle of the retail stores, thus providing a renewed shopping experience to the customers. Not only the efficiency and sales of the retail space will see an upsurge but through the proliferation of AI in retail market, the worldwide economy will progress massively, opening doors for several hi-tech startups and a plethora of new job opportunities. In terms of profitability scope, the overall AI in retail industry share is anticipated to surpass USD 8 billion by 2024, with untapped economies gaining major traction in terms of investment.
Author Name : Ojaswita Kutepatil
The excellent growth dynamics of the global artificial intelligence (AI) in BFSI market can be traced by the recent instance of Metromile, a leader in pay-per-mile car insurance in the U.S., launching its new AI-based smart claims assistant, AVA. The automated system reportedly utilizes machine learning capabilities to reconstruct the accident scene and promptly ascertains if claim details are true. Apparently, the claim is approved within seconds after the details are verified and the AI-based tool further notifies the car owner of the expedited claim. With the increasing adoption of high-grade technologies such as IoT and Big Data, the commercialization potential of AI in BFSI industry has observed a marked uptick in the past few years.
U.S. Artificial Intelligence in BFSI Market Share, By Solution, 2017 (USD Million)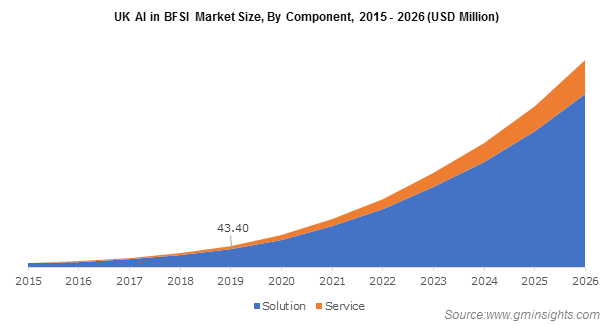 Elaborating further, the unveiling of AVA signifies the transformative phase being witnessed across the worldwide insurance sector where prominent AI in BFSI industry players have been increasingly deploying advanced algorithms to enhance the underwriting process. This has, in turn, impelled the insurance segment of the AI in BFSI market which is forecast to register an outstanding y-o-y growth rate of over 38% during 2018-2024.
A brief insight of how banking sector has been shaping AI in BFSI industry trends
Over the past few years, numerous globally renowned banking institutions have been pouring in massive funds to develop cutting-edge AI applications that have invariably assisted them in optimizing performance, consolidating remuneration streams, and better serving their customers. In this regard, banks are increasingly forming partnerships with fintech corporations to integrate the latest technologies into banking products and services which has resulted in the development of advanced customer behavior analytics inventions, chatbots, and customer relationship management (CRM) solutions. Enumerated below is a succinct outline of how banks have been readily embracing AI-based solutions that has subsequently transformed the strategic and competitive landscape of AI in BFSI market:
Embarking on its AI and automation journey in September 2017, State Bank of India unveiled its first AI-powered chat & voice assistant, named as SBI's Intelligent Assistant or SIA. The chatbot reportedly aids customers with everyday banking tasks just like a bank representative and has a remarkable capacity to handle close to 10,000 enquiries per second or 864 million in a day. Arguably, the deployment of an AI-based solution of this scale is cited to be first of its kind in the banking segment of the global AI in BFSI market. With an astonishing customer strength of around 420 million, State Bank of India's latest move towards integrating AI is being viewed as a major leap of faith for India's banking sector.
Regarded as one of the world's largest banks, the U.S. based JPMorgan Chase has recently launched a digital platform that analyzes legal documents and extracts the relevant data. The AI-based invention, named as Contract Intelligence (COiN) platform, is an outcome of the initial implementation through machine learning technology and has an exceptional ability to revise approximately 12,000 annual sales agreements within minutes. The platform is being aptly termed as revolutionary across AI in BFSI industry given the fact that it effectively eliminates the need to manually review the said number of sales agreements which generally takes around 360,000 hours.
Get a Sample Copy of this Report@ https://www.gminsights.com/request-sample/detail/2605
Owing to the launch of intuitive, easy-to-use, and highly-efficient AI-based tools, the banking segment of the AI in BFSI market has been proliferating at an exceptional pace in the recent times. In fact, as per a research report compiled by Global Market Insights, Inc., the banking segment apportioned more than 50% of the total remuneration portfolio of AI in BFSI industry in the year 2017. With the unveiling of advanced AI technologies that provide real-time insights into every aspect of banking operations and leverage the abundance of data to gain a granular understanding of consumer behavior, the banking segment is slated to lead the end use spectrum of this business space over the ensuing years.
Infusing AI-based applications across a diverse set of operations has brought about a momentous shift in the ability of organizations, working in the BFSI domain, to swiftly analyze, comprehend, and respond to vast amounts of data which has consequentially augmented the revenue share of companies operating across AI in BFSI market. With the advent of advanced machine learning algorithms, data analytics solutions, natural language processing techniques, the AI in BFSI industry space is anticipated to register an overwhelming CAGR of 30% over the estimated timeframe.
Author Name : Saif Ali Bepari
Technological advancements and digitization is setting high goals for the enterprise application market, which is expected to hit a revenue of USD 287.7 billion by 2024, as per Global Market Insights, Inc. Enterprise application is a highly complex system deployed across corporate bodies to ensure real- time information flow along with smooth business operations. Growing demand for efficient IT infrastructure, rising internet connectivity, rapid adoption of cloud computing technologies, and growth in smartphones and mobile devices are the vital factors influencing the enterprise application market share worldwide.A huge adoption trend across various end-use industries such as Healthcare, BFSI, Manufacturing, Government, Retail, Telecom & IT, and Aerospace & Defense is boosting the global enterprise application market size. Enterprise application provides these industries with a wide set of solutions such as CRM, SCM, ERP, Business Intelligence [BI], Web Conferencing, BPM, EAM, and CMS. These solutions enable the users with better inventory management, quality management, customer engagement, and supply chain management.
Asia Pacific Enterprise Application Market Size, by end-use, 2013-2024 (USD Billion)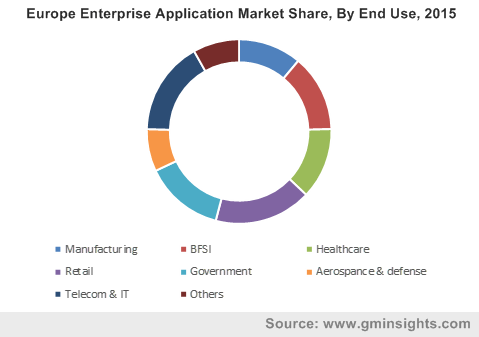 ERP market which accounted for 20% of the overall enterprise application share in 2015, is anticipated to register a CAGR of 7.7% over the coming eight years. Website content management, which has become an integral part of any organization is driving the growth of the CMS (Content Management System) market. CMS market share is estimated to exceed USD 8.5 billion by 2024. Owing to the growing demand for customer engagement management, CRM segment will also witness significant growth over the coming years, accounting for over 25% of the overall enterprise application market share by 2024.
Get a Sample Copy of this Report: @ https://www.gminsights.com/request-sample/detail/701
Cloud based enterprise application, which accounted for 30% of the overall share in 2015, is gaining popularity among various sectors, particularly manufacturing and retail, due to increasing focus on cost optimization, growing internet connectivity and demand for enhanced accessibility. Also, on-premise deployment model is projected to witness a CAGR of 4.5% over the period of 2016-2024.
The implementation of enterprise application across various industries solely depends upon the requirements from the respective sectors. Enterprise application in the healthcare industry was worth USD 16.5 billion in 2015 and is forecast to grow at a CAGR of 8.9% from 2016-2024. The growth will primarily be driven by growing demand for real-time data transparency across this sector. Retail industry will also witness huge adoption of this system to ensure better customer management.
Global enterprise application market worth USD 150 billion in 2015, is forecast to register a CAGR of 7.6% over the period of 2016-2024. The North America market size is estimated to account for 30% of the overall revenue by 2024, driven by modern organizational structure and customer-centric approach of the companies across this region. The Asia Pacific market is anticipated to record a CAGR of 9.5% over the coming eight years, hitting USD 75 billion by 2024.  Technological advancements coupled with cloud-based solution demand by SMBs is likely to drive the regional demand.
Novel IT developments like Big Data and Internet of things will bring immense growth opportunities for the market players. The participants will spend largely on R&D to develop innovative products and solutions in order to meet growing technological needs and most importantly to sustain competition. Startups and small scale industries will also share decent business space over the coming timeframe. Key market participants are IBM, Oracle, , Microsoft, SAP, Epicor Software, IFS, Infor, Hewlett-Packard, and QAD.
Author Name : Shikha Sinha