Cruise Ships
The global marine selective catalytic reduction systems market, in the recent years, has been witnessing strong investment trends by the major stakeholders, given the stringent environmental regulations in protecting human and aquatic life. Large amount of emissions pertaining to marine polluting substances and amendment of strict regulations regarding the same have in fact raised the bar for marine selective catalytic reduction systems industry players to bring in more advanced diesel engine designs that are capable of minimizing marine pollution. These SCR systems, designed to curtail nitrogen emissions, are thus gaining traction in the recent years and have significantly taken the marine industry by storm.
Europe Marine Selective Catalytic Reduction Systems Market Size, By Application, 2017 & 2024 (USD Million)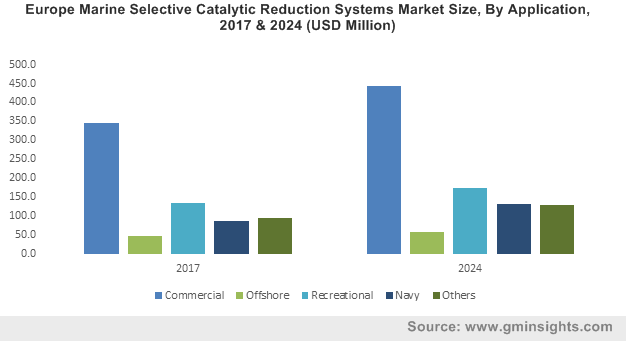 Introduction of IMO Tier III legislation to act as a major catalyst for rapid marine SCR systems market growth
An important factor which stood as a major growth promoter for the overall marine SCR systems industry is the enforcement of The Tier III NOx emissions regulations (IMO3) of the International Maritime Organization that came into power in 2016. According to reports, the recent IMO3 legislation has been forcing the engine manufactures to achieve a NOx reduction of more than 70% from Tier II for all the ships sailing in the NECA (NOx Emission Control Areas). The selective catalytic reduction technology in this regard has been gaining immense momentum as it was being able to operate as the standalone technology that reduced as much as 80% of NoX. The SCR system's compliance with the IMO3 has thus elevated the business landscape of global marine selective catalytic reduction systems market, and is further expected to proliferate across the coastal waters of U.S., Canada, and China – where the legislations are enacted more severely.
China to emerge as a lucrative investment hub
The Chinese Ministry of Transport, recently in July 2018, has published new requirements with a target to limit NOx emission for the second-hand imported & Chinese-flagged diesel engine vessels. According to the regulations these engines are required to comply with the IMO3 norms and will be applicable to vessels that are converted or imported for domestic trade after September 1 2018. These new NOx emission control requirements have paved the way for robust commercialization of SCR systems in China. Moreover, the rapid growth in the long-distance and international voyage and the rising inter-border trade activities has further fortified the regional product demand. In response to these mandatory protocols, China marine selective catalytic reduction systems market size is anticipated to register a CAGR of 3% over 2018-2024.
Get a Sample Copy of this Report:@ https://www.gminsights.com/request-sample/detail/2942
Further considering the geographical expanse, it is imperative to mention that, thriving on the cusp of fierce stringency in regulatory framework, the U.S. marine SCR systems industry is also expected to be one of the lucrative regions for business expansion. In addition, ongoing technological advancements in the commercial & recreational marine vessels and the presence of core industry manufactures in the country are foreseen to further complement the regional growth in the ensuing years.
Further speaking on the competitive scenario, it wouldn't be wrong to say that the sustainability and go-green trends are also vividly characterizing the marine industry vertical and impelling the prominent companies to adopt necessary market growth strategies for business proliferation. An apt instance standing as a substantiation to the aforesaid is that of Cummins Inc., that has recently introduced its new IMO3 certified QSK60 engine package that offers cleaner emissions. If reports are to be believed, the company has added selective catalytic reduction systems to meet the new emissions standards without impacting the fuel economy. Endorsed with similar product innovation and business expansion trends, several other industry players including Wärtsilä, Tenneco, DEC Marine, Mitsubishi, Hyundai, and ME Production are also seen ramping up their positions in the global marine selective catalytic reduction systems market.
All in all, it would be apt to quote that stringent regulatory protocols and highly innovative product development with technological advancements are to remain the two prominent drivers majorly shaping the business trends in the years ahead. In terms of remuneration, the global marine selective catalytic reduction systems market size is forecast to exceed a valuation of over USD 5 billion with annual installations surpassing 3,000 units by 2024.
Author Name : Ojaswita Kutepatil
The revenue graph of inland waterways vessels market has witnessed considerable escalation in the recent years, subject to reliability and energy efficiency provided in this mode of transportation. Indeed, both passenger and non-passenger vessels have found increasing relevance in inland waterways lately. Observing the environmental advantages of adopting superior inland waterways transportation, regional governments have taken efforts to make major investments in developing inland waterways.
U.S. Inland Waterways Vessels Market, By Fuel, 2016 & 2024, (Units)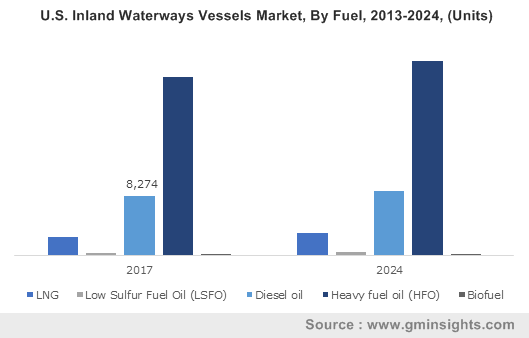 A recent instance validating the authenticity of the aforementioned statement is the Jal Marg Vikas Project undertaken by the Indian government that may be a potential game changer for transportation through the Ganges. The $809 million project is being designed to be economically and environmentally potent and may effectively enhance trade and commerce through the Gangetic route. The rejuvenation of the Ganges may emerge as one of many driving forces inevitably stimulating the regional inland waterways vessels market share.
It is rather overt that the development and maintenance of internal water inlets are imperative for the growth of inland waterways vessels industry. The St Lawrence Seaway in Canada is an example of a successful waterway which has added a commendable boost to the regional inland waterways vessels market for the last 60 years and has proved to be quite a competitive means of moving cargo like iron ore, coal, stone, cement and salt. Indeed, St. Lawrence Seaway seems to have trumped surveys when it comes to competitive options for tonnage movement, as reported by logistic professionals who study movement routes to be adopted for the most profitable means of transportation. Thus, more vessels came to be deployed to operate on this route – close to 2,270 vessels alone had been used in 2017.
Get a Sample Copy of this Report @ https://www.gminsights.com/request-sample/detail/2498
It will be prudent to mention that cargo movement makes up for a bulk of inland waterways transportation requirement. On these grounds, non-passenger inland waterways vessels market is expected to attain the dominant position in this industry. As per estimates, non-passenger vessels are forecast to account for a mammoth 80% of the inland waterways vessels industry share by 2024.
Similar to non-passenger vessels, passenger inland waterways vessels market has also gained commendable traction on account of the increasing popularity of river cruises, ferries and yachts. With the expanding tourism industry, river cruises have witnessed a great surge in demand over the last couple of decades. In Europe in fact, river cruises on rivers such as Danube, Main and Rhine have been conducted with great success with luxury long boats like the Viking River Cruise. The adoption of similar boats has been rapidly occurring in the U.S. where tourism interest in rivers like Mississippi and Ohio, has added a significant boost to the regional inland waterways vessels industry. It is thereby rather undeniable that the rise in water-based tourism will augment passenger inland waterways vessels market size, slated to register a CAGR of 3% over 2017-2024.
Regulatory authorities have been trying to promote inland waterways transport on a large scale, as using waterways to transport cargo has certain environmental advantages such as reduction of pressure on highways and railways, lower noise pollution, less land-based congestion and reduced emission. Additionally, water-based transportation also has minimal effect on human livelihood and ecological diversity.
Since most of the inland waterways vessels naturally use diesel as fuel, diesel oil has been forecast to account for 90% of inland waterways vessels market share by 2024. However, since diesel is not quite the most ecofriendly fuel, companies have been developing vessels that would be run by electricity and will be virtually free of any kind of emission. In fact, such barges have already been designed and are being released to operate from Amsterdam, Rotterdam and Antwerp, for moving goods in the inland waterways of Netherlands and Belgium. In 2018 alone, five such barges, which can accommodate up to twenty-four 20 ft containers, are being released and if they succeed in their operation, they will be potentially taking 23,000 trucks off the roads.
The rising preference for energy efficient and technologically advanced solutions for the transportation of goods is certain to add stimulus to inland waterways vessels market. Another factor augmenting the commercialization scale of this vertical is the expanding tourism industry that is becoming more and more ecologically tolerant by the day. With a base valuation of $1,500 billion in 2016, inland waterways vessels market size is projected to be pegged at $2,250 billion by 2024 driven by a plethora of trading activities, favorable government support, and the growing demand for congestion-free transportation.
Author Name : Paroma Bhattacharya