Cruise
The increasing requirement for quick, emission-free transport has been a major driver for water taxi market growth. Water transportation has been gaining more and more popularity lately, pertaining to its cost-effective and fuel-efficient benefits over conventional transportation. Having recognized the same, regional governments have been majorly investing in the tourism industry, generating lucrative opportunities for water taxi industry players. The deployment of water taxis in numerous public and private water bodies has indeed helped reduce vehicular traffic congestion in the city – a principal factor that has been extensively responsible for stimulating water taxi industry share.
U.S. Water Taxi Market, By Product, 2017 & 2024, (Units)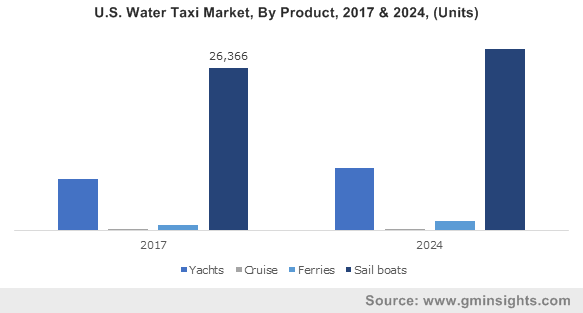 Recreational activities such as boating have taken on a diverse significance in recent times, on account of which numerous private companies are deploying water buses on large scale. This in consequence, has prompted the entry of new contenders in water taxi market and a slew of unique product launches. Say for example, the French startup SEABUBBLES has been testing its new electric hydrofoil water taxi – a battery powered water bus that reduces air drag and attains greater speed, in Switzerland for quite a while now. The company now looks forward to deploying electric boats for transportation in lakes and rivers across European countries. As this type of transit system generates lesser air as well as water pollution, the governments of the various countries are encouraging private and public service providers to deploy battery-operated and hybrid water taxis. These initiatives are likely to push hybrid water taxi market size, slated to grow at a CAGR of more than 5% over 2018-2024.
The increasing deployment of these water vehicles has generated profitable growth opportunities for water taxi industry firms. In order to achieve a dominant position across this vertical, most of the prominent biggies are focusing on the development of green boating systems that are driven by renewable energy. Though this transit system is clean and emission-free, in some cases, the speed factor of some of the green taxis have put a dampener on the overall product demand. In order to combat the same, companies have been constantly working enhancing product features and its capability. The recent trend of deploying lightweight and high-performance composite materials for boat manufacturing, for instance, has helped water taxi market firms develop innovative taxi designs. 3A Composites for example, post ten years of rigorous efforts, recently launched a sustainable water taxi that integrates the benefits provided by 3A Composites' AIREX® T92 PET foam with a special hull shape that aids waste reduction, ride quality, and fuel efficiency.
The Asian zone is expected to contribute commendably toward the growth of water taxi market, owing to the increasing involvement of private and public sectors in the deployment of water taxi services. For the record, merely a few months earlier, the Indian ride-hailing service provider OLA signed a MoU with the government of Assam to launch a water taxi service in the state. This project is most likely to strengthen the transportation network across North India. In addition, the mobile-based transportation system will help local government enhance the state's tourism prospects.
Get a Sample Copy of this Report@ https://www.gminsights.com/request-sample/detail/2510
In 2016, the government of India signed a deal with the Massachusetts Institute of Technology for developing ferry services across six major cities including Varanasi, Allahabad, Kolkata, Mumbai, Patna, and Haldia. The development of inland waterways services will thus help escalate cost-effective trading across the country. As of now, India uses only 3.5% of the available waterways for trading purposes, out of the existing 14,500 km of the waterway stretch. The increasing investments by the Indian government toward the deployment of ferry services across the country is poised to boost the regional water taxi market share, in turn benefiting the overall Asian topography to a marginal extent.
The competitive hierarchy of water taxi market is remnant of novel product development strategies and massive R&D programs. The emergence of battery operated lightweight boats for instance, has added a new growth dimension to water taxi industry. Another pivotal factor pushing the expansion of this vertical is the crucial role that governments play in promoting trading and tourism activities, focusing on bettering the economy of their respective countries. Aided by a favorable regulatory spectrum and the rising prominence of the green movement, water taxi market size is expected to cross the coveted USD 500 billion mark by the end of 2024.
Author Name : Sunil Hebbalkar
The world is witnessing a proliferation in seaborne trade, which is likely to stimulate marine diesel engines market over the years ahead. The cost of the fuel is a major factor that is influencing the trade profitability. Recent fluctuations in the fuel price which is currently on a higher end, is turning out to be favorable for the industry players. According to a report by UNCTAD (United Nations Conference on Trade and Development) in 2015, sea borne trade expanded over 4% from 2012 to 2014, subject to the significant increase in dry bulk trade. Alongside, easy availability of spare parts, trained repairing personal, and repair networks have also catalyzed the adoption of these diesel engines. As per a report by Global Market Insights, Inc., "Marine Diesel Engines Market is slated to exceed a revenue of USD 7 billion by the end of 2024, with a CAGR projection of 5% over 2016-2024."
Europe Marine Diesel Engines Market Size, By Application, 2016 & 2024 ($Mn)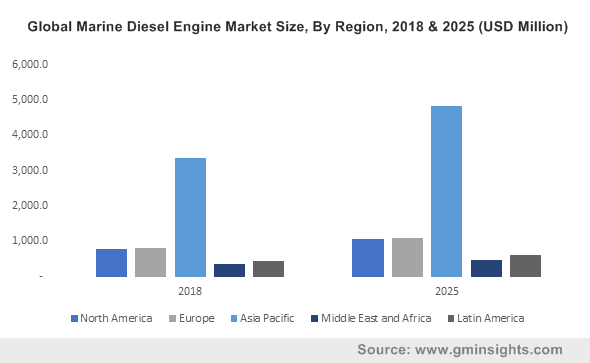 Increasing demand for economically viable engines that are best fit to fulfill reliability, durability, and fuel optimization is further complementing marine diesel engines market penetration. Over the past few years, the shipping industry has been largely emphasizing on developing advanced engines that improve the fuel efficiency and reduce carbon dioxide emission. Marine diesel engines operate at an average efficiency of 40% to 50% depending upon the age of the engine, deadweight tonnage, and vessel size.  Phasing out of traditional steam engines from various utility sectors is further providing a significant push to marine diesel engines market.
Get a Sample Copy of this Report @ https://www.gminsights.com/request-sample/detail/158
Regionally, China has established strong grounds enhancing the market dynamics. The country, counted as one of the most developing nations across the world, is significantly increasing its investment in strengthening the naval force. In 2014, Chinese Government had issued a financial stimulus package that facilitated the money stock. The escalating growth of the regional market can be majorly credited to the rigorous number of business activities that have significantly uplifted the marine diesel engines market outlook. In 2015, for instance, MAN Diesel & Turbo had signed a 10-year agreement with CISC and CSSC to manufacture low speed diesel engines in China. Statistics depict that China accounted for one-fourth of the APAC marine diesel engines market in 2016. Such examples of promising initiatives by the government along with growing import of marine diesel engines in the country which almost accounted for USD 1.05 billion in 2015, is projecting a lucrative growth prospect for China marine diesel engines market in the years ahead. Germany, on the other hand, represented 20% of the Europe market in 2016. With increasing government spending on military and specialized ships, Germany is aiming to amplify its revenue share toward the regional marine diesel engines market in the coming years.
Considering the technical designing, the overall marine diesel engines industry is predominantly segmented into low speed, medium speed, and high-speed systems. High speed systems accounted for more than 20% of the global share in 2016. With the significant improvement in the living standards of the consumers, the demand for cruise and ferries is accelerating, which in turn is driving this high-speed marine diesel engines market. Medium speed diesel engines which are mainly deployed in cargo ships, passenger ships, fast ferries are also witnessing a heavy adoption. This category based diesel engines market is expected to hit a revenue of more than USD 3 billion by the end of 2024. Low speed marine diesel engines market will also grow substantially at an annual rate of 4% over the coming seven years.
Merchant vessels are one of the prominent application domains that is prominently contributing toward the global industry size. Growing inclination toward LNG along with a significant rise in the sea borne trade have resulted in an increasing deployment of marine diesel engines in merchant vessels, thereby contributing to the industry share. As per estimates, marine diesel engines market from merchant vessels application is expected to chart a profitable road map at a CAGR of 5% over 2016-2024.
Despite the fact that the marine diesel engines are environmentally not so viable owing to the harmful carbon emissions from these, increasing research investments by the market players in the development of fuel efficient engines is likely to leave a positive impact on the marine diesel engines industry expansion in the years ahead. Some of the prominent companies engaged in marine diesel engines market include Rolls Royce, Caterpillar Inc., Cummins Engines, GM Powertrain and Wartsila Corporation.
Author Name : Satarupa De