CSP
The global shift towards clean, affordable and reliable electricity along with rising focus towards curbing CO2 emissions will drive solar EPC market growth in the upcoming years. Reportedly, solar PV is recorded to be one of the most installed power generation technologies across the globe in recent years, having been accountable for the deployment of extensive new capacity than fossil fuels and nuclear combined. As per SolarPower Europe, in 2017, a total of 99.1 GW of on-grid solar systems were installed across the globe – depicting almost 30% y-o-y growth over the 76.6 GW capacity in 2016, thereby indicating that solar EPC industry is here to stay.
Solar EPC Market Size, By Ground Mounted, 2018 & 2025 (USD Million)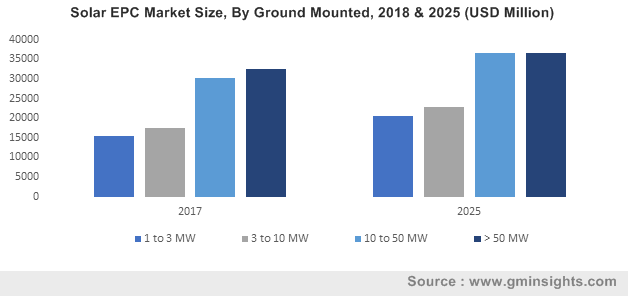 In terms of installations, it would be apt to quote that roof-top installations are likely to depict maximum instatement, specially across the commercial and residential sectors in the years to come. Roof-top solar is increasingly cost-effective for business owners, homeowners and communities. Affordable technology prices, supportive financing and the growing network of solar companies and financers are anticipated to help reduce the prices for household roof-top systems in the U.S.
Customers generally prefer roof-top PVs as they don't require a dedicated land area for installation and can efficiently occupy roof space that is widely available even in urban areas. Apparently, India's National Solar Mission shares similar goals on using roof-top PVs, as it officially announced plans to install 100 GW of solar by 2022, of which 40 GW would be credited to rooftop solar. In essence, the integration of decentralized generation units in order to cater to the growing demand for energy will massively augment solar EPC market from roof-top installations over 2019-2025.
Large-scale utility installation will positively influence the global solar EPC market. The utility sector, that mainly deploys ground-mounted solar power systems, is touted to have been recorded as one of the most lucrative end-use sectors for the solar EPC market in 2018. With the escalating growth in smart cities and electric vehicles reaching the masses, there is increasing pressure on the utility sector for delivering sustainable energy to manufacturing industries and customers. Rising focus toward curbing CO2 emissions from large industries and power generating plants in tandem with favorable fiscal benefits on the grounds of the development of energy efficient solar systems will further augment solar EPC industry size from utility applications.
Get a Sample Copy of this Report @ https://www.gminsights.com/request-sample/detail/3072
Geographically, speaking the United States is touted to emerge as one of the most prominent regional markets for the solar EPC industry. As per estimates, the U.S. solar EPC market is projected to exceed $14 billion by 2025, driven by the fact that solar power has proven to be a strong driver of the region's economic growth. Reportedly, in 2014, the U.S. solar industry employed over 170,000 people, offering a job growth rate that positively influenced the overall economy.
Regulatory measures to reduce dependence on conventional fossil fuels coupled with financial funding to integrate renewable energy will also stimulate product penetration. In addition to offering new jobs, the U.S. government, in 2017, proposed plans to decrease in their tax reforms by reducing corporate taxes in a bid to boost the clean energy business potential, that would further stimulate the U.S. solar EPC market growth.
Another region that has gained traction in solar EPC market is the Asia Pacific, on account of the rising investments in the renewable sector backed by favorable government initiatives. Investment subsidies, positive regulatory programs, renewable integration targets and government reforms have certainly reinforced the APAC solar EPC industry in recent years.
For instance, recently India's Cabinet Committee on Economic Affairs (CCEA) approved a proposal to set up 12 GW of solar projects using locally-made equipment by 2023, an initiative the will certainly boost the region's economic growth, in turn, paving the way for the expansion of APAC solar EPC industry.
A vital form of contracting procedure, solar EPC is extensively used to provide end-to-end services associated with construction, design, procurement and commissioning. Powered by the growing demand by emerging countries for clean, sustainable electricity and the robust efforts by industry players to develop new high-efficient systems, the global solar PV market is expected to emerge as one of the most remunerative verticals of the overall energy sphere.
Author Name : Mateen Dalal
Concentrated solar power market is gaining an edge successfully in improving profitability and developing new revenue streams. Growth of the concentrated solar power industry is increasingly being driven by government policies aimed at reducing GHG emissions and balancing the fossil fuel depletion. For instance, the U.S. treasury department and the state government have awarded tax credits to CPS projects which make use of clean energy. Another prominent example is the Office of Energy Efficiency and Renewable Energy, which provided funds of approximately USD 9 million to 6 CSP projects to achieve a substantial reduction in the prices and ensure technological advancements.
The mounting need for efficient renewable energy sources for large scale electricity generation, owing to rapid industrialization and urbanization is likely to propel the global concentrated solar power industry. As per a report by Global Market Insights Inc., Concentrated Solar Power Market is anticipated to exceed 24 GW by 2025.
Global Concentrated Solar Power (CSP) Market installed capacity, by technology 2016 & 2025 (GW)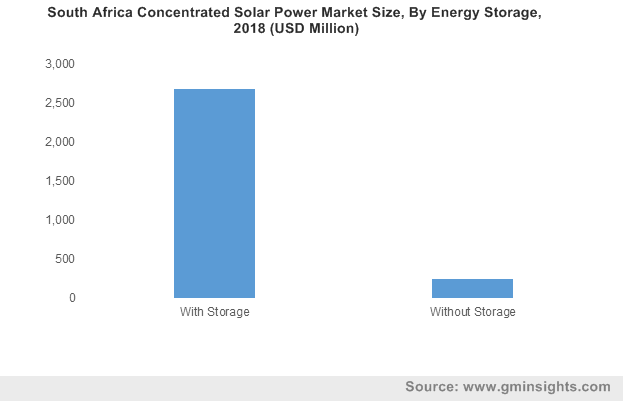 Amongst the various types of solar power generators based on technological bifurcation, parabolic troughs accounted for over 70% of the global concentrated solar power industry in 2015. High efficiency and low cost of the parabolic troughs is gaining preference in the mass market. Linear Fresnel, power tower, and dish are the other technologies used in solar power generators witnessing noticeable growth. Linear Fresnel concentrated solar power industry is anticipated to surpass USD 9 billion by 2025. In addition, improved performance, low cost, high storage, high efficiency, and high capacity will set a promising growth for the power tower CSP market.
Get a Sample Copy of this Report @ https://www.gminsights.com/request-sample/detail/1164
Considering the deployment of concentrated solar power generators around the world Chile is leading the industry and is estimated to record a highest growth rate of more than 27% over the period of 2016-2025. The favorable climatic conditions and an adequate hub of current projects will pave the way for border deployment in the region. Chile holds around 400 MW of solar photovoltaic generation under construction. This number is more than any other nation in South America.
U.S. concentrated solar power market worth USD 12 billion in 2015, is projected to grow at a CAGR of 8% over the period of 2016-2025. Spain is estimated to exceed 3.5 GW by 2025, in which 3.1% of the total electricity demand is met by photovoltaics and 1.8% is met by concentrated solar power plants.  Government regulations to curb carbon footprints and emphasis on adapting clean energy channels will complement the regional growth.
Morocco concentrated solar power industry is set to expand with target market size slated to reach USD 5 billion by 2025. India concentrated solar power market is booming with the rising electricity demand in this region. Promising government initiatives have played a vital role in industry growth.
Mergers and acquisitions is one of the main strategies adopted by leading companies to expand their regional presence. Notable concentrated solar power industry players include Siemens, TSK Flagsol, Solar Millennium, Acciona, NextEra Energy Resources, eSolar, Areva, Solar Reserve, BrightSource Energy, and Abengoa.
Author Name : Ojaswita Kutepatil
Global solar trackers market is anticipated to accumulate commendable proceeds over the forecast spell owing to emerging concerns pertaining to changes in climate condition. These changes have given rise to numerous government mandates encouraging the adoption of solar energy systems to cater to the growing demand for electricity due to rapid commercialization and urbanization, in turn boost industry demand.
Additionally, many regulatory norms regarding the mitigation of carbon emissions and specific emphasis on efficient and sustainable energy consumption are likely to add impetus to solar tracker market growth in the coming years.
Several targets for sustainable energy have been put forth by governments worldwide in order to proliferate the implementation of photovoltaic (PV) generation systems, thereby fueling solar tracker industry dynamics.
Moreover, industry demand is further bolstered by the product's beneficial characteristics including reduction in energy costs and high CUF. As per estimates from credible sources, global solar tracker installations are expected to surpass 30GW by 2025.
Get a Sample Copy of this Report@ https://www.gminsights.com/request-sample/detail/364
As environmental concerns continue to surge, myriad policies and strict mandates have been established across the commercial and utility sectors, encouraging industry players to inhibit their carbon footprints through the adoption of sustainable energy systems.
Growing expenditure towards the construction of commercial infrastructure, including hospitals, shopping centers, and schools has accelerated the deployment of solar panels to accommodate the demand for continuous supply of electricity.
Consumers, over the recent years, are beginning to make higher use of solar trackers in efficient energy systems, with the goal of augmenting the capacity utilization factor and reaping the benefits through tax credits, incentives, and subsidies.
Furthermore, solar tracker market forecast will be further driven by diminishing PV engineering costs combined with high electricity rates for commercial organizations.
Taking into consideration the product spectrum, the dual axis solar tracker segment is poised to amass hefty proceeds in the years ahead, given its strong capability for providing two-degree flexibility, leading to a nearly 45% improvement in energy generation as compared to its traditional PV counterpart. As a result, dual axis solar tracker systems are witnessing robust demand across Concentrated Solar Power (CSP) and Concentrator Photovoltaics (CPV) power plants.
In fact, these energy systems observe widespread acceptance across many industries due to their high-performance level as opposed to alternative energy sources, which in turn would impel solar tracker industry growth.
Dwindling solar panel costs alongside the enactment of ongoing strict environmental initiatives have resulted in extensive installation of solar trackers in North America. Due to their declining supply chain costs and enhanced module performance, PV tracker systems have seen a substantial rise in demand over the past few years. Manufacturing companies are making heavy investments towards R&D endeavors to further enhance the overall efficiency of the solar power system, thereby complementing industry outlook.
Optimistic outlook towards the deployment of photovoltaic systems across North America is expected to bolster solar tracker market size. In order to achieve a competitive edge over other market players, enterprises are largely focused on producing low-cost and efficient energy products.
Author Name : Saloni Walimbe