Customer Service
The excellent growth dynamics of the global artificial intelligence (AI) in BFSI market can be traced by the recent instance of Metromile, a leader in pay-per-mile car insurance in the U.S., launching its new AI-based smart claims assistant, AVA. The automated system reportedly utilizes machine learning capabilities to reconstruct the accident scene and promptly ascertains if claim details are true. Apparently, the claim is approved within seconds after the details are verified and the AI-based tool further notifies the car owner of the expedited claim. With the increasing adoption of high-grade technologies such as IoT and Big Data, the commercialization potential of AI in BFSI industry has observed a marked uptick in the past few years.
U.S. Artificial Intelligence in BFSI Market Share, By Solution, 2017 (USD Million)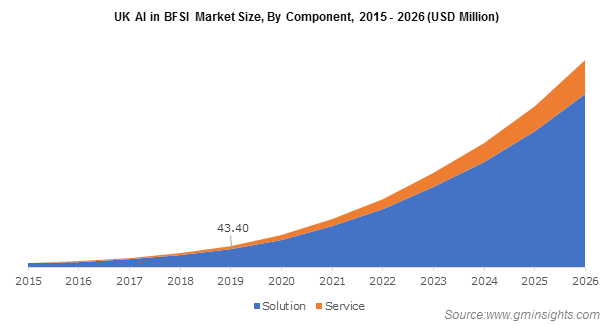 Elaborating further, the unveiling of AVA signifies the transformative phase being witnessed across the worldwide insurance sector where prominent AI in BFSI industry players have been increasingly deploying advanced algorithms to enhance the underwriting process. This has, in turn, impelled the insurance segment of the AI in BFSI market which is forecast to register an outstanding y-o-y growth rate of over 38% during 2018-2024.
A brief insight of how banking sector has been shaping AI in BFSI industry trends
Over the past few years, numerous globally renowned banking institutions have been pouring in massive funds to develop cutting-edge AI applications that have invariably assisted them in optimizing performance, consolidating remuneration streams, and better serving their customers. In this regard, banks are increasingly forming partnerships with fintech corporations to integrate the latest technologies into banking products and services which has resulted in the development of advanced customer behavior analytics inventions, chatbots, and customer relationship management (CRM) solutions. Enumerated below is a succinct outline of how banks have been readily embracing AI-based solutions that has subsequently transformed the strategic and competitive landscape of AI in BFSI market:
Embarking on its AI and automation journey in September 2017, State Bank of India unveiled its first AI-powered chat & voice assistant, named as SBI's Intelligent Assistant or SIA. The chatbot reportedly aids customers with everyday banking tasks just like a bank representative and has a remarkable capacity to handle close to 10,000 enquiries per second or 864 million in a day. Arguably, the deployment of an AI-based solution of this scale is cited to be first of its kind in the banking segment of the global AI in BFSI market. With an astonishing customer strength of around 420 million, State Bank of India's latest move towards integrating AI is being viewed as a major leap of faith for India's banking sector.
Regarded as one of the world's largest banks, the U.S. based JPMorgan Chase has recently launched a digital platform that analyzes legal documents and extracts the relevant data. The AI-based invention, named as Contract Intelligence (COiN) platform, is an outcome of the initial implementation through machine learning technology and has an exceptional ability to revise approximately 12,000 annual sales agreements within minutes. The platform is being aptly termed as revolutionary across AI in BFSI industry given the fact that it effectively eliminates the need to manually review the said number of sales agreements which generally takes around 360,000 hours.
Get a Sample Copy of this Report@ https://www.gminsights.com/request-sample/detail/2605
Owing to the launch of intuitive, easy-to-use, and highly-efficient AI-based tools, the banking segment of the AI in BFSI market has been proliferating at an exceptional pace in the recent times. In fact, as per a research report compiled by Global Market Insights, Inc., the banking segment apportioned more than 50% of the total remuneration portfolio of AI in BFSI industry in the year 2017. With the unveiling of advanced AI technologies that provide real-time insights into every aspect of banking operations and leverage the abundance of data to gain a granular understanding of consumer behavior, the banking segment is slated to lead the end use spectrum of this business space over the ensuing years.
Infusing AI-based applications across a diverse set of operations has brought about a momentous shift in the ability of organizations, working in the BFSI domain, to swiftly analyze, comprehend, and respond to vast amounts of data which has consequentially augmented the revenue share of companies operating across AI in BFSI market. With the advent of advanced machine learning algorithms, data analytics solutions, natural language processing techniques, the AI in BFSI industry space is anticipated to register an overwhelming CAGR of 30% over the estimated timeframe.
Author Name : Saif Ali Bepari
The escalating demand for rapid query resolutions & online customer self-service are expected to propel intelligent virtual assistant (IVA) market alongside the path of progress. IVA has undoubtedly, in recent times, improved the users' online service experience as well as offered increased sales to e-commerce firms. Indeed, the product is becoming the preferred medium to gain information, make purchase decisions, and resolve issues. Companies like Microsoft and Google are adopting the technology to improve ease of access and streamline activities, and increasingly implementing the technology as well to enhance operational efficiency. For instance, ABIe, a virtual assistant developed by EIS for Allstate Insurance, efficiently helps agents to answer questions regarding business insurance policies.
Germany IVA market size, by application, 2017 & 2024 (USD Million)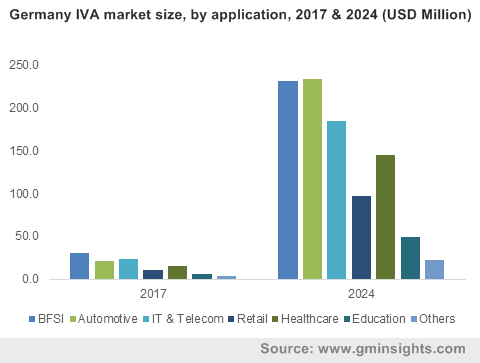 IVA is reportedly becoming more and more commonplace as consumer appetite for the product has been depicting an upsurge. According to an independent survey conducted with 1,500 consumers across Europe, 81% of the respondents said they would prefer interacting with a virtual assistant as it offers enhanced online customer experience. Close to 72% welcomed the product as a key part of every website while a similar proportion claimed that they would spend longer on a website that had one. This response can undeniably be credited to the fact that IVA can take on multiple roles on a website, such as performing various helpful tasks, answering customer queries and connecting to enterprise systems when needed. These features respond according to the marketing requirements of the customers, efficiently improving the site loyalty and experience.
In order to cater to the best plausible global clientele, companies are increasingly investing in IVA to reduce costs from fields such as email response, technical telephonic support, and assistance on call. The implementation of the technology will enable the reduction in the resolution time, call wait times and allowing call transfers when an issue escalates, thereby augmenting IVA market share. The growing deployment of IoT is also expected to supplement the IVA market growth. In fact, IoT is known to have increased the quality and quantity of data being collected by the product. IVAs responding to text or speech queries through apps and smartphones has further enhanced customer engagement, a fact that has further helped impel the IVA industry trends.
Get a Sample Copy of this Report:@ https://www.gminsights.com/request-sample/detail/1094
Speech recognition is one of the most vital technologies proliferating IVA market, as the system efficiently improves productivity, eliminating typing time, giving users additional time to focus on other work. Voice recognition software, in addition to being faster in task completion, are increasingly accurate when it comes to vocabulary. Speech recognition technology also makes invaluable contributions to businesses that offer customer services eventually reducing organizational costs. Furthermore, these systems improve interoperability owing to the adoption of IoT, further driving the IVA market size from speech recognition technology.
The Germany IVA market is expected to depict considerable growth in the years ahead, owing to the product's new-found usage in the region's thriving automotive market. Technological advancements in IVA have resulted in increased adoption of voice control and gesture control features in next-gen vehicles. IVA can now be integrated within vehicle systems such as automatic parking, lane change assist, adaptive cruise control, and other ADAS controls.
Regional automakers are constantly seeking ways to integrate the product in upcoming car segments to revolutionize driving experience. For instance, the German automotive giant, BMW has recently announced that its upcoming car segment would come with Intelligent Personal Assistant. Like Apple's Siri or Amazon Alexa, the new AI-based virtual assistant would reply to voice commands and could adjust the temperature, lighting mood and music, among other things in the car efficiently, claims the company.
North America, apart from Germany, is another region that is forecast to accumulate commendable gains by 2024, driven by the expansive technological advancements in the region. Major software companies, like, Microsoft & IBM, have also been investing in IVA, thereby enhancing the growth prospects for North America IVA market.
The competitive spectrum of intelligent virtual assistant market also comprises other players like Amazon, Google, Microsoft, Apple, Inc., Artificial Solutions, eGain Communications, IBM Corporation, Nuance Communications, and Speaktoit, Inc. These companies are known to increasingly invest in product development and innovation to bring in intelligent assistance into the mainstream. Meanwhile, several tech giant firms are adding the product to their portfolio to gain added sales. For instance, on January 7th, 2019, the world's leading television manufacturers Samsung, LG and Hisense announced that they would open their devices to Google Assistant and Amazon Alexa. As advancements in the fields of automation, machine & deep learning, conversation interfaces, and natural language processing continue to surge, IVA market share is certain to soar in the years to come.
Author Name : Mateen Dalal