Dairy Products
​Innovations in food packaging sector has been proved to be a great driving force for oxygen scavenger masterbatch market for food packaging. To ensure food safety and edibility of perishable products, several new technological advancements have been made in oxygen scavenger masterbatch industry for food packaging. New packaging materials and techniques preserving quality of food products are also offering impetus to the industry.
Some of the key trends and factors which are expected to propel oxygen scavenger masterbatch market for food packaging by 2025 are as follows:
Increasing consumption of dairy products will foster oxygen scavenger masterbatch market size for food packaging:
Growing concerns over the deterioration of dairy items due to reaction with oxygen has generated the need for the specialty masterbatches in the food packaging sector. Rising demand and consumption of fresh dairy products is likely to offer a push to the oxygen scavenger masterbatch market for food packaging.
Between 2019 and 2030, the global demand growth for milk and milk products is anticipated to be three times the level of current U.S. milk production. Currently, about 876 million tons of milk are produced globally with EU, India, and Oceania among the top producers. Cheese consumption in the U.S. is expected to continue to increase between 2017 and 2022. By 2030, milk production and demand is forecasted to increase in total by 35%, simultaneously expanding oxygen scavenger masterbatch market size for food packaging.
Growing inclination towards meat consumption to lift the share of oxygen scavenger masterbatch market for food packaging:
Besides increasing demand of dairy items, meat consumption and demand is also rising and offering driving impetus to the growth of oxygen scavenger masterbatch industry for food packaging. Global meat consumption increased by 58% over the past 20 years to reach 360 million tons in 2018. Population expansion has been accredited for 54% of this increase.
In the 20 years leading up to 2018, developing countries are credited for approximately 85% of the rise in global meat consumption. Between 1998 and 2018, Chinese consumption of meat increased by almost 72%. In the United States and Australia, meat consumption increased over the same time period because of higher poultry consumption.
Get a Sample Copy of this Report:@ https://www.gminsights.com/request-sample/detail/4288
When meat is exposed to oxygen, the meat appears bright red which is identified to be fresh by consumers. However exposure to too much oxygen leads to meat turning brown which is not readily bought by consumers. Therefore oxygen scavenger masterbatch has become an essential part of meat packaging.
Rising adoption of intelligent packaging to expand oxygen scavenger masterbatch market landscape for food packaging:
Due to changes in lifestyle trends and consumer demands in commercialization, packaging has played a key role in preserving fast moving consumer goods. Globally active and intelligent packaging was assessed to amount to more than $4.5 billion in 2018 and is likely to grow at a considerable rate in the times to come. Escalating adoption of active and intelligent packaging will set the oxygen scavenger masterbatch market growth for food packaging in greater motion.
For instance, packaging that can transmit real-time information about the ripeness of fruits packed inside was lately launched at Italian trade fair Macfrut held in Rimini. The latest technology called Smart Ripe has been fostered by Italian company Ilip in collaboration with the University of Turin's Department of Agricultural, Forest and Food Sciences, a spin-off of the University of Rome Tor Vergata, and Radio6ense.
Ilip has stated that the system leverages a highly sensitive radio-frequency identification (RFID) tag implanted inside the packaging. The tag can sense certain dielectric variations in the fruit pulp related to ripeness, such as acidity, water and sugar content, and turgidity. The technology has the potential to bring new value to fresh produce by ensuring that the consumers get desired shelf-life and product quality.
Flexible packaging to influence revenue share of oxygen scavenger masterbatch market for food packaging:
The key user segments of flexible packaging are beverages, snacks and confectionaries, fresh and frozen foods, dairy products etc. The growth of flexible packaging sector will directly influence the expansion of oxygen scavenger masterbatch market for food packaging. The size of the Indian flexible food packaging sector has been estimated to be $900 million, growing at around 20 percent annually. Replacement of conventional packaging materials like glass, tin, paper, jute etc. with flexible materials in several applications added impetus to the flexible packaging segment. The segment is growing at around 104 percent annually in India and is expected to grow to $482 billion by 2020.
Various packaging needs varying with the type of food item and packaging requirements are going to contribute in the growth of oxygen scavenger masterbatch industry for food packaging. Several technological advancements and innovations are being made by the companies like Ilip that are setting examples for the market players like Clariant, Albis Plastic, Gabriel Chemie etc. to put extra efforts in the direction of development. Increasing demand of meat and dairy products is also a key factor contributing to value of oxygen scavenger masterbatch market for food packaging which is estimated to be over $25 million by 2025.
Author Name : Anchal Solanki
​
Growing population and a subsequent rise in the demand for food & beverage products globally will propel fermentation defoamer market size over the forecast timeframe. Fermentation defoamers are widely used in the production of dairy items such as cheese, yogurt and sour cream, as well as alcoholic beverages including wine, beer, whiskey, and others. The product also finds application in making products such as coffee, bread, tofu, soy sauce, among numerous others. Consistent expansion of the food & beverage segment worldwide, outlined by evolving consumer preferences, is expected to augment fermentation defoamer industry share in the coming years.
North America Fermentation Defoamer Market Size, By Product, 2014 – 2025 (USD Million)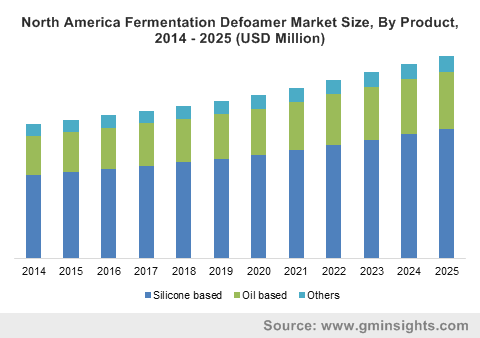 Asia Pacific (APAC) processed food & beverage industry has witnessed stellar growth in the past decades owing to increasing household income levels, rapid urbanization, growing population, changing lifestyle as well as the entry of multinational food companies, specifically in India and China. Apparently, China is currently one of the leading beer producing countries around the globe. Both India and China are two of the largest producers of milk and dairy offerings, which require the use of defoamers to ensure suitable quality of the end product. All these factors will play a considerable role in fostering APAC fermentation defoamer industry scope over the projected timeline.
Rise in the demand for biofuels to address carbon dioxide emission concerns is anticipated to promote fermentation defoamer market size over coming years. Fermentation defoamers are extensively used in industrial fermentation processes to manufacture biofuels like ethanol and biogas, biodiesel, butanol and biohydrogen. Biofuels are expected to substitute conventional fossil fuels in the future owing to their eco-friendly properties. Increased consumption of biofuels all over the world will certainly bring new opportunities for businesses providing required materials and chemicals used in their production. However stringent regulations and strict guidelines regarding product usage in various segments could impede the industry growth to some extent.
Get a Sample Copy of this Report:@ https://www.gminsights.com/request-sample/detail/3735
Alcohol has historically played, and continues to play an important role on social occasions for bonding and engagement. A recent study conducted by a team of researchers for Addiction and Mental Health, in Canada and Germany, reports that at the global level, consumption of alcohol per year had surged by 70% between 1990 and 2017, which can be attributed to the growing popularity of alcoholic drinks among the younger generations. Defoamers are used in the production of alcoholic beverages to stop the formation of foams, representing a crucial application segment reinforcing fermentation defoamer market trends.
Increased consumption of cheese globally owing to shift in eating trends is another key factor that will surge the demand for defoamers. According to reports, an average American consumes approximately 23 pounds of cheese in a year. Over the years, processed food segment has grown rapidly owing to advancements in food processing technology. Apparently, most processed foods use some form of cheese for preparation. Global yogurt sales have experienced a tremendous increase owing to nutritional benefits and preference of health conscious consumers, suggesting substantial opportunities for fermentation defoamer industry growth from various dairy food products.
Consumption of coffee and its variants in North America has surged rapidly due to the lifestyle of people. The U.S. remains one of the leading consumers of coffee in the world and statistics suggest that coffee drinkers in the country consume an average of roughly 3.1 cups per day. In the U.K., bread remains the most favored choice of food, with nearly 99% households purchasing bread daily. Both bread and coffee make up an integral part of people's day-to-day lives, and an increased consumption of these items will bolster fermentation defoamer market outlook.
Fermentation defoamers are proficient in minimizing the amount of foam produced during industrial fermentation process, which makes them an integral part of fermentation-based industrial applications. Climbing demand for antibiotics and the rising consumption of alcoholic beverages will prove to be crucial elements aiding the industry development. Global fermentation defoamer market size is estimated to exceed USD 2 billion annually by 2025.
Author Name : Hrishikesh Kadam
Food pathogen testing market has now evolved into one of those fraternities that mandatorily demands an excessive requirement for sanitation at every stage of production, thereby necessitating the requirement for highly efficient pathogen removal processes. Pathogen testing tools are quite prominently used across the food product manufacturing sectors – right from the pre-process of raw material testing to the manufacturing of the end-product. The evolution of pathogen testing methods has delivered multiple benefits to the food vertical, which would undeniably impel food pathogen testing industry size. Given that the prevalence of health risks associated with contaminated products may impact negatively on the business, food manufacturers have been taking utmost precautions to deploy efficient pathogen testing methodologies during production, thereby carving out a positive growth path for food pathogen testing market in the years ahead. For the record, estimates claim food pathogen testing industry to have held a revenue of USD 3 billion in 2016.
U.S. Food Pathogen Testing Market, By Contaminant, 2013-2024, (Million tests)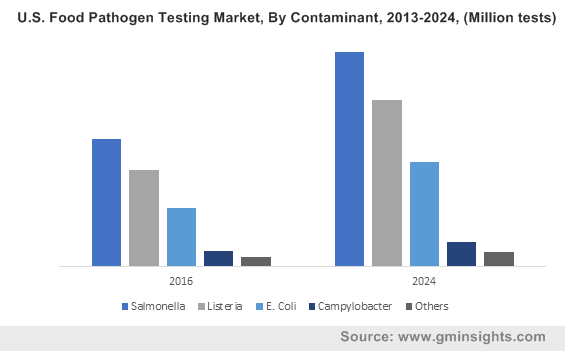 The emergence of new technologies in food pathogen testing market has pushed the conventional pathogen test methods to next level. Considering the benefits of technological interventions, these advanced methods are being instantly accepted across the food and beverages industry. In North America, for instance, F&B sector behemoths have been giving high preference to pathogen testing methods pertaining to the growing use of genetically modified organisms and high medical expenses. This may perhaps be one of the key factors augmenting North America food pathogen testing industry size, which, as per a report compiled by Global Market Insights, Inc., will collect a revenue of more than USD 2 billion by the end of 2024.
Apart from the recent advancements prevalent in food pathogen detection, it has been observed that there are myriad opportunities and challenges to enhance the already existing technology in this business. Many players in food pathogen testing market though, prefer looking out for newer techniques and biosensors for food pathogen detection. Client partnerships with pathogen testing service providers are commonplace in food pathogen testing industry, to avoid product contamination. For instance, SGS, a leading verification, inspection, certification, and testing company plans to provide its services to the pet-food manufacturers in United States and Canada with regards to Salmonella contamination, to prevent health risks in pets. For the record though, in 2016, food pathogen testing industry size from salmonella contamination was valued at USD 1.2 billion. This may be attributed to the increase in the number of food borne diseases, subject to the presence of Salmonella in food products.  Similar to SGS, many other prominent players in food pathogen testing market such as Bureau Veritas, SGS, Eurofins Scientific, RapidBio Systems, Inc.™, Intertek, Lloyd's Register Quality Assurance, Inc., Det Norske Veritas, Genon Laboratories Ltd., and Microbac Laboratories have been observed to undertake efforts with regards to innovating novel pathogen testing methods.
Get a Sample Copy of this Report@ https://www.gminsights.com/request-sample/detail/1417
Taking into account the risks associated with foodborne diseases, the regulatory bodies of various countries have been enforcing strict norms to mandate the deployment of pathogen testing methods. In the U.S., Food and Drug Administration has formed the Food Safety Modernization Act (FSMA) to enhance the food safety system for public health protection. With the FSMA, FDA has also been able to collaborate with other domestic as well as foreign government agencies to build integrated food safety systems, which will prompt other governmental bodies to adopt food pathogen testing techniques, inherently propelling food pathogen testing market.
The governmental bodies across the Asia Pacific are strongly focusing on extensive research and development activities, owing to the rapid growth of the chemical and food processing sectors in the region. In addition, food pathogen testing industry players, having established their bases in the APAC belt, have also been striving to expand their reach across the frontiers and strengthen their customer pool. Recently, for example, Thermo Fisher Scientific Inc. acquired a leading contract development and manufacturing company, Patheon N.V., which has helped the former expand its customer base across the biotechnology and pharmaceutical sectors. These growth strategies are evidence enough to prove food pathogen testing market is likely to carve out a lucrative growth path in the years ahead.
Author Name : Sunil Hebbalkar