Dairy
With potentially growing interest in the improvement of digestive health through supplements, prebiotics market size has indeed observed a striking ascent in the last few years. Vital foods that have long since been a natural source for prebiotics, have now witnessed a decline in consumption, plausibly on account of the changing lifestyle habits. In consequence, this paradigm shift in meal consumption has manifested itself in the form of obesity, Alzheimer's, diabetes, cancer and myriad other diseases that are now widespread across the globe. Amidst this scenario, the importance of prebiotics that act as a type of fertilizer to the beneficial bacteria already present in the gut has been doubly stressed upon, which has indeed also had a major impact on the popularity of prebiotics industry. Prebiotics are naturally present in foods like leeks, onions, garlic, bananas, wheat grain, yogurt and biscuits. However, prebiotics are being added to an expanding array of food products that can be as varied as puddings to frozen chicken, owing to which prebiotics market has been gaining increased momentum since the last few years.
North America Prebiotics Market Size, By Ingredients, 2016 & 2024 (USD Million)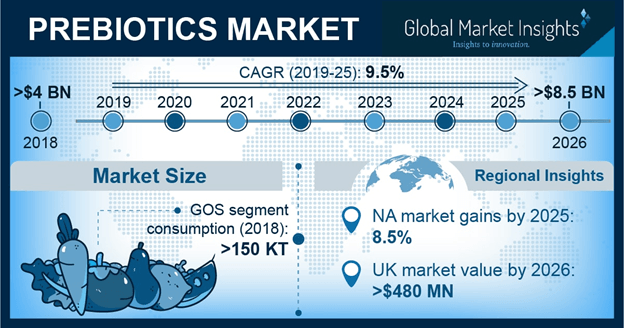 It is prudent to mention that prebiotics industry is also being propelled by the globally growing awareness about health and immunity, in tandem with – ironically, the rising demand for probiotics. These products provide improved gastrointestinal health to the host when administered in measured amounts. However, they are also very delicate and can often be rendered ineffective by stomach acids and heat even before they are digested, on account of which prebiotics are required to strengthen the functioning of probiotics. Currently, despite the probiotic industry having sustained for a longer duration, prebiotics market seems to be growing faster as prebiotics alone can contribute much as far as the improvement of gastrointestinal health and immunity is concerned, as opposed to probiotics that cannot function unaided. The fact that the gastrointestinal tract has different immunity functions as compared to the rest of the body has not been fully appreciated until recently. However, with the support of the medical community, this fact is now being emphasized that the gastrointestinal tract contains more than 80% of the antibody producing cells of the body. Consequently, prebiotics market has begun to witness unprecedented demand as consumers are paying more attention to maintain gastrointestinal health. Digestive immunity had long been considered vulnerable in infants and aging people. However, the growing health conscious population of all ages are now adopting various means of boosting digestive health thus stimulating the prebiotics industry.
Get a Sample Copy of this Report:@ https://www.gminsights.com/request-sample/detail/410
One of the most lucrative end-use domains of prebiotics market is the F&B sector. The rise in lifestyle diseases like diabetes and obesity, especially in Europe and the US has increased awareness among the regional and global populace, enabling them to have a renewed look at their diet. Subsequently, this changed outlook has augmented prebiotics market size from the sub-verticals of the F&B sector. Say for instance, subject to the increased demand of fermented meat owing to its effectiveness in improving fiber functionality, it has been forecast that prebiotic industry share from fermented meat applications will witness a CAGR of 13% over 2017-2024. Speaking along similar lines, prebiotics market has also found potential growth avenues through the animal feed sector. With the restriction of use of antibiotics and growth hormones in animal feed, use of prebiotics in the same has gained momentum as prebiotics enhance metabolism and enhance the overall health of livestock.
Gaining consumer confidence would be one of the many challenges faced by prebiotics market players. The concept of prebiotics has not become as popular as the concept of probiotics so far, and a large percentage of consumers are not only skeptical, but also refusing to compromise on appetizing products for the sake of healthy eating. However, as the digestive and immunity enhancing qualities of prebiotics are increasingly coming to light, it is estimated that the prebiotics market will witness exponential growth in the years ahead. As per estimates, prebiotics industry size will cross USD 8.5 billion by 2024, from a valuation of USD 3.5 billion in 2016.
Author Name : Paroma Bhattacharya
Increasing threats over food consumption have stimulated global food safety testing market and generated demand for effective test products that can ensure food safety. Food supply worldwide is facing a range of risks from environmental toxins, bacteria, and food allergens. Food safety testing industry size has been growing substantially, owing to the increasing threat of foodborne illness, and stringent food safety regulations. Moreover, expansion of import and export business of food supply across the globe is expected to further boost the demand for food safety testing market. According to Global Market Insights, Inc., "Food Safety Testing Market size worth USD 9 billion in 2015, is estimated to grow at a CAGR of 7% over the period of 2016-2024."  The food safety testing industry growth will also be influenced by the expansion of global processed food industry which is anticipated to surpass USD 7 trillion by 2024.
U.S. Food Safety Testing Market size, by contaminants, 2013-2024 (USD Million)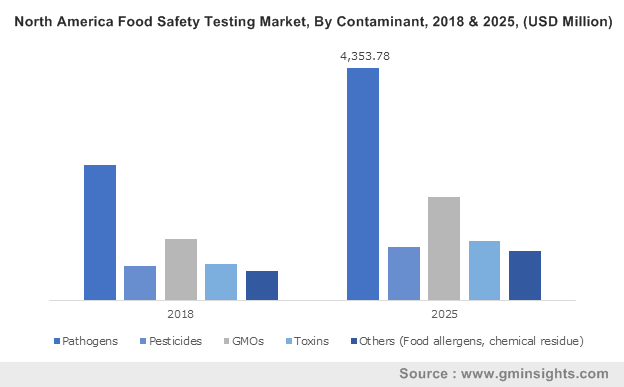 The most common source for contamination of food is pathogens. These pathogens can cause various gastrointestinal disorders such as abdominal cramps, vomiting, diarrhea and nausea leading to increase in illness and death of around 2 million people every year. Growing food epidemic has mandated the laboratory testing for Salmonella, Listeria, E. Coli, Campylobacter types of pathogens, in turn making food pathogen testing market to be a major revenue pocket accounting for 30% of the global demand. Pesticide is another type of contaminant causing health disorders. The pesticide food safety testing market worth USD 800 million in 2015, will witness substantial growth, owing to regulatory norms in using of certified and organic pesticides.
Get a Sample Copy of this Report:@ https://www.gminsights.com/request-sample/detail/824
Contaminated food is a very serious issue which may result into demise. As per WHO's statistical report in 2014, over 2.5 million people died due to diarrheal diseases. Moreover, U.S is facing an alarming rate of increase in foodborne illness resulting into nearly 5 thousand deaths and more than 325 thousand hospitalizations every year. This has generated the need to implement quality and safety checks, where consumers have the authority to trace their ready to eat meals, processed products, bakery, preserved & canned products. In this regard the EU and FDA have given conformities with consumers' rights to track food through all production and distribution stages, in turn driving the food safety testing industry. In addition, major food regulatory bodies and authorities such as Good Hygiene Practices (GHP), Good Manufacturing Practices (GMP), Hazard Analysis Critical Control Point (HACCP), and Good Agricultural Practices (GAP) are extending extensive support in ensuring food authenticity, thereby, propelling the food safety testing market growth.
The food safety testing technology market has witnessed a noticeable shift towards rapid food safety testing technology market from the time consuming traditional food safety testing industry. Increase adoption in biosensors, ELISA, rapid culture detection, and PCR-based techniques are widely adopted technologies used to examine the count, metabolites, and type of micro-organisms.
The growth in food safety testing market is also poised to benefit from increasing consumption of meat, poultry, and dairy products. Unhygienic condition while skinning and handling animals in slaughter house is the key responsible factor favoring the meat and poultry food safety testing market. Similarly, dairy products can also get easily contaminated through infected animals. Regulatory bodies such as the FSIS and HACCP are taking major steps in preventing meat & poultry product contamination and implementing adequate pasteurization of dairy products stimulating the food safety testing industry share.
Europe food safety testing market valued over USD 2.5 billion in 2015, with U.K and Germany leading the regional demand. Increasing consumer awareness and stringent food safety regulations will boost the demand for Europe food safety testing market over the coming years. Asia Pacific food safety testing industry will emerge rapidly due to rising population, growing demand for food products, and increasing stringent regulations for food safety. China being the major export trade market is anticipated to witness annual growth rate of 11% over the period of 2016-2024.
The food safety testing market is consolidated with top three players sharing 45% of the overall business space. The key industry participants include Intertek, Bureau Veritas, SGS, Det Norske Veritas, Eurofins Laboratories, Idexx Laboratories, ALS Laboratory and Bio-Rad Laboratories.
Author Name : Ojaswita Kutepatil
Owing to the extensive product application across dietary supplements & functional food industries, probiotics market is being increasingly referred to as one of the most promising business verticals around the globe. The rising significance of functional foods can be aptly attributed to the fact that these food additives are gradually and steadily acquiring a prominent position in the dietary profile of a sizeable number of health-conscious consumers. It goes without saying that this trend has, in turn, created a host of lucrative growth avenues for the leading probiotics industry participants which would eventually stimulate this business space.
Of late, the awareness among customers pertaining to the health benefits that can be derived from the consumption of probiotics products has been steadily increasing, augmenting probiotics market trends. While interpreting the future growth prospects of the overall probiotics industry space, it is quite imperative to bear in mind that the total valuation of this business arena stood at an impressive USD 40 billion in 2017, as per a report compiled by Global Market Insights, Inc.
U.S. Probiotics Market Size, By End-Use, 2017 & 2024 (Kilo Tons)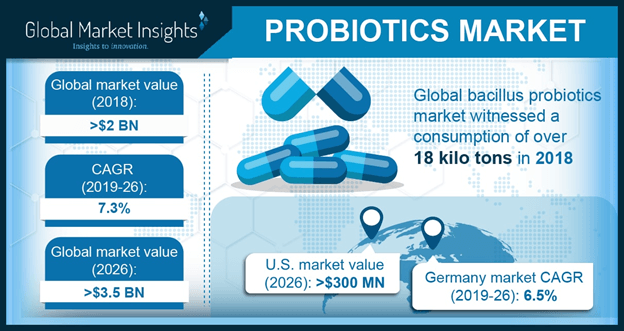 Global probiotics market has also been gaining traction due to a marked increase in the utilization of probiotic strains in various food applications. These probiotic strains, which predominantly include lactobacilli and bifidobacterial, actively develop resistance to bile, antimicrobial, and acid production, boosting the digestive and immune system, subsequently improving the overall human health. Citing an instance to highlight the rising prevalence of probiotic strains, the foremost probiotics industry giant, DuPont Danisco has recently claimed that the food products consisting of HN019, the firm's Bifidobacterium lactis strain, have been recognized as Food with Function Claims by the Consumer Affairs Agency of the Government of Japan. Dietary supplements, drinkable yogurts, and other food products containing HN019 as an ingredient are said to enhance microflora and improve digestive health by addressing intestinal ailments.
HN019 is also being considered as the first Bifidobacterium lactis strain that has ensured a probiotic manufacturer to establish a health claim on the product. Apparently, the recent instances of recognizing the health benefits of probiotic products will enable consumers to make more informed decisions, consequentially having far-reaching implications on the growth potential of probiotics market.
Get a Sample Copy of this Report:@ https://www.gminsights.com/request-sample/detail/418
To complement the aforementioned statements, the global probiotics industry has been witnessing a marked increase in research activities which has further expanded the market size of this business space. Strong clinical evidences have been apparently emerging which have offered new insights into the efficacy and effectiveness of the existing food products in probiotics industry in treating mental ailments and neurological diseases.
As per reliable sources, a few researchers and doctoral candidates would present the results of pilot studies at the upcoming IPA World Congress + Probiota 2018, which would demonstrate the tolerability
Author Name : Saif Ali Bepari