Data Processing
The increasing importance for geospatial technologies for visualizing and analyzing geospatial data has stimulated mobile mapping industry trends. The advent of new technologies such as Lidar, AI, and IoT has also significantly transformed mobile mapping technology over the last few years. With more innovations across this technology, it has become easier and effective to carry various tedious projects like urban development, rail-road creation, and power plant construction across inaccessible areas. Thus, the increasing use of this technology to survey numerous mobile platforms is poised to propel mobile mapping industry share.
U.S. Mobile Mapping Market Revenue, By Component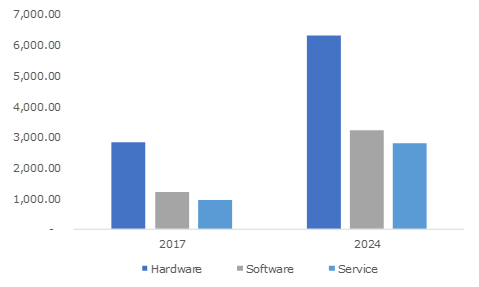 The involvement of companies in novel product development activities for high efficiency and productivity will have a notable impact on the business over the years ahead. In the last few years, companies have come up with a diverse set of products that can deliver remarkable benefits to users and asset owners. Validating the aforementioned fact, in February 2018, the California based software development company, Trimble developed a next-generation mobile mapping system, which has been designed with multi-camera imaging, mobile lidar system, and field software. This newly launched Trimble MX-9 mobile mapping technology has the capability to capture 360-degree immersive geo-referenced imagery with the help of already installed laser scanning sensors, GNSS technology, and spherical camera. The improved accessibility of such newly developed mobile mapping devices via smartphones and tablets will augment the growth of mobile mapping market.
Speaking more about the recent advancements, it is prudent to mention that 3D mobile mapping is also one of the latest developments in geospatial technologies that helps users to record, measure, visualize, and understand environments. The advent of 3D mobile mapping has overcome the limitations of conventional mobile mapping systems and helps to carry out a detailed visualization of climatic conditions. In 2018, a German company which develops software and hardware to navigate, map, and digitize the indoors, NavVis made it to the headlines for generating a fully integrated product for indoor mapping aided with six cameras. NavVis has developed this product in accordance with customers' request to have sophisticated and more versatile systems. This product is likely to prove beneficial for the end-users like construction product manufacturers, construction companies, and AEC (architecture-engineering-construction) professionals to generate high-quality data owing to its capability to capture immersive imagery.
Get a Sample Copy of this Report:@ https://www.gminsights.com/request-sample/detail/2652
The increasing importance for geospatial technologies has also been encouraging the players in the mobile mapping market to carry out vigorous research and development activities for capturing more business space. For instance, the Italy based SITECO Infomatia SRL has been proactive in developing varieties of products from road-scanners to pave-scanners. In 2018, it has launched software assisted mobile mapping devices. The integration of software and LiDAR system has helped the company to enhance the performance of mobile mapping platform. The widespread availability of multi-scanners and high-performance mobile mapping platforms is slated to propel the industry growth over the years ahead.
In addition to higher performance, cost-effectiveness is also one of the major factors promoting mobile mapping market size. As of now, Google is one of the leading contributors of navigation applications, but due to rise in subscription amounts for accessing its Google Maps, other contributors in mobile mapping market have been able to race ahead with the launch of low-cost navigation features. For instance, a few days before, a digital mapping company, TomTom has started offering free software development kits to Android and iOS users to access maps and traffic information for free. Such initiatives will help IoT companies and autonomous vehicle manufacturers to load the traffic and routing data free of cost.
The advancement in consumer electronics and shifting trends toward the deployment of autonomous vehicles for the betterment of the environment will have a positive influence on the mobile mapping industry share. As of now, most of the automotive companies have been involved in the development of highly modernized infotainment systems for improving the driving experience that is likely to enhance the product demand. In accordance with the expanding end-use sectors, the strategies adopted by the key player will help them to strengthen their business position over the years ahead. Reportedly, driven by new product launches, mobile mapping market will generate a revenue more than USD 40 billion by the end of 2024.
Author Name : Sunil Hebbalkar
The growing technological advancements in IoT coupled with the rising demand for smart connected devices will drive single board computer (SBC) market in the years to come. Basically a compressed, low-cost version of a typical computer, an SBC comprises similar components such as microprocessors, memory, input/output (I/O) and other features all embedded on a tiny circuit board.
China single board computer market size, by processor, 2018 & 2025 (USD Million)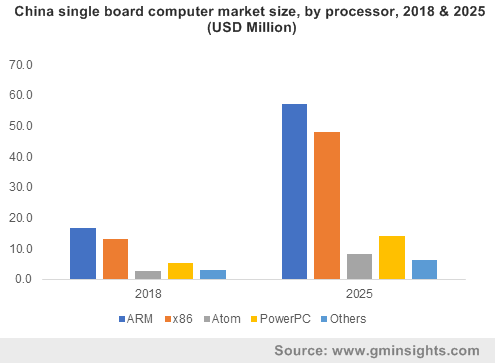 The product has become significantly important for developers seeking ways to design products with greater intelligence, performance and connectivity while reducing power consumption, costs and size. Indeed, the product continues to evolve in sophistication, while its range of possibilities expand. For instance, nowadays SBCs come with features like Bluetooth and Wi-Fi compatibility making them ideal in applications associated with IoT (Internet of Things).
The deployment of the Internet of Things (IoT) in almost all industrial applications will significantly boost the growth of the SBC market in the years to come. By using SBCs, manufacturers are now able to offer efficient IoT solutions to customers. The product has certainly propelled the growth of the IoT sector in the last few years, offering a much smoother commercialization. According to reports, business infrastructure and operations professionals are rapidly shifting towards IoT, while studies indicate that a major proportion of decision-makers are already using IoT-enabled applications from building connected products to transforming operational processes. With rising IoT adoption, IoT software providers like IBM, Cisco, Amazon, GE, and other giants are now developing solutions that simplify the design, creation, integration, and management of IoT infrastructure and enterprise data. This in consequence will majorly propel the product demand, eventually pushing SBC industry trends.
Technological advancements in embedded technology will boost the SBC market
Semiconductor processors, being the core of any SBC, are rapidly evolving to match the capability of modern day applications. To attract the vast tech-savvy customer base, engineers are constantly adopting advanced embedded technologies to gain a competitive edge. For instance, the neural processing unit (NPU) is anticipated to be the next focus for chipmakers as it helps speed up computer-vision applications, such as object and image recognition, and offers enterprises and manufacturers a more powerful platform for developing products used from smart building applications to driverless vehicles.
Get a Sample Copy of this Report @ https://www.gminsights.com/request-sample/detail/1570
Prominent companies are investing heavily in the development of these new technologies. The Chinese tech giant Huawei, in collaboration with Linaro, recently launched its new SBC called HiKey 970 AI computing platform which uses the world's first AI mobile processor, Huawei's Hisilicon Kirin 970 chipset along with a dedicated Neural Processing Unit (NPU). This is quite vividly, an instance that demonstrates how product innovation and investments in technological advancements will add momentum to the expansion of the SBC industry.
Powered by rapid technological developments, single board computers have paved their way into medical sector as well. Medical devices are increasingly being integrated with SBCs to perform and monitor a wide range of clinical processes. The product's reliability, power and versatility have made it ideal for developing customized medical electronic devices, medical monitoring systems, fault-tolerant wearable computers and more. Strategic partnerships between tech giants and medical healthcare firms will thus majorly augment the growth graph of SBC industry.
While SBC market has quite appreciable consolidated itself worldwide, the APAC is said to emerge as a prominent revenue pocket for this industry in the years to come. This may plausibly be the case on account of the expanding electronics industry in the region. With the presence of several consumer electronics and tech firms, the APAC SBC industry is anticipated to depict considerable growth over 2019-2025. Growing government support toward building in-house consumer electronics, such as smartphones, tablets and other gadgets in countries like India and China, will also boost the APAC single board market demand.
Being highly-scaled versions of traditional PCs and laptops, SBC are expected to continue finding long-term application in IoT-driven verticals and consumer electronics. Powered by rapid technological advancements in semiconductor processors and AI, single board computer market is forecast to chronicle itself in the billion-dollar business sphere by 2025.
Author Name :Paroma Bhattacharya
Overview
Global Field Programmable Gate Array(FPGA) Market size was evaluated at $5.28 billion for 2014 and is predicted to register CAGR of 8.41% during forecast period. Rising demand for customizable integrated circuits as well as from application fields is predicted to fuel industry expansion during forecast timeframe.
Technological breakthroughs are predicted to drive field programmable gate array(FPGA) market share expansion. Arrays can be reprogrammed and posses prebuilt logic gates. They can be configured to execute required hardware functions. Software is created for online computing tasks that can be compiled into configuration file. Hence, when another circuitry configuration is recompiled, resultant FPGA becomes totally reprogrammed for particular application field. Another key advantage of using these chips is application of customized circuits at lesser price. They can also operate as customized microprocessors with associated peripherals.
Use of the FPGA products across many of the end use sectors is predicted to propel industry growth in future. These equipments have in-built RAM which functions as a system central processing unit(CPU) and performs digital signal processing operations like image intensification and signal processing in smart phones. They are utilized for many purposes in flat panel displays that includes panel controller, display panel applications, video processing, battery management, video board and operating mode.
FPGA programming technology is also used in healthcare segment for medical imaging device due to high performance computing requirement. General diagnostic imaging instruments comprise CT scanners, X-ray, nuclear medicine imaging, mammography device, MRI(magnetic resonance imaging) and ultra sound device. Benefits provided by the programming technique in digital signal processing as compared to other processors makes it a good alternative for most devices consisting volume imaging conducted in current generation PET(Polyethylene terephthalate) equipments.
However, design complexity and ASIC which can be used as alternative are predicted to hamper industry expansion in future. Growing reputation of medical electronics and rising demand from APAC zone is predicted to provide numerous growth avenues to the industry participants during forecast timeframe.
View a summary of the "Field Programmable Gate Array (FPGA) Market Size, Industry Analysis Report" @ https://www.gminsights.com/industry-analysis/field-programmable-gate-array-fpga-market-size
Application Trends
The industry is segmented into various applications like telecomm and automotive. Telecomm sector contributed greater than 33% of the total FPGA(field programmable gate array)market share for 2014 and is predicted to maintain its domination in future. Heavy demand of bandwidth for video applications and growing use in base stations for 3G network to LTE network up gradation are few of the factors credited for sector growth.
Rising number of integrated circuits in vehicles is predicted to be a key aspect for automotive sector. Further, favorable government regulations for hybrid and electric vehicles to minimize green house emissions are predicted to positively affect sector growth. It contributed for more than 17% of total FPGA((field programmable gate array) industry share for 2014 and is predicted to expand at CAGR of greater than 8.5% during forecast timeframe.
Regional Trends
APAC FPGA(field programmable gate array)industry size was evaluated at about $2.2 billion for 2014 and is predicted to surpass $4.3 billion by end of forecast timeframe. Countries like Taiwan, China, India, South Korea and Japan substantially contribute towards automotive sector and consumer electronics segment and this is the reason for industry growth in the region.
U.S. FPGA(field programmable gate array)market contributed more than 25% of the total revenue share for 2014. Large scale investments in aerospace and defense applications along with growth of telecommunications sector is predicted to fuel regional industry expansion during forecast timeframe.
Get a Sample Copy of this Report @ https://www.gminsights.com/request-sample/detail/156
Competitive Trends
Key industry players profiled in the report includes Microsemi Corporation, Aeroflex Incorporation, Lattice Semiconductor, Achronix, Cypress Semiconductor, Xilinx Incorporation, Achronix Semiconductor Corporation, Atmel Corporation, Tabula, Altera Corporation, Intel Corporation, Texas Instruments and QuickLogic and Xilinx.