Debian
With the growing adoption of cloud technology, virtual private server market size is anticipated to gain considerable momentum with the digital transformation of the BFSI, retail, government and healthcare sectors. Today, technologies like edge computing have rapidly developed to power the rising penetration of internet of things (IoT), augmented reality content and increased number of consumer mobile devices. This trend will likely expand global virtual private server (VPS) industry share imminently.
APAC Virtual Private Server (VPS) Market Size, By Region, 2018 & 2025 (USD Million)

With new developments in software and hardware applications, the on-going operating costs of purely private networks seems to be increasing and more businesses are seeking an online presence around the clock. New applications consume ever-growing amounts of bandwidth and as a result of the high complexity of installing and maintaining physical servers, many companies are turning to virtual on the cloud servers, offering a tremendous boost to VPS industry size.
Network-based applications have considerably transformed industries like healthcare. Solutions that enable access to electronic medical records (EMRs), biomedical information, patient accounting through wired and wireless mobile devices are now becoming commonplace. Healthcare providers are merging these tools for more effective communication, improve patient care and efficiency, and reduce errors in their systems, expanding the scope of virtual private server market.
As healthcare providers are looking to adopt new technologies, the augmented use of mobile and cloud technology has unintentionally contributed to the rise in data breaches, with facilities becoming key targets for a ransomware attack. Reportedly, it had been found that for the third quarter of 2018 a total of around 4.4 million patient records had been compromised in 117 health data breaches.
With the advent of advanced virtual private servers, healthcare providers are realizing the importance of fundamentally shifting their architecture to more secure networks for preventing the spread of false and malicious data. VPS has proven to be a cost-effective solution for the healthcare sector, extensively increasing the demand for VPS market services worldwide.
Get a Sample Copy of this Report @ https://www.gminsights.com/request-sample/detail/3467
The introduction of 5G-related applications in healthcare sector will certainly change the way medical services are exchanged between the doctors and the patients. The integration of electronic communication into medical care by faster connection speeds enables remote medial sensors that help patients in remote areas to transmit their sensitive vitals instantly to healthcare providers. Similar medical trends will lead to new standards of care globally and will drive virtual private server market growth.
Asia Pacific virtual private server market is anticipated to witness a CAGR of more than 20% over the forecast timespan. Many government agencies in the region are extensively supporting virtualized data centers in developing countries like India and China. Subsequently, small and medium scale enterprises are eventually turning to virtual applications for deploying new functionalities more rapidly, allowing them to operate at a faster pace. The growing number of SMEs with access to advanced virtual networks in emerging economies will be a leading factor propelling the virtual private server market revenues.
For instance, in 2018 GoDaddy had unveiled its future generation VPS, which is a high performance managed to host solution specifically designed for web professionals in India. Such initiatives could pave the way for more managed VPS services to emerge in the coming years, supporting higher wireless capacity server and faster speeds across the country. Adoption of VPS by the regional healthcare players would also generate massive demand for APAC VPS industry.
Cloud technology companies and other virtual private server providers are constantly striving towards enhancing their presence with attempts to expand their portfolio, coming up with new and advanced VPS technologies. Some of the prominent players defining the competitive landscape of virtual private server industry include Amazon Web Services, Rackspace, A2 Hosting, Linode, Inmotion Hosting, Tektonic, Liquid Web, OVH Group, Bluehost, and Savari Technologies Pvt. Ltd.
Owing to virtual application technology in healthcare is becoming a chief force to help clinicians in collaborating across organizations. The use of cloud-based systems, 5G networks and virtualization will play a key role in boosting workplace efficiency, alleviate risks of security and meet regulatory compliance as well as improve bottom lines for businesses. Global Market Insights, Inc. has projected that virtual private server market will exceed USD 2 billion in valuation by 2025.
Author Name : Deeksha Pant
This entry was posted in Electronics and Media and tagged BFSI, CentOS, Debian, Global Virtual Private Server Market, Government & Public Sector, Healthcare, IT & Telecom, Large Enterprises, Linux VPS, Managed, Manufacturing, Operating System, Red Hat Enterprise Linux, Retail, RHEL, SMEs, Ubuntu, Unmanaged, Virtual Private Server Market, Virtual Private Server Market Size, VPS Market, VPS Market Share, VPS Market Size, Windows VPS.
Endowed with a profound application landscape spanning the automotive, healthcare and IoT sectors, the embedded software market has witnessed tremendous growth over the recent years. In the proliferating automobile sector in particular, the technology is used to drive complex embedded systems that perform vehicular applications like adaptive cruise control, anti-lock brake controls, GPS navigation, drive by wire, airbag control, suspension adjustment, wiper controls, tire pressure monitoring and more.
Japan Embedded Software Market Share, By Application, 2018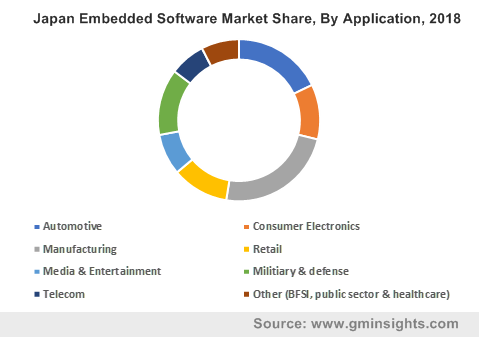 Additionally, in the booming era of electric vehicles, embedded software has effectively helped enhance driving experience for users by monitoring key vehicle aspects like power electronics devices as well as controlling tasks like battery management and power flow control. The proliferation in autonomous self-driving vehicles has also helped embedded software market garner lucrative returns. For instance, renowned global auto giants like Volkswagen, GM, Tesla, Waymo, BMW have been investing heavily in the autonomous vehicles sector. Reports from the Society of Motor Manufacturers and Traders (SMMT) project that autonomous and self-driving cars would add a value of around £51 billion a year to the UK economy by 2030.
Embedded software market to garner substantial momentum from the global medical sector
An increase in the demand for smart & connected IoT devices in the healthcare industry will have a positive impact on the embedded software market. The medical industry has, of late, emerged as the fastest growing adopter of IoT-enabled embedded OS devices. Using real-time monitoring, these devices could help save lives in times of medical emergency like heart failure, high diabetes, asthma attacks, etc.
Moreover, these devices can also collect and transfer health parameters like blood pressure, oxygen, blood sugar levels, weight and ECGs to the cloud and later share them with authorized personnel like doctors and insurance firms to take necessary steps. The development of advanced IoT-based medical devices like wearable fitness trackers would also help supplement growth of embedded software market from the medical industry.
Android to emerge as the topmost operation system for medical devices
Particularly in the medical sector, the Android OS has emerged as a vital force to reckon with. The software, although having gained prominence with its implementation in smartphones, has recently garnered immense traction in medical applications. With features like refined and modern GUI (Graphical User Interface), touch framework, advanced networking and communication offering, computational flexibility, and more, Android has emerged as a desired OS for medical device functioning.
Get a Sample Copy of this Report:@ https://www.gminsights.com/request-sample/detail/478
Moreover, by leveraging embedded Android, manufacturers can develop highly connected, modern medical applications with greater ease. For instance, in 2019, a study in JMIR Medical Informatics stated that a new Android & Windows-based application was developed recently that could allow physicians to predict short-term risks associated with adverse outcomes and suggest necessary treatment options for patients with chronic obstructive pulmonary disease (COPD). Such trends of advancements are anticipated to further supplement embedded software market growth over 2019-2025.
ARM Mbed RTOS segment to garner substantial returns in embedded software market
On account of the massive proliferation in connected IoT-devices, the ARM Mbed RTOS segment is expected to witness high growth scope in the embedded software market over the coming years. For the uninitiated, ARM Mbed OS is an open-source embedded OS specifically designed for running IoT applications. The operating system helps in reducing complexity and security issues linked with development, deployment and management of IoT devices.
Advancements and collaborations focused on reducing integration complexity will augment embedded software industry expansion from ARM Mbed as well. For instance, in 2018, ARM announced that its Pelion IoT Platform would align with Intel's SDO (Secure Device Onboard) provisioning technology to onboard both x86 and ARM-based devices easier for IoT vendors and customers.
With the presence of renowned software giants including Microsoft, Intel and IBM, the North America embedded software market will garner commendable gains over the years to come. The surge in demand for connected IoT devices like Amazon Alexa, Google Home or smartwatches like the Apple Watch, have helped the embedded software market depict considerable growth in the U.S.
The introduction of advanced network technologies will also help the market expand across the region. For instance, in 2019, U.S. telecom giant Verizon launched its Narrowband IoT (NB-IoT) Network, specially developed for IoT applications, and announced that it would be available across the U.S., covering more than 92% of the country's population. On account of the presence of strong industry contenders in the region, in tandem with the rise in demand for connected devices, North America held close to 50% of embedded software market share in 2018.
Embedded software-equipped products are thus witnessing growing adoption on account of their cost-saving property and efficient power consumption offering. With real-time systems, businesses can develop high-performance & low maintenance systems at profitable prices. The technology also helps reduce the overall development time & risks associated with product failure by accurately monitoring products on a real-time basis. As per estimates, embedded software market size is anticipated to exceed USD 20 billion by 2025.
Author Name : Mateen Dalal
This entry was posted in Sustainable & Smart Technologies and tagged Android, ARM Mbed, Debian, Embedded Software Market, Embedded Software Market Analysis, Embedded Software Market Growth, Embedded Software Market Share, Embedded Software Market Size, Embedded Software Market Trends, Fedora, FreeRTOS, General Purpose Operating System, Global Embedded Software Market, GPOS, Linux, Mobile System, Network System, OpenSUSE, Operating System, QNX, Real Time Operating System, Real Time System, RedHat, RTOS, Standalone System, Ubuntu, VxWorks, Windows.