Deployment Model
The commercialization of global network attached storage market has indeed taken up a remarkable pace in the recent years, courtesy – the increasing number of enterprises diving into big data analytics & data mining. The rapid adoption of NAS solutions in home and consumer applications to offer storage that can be accessed by multiple devices have provided significant impetus to the growth statistics of network attached storage industry share. With NAS gaining considerable traction across SMEs and other businesses incorporating cloud-based network, analysts speculate the network attached storage architectural layout to witness a revolution of sorts in the coming years. Not to mention, technology interventions are deemed to remain the focal point of this transition.
North America NAS Market Size, By Business Application, 2017 & 2024 (USD Million)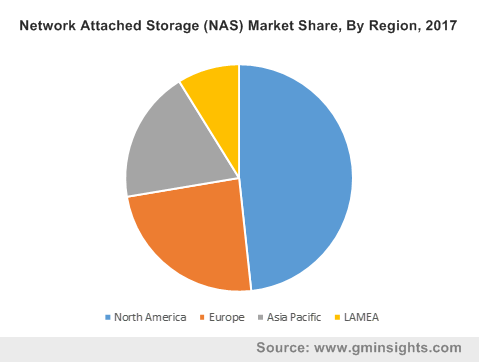 Toshiba, for instance, has recently launched its next-generation 3.5″ NAS N300 HDD and 2.5″ L200 HDD that can be now used in laptops as well. The technology, as claimed by Toshiba works perfectly with any network attached storage devices that are used for personal, home office or small businesses. The NAS device has been designed to support around eight drive bays in a multi-RAID NAS and features rotational vibration sensors that automatically detect & compensate for transient vibrations, thereby delivering prompt performance in multi-bay storage enclosures.
In yet another significant instance, the Taiwanese technology company Synology has recently announced the availability of its "18-series" NAS servers in India. Reportedly, the servers are designed to serve as personal cloud storage with features such as media streaming, data backup, file sharing, photo management, and more. The instance further emphasizes another vital strategy undertaken by NAS market players – exploiting the enormous potential in the untapped economies. The increasing technologically advanced and aware consumer base is one of the chief regions drawing the stakeholders' attention toward these emerging countries. Speaking along similar lines, the APAC region, as forecast by Global Market Insights, Inc. is slated to register the fastest growth rate over 2018-2024. The rapidly proliferating trends of digitization coupled with the rising demand for cost effective & scalable data storage solutions are overt to further sway the regional industry outlook.
Get a Sample Copy of this Report@ https://www.gminsights.com/request-sample/detail/2570
North America network attached storage market to lead the regional landscape
North America, being a major technological hub stands poised to hold significant share in the global NAS industry. The region moreover retains the presence of large scale enterprises that have adopted the cloud platforms and big data analytics – a factor further expected to garner high demand for NAS solutions in the coming years. The rapid adoption of consumer and home network attached storage systems in U.S. and Canada across various end-use sectors such as the BFSI and IT & Telecom market have significantly driven North America network attached storage industry share. The United States NAS industry share is forecast to record a y-o-y growth rate of 20% over 2018-2024.
Elaborating further on the geographical landscape, Europe is projected to procure second largest share in the NAS industry. The growth is mainly attributed to the rapid adoption of this technology by the SMEs in tandem with the massively growing data center developments in the region. Add to it, the continent, over the recent years, has been one of the top-notch spots for the industry players adopting regional expansion as their chief growth strategy.
All in all, endorsed with a rich competitive and application gamut comprising BFSI, IT & Telecom, healthcare, retail, consumer electronics, etc., the global network attached storage market is certain to become one of the most remunerative business spheres for potential stakeholders. In terms of commercialization, Global Market Insights, Inc., projects network attached storage industry size to surpass USD 20 billion by 2024.
Author Name : Ojaswita Kutepatil
With the robust penetration of smart technologies in the transit space, smart transportation market has been progressing at a prodigious pace in the recent years. The growth can be aptly credited to the efforts of the automotive industry players that have been striving to bring in innovative products to the masses. However, the governmental bureaucracy is also to be accredited with some appreciation, given that these authorized bodies have been extensively adopting smart technologies to solve traffic problems, in addition to providing substantial financial support for modernizing transportation.
Smart Transportation Market Size, By Mode of Transportation, 2017 & 2024 (USD Million)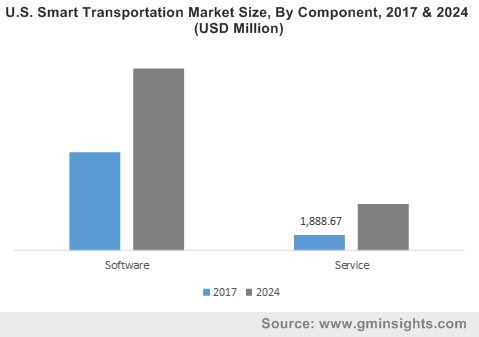 Urban planners along with technology experts are focusing on building smart cities that will use automated transportation, smart grids, artificial intelligence and digital sensors. Such cities are expected to become a hub for the expansion of the smart transportation industry. Furthermore, the advent of the Internet of Things (IoT) and artificial intelligence (AI) will also be playing a major role in popularizing smart transport, extending its reach across the masses. Indeed, it is being speculated that smart transportation market will emerge as one of most revolutionizing business spaces of the 21st century.
How China is contributing toward smart transportation market share
China, the biggest automotive market across the globe, has been highly proactive in improvising its automobiles, thereby emerging as a pivotal contributor in smart transportation market. The nation has seemingly deployed intelligent transportation systems such as traffic signal control systems, variable message signs, car navigation, speed cameras and automatic number plate recognition. This is being done primarily to update transportation systems and resolve various social issues that are often indirectly related to poor transportation. In fact, one of the most iconic instances demonstrating China's proactiveness in smart transportation industry is the construction of an intelligent highway equipped with battery chargers, solar panels and mapping sensors all along the 1.08 km stretch.
Get a Sample Copy of this Report @ https://www.gminsights.com/request-sample/detail/2512
China also aims at ensuring that at least 10% of all automobiles across the country are electric vehicles. This would warrant that smart highway projects such as the aforementioned are always on the run, thereby providing an added growth avenue for smart transportation industry. The Intelligent Transport System Association of China has recently even declared an investment of USD 30 billion in the intelligent transport industry by 2020 that would help construct electronic charging systems and encourage green transport system.
Dubai: Revolutionizing the dynamics of MEA smart transportation industry
Dubai has recently joined the trend of smart city development. Apparently, under the umbrella of the Dubai Plan 2021, the government is aiming at transforming infrastructure, designing ambitious projects and providing citizens with enhanced benefits. The regional smart transportation market has witnessed increased investment under the Dubai Plan, as transportation is being viewed as a key pillar to the development of a smart city.
The Roads and Transport Authority of Dubai has implemented unique smart car rentals that can be collected by tech-savvy commuters on an hourly basis and returned to kiosks located close to metro stations. Apparently, estimates claim that 40% of slow traffic movement in Dubai is caused by drivers looking for a parking spot. On these grounds, intelligent parking systems are being developed that will guide drivers to find parking spots near their destination. Safety of bus commuters is also being developed by the installation of a system of buses that will assess the physical condition of the driver and identify signs of exhaustion or illness. It has been estimated that IoT technologies can amplify Dubai's potential value to reach $5 billion by 2019.
Smart technology, ideally, is still a long time away from reaching market maturation. Besides, even regulatory systems have much progress to make with regards to helping existing roads adapt to the new smart mode of travel. However, smart transit systems offer ubiquitous connectivity, remote sensors, dynamic traffic signals and vehicular communications – commendable social and economic benefits that are certain to aid smart transportation industry emerge as a mainstream vertical.
Experts point out that between 2035 and 2045, the advent of autonomous vehicles can save around 585,000 lives while reducing commuting time by 250 million hours per year on a global basis. Also, machine directed vehicles are likely to stray from distractions and will contribute towards improving highway safety. According to certain statistics, autonomous vehicle technology is expected to add $7 trillion to the global economy by 2050 when they will come to constitute more than half the new vehicles sold worldwide.
In the forthcoming years, vehicle ownership is likely to be displaced with the rapid proliferation of Mobility-as-a-Service technology. Smart transportation market is expected to witness an altogether new scenario of ride-hailing services and pilotless vehicle options, revolutionizing the automotive & transportation space in its entirety. As per estimates, smart transportation industry size is anticipated to increase commendably in the ensuing years, with a target valuation of USD 130 billion by 2024.
Author Name : Paroma Bhattacharya
The growing emergence of IT solutions and surging adoption of digitization has had a positive impact on electronic document management system market. In today's scenario, documents have become an integral part of the corporate and and academic sectors. In consequence, document management systems have attained a preferential position in every organization, given that an effective document management strategy helps companies retrieve important documents very efficiently when required. For instance, Digipaper is one of the most versatile and innovative software products implemented by several organizations to manage the escalating accumulation of digital and paper documents by generating archives for efficient and convenient operations.  It is also prudent to state that converting paper documents to digital ones is one of major factors certain to stimulate electronic document management system industry share. An effective EDM system also reduces the wastage of time and the frustration that stems from not finding the right documents when needed. It has been observed that once an effective document management system is installed in an organization, the quality of work, customer satisfaction, and operational efficiency soars to tremendously great heights. The rising implementation of EDMS technology thus, will lead to
electronic document management system market
witnessing tremendous growth in the ensuing years, having accumulated USD 2 billion in 2016.
UK EDMS market size, by service, 2016 & 2024 (USD Million)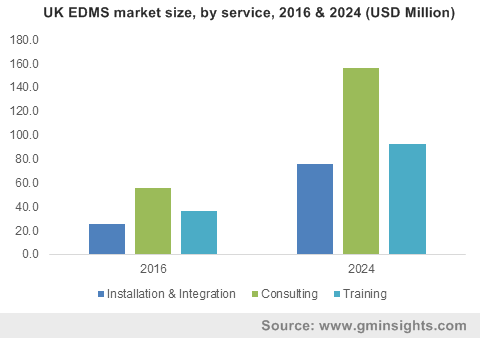 With the implementation of data management systems, many companies have successfully overcome security breaches – a factor that will further stimulate electronic document management system industry size. For instance, in 2014, oil and gas industries across the United States witnessed a series of high-profile accidents, for which the NTSB (National Transportation Safety Board) had been summoned to undertake a study for minimizing any such occurrences in the future. NTSB then found that seven out of 33 findings were data management issues. In this regard, NTSB had framed regulatory guidelines to minimize the possible safety threats from data breaches. In order to comply with regulatory norms, several giants in O&G sector eventually deployed EDM systems on large scale, which has stimulated electronic document management system market size.
The evaluation of EDMS i.e. collection of various technologies that work combinedly to supply comprehensive solution to manage indexing, creation, retrieval, capture, and information assets of companies has eliminated unnecessary procedures in the organizational progress. The rising adoption of EDMS in the industrial sectors to achieve high operational excellence is thus likely to propel electronic document management system market. A few months before, the renowned chemical manufacturer, DOW chemical selected one of the key players in electronic document management system market, Synergis Software to deploy the Adept EIM (Engineering Information Management) solution. The main aim behind the deployment of this advanced system was to provide quick access to capital engineering project documents, enhance global collaboration, and support fast post-project data handover. Before the deployment of EDMS, Dow Chemical had at least 20 different kinds of information management systems to process nearly 3 million documents. After the implementation of EDMS however, Dow Chemical has successfully reduced the risk associated with data management with highly reliable and intuitive solutions. The growing adoption of EDMS is thus heavily influencing electronic document management industry share.
Owing to their efficiency and productivity, EDM systems play a vital role in cybersecurity. The document management systems enable user to access cybersecurity tools for overcoming data leak risks. The surging deployment of EDMS across various industrial sectors to preserve the consumer's rights and to prohibit leaks is essentially what will drive electronic document management system industry trends over the years ahead. In addition to this, healthcare facility providers are also utilizing document management systems to provide better medical care solutions to their patients. Endowed with a significantly widespread application spectrum, electronic document management system industry outlook is likely to witness a dynamic transformation in the years ahead.
Author Name : Sunil Hebbalkar