Desktop
Owing to the increasing availability of advanced connectivity solutions, the video conferencing market has been able to witness a rapid development in conjunction with the growing demand for communications infrastructure. Governments and various industry verticals are gradually realizing the benefits of long-distance video communication to leverage the expertise and skills of people from around the world. The video conferencing industry has enabled corporates, local authorities, academic institutes and healthcare services to expand beyond physical connections and into the virtual era. Continuous developments in technology and reducing implementation costs will propel the global video conferencing market trends in the years to come.
U.S. Video Conferencing Market Revenue, By Component, 2017 & 2024, (USD Million)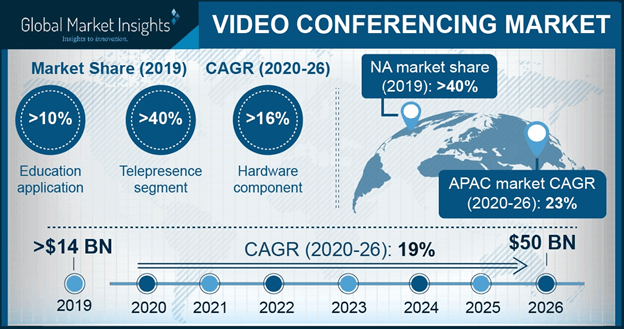 Essentially, teleconferencing helps to establish a productive line of communication between two parties to minimize time and cost spent on traveling and to provide quicker assistance at the time of any emergency. A critical application of the video conferencing industry is in the healthcare segment, where patients residing in one part of the world can avail the services of medical professionals practicing in another section of the globe. Add to that, it also helps to connect hospital staff with doctors, suppliers, vendors of any other entity which is involved in the functioning of a facility but is located elsewhere, expanding the scope of the video conferencing market.
A proof of the utility of video conferencing was recently demonstrated in Canada by the Western Hospital in Alberton, Prince Edward Island. The hospital has been conducting a six month long pilot project in which admitted patients, who do not have a family doctor, are consulted by a doctor using tele-rounding technology. Basically, hospital staff takes a cart equipped with a display monitor from patient to patient for video conferencing and the doctor would be having access to the concerned patient's files and testing results. About half-way into the pilot, there have been nearly 1,200 consultations for about 60 patients and the hospital has records considerable reduction in duration of stay and re-admittance rate.
The results of the Western Hospital pilot suggest the extensive possibilities offered by the video conferencing industry to enhance the efficiency of healthcare professionals and services as a whole. Increasing number of healthcare facilities in Canada and also in the U.S. are deploying video-call and teleconferencing systems to keep pace with the rapidly growing industry. North America, which procured a substantial proportion of the worldwide video conferencing market in 2017, has some of the most advanced healthcare systems and facilities. Initiatives taken by governments in region will further boost the adoption of video conferencing across a slew of patient care services.
Get a Sample Copy of this Report:@ https://www.gminsights.com/request-sample/detail/3003
Expounding the focus of governments on the video conferencing industry, the U.S. Department of Agriculture will be providing up to USD 39.6 million to support the Distance Learning and Telemedicine (DLT) Grant Program. Slated to benefit over 4.5 million people in 40 states, the program will involve developing rural health care and education networks, including purchase and installation of video conferencing equipment. Citing another example to describe the significance of remote consultation to medical services, Frazer Health in British Columbia has started using video conferencing to connect cardiac patients at Abbotsford Regional Hospital and Surrey Memorial Hospital to electrophysiologists working at Royal Columbian Hospital.
Speaking further, the move has helped eliminate the need for transporting a patient to another hospital for only receiving diagnosis, besides enabling faster access to treatments for irregular heartbeats or probable life threatening heart conditions. Royal Columbian is also using the technology to connect mental health patients with community teams before discharging them. Bringing healthcare and education together, the North America video conferencing market has found a novel application area in student counseling. In early November this year, Athol Hospital in Massachusetts, was granted USD 1.05 million to provide teleconferencing to students of the Ralph C. Mahar and Athol high schools via two-way video conferencing.
Effectively, with an aim to bring a suitable tele-behavioral health service, the project will entail improving the performance of students in school, help them with social or emotional problems and record enhanced trials. The interminable possibilities of two-way video communication are visibly highlighted by these examples. Swift adoption of the technology across the globe will accelerate the video conferencing market expansion in the coming years, the size of which is projected to cross USD 20 billion by 2024.
Author Name : Pankaj Singh
In recent times, barcode printers market has been witnessing rapid expansion owing to the cutting-edge products being unveiled by prominent industry players and their consistent adoption of strategic growth tactics. Citing an instance of the latest product innovation, Printronix Auto ID Inc., one of the global leaders partaking in industrial barcode printing industry, has launched a high-performance thermal barcode printer, the T6000. Equipped with advanced features such as an enhanced print speed of 14 inches per second, an interactive screen which lowers downtime, postscript and pdf support for complex labelling requirements, and improved RFID capabilities, this product is indeed revolutionary.
It would also be imperative to state that this latest thermal barcode printer seamlessly integrates with any network infrastructure with plug and play facility and comes with unique online data validation process which assists in producing barcodes that eliminate exorbitant compliance fees. Such dynamic and encouraging technological advancements in product development are set to favorably influence the growth prospects of barcode printers market in the upcoming years. According to research analysts, the global barcode printers industry size stood at USD 2.4 billion in 2017.
UK barcode printers market, by application, 2017 & 2024 (USD Million)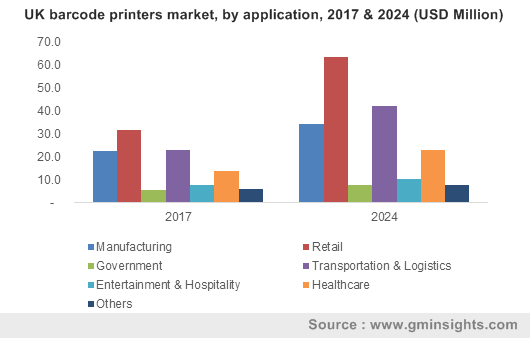 Thermal barcode printers have indeed found commendable traction over the years in various industry domains due to their outstanding thermal transfer technology. Embedded in thermal barcode printers, this technology offers long-lasting labeling applications, which have in turn found extensive usage in printing cards, magazines, posters, picking and shipping labels, receipts, and books. Evidently, the adoption of these printers has had a major impact on barcode printers market outlook. Indeed, thermal-based printers account for more than 65% of the overall industry share and are likely to gain commendable returns in the ensuing years owing to their excellent durability and low operational costs.
Concurrently, the diverse applications of barcode printers are increasingly being deployed in the healthcare industry. Noteworthy applications such as desktop barcode printers in particular, are contemplated as an ideal product for the healthcare industry, as they have helped boost the efficiency and productivity of medical care operations. The product has emerged to be of immense use in hospitals as it offers accurate patient information, enhanced medicine administration, parcel post, specimen collection and identification, shipping/receiving labels and patient identification. The growing demand for products such as barcode-based wristbands for patient identification will thus drive desktop barcode printers market trends over 2018-2024.
Get a Sample Copy of this Report:@ https://www.gminsights.com/request-sample/detail/147
Meanwhile, it would be well advised to enumerate the challenges that would impede the growth potential of barcode printers industry in the longer run. The vertical apparently, has been marred by the low printing quality of labels, add to it the rising prominence of Radio Frequency Identification (RFID) tags. In the years to come however, these restraints are likely to take on a turn for the better, as companies continue to conduct R&D activities to develop innovative solutions with a high level of reliability.
Speaking of the regional expansion outlook, Europe barcode printers market is likely to garner appreciable return in the coming years. This growth can be primarily attributed to the rising deployment of these products to improve customer experience and visibility. The ability of these systems to enhance efficiency and lower costs incurred through errors in shipping, packing, and manual input enables companies to achieve high Return on Investment (ROI), thereby impelling the regional barcode printers industry share.
This business fraternity is anticipated to witness intense competition among the major industry players such as Printonix Auto Id Inc., Epson America Inc., Toshiba Tec Corporation, Zebra Technologies, Honeywell Scanning and Mobility, Dascom, Printek, Seiko Epson Corporation and Godex International Co. Ltd., etc. In a bid to strengthen their positions across the vertical, companies have been highly vigilant as far as conducting robust collaborations and alliances is concerned, as enumerated by the partnership between the leading barcode printers' producer, Epson America Inc. and the barcode labeling software manufacturer TEKLYNX International. The alliance features the seamless integration of TEKLYNX barcode label design software and Epson's inkjet color label printer that would provide GHS-compliant chemical barcode labeling for all the sizes in the manufacturing industry.
As the adoption of lucrative growth tactics among market participants surges in the years ahead, barcode printers industry trends are likely to undergo a major transformation. Having been pegged at a valuation of 3 million units in terms of shipments in 2017, barcode printers market size has been forecast to register a CAGR of 5% over 2018-2024.
Author Name : Saif Ali Bepari