Detergent
Sodium silicate market, an inherent vertical of the specialty chemicals space, has already established its name in the billion-dollar league, owing to the extensive demand of the chemical compound across myriad end-use domains. Pertaining to the product's low cost and ease of use, it has been deployed as a detergent, adhesive, cleaning compound, cement ingredient, binder, coagulating agent, and anticorrosive agent in numerous sectors, propelling sodium silicate market size. Indeed, the compound's widespread and almost all-encompassing presence has facilitated sodium silicate industry to maintain a steady growth graph. The compound is also used as a catalyst, thus generating another profitable growth avenue for sodium silicate market. With continuous research and development programs being conducted to expand the area of application of the compound, it is certain that sodium silicate industry will continue to uphold its profitable position over 2017-2024.Detergents are one of the prime application arenas of sodium silicate industry since decades. This chemical compound is rather to incorporate into the detergent paste and helps in maintaining the viscosity and desired density of the detergent. The product is highly effective in removing spots, neutralizing acidic stains, dispersing proteins and suspending greasy particles in the wash liquid, thus impelling sodium silicate industry size from the detergent manufacturing sector.
U.S. Sodium Silicate Market Size, by Application, 2013 – 2024 (USD Million)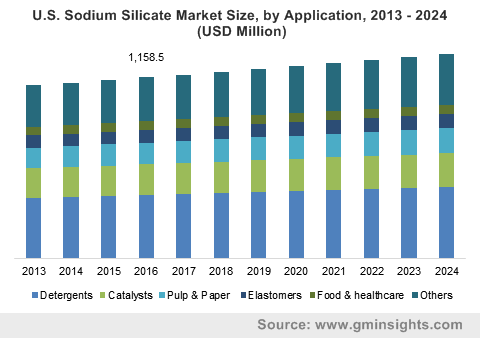 It has been observed that among the varied uses of sodium silicate, the compound is known to efficiently function as a good adhesive. The subsequent deployment of this product as an adhesive has led to a major impetus in the growth graph of sodium silicate market. Sodium silicate adhesives have the inherent ability to easily expand and make contact, forming a rigid layer that is permanent, resistant to tears, and even possesses the capacity to withstand water and heat. The compatibility of sodium silicate adhesives on a varied range of substances like paper, metal and wood besides other materials, has spurred the sodium silicate market share further.
Get a Sample Copy of this Report:@ https://www.gminsights.com/request-sample/detail/2396
Of late, sodium silicate has found extensive application as an effective catalyst for the synthesis of biodiesels that have gained popularity as a sustainable fuel. Currently, amidst the backdrop of a scenario where the lookout for alternative fuel sources has become a race against time, manufacturing biodiesels through the transesterification of organic materials has become rather commonplace. In a bid to simplify the process, sodium silicate is used as an effective catalyst, thereby stimulating sodium silicate industry outlook. The ease of procuring the chemical compound has reinforced its position as a catalyst in the transesterification process. As biodiesels will continue to attain increased application in energy generation and alternative fuel source, sodium silicate market trends will continue to witness a dynamic transformation in the ensuing years.
Sodium silicate is used widely in other application domains such as water treatment, casting, coating, textiles, agglomeration, chemical injection, paper treatment and more. In consequence, this would prove to be a rather beneficial for the commercialization graph of sodium silicate market over the next few years. With numerous chemical companies working toward expanding the application scope of this compound, in addition to innumerable research & development programs being conducted to unearth further prospective product uses, sodium silicate market has been forecast to garner commendable profits over 2017-2024.
Author Name : Paroma Bhattacharya
Rising awareness regarding the ill-effects of phosphate based detergents has led to a massive growth in Zeolite 4A Market, subject to the fact that this product is environment friendly and possesses excellent ion exchange capacity. Its heat capacity ranges between 37 Kelvin to 311 Kelvin, owing to which it is characterized by strong enthalpy and thermodynamic stability. These benefits lead to zeolites finding applications across the detergent and catalysts sectors. The product has high sequestering power even at elevated temperatures and refrains from depicting fertilization effects, owing to which zeolite 4A industry encompasses an application landscape comprising waste water treatment, packaging, petroleum refining, gas separation, and air separation & drying.
U.S. Zeolite 4A Market size, by application, 2013-2024 (USD Million)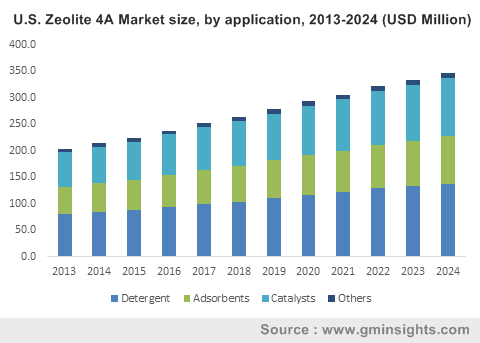 The presence of excess phosphorous content in water can hamper the growth of aquatic plants, leading to ecological imbalance. In addition, the presence of hazardous phosphates in wastewater can also lead to environmental pollution. These issues demand the elimination of phosphate, which is posing to be a serious threat to quality drinking water and the environment, and have generated a requirement for zeolite-based adsorbents, which will impel zeolite 4A market growth. Regulatory norms pertaining to environmental pollution and the hazardous effects of phosphate will spur zeolite 4A industry size, slated to surpass USD 2 billion by 2024, growing at a CAGR of 5% over 2016-2024, having had a valuation of USD 1.2 billion in 2015.
Global liquid detergents demand was more than 5.4 million tons in 2015 in terms of volume and is likely to exceed 7.6 million tons by 2024, with an estimated CAGR of more than 3.2% over the next few years. Global powdered detergents market on the other hand, was worth more than 12.6 million tons in 2015 and is stipulated to exceed 15.2 million tons by 2024, with a CAGR of 2.3% over the next few years. The extensive growth of the aforementioned sectors will stimulate zeolite 4A market from the detergent industry.
Zeolites are highly efficient to remove dirt particles and prevent foreign particle deposition, owing to which they are used as phosphorus replacements to manufacture detergents. This will augment zeolite 4A industry size from detergent applications, slated to generate more than USD 535 million by 2024.
Get a Sample Copy of this Report @ https://www.gminsights.com/request-sample/detail/1097
Subject to the presence of numerous detergent and refrigerant manufacturers and a favorable regulatory landscape regarding GHG emissions, Germany zeolite 4A market is expected to register more than 77 kilo tons by 2024 in terms of volume.
Netherlands is reputed to be one of the first five countries that set a benchmark for banning phosphate based detergents. Subject to the stringent norms enforced by other regulatory bodies in the nation, Netherlands zeolite 4A industry size is anticipated to garner a massive revenue by 2013, having generated a valuation of USD 35 million in 2015. The existence of a strict regulatory framework is also expected to impel France zeolite 4A market. With Germany, Netherlands, France, and Belgium being the chief contributors, Europe zeolite 4A industry is anticipated to be one of the most lucrative growth avenues by 2024.
Brazil zeolite 4A market size from detergent applications is also slated to record a business of 10 kilo tons by 2024.
Zeolites are used as adsorbents in waste water treatment, chemical, and the oil & gas sectors. Their crystalline structure makes them suitable for adsorption applications, and they are used as effective agents for drying and purifying gases and liquids. Zeolite 4A industry size from adsorbents was worth more than USD 312 million in 2015 and is anticipated to cross USD 535 million by 2024, with a CAGR projection of 3% over 2016-2024. This growth can be credited to the usage of the product across end-use sectors such as oil & gas and chemicals, as well the numerous technological innovations deployed by manufacturers to develop superior adsorbents.
India zeolite 4A market size from adsorbents is expected to grow at a rate of 4.5% over 2016-2024, subject to the product's applications in wastewater treatment plants.
Petroleum catalysts have the ability to control catalytic reactions, and are known to offer better product recovery compared to other catalytic reactions, which is anticipated to spur zeolite 4A industry. Zeolite-based catalysts are used in the end-use sectors such as oil & gas and chemicals for fluid cracking and similar catalytic reactions.
Refineries across the globe generated an output volume of 76,287 thousand barrels per day in the year 2013 and 76,865 thousand barrels per day in 2015. Subject to the increasing volume of output from refineries, demand for zeolites in the petroleum sector is expected to grow across the regions of Asia Pacific and the Middle East and Africa. Zeolite 4A market size from catalysts will grow at a rate of 3% over 2016-2024, pertaining to the increasing product usage for downstream petrochemical reactions.
China zeolite 4A industry from catalysts will also witness a CAGR of 3% over 2016-2024, subject to the product usage in the increasing number of chemical factories in the region. China zeolite 4A market is also anticipated to grow at rate of 3% over the next few years. This growth can be attributed to the increasing infrastructural expenditure for asphalt concrete mixtures and light weight construction material.
Global zeolite 4A market share is rather fragmented and involves the participation of many small and medium sized businesses and large-scale corporations. Key players include BASF, PQ Corporation, Tosoh Corporation, and Clariant International.
Author Name :Saipriya Iyer