Diabetic Retinopathy Market Size
The growing prevalence of diabetes and its hazardous side-effects is one of pivotal factors responsible for diabetic retinopathy market expansion. Subject to sedentary lifestyles, in recent times, there has been a major rise in obesity, which has subsequently led to an increase in the number of diabetic issues. It has been observed that complications related to diabetes have been increasing massively, primarily on account of late diagnosis. In this regard, most of the regional governments are organizing awareness programs to encourage people to carry out eye screening tests for averting diabetic retinopathy, which would further demand appropriate treatment methods, pushing diabetic retinopathy industry share over the years ahead. The availability of artificial intelligence assisted healthcare services is also expected to impel diabetic retinopathy industry share, driven by the efficient and effective deployment of this technology for eye screening. As per estimates, diabetic retinopathy market share is expected to surpass USD 12 billion by 2025.
U.S. Diabetic Retinopathy Market Size, By Type, 2018 & 2025 (USD Million)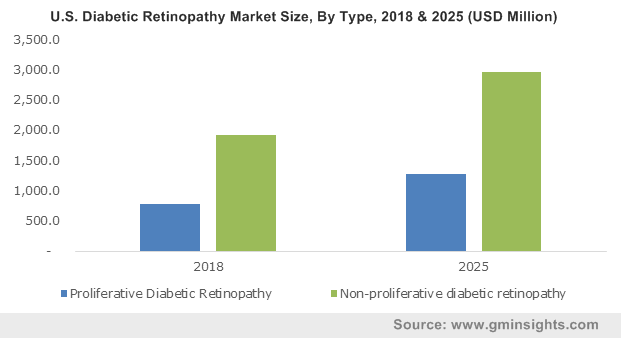 Vision loss stands as one of the most problematic health issues as on today. As per the CDC (Center for Disease Control and Prevention) vision problems accounted for USD 51.4 billion in treatments, for the United States on an annual basis. Yearly, around 12,000 to 24,000 new cases of blindness due to diabetic retinopathy occur in U.S. In consequence, the government is looking forward to deploying cost-effective and efficient screening tests for diabetic patients, which would undeniably fuel U.S. diabetic retinopathy industry share.
Speaking along the same lines, in first half of 2017, the FDA (Food and Drug Administration) also contributed majorly to U.S. diabetic retinopathy market share by approving the Lucentis (ranibizumab) injection for all kinds of diabetic retinopathy. Post the clinical trials, the analysis results depicted that 37.8% patients witnessed better improvement in diabetic retinopathy. Given that this is one of the most prominent causes of blindness across the U.S. among the working populace aged between 20 and 74, this approval has proved to be rather beneficial for diabetic retinopathy industry. The increasing demand for Lucentis injection for treating eye retina problems is cited to have a substantial impetus on diabetic retinopathy market share.
In order to deal with the increasing prevalence of blindness caused due to diabetic retinopathy, several players in diabetic retinopathy industry, in tandem with tech giants are investing heavily in software-based diagnosis methodologies. For instance, IDx, a medical device firm working on the development of software-based healthcare tools has invented an AI-based screening test for diabetic retinopathy. At present, it is under FDA clinical trial to obtain clearance for its use across U.S., post which it may bring about a revolution in U.S. diabetic retinopathy industry.
Get a Sample Copy of this Report:@ https://www.gminsights.com/request-sample/detail/486
In many countries though, where diabetic screening programs are not yet a reality, renowned tech giants and researchers are working continuously to introduce a series of screening programs. For instance, the research team of Google has developed an AI based diagnostic tool for detecting diabetic retinopathy, which is under clinical trial for being available across India. According to International Diabetes Federation, by 2045, India is predicted to have 134mn cases of diabetes, which is higher than the projected number of China (120 million). Undeniably, this would offer lucrative opportunities for participants in diabetic retinopathy market for business expansion across India.
Meanwhile, the escalating implementation of government approved fundraising and social welfare programs for blindness control has also been forecast to propel diabetic retinopathy market trends over the years ahead. Additionally, financial assistance from worldwide healthcare-related organizations such as WHO, DANIDA, and World Bank for the betterment of blindness programs will stimulate diabetic retinopathy industry trends. Driven by the increasing availability of advanced treatment facilities at the affordable prices, diabetic retinopathy market size will indeed chart out a lucrative path over 2019-2025.
Author Name : Sunil Hebbalkar