Digital Signage
Predominantly driven by the surging demand for fine pitch panels, micro LED display market has witnessed a massive growth over the recent years. Renowned technology heavyweights have been increasingly deploying micro LED display panels in smartphones, smart watches, tablets and laptops to ensure a high wavelength uniformity suitable for fine pixel pitch LED displays. For instance, South Korean electronics giant LG Electronics, has recently announced its plan of introducing a new line of micro LED displays in the industry. Christened as XLµLED, XµLED, and SµLED, LG is finalizing the paperwork to trademark these displays in the EU.
UK micro LED display market size, by panel size, 2018 – 2024 (USD Million)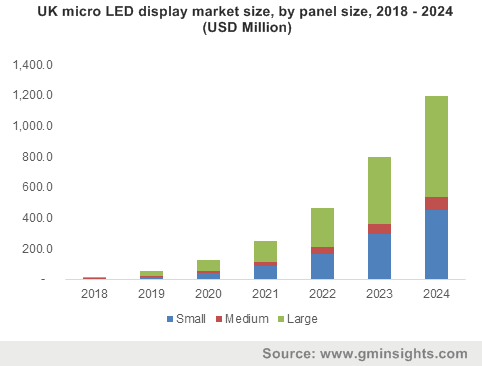 In recent times, micro LED display market has received quite a slew of investments from consumer industry giants. Apple is reported to have developed an advanced micro LED display technology for its next generation of smartwatches. Samsung too made its way to the headlines recently with its introduction of a micro LED TV at the 2018 Consumer Electronic Show. These aforementioned instances aptly underline the appreciable expansion of micro LED display industry over the recent years. Indeed, micro LED display industry is forecast to garner astounding proceeds from the sales of smartwatches, with a projected CAGR of 100% over 2018-2024, powered by their rising popularity.
Get a Sample Copy of this Report @ https://www.gminsights.com/request-sample/detail/2713
The commendable growth prospect of this particular business vertical can be majorly attributed to the growing investment by eminent companies to bring technological modifications in near-to-eye devices. In this regard, it is prudent to mention that the expansion of the semiconductor industry has proved to be a catalyst in augmenting miniaturized electronics component trends, concurrently sowing the seeds of developments in micro-LED display market as well. Justifiably so, Apple has recently entered into a strategic partnership with the globally acclaimed Taiwan Semiconductor Manufacturing Company (TSMC).  Through the agreement, Apple mainly intends to increase its research investment in micro LED panels for its upcoming smartwatch range.
MicroLED display industry is remnant of tech behemoths striving hard to include small micro LED components in devices which could lead to potential reduction in size of the wearable devices. With the increasing popularity of near-to-eye devices like smartphones and smartwatches, small micro LED display market is forecast to record an enormous CAGR of 105% over 2018-2024. Not only do small micro LEDs fit the suitability criteria in terms of size, but their properties such as high brightness, quick response time and self-illumination also contribute toward their popularity, by extension, augmenting the commercialization potential of small micro LED display market
The U.S. has emerged as a lucrative growth ground for micro LED display industry, given the robust demand for smart wearables in this region. As per reliable statistics, in 2017 alone, smartphone shipments in North America were valued at over 200 million units. Smartphone users in the U.S. are expected to grow to a staggering 230 million by the end of 2018. This would substantially necessitate the requirement of advanced micro LED displays, leaving an impact on the regional micro LED display industry share. Global Market Insights, Inc. projects U.S. micro LED display industry to exceed USD 7 billion by 2024.
While a considerable number of deployments have witnessed success early on, the commercialization matrix of the micro LED display market is still claimed to be at its nascent stage. In an effort to bring the business to the mainstream, leading industry players have been putting their efforts to enhance the distribution channels, so that manufacturers can conveniently shift from traditional LED components to technologically competent components. This, in consequence, would ultimately lead to robust product sales and popularity, thereby augmenting the profitability quotient of micro LED display market in the forthcoming years.
Author Name : Paroma Bhattacharya
The deployment of IoT in retail market has indeed given rise to a more convenient, smart, and tremendously efficient experience for retailers and consumers. With connected solutions transforming the retail sphere, companies offering IoT and retail solutions have been partnering to provide an all-round, reliable, connected experience to global retail consumers. Demonstrating an instance of this fact, Fujitsu has scarcely collaborated with Arkessa to deploy connected retail and IoT solutions to customers. Through this partnership, Arkessa, a global M2M managed services provider specializing in easing IoT connectivity, plans to enable its ICT solutions for retail, thereby helping Fujitsu's retailers deliver a first-class consumer experience. The partnership is one of the many alliances that underlines the extensive developments prevalent in IoT in retail market, which, as per analysts, generated a valuation of close to USD 9 billion in 2016.
IoT in retail market, by application, 2016 & 2024 (USD Billion)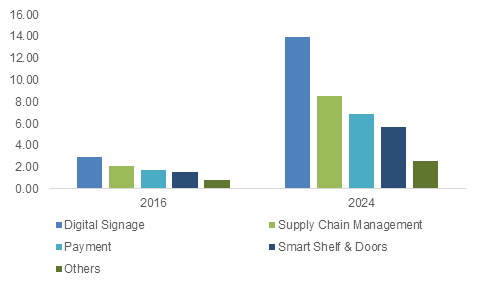 As per a recent research study, the Internet of Things is one of the most paramount trends emerging in the retail space. The scope of IoT in retail industry travels beyond the frontiers of modest customer satisfaction and retailer convenience, as it provides consumers with high-grade browsing service, digitized real-time coupons & offers, and an overall, sophisticated, connected shopping experience. Additionally, retailers are rewarded with smart store operations, smart pricing strategies, and smart inventory management, which enables further deployment of smart solutions in store, thereby fueling IoT in retail market share.
Get a Sample Copy of this Report@ https://www.gminsights.com/request-sample/detail/1591
An insight into some of the most innovative developments witnessed by IoT in retail industry in 2017:
In the middle of September 2017, an LA-based IoT technology provider, Mojix, announced a merger with CXignited, a European IoT firm, with an intent to create a global connected solution providing platform that would help retailers and brand owners boost their consumer experiences and automate their inventory management procedures. The joint entity is slated to be operating under the individual brand names, and is certain to have a considerable impact on IoT in retail market share.
Merely a few days post the Mojix-CXignited JV was announced, the renowned France-based fashion retail giant, Kiabi, declared the onset of a technology alliance with one of the world's most trusted and reliable IoT device management solution providers, Soti. Kiabi's intent behind the supposed runway ready collaboration was to exploit Soti's integrated mobility platform for its stock transfers, delivery processing, and inventory control. The retailer's alliance with Soti is remnant of how robustly IoT in retail industry has been making rapid inroads onto the path of success.
The onset of October witnessed IBM's cognitive AI platform, Watson, helping Indian retailers to decode consumer behavior and reach out to the most appropriate target audience. IBM thus, directs Watson to analyze data collected via IoT sensors, and collect insights for forecasting and upgrading the performance of machines and components to deliver tailor-made solutions to clients. IBM's move to exploit IoT for the Indian retail space is one of the most dynamic instances depicting the vast expanse of IoT in retail market.
Accurately defined as one of the top retail technology trends to look out for, the Internet of Things has been drastically disrupting the traditional retail business model, which has had a commendable impact on IoT in retail industry. Traditional retailers, in a bid to attract consumers and consolidate their stance, would have to live up to numerous challenges, in response to which they would need to keep abreast of the latest technologies influencing the retail sphere. This would subsequently have a massive impact on IoT in retail market outlook, given that retailers would desperately sign up to exploit connected solutions for their brick-and-mortar stores. In effect, retailers have been looking forward to outwitting their rivals when it comes to offering the choicest, most unique, comfortable, and tech-savvy retail experience for customers, which would single them out in IoT in retail market. Analyzing the depth to which IoT is being leveraged by retailers, it can be aptly presumed that IoT in retail industry would traverse a rather successful path over the forthcoming seven years.
Author Name : Saipriya Iyer