Dipentene Market Share
With the increased popularity of the attractive fragrance of citrus fruits, especially oranges in personal care products, dipentene market has registered considerable expansion lately. Dipentene or limonene is the colorless liquid hydrocarbon that adds the distinct citric flavor and fragrance in many processed foods, beverages and cosmetic formulations of hygiene and personal care products. Owing to the versatile characteristics of limonene, dipentene market is expected to cater to a widespread range of applications – indeed, the product even finds deployment as an alternative to mainstream pesticides.
U.S. Dipentene Market Size, By End-user, 2013 – 2024 (USD Million)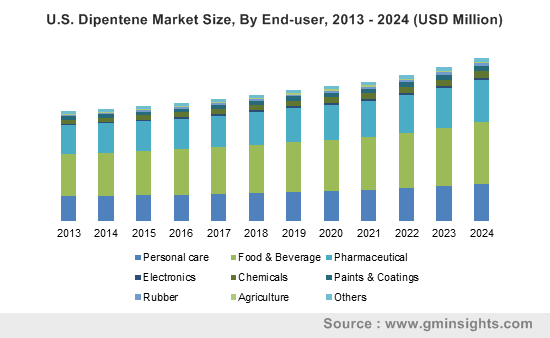 Limonene market has also been expanding rapidly on the grounds of the fact that the product is an alternate solvent to replace petroleum-based ones in several industrial applications such as paints and coatings where VOC emission and low biodegradability of solvents has become a major cause of concern for the wellbeing of the planet.
Global cosmetics and personal care industry statistics clearly point out that the said industry has been earning record revenue as beauty and self-care to preserve a youthful appearance is becoming one of the chief concerns for consumers all over the world. International beauty product companies that offer superior quality products as compared to local products have gained a commendable portion of the cosmetics and personal care industry in emerging nations as income levels of such nations continue to rise. Since limonene is expansively used in beauty products to add a freshening citrus odor, dipentene market is expected to garner major profits in Asia Pacific where the cosmetic market size is projected to surpass USD 126 billion by 2020 and where multinational companies are rapidly establishing a significant foothold. In fact, Asia Pacific has been forecast to be the fastest growing region in the limonene market over 2018-2024.
Get a Sample Copy of this Report:@ https://www.gminsights.com/request-sample/detail/2526
It will be prudent to mention here that dipentene, due to its colorless constitution and fresh, natural fragrance is used in various health care and cosmetic products like suntan products, bath products, cleansers, aftershave lotions, bubble baths, eye shadows, haircare products, lipsticks, perfumes, moisturizers and shampoos.
Rising levels of income is playing a subtler role in the growth of the limonene market as with more disposable income, consumers are opting for more effective ingredients in their products rather than cheaper ones. Manufacturers are therefore touting their products for greater efficiency rather than competitively pricing them which is adding to the enhanced inflow of revenue into the dipentene market. Diversification of distribution channels for cosmetic brands such as online shopping, vending machines, television infomercials, spas and home shopping are adding impetus to cosmetics market and consequently boosting growth of limonene industry.
Dipentene market will diversify its growth avenues beyond the cosmetic industry as research has found that chemicals obtained from orange peel could be utilized as a means of breaking the modern world's reliance on crude oil by being the building blocks in products ranging from plastics to paracetamol. Due to various adverse environmental effects, global industries had been trying to cut down on their dependence on the chemicals and materials that are obtained from fossil fuels, which are rapidly diminishing. As the world is increasing its focus on the development of renewable chemicals from an assortment of sustainable resources such as sugarcane and fatty acids in the production of biofuels, essential oils obtained from waste citrus peels have rapidly come to the forefront as a source that is being investigated with real zest as limonene shares many similarities with the chemicals obtained from fossil fuels.
Though limonene has been recognized as an important component of a bio-based chemical industry it will take the limonene industry considerable time to become a fully commercial means of plastics or polymer production. Issues hindering limonene market include the lack of reliable and greener supply of limonene. As research and development programs exert appreciable focus in bringing petroleum alternatives to the market, it is expected that dipentene industry will massively profit from such endeavors.
Author Name : Paroma Bhattacharya