Display Market Report
With significant advancements in the touchscreen & embedded technologies, the global display market is expected to tread along a profitable roadmap in the ensuing years. The emerging markets for touch sensors, controllers, and software drivers for enhancing display & touchscreen experience are highly impacting the industry's end-use landscape. The retail sector, in this backdrop, aptly exemplify the phenomenal growth of display market. The NFC-enabled terminals, Digital POS displays, smart ATMs, and Kiosks are some of the prominent display market products that have profoundly emerged as the most preferred mediums to engage with customers. Companies partaking in display market are in turn going the whole nine yards to bring new range of products that match with the ever-changing customer preferences.
China POS terminals display market size, by display size, 2016 & 2024 (Thousand Units)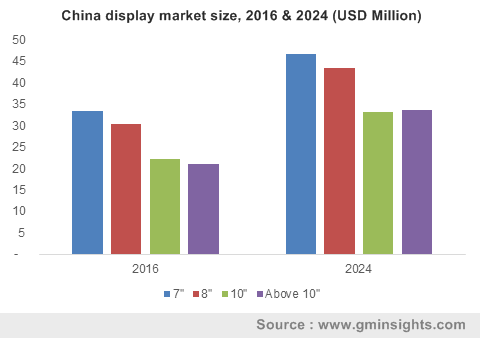 Fujitsu, for instance has tied up with Arkessa to deploy connected retail & Internet of Things Solution to enhance personalized & digital experience for customers. The partnership aims to enhance the ICT solutions for the retail sector which would, in turn, enable retailers to deliver a top-class consumer experience. Similar trend of collaborations and product innovations in this business space underlines the massive developments prevalent in the display market.
Smartphone industry giants have placed themselves at the top of the display market competitive hierarchy where they are reportedly creating flexible OLEDs and microLED displays. Apple Inc., for example launched its first OLED display sporting smartphone iPhone X in 2017. However, the display was manufactured by Samsung Display for Apple then. The recent news reports however claim that Apple now is planning to make its own products in-house with MicroLED display technologies in its flagship products. Other prominent companies that have expanded their reach in the global display market are Advantech Co., Ltd., NCR Corporation, Displax S.A., Ingenico Group, NEC Corporation, and Aplus Display Technology, Co., Ltd.
Get a Sample Copy of this Report @ https://www.gminsights.com/request-sample/detail/2418
The aforementioned competitive instance quite clearly underpins the fact that the display industry players are taking rigorous steps in establishing their foothold in the global industry space, while the product innovations and technological advancements are forming the foundation for the future profitability scope. In terms of commercialization potential, Global Market Insights, Inc., claims display market to exceed global valuation of over USD 20 billion by 2024. In fact, the report also states that mere 7-billion-dollar industry witnessed unit shipment of more than 45 million units in 2016. These statistics goes on to validate that display market will be further witnessing huge growth potential in myriad regions down the line.
Reports claim Asia Pacific to be one of the significant regions witnessing high adoption of display technology in retail, entertainment, healthcare, and hospitality sectors. The growing need to upgrade and replace the existing old machines especially in the countries such as China, India, and South Korea is fueling the display market growth in Asia Pacific belt. Add to it, the initiatives such as demonetization and digitization that have been undertaken by the Indian government are expected to further fortify display industry share. Analysts deem that rising implementation of these systems to reduce error and improve profitability has been the key propeller of display technologies adoption in the region. Contemplating on these newer adoption of display technologies, the regional semiconductor & display vendors are seen rapidly expanding their manufacturing capabilities to cater increase in product demand & annual sales.
Given the fact that display technologies will witness extensive adoption on global level, it goes without saying that these systems will remain prominent part of modern-day infrastructure projects. All in all, driven by growing participation of tech giants investing in this technology, the display market growth is all poised to traverse along a profitable roadmap in the coming years.
Author Name : Ojaswita Kutepatil