Display Technology
The fast-paced growth of the automotive sector across the globe has emerged as one of the major factors that have driven the automotive display market trends over the recent years. Although ride sharing is increasingly gaining popularity as a viable mobility option, the demand for conventional vehicles has not only remained consistent but has grown exponentially. In fact, as per reliable estimates, the global sales of passenger cars and trucks surpassed the figure of an overwhelming 90 million units for the very first time in the year 2017. These numbers apparently explain the rapidly expanding automotive display market share, which is projected to surpass a remuneration portfolio of USD 30 billion by 2025.
Germany automotive display market size, by product, 2018 & 2025 (USD Million)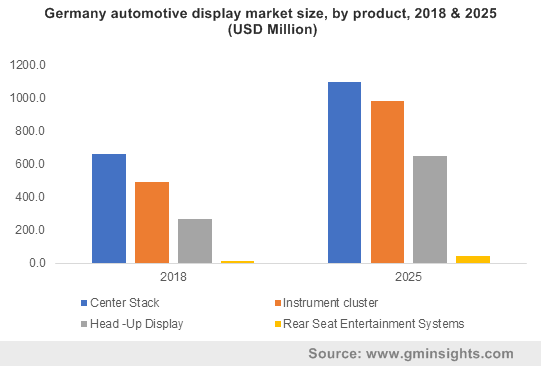 A brief overview of how enhancements in OLED display technology are shaping up the automotive display market trends
Primarily, the usage of various display technologies in the automobiles is experiencing evolutionary changes as new functionalities and designs are being created and integrated within the car systems by major automakers. The need to have high-performance interactive displays – equipped with seamless response to touch and visual stimulus – has become a crucial characteristic for all the automakers operating at an international scale. Apparently, buttons are gradually disappearing in favor of multi-functional touchscreens. Notably, the incorporation of OLED display technology has helped automakers to develop virtual dashboards with curved screens.
Elaborating further on the evolution of OLED display technology and its current form, it would be prudent to mention the fact that OLED displays are now termed as the most preferred display panels among prominent automotive firms such as Mercedes-Benz, Volkswagen, Toyota, Audi, and General Motors. Following are a few instances which underscore the growing prominence of the OLED displays in the auto industry and the way it is affecting the overall automotive display technology landscape:
Audi, in 2018, introduced its new passenger car model the E-Tron Quattro that has its rear-view cameras connected with 7-inch OLED screens. This technology offers different views and angles which are displayed on the OLED screens in the car. Interestingly, it is being said that these new cameras would replace the conventional side mirrors in other Audi vehicles.
Get a Sample Copy of this Report:@ https://www.gminsights.com/request-sample/detail/3192
Although vehicles with OLED displays are being introduced at various exhibition events, it has only been recently that Mercedes Benz became the very first automotive major to incorporate OLEDs into its consumer models. Reportedly, Mercedes Benz would launch its new cars with OLED panels of LG Displays in dashboards and rear-seat screens from the year 2020.
China-based BOE Display recently rolled out a new flexible automotive OLED at SID 2019. The new OLED has a 12.3-inch display for the main instrument panel and deploys a new pixel compensation circuit technology which improves the brightness uniformity of the display.
The consistent improvement in OLED display technology is quite evident from the aforementioned product launches and offers a glimpse into the rapidly expanding automotive display market share. Additionally, better picture quality, visibility, and sharpness than the TFT LCD monitors have been the USPs of OLED display panels owing to which the automotive display market is rapidly expanding its consumer base across various business verticals.
Owing to the presence of numerous luxury automobile manufacturers along the likes of Jaguar Land Rover, BMW, Porsche, Audi, and Mercedes-Benz, the Europe automotive display industry has been a significant hub for developing and refining the existing automotive display technology. Most of these luxury automotive brands are offering large rear seat entertainment systems and integrated displays to enhance the driving experience. Moreover, the increasing demand for expensive ADAS systems to ensure more comfort, safety, and convenience has been instrumental in uptake of automotive displays in the European countries.
Considering the progress being made in developing advanced OLED display technology and the incorporation of newer technologies in the automotive display market, it can certainly be stated that the cars of the future would be equipped with highly-customized display systems which would fulfill the requirements of efficient navigation, entertainment, and safety.
Author Name : Saif Ali Bepari
Industry Overview
Global Digital Signage Market size was greater than $15 billion for 2015 and is predicted to register CAGR of 5.2% during forecast timeframe. Innovations in display panel production techniques have led to substantial price decline predicted to positively affect global digital signage industry trends. Software dealers are growingly concentrating on entry level items. Execution of flip clip technology leading to good dissipation of heat, reduced LED failure and large availability of light angles is predicted to lessen digital signage market price trend.
However, lack of standards to assure interoperability between these two equipment kinds is one of the key challenges to industry growth. Creating advanced solutions with already available commercial media players and displays is a key threat to the growth of the industry due to interface compatibility.
Producing and distributing contents through digital signage technology is rapid and cost effective. For example, a hotel can make use of digital signage to promote its shopping amenities, dining services and recreation facilities.
View a summary of the "Digital Signage Market Size, Industry Analysis Report" @ https://www.gminsights.com/industry-analysis/digital-signage-market-report
Application Trends
The industry is segmented into various applications like retail application and healthcare application. Retail application contributed more than 40% of global industry share for 2015. It is predicted to continue its domination in future.
Healthcare segment features positive regulatory scenario for industry growth. It is predicted to register 7% CAGR during forecast timeframe. Pharmaceutical Research and Manufacturers of America has made such regulations that disallows pharmaceutical firms from following the traditional practice of distributing notepad and branded pens to physicians for marketing their products. The new rules have compelled the firms to explore 3D technology based digital signage as a feasible marketing tool. Further, this technology assists in reducing perceived patient waiting times by curbing their anxiety through entertainment.
Display Technology Trends
LCD display technology contributed to greater than 55% of the industry share for 2015 but is predicted to expand at sluggish rate than global average during forecast period. Large screen sizes like those bigger than 50 inch displays are predicted to experience higher acceptance during forecast timeframe. In contrast to this, small sized displays are predicted to lose their industry share due to declining LCD costs and rising digital signage market size.
LED displays are attractive segment with CAGR predicted over 6% in future.
Regional Trends
U.S. digital signage market size was $4.4 billion for 2015. Rising demand across various application areas is predicted to positively affect the industry growth of the region.
Favourable application overview along with improved user experience is a key factor driving the industry growth in Asia Pacific. Regional demand for the digital signage across transportation segment is predicted to register a CAGR of about 7% during the forecast period.
Get a Sample Copy of this Report @ https://www.gminsights.com/request-sample/detail/392
Competitive Trends
Key industry players profiled in the report include Panasonic Corporation, Samsung Electronics, LG Electronics, NEC Display Solutions Limited, Scala Incorporation, Adflow Networks, Cisco Systems Incorporation, KeyWest Technology Incorporation, Microsoft Corporation, BrightSign LLC, Intel Corporation, Omnivex Corporation, Polk Audio and Winmate Communication Incorporation.
Author Name : Dhananjay Punekar