District Cooling Market
Emirates Central Cooling Systems Corporation, one of the pioneers of district cooling market, recently generated a heavy momentum in this fraternity with the news of connecting almost 40 buildings with its district cooling services in the first half of 2018. The total connected load in this period was more than 52000 RT (refrigeration tonnes). Reportedly, the company has further awarded the suppliers and contractors with 25 contracts on new projects across various areas in Dubai, in which the company currently operates 73 district cooling plants. For the record, Empower started its operation in the year 2014 by providing district cooling services to only two buildings and the company set a record of providing services to more than 1000 buildings by the end of 2017. Empower's initiative not just reflects the company's strengthened position in Middle East district cooling market, but also depicts the growing consumer awareness regarding the importance of energy efficient cooling technologies.
China District Cooling Market Size, By Production Technique, 2017 & 2024 (USD Million)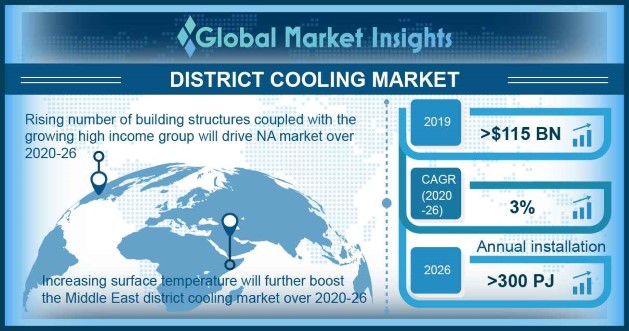 For the uninitiated, district cooling technology bears inherent advantage for areas with dense demographic pattern and huge demand for efficient air conditioning. This is the fundamental reason why district cooling industry observes a massive growth scope across GCC countries. In a bid to unlock the potential of the technology, regional governmental bodies are taking significant initiatives that has immensely contributed in the business share.
The Dubai Supreme Council of Energy, a couple of years back, declared its plans to improve the regional district cooling operations by increasing its investment in the technology from 20% to 40% by 2030. Reportedly, this is in sync with the Dubai Clean Energy Strategy 2050 that aims to transform Dubai into an International hub for clean energy. The initiative was touted as a part of the implementation of the demand side management strategy for the energy sector.
Get a Sample Copy of this Report @ https://www.gminsights.com/request-sample/detail/2672
Another gulf country that has emerged to be a profitable growth avenue for district cooling industry is Saudi Arabia. Increasing construction spending in major cities like Macca and Riyadh in tandem with favorable regulations promoting adoption of district cooling systems are two of the interlinked factors that are expected to push Saudi Arabia district cooling market to reach USD 1 billion by 2024.
From the economic point of scale as well, district cooling market is indeed a viable investment spot for GCC countries. Air conditioning across these regions is deemed to be highly cost intensive. As per estimates, the cooling capacity installation across GCC belt approximately costs around USD 50 billion. Accounting for almost 50% of annual electricity consumption and an annual fuel opportunity cost of USD 20 billion, air conditioning presently is the chief determinant of the region's increasing power requirements. It has been claimed that the cooling demand in this belt would nearly triple by the end of 2030, due to extreme climatic conditions. Meeting this requirement would cost GCC nearly USD 100 billion for installing new cooling capacity and an additional USD 120 billion for new power capacity, if it continues to maintain the existing cooling technology pattern.
District cooling market, however, makes economic sense in areas of highly cooling density. According to estimates, district cooling consumes nearly 40 to 50% less energy for every refrigeration ton-hour that traditional in-house building technologies. In fact, as per experts' opinion, these sustainable services under favorable circumstances offer significant operational efficiency as well as cost gains.
It is imperative to mention that the full potential of the district cooling market can only be achieved via effective governmental interventions. Its long-term potential capacity & fuel saving alone justify the immediate need for sufficient governmental involvements in making this technology mainstream. By incorporating district cooling in urban planning, governments can allow this ecofriendly technology to play a vital part in the overall economic growth. With a strong regulatory backup and unprecedented technological advancements, overall district cooling market is certain to attain remarkable proceeds over the ensuing years.
Author Name : Satarupa De
One of the largest behemoths partaking in Middle East district cooling market share, Emirates Central Cooling Systems Corporation (Empower), has recently amalgamated 75 buildings to its district cooling service platform in a bid to offer its services to numerous commercial and residential buildings. District cooling, being one of the eco-friendliest technologies of the 21st century, is being exploited massively by a majority of building developers and homeowners, who it has been observed, have been treading along the path of district cooling, away from conventional chilling methods.
UAE District Cooling Market, By Production Technique, 2018 & 2025 (000 RT)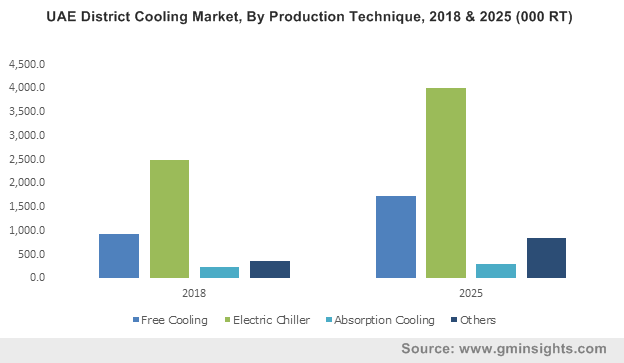 The governments across the Gulf have been looking forward to emerging as a green economy, which will significantly influence Middle East district cooling industry share. Taking into account the requirement of energy efficient systems to reduce building energy consumption, the Dubai government has also been promoting the usage of sustainable cooling technologies.
In a bid to develop smart cities across Middle East, most of the governmental bodies have been enforcing strict norms to deploy smart technologies in residential and commercial sectors. Many firms in Dubai have already implemented district cooling systems through the implementation of efficient and effective air-conditioning systems, which would suitably reduce carbon dioxide emissions, thereby impelling Middle East district cooling industry share.
It would be prudent to declare that post the Paris Agreement on Climate Change, the importance of sustainable and efficient district cooling has substantially escalated across the Middle East. The increasing number of private investments for the development of energy efficient commercial infrastructure is likely to boost Middle East district cooling market size over the years ahead.
Get a Sample Copy of this Report@ https://www.gminsights.com/request-sample/detail/2031
The Middle East district cooling market outlook is likely to witness a major transformation in the years ahead on account of the significant rise in the construction of shopping complexes, hospitals, malls, office buildings, shops, and the like. The regional regulatory bodies have been consistently stressing on the concept of energy optimization, which has led to an spurt in the demand for LEED certified buildings, positively impacting Middle East district cooling industry trends over the forecast period.
The expanding construction space in the cities of the Middle East, specifically across the Saudi Arabic district, will fuel the regional district cooling market share. With the influx of more and more government-approved, energy-efficient construction projects, Middle East district cooling market outlook will depict a transformation in the forecast years.
Bahrain is expected to emerge as a viable avenue for Middle East district cooling market, driven by the rising demand for power during peak summer periods. Bahrain aims to reduce the electricity demand by around 50%, with the use of DC systems, which will also drive the regional industry trends.
Numerous geographies across the globe have been investing in the Middle East, given the extensive proliferation of district cooling in the region. For instance, recently, the French based company, Engie has acquired 40% shares in Tabreed to tap the potential of Middle East district cooling market. Engie also plans to acquire more companies dealing with energy efficient solutions such as district cooling.
Some of the renowned players in Middle East district cooling market are Stellar Energy, Siemens, Emirates Central Cooling Systems Corporation (Empower), Marafeq Qatar, DC Pro Engineering, ADC Energy Systems, Emirates District Cooling, LLC (EMICOOL), Logstor A/S, Qatar Cool, and Tabreed (National Central Cooling Company PJSC).
With the robust increase in the competition among Middle East district cooling market players, owing to the huge demand for the product across the commercial, residential, and industrial sectors, the trend of providing reliable, consistent services to customers is being observed across this business. The United Nations Environment Program (UNEP) has also been actively implementing district energy and sustainable development through promotional and financial channels, thereby augmenting Middle East district cooling industry growth in the years ahead.
Author Name : Sunil Hebbalkar